Top 8 Video Makers For YouTube Video Templates In 2023
YouTube videos are now an effective medium for conveying messages, exchanging experiences, and engaging viewers in the frantic world of content creation. Utilizing video templates is a key component of creating visually beautiful and engaging YouTube videos.
These templates improve the overall look of videos and speed up the content development process. Utilizing a YouTube video description template has changed the game as a result of innovations in technology by enabling makers to have a cohesive visual identity while working on content delivery
Part 1: 8 Perfect Video Makers To Get YouTube Video Templates
Ensuring the ideal display of your YouTube videos is crucial. You have the best chance to master video template execution with the help of these eight outstanding YouTube video template tools. Dont waste your time on third-party tools but get access to any of the given mentioned tools and create stunning YouTube videos.
(1) Canva:
The graphic design giant Canva provides an extensive collection of YouTube video templates. Canva makes customizing simple and offers appealing intros and colorful outros. Creators may easily update and customize templates using its intuitive user interface to add their distinctive touch.
Advantages:
The large theme selection in the Canva library makes it the ideal choice for a variety of content types.
Even people with no prior design knowledge may explore and edit templates with comfort.
The collaboration tools in Canva make it easy for teams to work together on video projects.
Disadvantage:
Canva offers a wide variety of templates, although certain in-depth features may necessitate a premium subscription.
(2) Flixier:
Flixier presents an array of YouTube video templates along with professional-level editing. Because of its cloud-based platform, which assures versatility and collaboration, it is a preferred option for writers and editors.
Advantages:
The cloud nature of Flixier eliminates the need for lengthy downloads and enables quick editing and sharing.
The technology enables the seamless integration of visual, audio, and video elements into templates.
It is perfect for cooperative projects since several collaborators may edit at once.
Disadvantage:
Learning the extensive aspects of Flixier may be important, especially for novices.
(3) Todoist:
Todoist provides a selected selection of free YouTube video templates made to prioritize content and improve message delivery. Its user-friendly interface facilitates effective content creation, making it a top choice for producers hoping to increase the impact of their stories.
Advantages:
The integration of task management and video creation streamlines the content creation process.
Templates prioritize content, making them ideal for informative and instructional videos.
Todoist is accessible across devices, ensuring content creation on the go.
Disadvantage:
The tendency of templates towards simplicity may prevent complex design adjustments.
(4) Biteable:
With its outstanding selection of free templates for YouTube videos, Biteable establishes itself as a dynamic platform that supports producers. Because of its user-friendly interface, even individuals with no prior design knowledge may create captivating movies of a professional level.
Advantages:
With a wide variety of content themes and genres to choose from, Biteable has a sizable library of YouTube video templates.
By easily customizing templates to match their brand identity, creators can maintain a logical visual story.
The template incorporation of interesting animations raises the aesthetic appeal and storytelling potential of videos.
Disadvantage:
While Biteable provides free YouTube video templates, access to more sophisticated features could need paid subscriptions.
(5) Placeit:
Placeit approaches YouTube video templates holistically by providing not just editable video templates but also branding elements like mockups and logos. An integrated approach like this one guarantees a constant brand presence across different multimedia channels.
Advantages:
In addition to video templates, Placeit provides a suite of branding assets, allowing creators to establish a cohesive visual identity.
The templates feature high-quality graphics and animations, elevating the production value of videos.
Placeit's intuitive editing tools make customization accessible to creators of all skill levels.
Disadvantage:
Placeit provides free YouTube video templates for free, but to access the full library of materials, a subscription to the site is necessary.
(6) InVideo:
With its AI-powered platform that makes YouTube video creation simple, InVideo stands out. Its extensive template collection, in addition to sophisticated modification capabilities and an intuitive UI, makes it a flexible alternative for content makers wishing to quickly generate interesting movies.
Advantages:
InVideo's AI-driven tools suggest design elements and improvements, enhancing the overall quality of videos.
InVideo's collaborative features facilitate teamwork among content creators.
The platform offers YouTube video templates that cater to a wide range of content types, from vlogs to tutorials.
Disadvantage:
While InVideo's AI assistance streamlines the process, mastering its advanced features might take time for newcomers.
(7) Kapwing:
Kapwing positions itself as a user-friendly solution for crafting engaging YouTube videos. Its template library, along with its array of editing tools, offers creators a seamless editing experience, allowing for quick and creative customization to match any content vision.
Advantages:
From intros to end screens, Kapwing provides a selection of free YouTube video templates that let artists develop a recognizable visual style.
Users of the platform may quickly alter templates by adding text, photos, and other artistic components.
By delivering optimized video dimensions for numerous social media sites, Kapwing makes cross-platform sharing simpler.
Disadvantage:
While Kapwing provides free templates, a paid subscription may be necessary to get rid of the platform's watermark from the finished product.
(8) Vimeo:
Vimeo offers tools for generating videos in addition to providing a platform for presenting them, such as YouTube video templates, to help creators bring their ideas to life while maintaining a competitive edge in both content creation and presentation.
Advantages:
Vimeo's templates make sure that videos keep their high level of audio and visual quality.
The website gives artists a place to showcase their work and network with other creatives.
The uploading procedure is made simpler by Vimeo's seamless integration of its hosting services with its video authoring capabilities.
Disadvantage:
While Vimeo offers a range of features, some of its more advanced video creation tools might come with associated costs.
Bonus Tip: Recommended AI Video Editor For Amazing YouTube Video Templates
While the previously mentioned tools surely excel as a YouTube video template maker, HitPaw Edimakor stands out from the crowd as a cutting-edge treasure. Others have excellent editing tools, but HitPaw goes above and beyond with its cutting-edge AI-driven capabilities.
It not only offers a wide range of configurable layouts and capabilities, but it also ups your content production skills with a brand-new function that exports videos straight to YouTube.
HitPaw Edimakor
YouTube video template maker HitPaw Edimakor, is a versatile and intuitive tool that redefines video editing. This program gives you the ability to convert your unprocessed film into fascinating visual storytelling that captures your audience, regardless of your level of experience as a content maker.
Features Of HitPaw Edimakor
Its fresh capability is its new feature to export videos to YouTube. This time-saving function makes your process more efficient.
HitPaw Edimakor welcomes all levels of users with its easy-to-navigate interface.
With AI-driven features, you can refine video quality and optimize visual appeal, taking your content to the next level.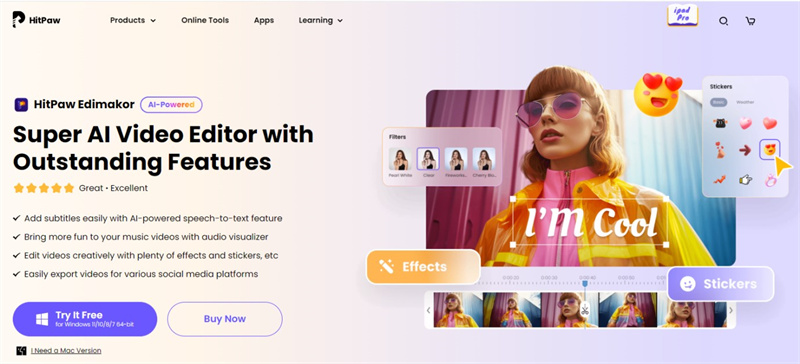 Part 3: FAQs About YouTube Video Template
Q1. How Do I Use Youtube Templates?
A1. If you want to use YouTube templates then first of all you have to sign into your YouTube studio and then move to the content portion from the left menu. Here you have to add the video that you want to edit and then select the editor option from the left menu. You can use the YouTube templates from here by clicking on the Add Element option.
Q2. What Is A Template In A Youtube Video?
A2. A template in a YouTube video refers to a video that is already made. The main purpose of a YouTube template is to give an idea to the user and assist them with a structure that they can follow to create their YouTube video.
Q3. How To Be Successful On Youtube?
A3. If you want to be a successful YouTuber then it's important to pay attention to some crucial factors. You must know what is the definition of success in your life and then create a rough plan in your mind about your whole journey on YouTube. 8 towards your YouTube channel and optimize for SEO.
Ending Thoughts
If you are a YouTube creator, above mentioned tools can truly help you to enhance your productivity by using eye-catching templates. Each tool provides a range of features. You can choose the desired one that can suit your needs. Bay the way, no matter whether you are a beginner or a professional creator, HitPaw Edimakor(Video Editor) will take your creativity to the next level.