Best Human Voice Generators | Unleash Your Creativity
Text-to-speech technology, driven by artificial intelligence and deep learning, transforms written text into lifelike speech, finding applications from aiding the visually impaired to enhancing digital user experiences with authentic tone, inflection, and emotion.This article will delve into the fascinating world of "text to speech human voice" technology, exploring its essence, applications, and the best human voice generators available in the market.
Part 1: What is Text to Speech Human Voice?
Text-to-speech technology, driven by artificial intelligence and deep learning, transforms written text into lifelike speech, finding applications from aiding the visually impaired to enhancing digital user experiences with authentic tone, inflection, and emotion.
The process unfolds as you input text into the text-to-speech engine, engaging in multifaceted stages: text analysis, linguistic interpretation, and audio synthesis. It dissects written words into phonetic elements, weaving them into spoken language.
Part 2: Best Human Voice Generators
Now that we've understood the idea behind generating human-like speech from text, let's delve into a selection of top-notch human voice generation solutions currently on the market. These platforms come equipped with distinct attributes, pricing models, and advantages and disadvantages to meet a diverse array of requirements.
1.HitPaw EdiMakor With TTS
While text to speech technology focuses on converting written words into spoken language, there's an equally important need to transform spoken words into text or subtitles. Enter HitPaw EdiMakor(Video Editor), a powerful AI speech to text tool. This feature has been recently added to the latest version, making it a versatile solution for various video editing needs.
What Makes HitPaw EdiMakor the best Text-to-speech Generator?
Here are the unique features of HitPaw EdiMakor presented with a fresh perspective:
Effortless Text-to-Speech Conversion: HitPaw EdiMakor seamlessly transforms text into captivating speech with remarkable ease.
Unparalleled Audio Customization: Unleash your creativity by customizing audio to perfection, setting a new standard for personalization.
Intuitive User Interface: With a user-friendly interface, EdiMakor simplifies complex tasks, making content creation a breeze.
Efficient Audio Extraction: Extracting audio from videos is a breeze, streamlining your workflow and saving you time.
Multilingual Voiceovers: EdiMakor empowers you to craft voiceovers in numerous languages, broadening your global reach.
Voice Recording Capabilities: Capture and utilize your own voice with EdiMakor's built-in voice recording feature, adding a personal touch to your projects.
Benefits you'll enjoy:
Free trial version available
Supports text-to-speech conversion
Editing, cropping, adding stickers, and texts to videos
User-friendly interface
For those seeking a comprehensive video editing experience, HitPaw EdiMakor(Video Editor) offers a wide array of features, making it a valuable addition to any content creator's toolkit.
5 Steps To Get Started:
To get started with video editing using EdiMakor, follow these five simple steps.
Step 1: Import Your Video:
Launch the EdiMakor software and import your video footage.

Step 2: Edit and Trim:
Use the editing tools to trim, cut, and arrange your clips as desired.

Step 3: Add Text through TTS
Enhance your video by adding text using Text to Speech finctionality, stickers, and other visual elements.

Step 4: Apply Effects
Experiment with various video effects to achieve the desired look and feel.

Step 5: Export Your Creation:


Once you're satisfied with your edits, export your video in your preferred format.
1. LOVO.ai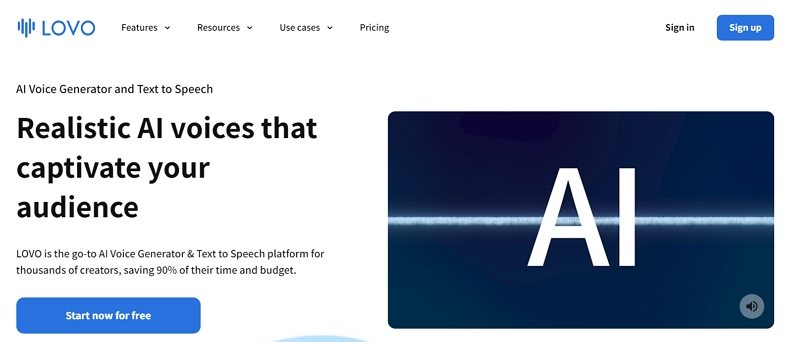 LOVO.ai is a standout in the text to speech arena. With a user-friendly interface and a library of lifelike voices, it's a top choice for many.
Features:
Multilingual support
Diverse voice options
Customization options
Natural speech prosody
Pros
High-quality voice generation
Easy integration with various platforms
Cost-effective plans
Robust API for developers
Cons
Limited free trial
Requires internet connection for real-time usage
2. Murf
Murf is another contender in the text to speech realm, known for its versatility and unique voice offerings.
Features:
Numerous voice options
Audio effects customization
Real-time preview
Pronunciation adjustment
Pros
Wide range of voices
Realistic speech output
Affordable pricing
User-friendly interface
Cons
Limited voice customization options
Pronunciation adjustments can be tricky for beginners
3. Kits
Kits is a newcomer with great potential. It's gaining attention for its simplicity and high-quality voice synthesis.
Features:
Easy-to-use interface
Natural voice options
Quick text-to-speech conversion
Emotion customization
Pros
Intuitive for beginners
Emotion customization adds depth to speech
Competitive pricing
Reliable performance
Cons
Limited voice variety
Advanced users might crave more customization options
4. Altered
Altered is known for its cutting-edge technology and the ability to generate voices with a human touch.
Features:
Advanced AI algorithms
Realistic voice modulation
Custom voice creation
Batch processing
Pros
Exceptional voice quality
Ideal for audiobook narration
Custom voice creation for branding
Batch processing for efficiency
Cons
Higher pricing tier
Complex for beginners
5. WellSaid Labs
WellSaid Labs brings a unique approach to text to speech, focusing on high-quality voices and AI-powered emotional expression.
Features:
Emotion-rich voices
AI-driven prosody
Voice tuning options
Script analysis for tone
Pros
Emotion-rich voices enhance storytelling
Script analysis for tone customization
Suitable for content creators
Consistent voice quality
Cons
Premium pricing
Learning curve for advanced customization
6. Listnr
Listnr offers a specialized solution for content creators, podcasters, and marketers seeking engaging audio content.
Features:
Content adaptation
Podcast creation tools
Multilingual support
Voice optimization
Pros
Tailored for content creators
Podcast creation made easy
Multilingual capabilities
Voice optimization for various contexts
Cons
Subscription-based model
Focus may not suit all users
Q1. Why do people use text to voice?
A1. People use text to voice for various reasons, including accessibility for individuals with visual impairments, enhancing user experiences in digital products, and creating engaging audio content.
Q2. Does text to speech use real voices?
A2. Yes, modern text to speech technology often uses real human voices or advanced AI-generated voices that closely resemble human speech, offering a natural and engaging audio experience.
Q3. What is an AI that generates text from words?
A3. AI systems that generate text from words are often referred to as natural language processing (NLP) models. They can convert text into meaningful and contextually relevant content, powering applications like chatbots, content generation, and more.
Final Words
In the ever-evolving landscape of technology, the power of transforming text to speech and vice versa is a marvel worth exploring. Whether you're a content creator, a business looking to enhance accessibility, or simply curious about the possibilities, text to speech and speech to text technologies offer endless potential.
As we conclude this journey into the world of human voice generation, we encourage you to take action. Try out HitPaw EdiMakor(Video Editor) today to experience the magic of text and speech transformation firsthand. Whether you're adding voiceovers to your videos or turning spoken words into written text, EdiMakor's AI-powered tools make the process smooth and efficient. Embrace the future of content creation with HitPaw EdiMakor(Video Editor) and unlock new possibilities in the realm of text and speech. Your creative journey awaits!