Everything You Should Know About the Usage Of Fake YouTube Video Maker
As we know, technology is continuously coming up with assisting tools for individuals to do their daily life tasks. Similarly, a fake YouTube video meme maker is now available for everyone to use to create a video without even shooting it.
This tool proves to be a blessing for those who want to update YouTube videos on their channel but can't find time to film them and then edit them. This not only consumes the time of the user but also effort hence why not take advantage of a fake YouTube video maker instead of filming and then editing a video?
Part 1: What Is A Fake YouTube Video Maker And What Is Its Purpose?
A fake video generator is a very useful tool if you are thinking of joining the YouTube platform as a creator. This tool helps you to generate videos with a great number of views and subscribers.
If you are new to the YouTube platform and want to monetize your channel but the view count is less, this platform will help you in generating views as well as increase the number of your subscribers. This fake YouTube video post maker will help you to customize views on any video as per your needs.
This is very beneficial for young creators and this also gives you motivation to keep moving forward. So, in this article, we will provide you with additional information you need about the fake video creator platform.
Part 2: What Are The Steps To Use A Fake YouTube Video Maker?
The world of content creation is very competitive and you have to run towards the views and subscribers. Fake Info is a useful YouTube fake video maker for everyone who is a content creator on YouTube and looking for additional views and subscribers. This platform is built to help you to generate views and subscribers.
Here are a few simple steps you need to follow to generate video on this platform:
1.First of all, you need to open the Fakeinfo.net site on your device then you have to open the social media section and look for the YouTube creation post section to make a fake YouTube video. Select the option to customize the video you want, this includes the features of adding hashtags, titles, thumbnails, likes, and additional views to your videos.

2.After that, you need to decide a title for your video that is catchy and pictures on your decided that will look attractive and will give it a realistic touch. Add additional hashtags to attract new audiences, and increase viewership and it will also help you to increase your viewers range.

3.After that, you need to modify the user comment, text, video title, channel name, video uploaded time and view count on it. You also need to add a video title and image title to your video.

4.There is also an additional tool present for your help, which is the autoplay mode, if you want you can also turn it on as per your needs.

5.At the end preview your video simultaneously so you can minimize the chances of errors in this video. Because if there are errors detected in your video, it will shatter your credibility.
Part 3: What Are the Pros and Cons Of Using A Fake YouTube Video Maker?
Here are the pros and cons of this platform that we are going to discuss one by one. You must know them if you want to make fake YouTube video page:
Pros
The following are the benefits of using this platform,
The first benefit of using this platform is that you do not need to sign up to this platform. There is binding of subscription, there are no charges so all the tools available on this platform are free to use.
Secondly, it has a great user experience. This platform provides the best services to users with minimal or no cost.
This platform is available for you to use 24/7. There is no time restriction to this platform. You can generate videos on this whenever you want.
Cons
The following are the cons of using this platform:
Fake YouTube video makers usually utilize pre-made templates which results in the creation of low-quality videos.
Some fake YouTube video makers use copyrighted material hence results in generating copyright infringement claims.
Part 4: Bonus Tip: Perfect AI Video Editor To Make YouTube Videos
HitPaw Edimakor is a very popular AI video creator that helps you to effectively edit your video using AI features. AI is famous nowadays. AI is the latest technology that does the work assigned to it by just taking the instructions from the user. This platform is designed for AI.
HitPaw Edimakor
HitPaw is the best AI Video Editor that is available in the market. We are living in an era of innovation and artificial intelligence. We need to learn how to use these tools to be time efficient and to bring innovation to our work. As far as this particular tool is concerned it is the best tool that is used for video editing.
Features Of HitPaw Edimakor
This YouTube Video Maker allows its users to use versatile features for video creation.
The tool offers the best user-friendly interface and a wide variety of features and filters that are common among Gen Z.
You can easily create YouTube videos and share them on YouTube directly.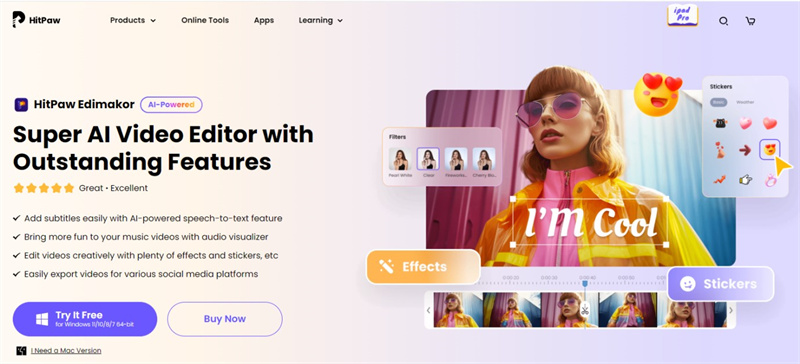 Part 5: FAQs About Fake YouTube Video Maker
Q1. What Is The Most Used Fake YouTube Video Maker?
A1. If you want to create a fake YouTube video having maximum subscribers then you will find lots of options. But, if we search for the tool that is not only reliable but also provides the best result then Fake Info is the most preferred and recommended fake YouTube video maker of all time.
Q2. Can You Buy YouTube Views?
A2. Buying YouTube views is not an impossible task and lots of people are buying fake YouTube views freely. However, this act is not recommended as if YouTube figures out you then your channel will be blocked in seconds. Hence, don't take risks by using different tools to buy fake views.
Q3. Can YouTube Detect Fake Subscribers?
A3. Yes, YouTube may detect fake subscribers. For the detection of fake subscribers, certain factors are taken into consideration like the IP address of subscribers, their YouTube watching time, and the number of videos watched by them.
Ending Remarks
Fake video creators help you to not be stressed if you are not getting views on your videos. This platform is designed to cope with this platform. This platform does not attract new viewers and neither does it generate organic viewership for your channel. Still, it helps you to monetize your channel, teaches you to attract new viewers, and helps in the promotion of your platform.
By the way, HitPaw Edimakor(Video Editor) will help you perfect your videos to engage more audience.