2023 Full Review and Guide of MyInstants [Pros & Cons]
Whether you're a meme fanatic or just love a good prank, MyInstants is your go-to source for instant entertainment. With a simple click, you'll unlock a treasure trove of chuckles and giggles that will keep you hooked for hours.
So get your headphones on, crank up the volume, and prepare to be amazed by the uproarious delights of MyInstants. Get ready to press play and let the laughter begin. Read on to know more about myinstants.
Part 1. Everything You Should Know about MyInstants
Oh, if you're looking to add some funny effects to your audio, you should definitely check out Myinstants! It's a great option for spicing up your audio with humorous elements. They have a bunch of popular memes listed on their official website and app, and once you sign up, you can access them right away.
That's why Myinstants is a popular choice among meme creators and pranksters. It offers a wide range of options, lets you preview the effects, and even keeps a collection of all-time favorites. So, if you're in the mood to create some hilarious audio content, give Myinstants a try!
1. MyInstants Main Features and Advantages
When you open up Myinstants, you'll find all the voice memes and soundboard buttons right there on the screen. It's super convenient because you don't have to go searching for them - they're all readily available.
Oh, and here's a neat feature: this soundboard app also shows you the trends on a country-by-country basis. So, you can stay in the loop and find out which memes and effects are going viral in your own country right now. It's a fun way to see what's popular and join in on the fun.
2. MyInstants Disadvantages
One downside is that you have to register and log in to use it. Sometimes, it's just more convenient to have quick access without having to go through the registration process.
Unfortunately, the interface of this app is a bit dull and uninteresting. It's always more enjoyable to use an app that has a visually appealing and engaging interface.
To make matters worse, it seems like there are frequent crashes during use. That can be really frustrating, as it interrupts your workflow and may even cause you to lose your progress.
Considering these factors, it seems like myinstants.com has its fair share of drawbacks. Annoying ads, the need for registration, a dull interface, difficulty for beginners, and frequent crashes can really dampen the user experience. It might be worth exploring other alternatives that offer a smoother and more user-friendly experience.
3. How to Use MyInstants Soundboard?
1. Visit Myinstants website
2. Look for the soundboard you like.
3. Embed the sound button to your site.
Part 2. Best Alternative Soundboard App of Myinstants
1. Soundboard
My Soundboard (Beta), the ultimate desktop soundboard builder! It's a super handy program that won't take up much space on your computer, weighing in at just 2.5mb. With this nifty tool, you can create, manage, and play mp3 soundboards right from your desktop, all while having access to a huge catalog of awesome sounds.
My Soundboard is compatible with both Windows and Mac OS, so everyone can join in on the fun. Best of all, it's absolutely free for all Soundboard members. Sounds like a win-win if you're in search of an alternative to myinstants button.
2. Scratch
Scratch, the fantastic world's largest coding community for children. It's not only a coding language but also a platform with a super cool visual interface that makes it easy for young people to create their very own digital stories, games, and animations. Scratch was created by the Scratch Foundation, a nonprofit organization that's all about empowering kids through coding.
One of the great things about Scratch is that it encourages computational thinking and problem-solving skills. It's a fun and interactive way for children to learn while expressing their creativity and collaborating with others.
3. Soundbutton
Sound Button, a super simple website that's all about sounds! It's a straightforward platform where you can easily browse, discover, and download various sounds for your enjoyment.
The best part? It's incredibly user-friendly.
You can see and listen to the sounds before deciding which ones you want to download. It's a great way to ensure you're getting the perfect sound for your needs. So, whether you're creating a video, podcast, or simply want to have some fun with sound effects, Sound Button is the go-to website for all your sound-related desires if you're not interested in myinstants buttons.
4. Voicemod
Voicemod, an awesome platform that's all about soundboards! With Voicemod, you'll discover a treasure trove of sound clips and memes to elevate your audio experience. They've curated thousands of soundboards, making it easy for you to find your favorites.
It's a dynamic platform that keeps evolving and expanding to meet the needs and desires of its users who are looking for an alternative for myinstant sounds.
5. Soundboard Guy
Board Guy, the ultimate destination for all your favorite meme sounds! If you're looking to have some lighthearted fun, prank your friends, or simply enjoy a good laugh, Sound Board Guy has got you covered. Their soundboard is considered the best on the market, packed with all those hilarious sounds that never fail to bring a smile to your face. It's an alternative for myinstant soundboard.
6. Sound Button World
At Sound Button World, you'll find a wide variety of funny sound buttons, each packed with laughter-inducing content. Whether you're looking for hilarious catchphrases, iconic movie quotes, or viral internet memes, this platform has got you covered. It's like having a collection of comedic gems at your fingertips!
What's really cool is that Sound Button World gives you the power to create your own sound buttons. Whether you're on your smartphone, desktop, or tablet, you can easily customize and craft your very own sound buttons. It's a fantastic way to personalize your audio experience and have fun sharing your unique creations with others. It's a great alternative for myinstants soundboard.
7. Soundboardly
Soundboardly also allows you to explore an impressive array of sound effects, adding an extra layer of excitement and immersion to your projects. From whimsical soundscapes to heart-pounding audio bursts, the possibilities are endless, and your creative endeavors will truly come to life.
You can effortlessly browse through the extensive collection, finding the perfect sounds to enhance your moments of fun, creativity, or even practical use instead of myinstants app.
Part 3. Best Voice Changer to Work with Myinstants
Actually, here we got the best solution of voice changers, which easily changes the voiceovers to another funny sound and works with your Myinstants. With the arrival of HitPaw Voice Changer, applying voice filters to the audio has become simple. Luckily, HitPaw Voice Changer doesn't distort sound quality, offering a high-quality changed voice for your speech, chat or streaming.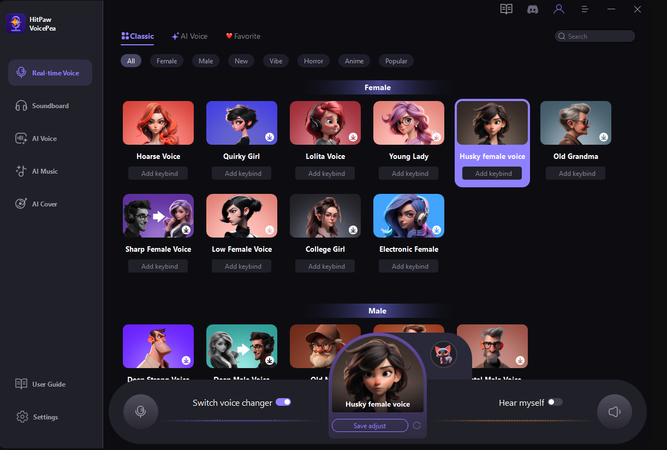 Main Features
Helps you to produce the most realistic human voices
Offers the intuitive user interface
Integrated with the multiple online streaming platforms
Make your voice sound like the celebrities
How to Change Voice with HitPaw Voice Changer
Here're easy steps that how you can use HitPaw Voice Changer.
1.Go to "Settings", and click the drop-down button to select the input and output you are using. Then adjust to the volume you prefer.

2.Choose the effects you prefer and try speak into the microphone to listen to the transformed sound of your voice.

3.Adjust the sound effect in the sound settings,you can adjust volume, pitch, timbre of the sound. Then Turn on the "Voice Changer", "Hear myself" and "Noise Reduction" on the buttom.

4.After choosing the effect, simply click the "connect" to changer your voice on other platforms like Twitch, Discord, Steam, etc.
The Bottom Line
myinstants com is an amazing way to get your hands on cool sounds that you can use in memes. However, if you're looking for any alternatives - you can find 7 other alternatives in this guide. And of course, you can use HitPaw Voice Changer for a try.