6 Best Call of Duty Voice Changers for PC & Mobile
Call of Duty, popularly known as CoD, has cemented its legacy as one of the most iconic first-person shooters in the gaming world. Players unite across the globe for fierce battles, tactical strategies, and moments of unparalleled action. But what if you could add another layer of fun and surprise to your gameplay? Enter the world of voice modulation. This article is tailored for fans like you, keen on discovering the top call of duty voice changers to use on both PC and mobile. Let the games begin, with a voice twist!
Part 1: 4 Call of Duty Voice Changers for PC
With these four voice changer for codm, you're well-equipped to enhance your Call of Duty gaming sessions or any other online interactions. Each tool offers its unique set of features, ensuring that users can find the perfect fit for their needs. Whether you're looking for a simple voice alteration or a comprehensive voice transformation, these tools have got you covered. Here, we introduce four top-notch voice changers specifically tailored for Call of Duty players on PC.
HitPaw Voice Changer is a cutting-edge tool designed for avid gamers like Call of Duty and content creators alike. With its intuitive interface and robust features, it effortlessly transforms your voice in real-time, adding depth and dimension to your online interactions. Whether you're diving into an intense gaming session or hosting a live stream, HitPaw ensures your voice resonates with clarity and flair.
Compatibility: Integrates seamlessly with popular games and programs.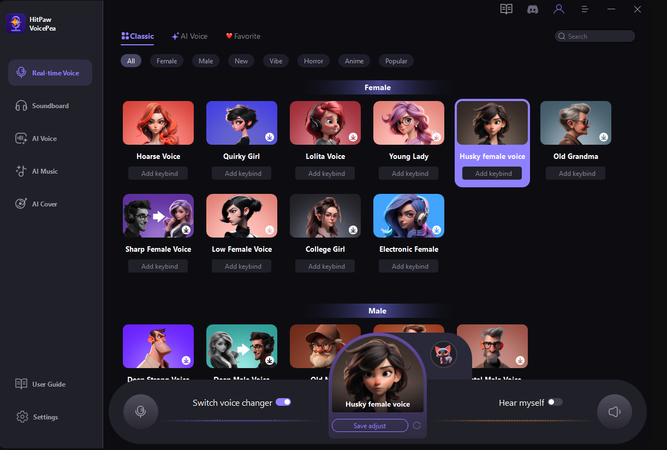 Features
Real-time voice changing with various effects.
Perfect for gameplay, content creation, Vtubers, and live streaming.
Noise and echo removal capabilities.
Customizable voices for platforms like Discord, Zoom, Skype, and Google Meet.
Ability to mimic favorite game characters from games like Fortnite, League of Legends, and more.
Premium voice effects library for enhancing livestreams on platforms like Discord, Twitch, and YouTube.
Easy setup with noise reduction and keybind controls.
Compatible with a wide range of games and VOIP software including Discord, ZOOM, Google Meet, YouTube, Minecraft, Rocket League, Overwatch, Rust, Fortnite, Valorant, PUBG, Among Us, Skype, WhatsApp Desktop, TeamSpeak, and more.
Offers a vast array of voice-changing effects, allowing users to sound like robots, demons, chipmunks, and even anime actors.
Uses cutting-edge AI algorithms and voice-learning technology to produce realistic human voices in real-time.
2. AV Voice Changer Diamond
AV Voice Changer Software Diamond is a comprehensive voice manipulation tool that allows users to modify and enhance their voices in various ways.
Compatibility: Works both in real-time and from recordings. Compatible with Skype, Twitch, Discord, and more.
Features
Advanced voice morphing features including pitch control, voice beautifying, vowel enhancer, and improved sound quality.
Real-time voice changing capabilities.
Preset voice settings with 30 voice effects, 70 background effects, and 40 audio effects.
Built-in audio player and recorder.
Voice-over editor and parody maker.
Voice analyzer to study the fundamental characteristics of voices.
Hotkey support for quick voice changes.
File Morpher for voice editing.
Access to a vast library of voice and sound effect packs.
Over 100 'nickvoices' for use with any online nickname and personality.
3. Clownfish Voice Changer
Clownfish Voice Changer is a dynamic tool that offers a plethora of voice-changing options for users. Its user-friendly interface combined with its diverse range of features ensures that users have a seamless and enjoyable voice-changing experience.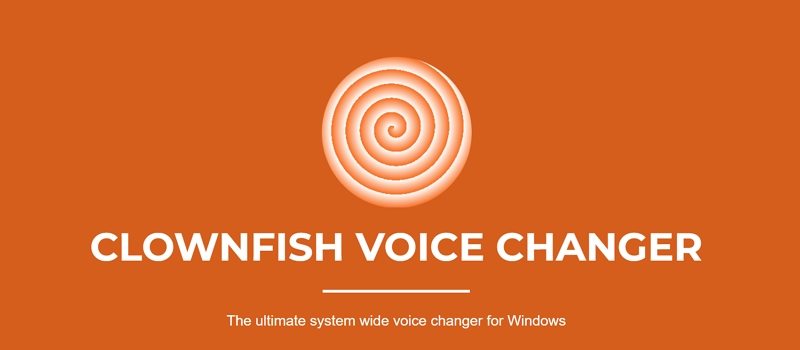 Compatibility: Designed for Windows and compatible with popular communication platforms like Discord, Skype, TeamSpeak, Mumble, Viber, Ekiga, Jitsi, and Hangouts.
Features
Offers 14+ voice effects for diverse voice alterations.
Integrated music player with enhanced audio controls for managing background music.
Built-in sounds available for added versatility.
Supports Virtual Studio Technology plugins.
Simple installation process with user-friendly steps.
Voice assistant feature for text-to-speech conversion, with multiple voice options for the virtual assistant.
Compact software size, ensuring quick downloads and installations.
Manual voice adjustment settings for a more personalized experience.
Compatible with a wide range of communication platforms, ensuring versatility in usage.
4. VoiceMod
VoiceMod stands out as a leading voice changer for cod application, especially among gamers and content creators. Its vast library of voice filters, combined with its user-friendly interface, ensures that users can effortlessly modify their voices to suit their needs.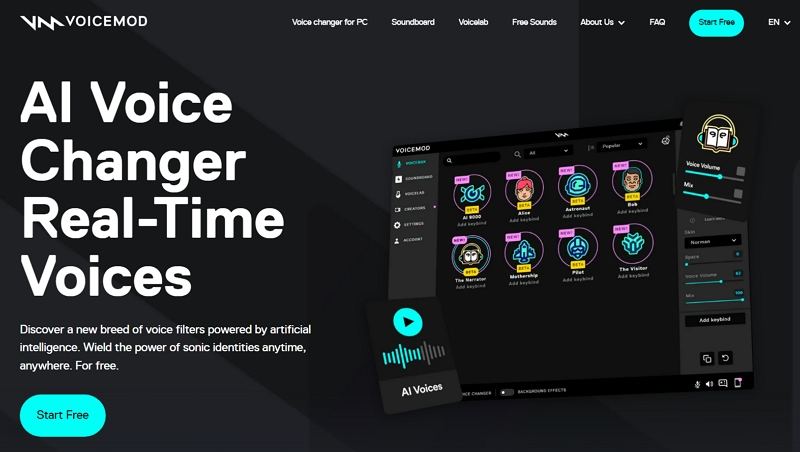 Compatibility: Designed for Windows and optimized for gamers and streamers. It integrates seamlessly with various games and chat applications.
Features
Real-time voice changing with voice filters
Quick setup, allowing users to get started in under five minutes.
Keybinds for easy access to favorite voice filters.
Over 80 voice filters available, ranging from Chipmunk, Baby, and Helium to Ghost, Crazy Clown, and Spirit.
Customizable voice filters with sliders to adjust intensity, volume, mix, and intelligibility.
Voicelab feature for users to create their own unique voice filters.
Background effects toggle to enhance the voice-changing experience.
"Hear Myself" feature to preview the modified voice.
Detailed tutorials and guides for optimal setup and usage.
Part 2: 2 Voice Changers for Call of Duty Mobile
The mobile gaming landscape has evolved tremendously, and with it, the need for tools that enhance the gaming experience. Voice changers are no exception. For Call of Duty Mobile enthusiasts, having the right voice changer for call of duty mobile can add a layer of fun and intrigue to the game. Here, we delve into two call of duty ai voice generators that are perfect for Call of Duty Mobile players and a good voice changer codm.
1. Voice Changer with Effects
Voice Changer With Effects is a user-friendly and free voice changer app that makes it incredibly easy to add a touch of fun to your recordings. You can record your voice by applying a wide range of interesting effects ( eg. Helium, robot, giant...) with just a few taps. Once you've chosen an effect that tickles your fancy, you have the option to save the clip to your phone's memory, allowing you to set it as a personalized ringtone, or alarm, or use it in other creative ways. Furthermore, you can effortlessly share your audio creations through your favorite social networks or messaging apps, allowing you to spread the laughter with friends and family.
Compatibility: Designed for Android devices.
Features
Simple application allowing users to record speech and apply a variety of fun effects.
Extensive list of effects, including voices like Darth Vader, Bane, Optimus Prime, alien, death, demon, robot, drunk, and many more.
Ability to save the modified clip to the device's memory for use as ringtones, alarms, etc.
Sharing capabilities through social networks or chat clients.
Over 40 effects to choose from, ensuring a diverse voice-changing experience.
2. Voice Changer Plus
If you're seeking a voice changer app that offers extensive creative control over voice modulation, Voice Changer Plus will be a good choice. With over fifty voice effects and support for voice over recordings, this app allows you to edit and enhance your audio files even after saving them. Additionally, the trim controls enable you to easily remove unwanted sections from your recordings before sharing them with friends on social media.
Compatibility: Specifically designed for iOS devices.
Features
Allows users to create and share recordings for free.
Can be used for both talking and singing.
Offers a vast selection of background effects and 55 voices, including iconic ones like Darth Vader and a robot.
Features like "Bad Melody" for a unique voice-changing experience.
Option to upgrade to a Premium version for an ad-free experience and additional features.
Part 3: FAQs of Call of Duty Voice Changer
Q1. How do gamers change their voice?
A1. Gamers often use codm voice changer software or apps that allow them to modify their voice in real-time or from recordings. These tools offer a range of effects, from robotic and alien voices to more comedic or dramatic alterations.
Q2. Can I use a voice changer in Call of Duty?
A2. Yes, players can use voice changers while playing Call of Duty. However, it's essential to ensure that the voice changer captain price is compatible with the gaming platform and does not violate any game policies.
Part 4: Final Thought
Voice changers have revolutionized the way gamers interact and communicate in the virtual world. Whether you're looking to add a touch of humor, disguise your identity, or simply experiment with different voice effects, the right call of duty mobile voice changer can elevate your gaming experience. If you're on the hunt for a reliable and versatile voice changer for call of duty, consider giving HitPaw Voice Changer a try. With its advanced features and user-friendly interface, it's a top choice for many gamers worldwide.