6 Useful Donald Duck Voice Changers for PC & Online 2023
We all remember the days when Donald Duck & Mickey Mouse's expressions were so adored. These expressions would bring a smile to anybody's face. What if we told you that you can do similar impressions however don't have to work hard for weeks or months for it? Yes! With the aid of technology, Donald Duck voice changer are readily accessible to make a few laughs.
Let us start our discussion today on how you can add the Donald Duck AI voice effect to your content & share the fun with other friends.
Take a look at the best 6 Donald Duck Voice Changers with top-quality voice effects and brilliant features to sound like Donald Duck.
Who is Donald Duck and Donald Duck Voice Actor?
Donald Duck is a famous cartoon character produced by Walt Disney in 1934. He is an anthropomorphic duck familiar for his distinctive voice, irritable nature, & humorous adventures.
Donald is often depicted as easily frustrated, short-tempered, and seldom mischievous, which adds to his entertaining value. His strong-willed persona and tendency to find himself in worrying situations make him relevant to many.
All through the years, Donald Duck has maintained his attraction and comedic appeal, appealing himself to viewers of all ages. His notable antics and exclusive voice have made him an adored character, confirming his stable popularity across generations.
The iconic voice of Donald Duck has been primarily offered by two brilliant Donald Duck voice actors over the years. From 1934 to 1985, the voice of Donald Duck was accomplished by Clarence Nash. Nash developed a unique and often unintelligible voice that became identical with the character.
After Clarence Nash's passing in 1985, the role of voicing Donald Duck was taken over by Tony Anselmo. Anselmo had worked along with Nash as a protégé, and he was selected to continue the heritage of Donald Duck's voice. Tony Anselmo has since depicted Donald Duck in many films, TV shows, & theme park appearances, staying true to the character's exclusive voice and gestures.
3 Donald Duck Voice Changer PC
If you are a PC user and wondering how to sound like Donald duck on your PC, stop questioning already because we have got you covered! Let us introduce you to 3 easy to use, absolutely astonishing Donald duck voice generator. Let us explore them right away!
1. HitPaw Voice Changer - Best Donald Duck Voice Changer Download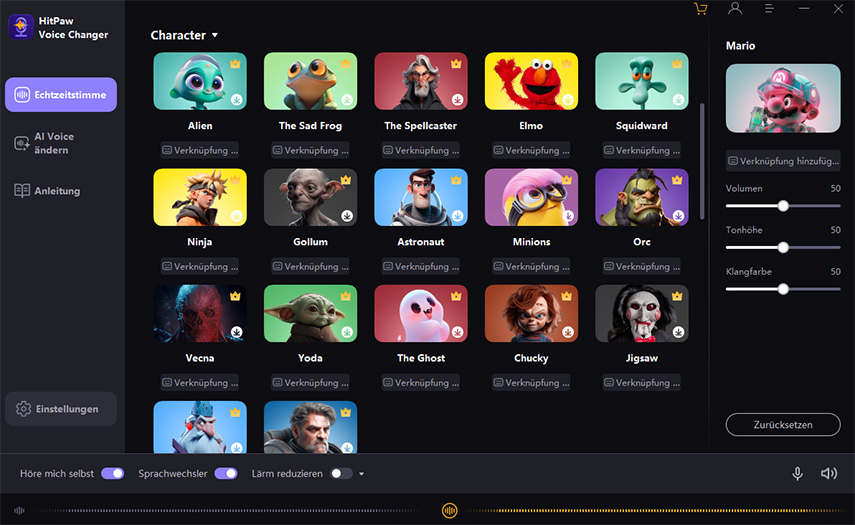 HitPaw voice changer is the greatest Donald Duck Voice Changer PC for users seeking a top-notch voice changer. It offers an assortment of voice effects & filters that can easily be applied to the user's voice.
The interface of this program is designed to be easy, letting users to navigate through several settings effortlessly. The best part of this program is that it delivers voice effects for celebrities for example AI Voice Ben Shapiro, Jenna Ortega, Donald duck and more.
Also, it enables real-time voice change while gaming, live streaming, & more. It supports almost every online gaming & streaming platform, for example Zoom, Twitch, COD, Skype, PUBG, etc.
Pros
Change your voice with diverse voice effects in real-time
Remove background noises through the noise reduction feature
Support all the popular games & programs
Change your voice easily with high-quality
Fit with games like Call of Duty, League Legends, PUBG, and more
Has User-Friendly Interface
Cons
New tool, so it needs some more amendments
Compatibility:
Price:
Monthly Package: $15.95
Yearly Package: $35.95
Life-Time Package: $65.95
Here're easy steps that how you can use HitPaw Voice Changer.
1.Go to "Settings", and click the drop-down button to select the input and output you are using.

2.Choose the effects you prefer and click to apply it.

3.Turn on the "Voice Changer", "Hear myself" and try to speak to your microphone to listen how your voice sound like. If the surrounding environment is noisy, you can manually activate noise reduction. Please don't set the noise reduction level too high, as it may filter out some sounds.

4.After selecting the desired sound effects and previewing them, you can adjust the volume according to your preferences.

5.Change Voice on Discord:Open "Discord", Click your "User settings" and go to "Voice & Video, Then select "HitPaw Vitrual Audio Input" from the drop-down list of input device.

2. Voicemod

Voicemod is a real-time Donald Duck voice changer app that uses advanced AI & soundboard technology to create the voice of Donald Duck and anybody or anything you want.

With a huge archive of voice effects & audio tools, it is the best free voice changer for PS4, content creators, gamers, and tubers. It can edit and incorporate audio files into real-time platforms like Zoom, Twitch, Discord, etc.

Pros

Adds custom sound effects
Change the voice in real-time or of recorded audio.
Adjust tune, pitch, frequency, and more.
It offers 1000s of free sounds

Cons

Offers only 8 groups for voice filters
No celebrity voices

Price: Voicemod has a free and paid version. The paid version is named Voicemod Pro, which costs 45 $ for a lifetime license, 18 $ for a year, and 12 $for a quarter.

3. WooTechy SoundBot

WooTechy SoundBot is another best anonymous voice changer, developed using deep learning technology with 125+ voice filters, including Donald Duck, & 400+ sound effects in real-time.

Besides moving the voice to Donald Duck, it can add effects & integrate into platforms like Twitch, Discord, etc.

Pros

Update voices constantly
200+ voice memes
Offers cartoon characters, male-to-female, celebrity voices, etc.

Cons

Only available on Windows
The Pro version is a little pricy

Price: $12.95 1-Quarter Plan, $19.95 1 year plan and $39.95 for lifetime
3 Donald Duck Voice Changer Online
Here are some of the Donald duck voice changer online you can use to change your voice to a favorite character of yours.
1. Voice.ai
Whether you are a gamer, streamer, or one who wants to add fun to their Skype, Discord, and Zoom calls, Voice AI is for you. It is a real-time voice changer for desktop users, bringing out the finest Donald duck voice filter and the highest-quality audio effects to change your speech as desired. With a blend of AI technology and deep learning algorithms, you can use this software as the premier AI voice generator.
Making naturalistic vocals from already generated AI voices while streaming is its most exclusive feature. Besides using its speech-to-speech functionality, you can also go for its text-to-speech feature if required.
Pros
Allows users to create exclusive and fun content that can be shared on social media platforms.
Voice.ai is compatible with a range of devices and platforms, making it available to a wide audience.
The website is designed to be user-friendly, making it available to those with little to no technical skill.
The website offers a wide range of effects that can be modified to meet the exclusive needs of each user.
Cons
Several effects may not be as perfect as others.
Price: Use the Donald duck voice changer free
2. voicechanger.io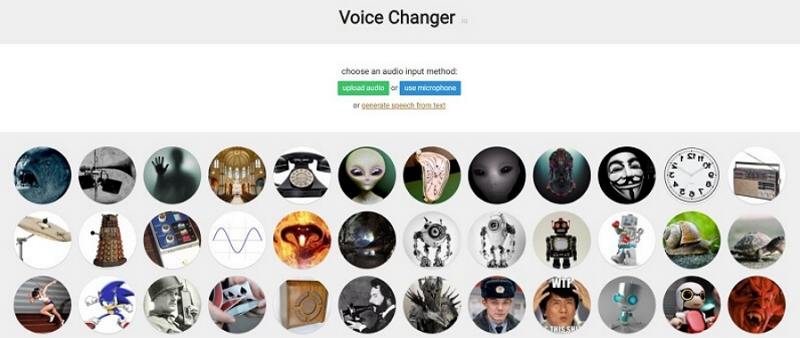 Voicechanger.io also allows you to change your voice to an animation character or cartoon voice online. It can change voices even in a pre-recorded audio file & create a new voice. It is the only tool that will let you upload files, which are stored in the hard drive of the device that you use for browsing the internet. There are dozens of voice effects for you to select from.
Pros
Easy-to-use interface.
Comes with a dynamic sound player.
Lots of voice effects to select from.
Cons
Only permits you to upload files stored in hard-drive.
Does not offer direct sharing on social media platforms.
Price: Free
3. Media.io
It is an online voice changer and modifier. With this online tool, you can change your voice to diverse genres, such as a robot, child, or anime. You can also use it to get Donald Duck voice. Media.io is the faultless tool to have some fun with your friends. It has several free voice changers. The range of speech recording abilities and sound filters is outstanding. It can help change your voice easily.
Pros
Easy voice changing process.
Plentiful voice filters to choose from.
Advanced AI algorithm advances working efficiency.
Offers comprehensive privacy and security of the files.
Cons
Some beneficial features are only available with the paid version.
Compatibility: Online
Price: Free version is available
Premium version
Basic: $4.99/Mo,$59.99/Yr
Pro: $9.99/Mo, $119.99/Yr
FAQs of Donald Duck Voice
Q1. Why is Donald Duck's voice so raspy?
A1. Legendary voice actor Clarence Nash created an exclusive style of voice to depict the character. His trademark raspy voice was a mixture of careful modulations & techniques, including preventive his throat and decisively mispronouncing definite words & phrases.
Q2. Who is the new voice of Donald?
A2. Daniel Ross is the third voice actor of Donald Duck (2017-2021). Tony Anselmo is the current Donald Duck voice actor. Before becoming a voice actor, he worked as an animator for Disney. Over the course of his career, he voiced Donald duck from 1980 to 2023
Final Thought
The 6 amazing Donald duck voice simulators we have discussed above are excellent tools for mimicking Donald Duck or other cartoon characters flawlessly. After trying every Donald duck voice modulator, you can easily conclude the best free voice changer. We would recommend you to try HitPaw Voice Changer. The tool is easy to use and effective for obtaining Donald duck. In addition, there are other options you can use. Furthermore, the software provides an affordable way to change your voice accurately.