How to Convert VHS to 4K with Easy Steps
Do you want to easily convert your basic (SD) Video tapes to ultra-high-definition (4K or even 8K) quality? The video industry has been dramatically transformed by digitalization, which has impacted every aspect of the business, from production to distribution.
Because of the Internet, there are now more places than ever to save digital media, share it in real-time, and watch it afterward. VHS tapes are obsolete and is not suitable for storing videos. Converting your old VHS to 4K files so you can save them on your computer or other devices is the easiest method to maintain them and eliminate the danger of losing them. A digital file, especially one in 4K quality, is much safer than an analog tape.
Part 1. What is VHS?
VHS, or Video Home System, was a type of analog video cassette tape format that was popular in the late 20th century for recording and playing back television programs and home movies.
VHS tapes were widely used for consumer-level video recording and playback, and many people still have VHS tapes of their favorite movies and TV shows, as well as home movies and other footage.
With the advent of digital technology, VHS tapes are becoming increasingly obsolete. Many people are now looking to convert their VHS tape to digital formats, such as 4K, in order to preserve the content for future viewing and to be able to share it more easily with others.
Part 2. How to Convert VHS to 4K video?
There are mainly two steps to convert VHS to 4K. However, you can choose different methods to complete the 1st step.
First You Need to: Convert VHS to Digital Format
The first step is to convert VHS to digital format. Below are 3 different methods you can try.
Method 1: Rip DVD to Digital Video File on PC/Mac
HitPaw Video Converter is a powerful tool that allows you to convert DVDs to digital video files on your PC or Mac. With HitPaw Video Converter, you can convert your DVDs to MP4, MP3, AVI, and more than 1000 formats. Its 120X faster speed and lossless quality make sure that you will get the best output quality. It can be a helpful VHS to 4K converter for you.
Here are the steps to convert the Rip DVD to a Digital video file:
Step 1.

Install HitPaw Video Converter on your PC or Mac and launch the program.

Step 2. Click on the "Add DVD" button to load your DVD into the main interface of the software.

Step 3. Select the "Convert All to" icon to choose the desired output format for the DVD.

Step 4. Click on the "Convert All" button to begin the ripping process.
Method 2: Resort to a Professional Service
Another method for converting VHS tapes to digital formats, such as 4K, is to use a professional service. This method involves sending your VHS tapes to a company that specializes in converting analog videos to digital formats.
The process typically includes cleaning and repairing the tapes, capturing the video content, and then converting the video to a digital format such as 4K.
This method is recommended for people who have large collections of VHS tapes or for tapes that are in poor condition and require professional handling using a device like VCR resolution.
It is also a good option for those who do not have the equipment or technical skills to convert the tapes themselves. However, it can be more expensive than doing it on your own, and it may take longer to get the files back.
Method 3: Convert VHS to DVD Using A DVD Recorder
To convert VHS to DVD, you will need both a VCR and a DVD player with recording capabilities. If you want to use this technique, you'll need an RCA cable, the kind that often comes with your DVD player, TV, cable box, and other devices. This approach is not as straightforward as utilizing a VCR/DVD combo unit, but it is effective and easy to apply.
To convert VHS to DVD using a DVD recorder, follow these steps:
Step 1. The first step is to link your video cassette recorder (VCR) to your DVD player. You can play back VHS tapes on a DVD player by connecting the VCR's composite video output and RCA analog stereo output to the appropriate inputs on the player.

Step 2. Next, put a blank disc into your DVD recorder and the VHS tape you want to copy into your VCR.

Step 3. Press the play button on your VCR and the Record button on your DVD player to begin recording using the VHS to DVD machine.
Second You Need to: Upscale Low-Quality Video to 4K with AI Video Enhancer
HitPaw Video Enhancer is a unique and powerful tool that uses advanced AI technology to enhance the quality of low-resolution videos and convert them to 4K. This software is specifically designed to be user-friendly and easy to use, making it accessible to users of all skill levels.
With HitPaw Video Enhancer, you can effortlessly increase the resolution of your videos from low quality to 4K and improve their overall quality. Whether you have videos that were recorded with low-resolution cameras or videos that have been compressed and lost some of their quality, this software can help you bring them back to life.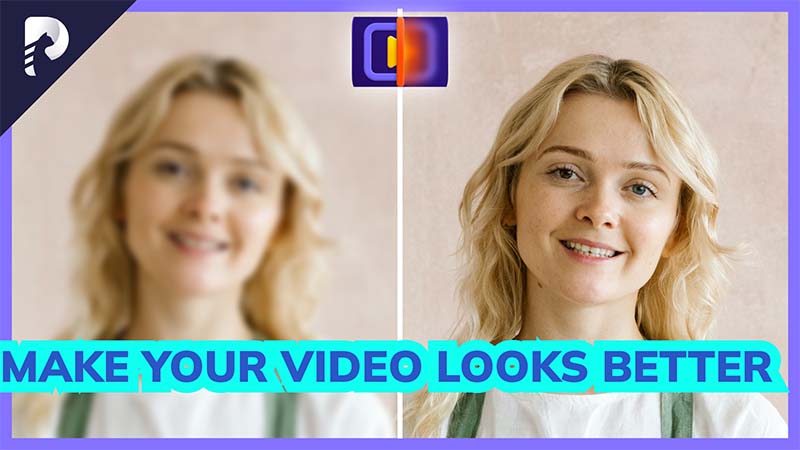 One of the key advantages of HitPaw Video Enhancer is its advanced AI technology that analyses and processes videos to enhance their quality. The software is designed to have a simple, clean, and easy-to-use interface, making it easy for anyone to use. After completing Step 1 above, you can now upscale your converted video using the HitPaw Video Enhancer.
Here are some of the features of HitPaw Video Enhancer:
Upscaling video resolution to 4K
Improving overall video quality
AI-powered video enhancer
Preview without watermark
100% safe to use
Simple and easy-to-use interface
Here is how to improve VHS video resolution:
Step 1. Unlock the power of advanced AI technology with HitPaw Video Enhancer by visiting its official website and downloading the software.

Step 2. Easily upload the original video you want the AI to enhance, and prepare it for the upscaling.

Step 3. Choose from the available AI models, each tailored to enhance specific aspects of your video.

Step 4. Preview the enhanced video before making a final choice.

Step 5. Export the final, high-quality 4K video by clicking on the export button, and enjoy the improved resolution and overall quality of your video.
Learn how to convert VHS to 4K with HitPaw Video Enhancer from this video:
Part 3. FAQs of VHS to 4K
1. What is super VHS resolution and pal VHS resolution?
The resolution of VHS tapes(or VHS cassette tapes) are typically around 240p to 480p, which is considered low resolution by today's standards. The VHS resolution refers to the number of pixels in a video image. A VHS tape has a resolution of around 240-480 vertical lines, while a DVD has a resolution of 480-1080 vertical lines.
PAL (Phase Alternating Line) is a television system that is used in most of Europe, Asia, Africa, and Australia. PAL VHS tapes have a resolution of 576i, which means that there are 576 horizontal lines of resolution in the video image.
2. Can you watch a VHS on a 4K TV?
Yes, with a VHS-to-digital converter, you can convert the analog signal of the VHS tape into a digital format that can be played on a 4K TV.
Part 4. Conclusion
VHS tapes were a popular format for recording and playing back video content. However, their low resolution and analog format make them incompatible with modern digital devices such as 4K TVs. In order to watch a VHS on a 4K TV, you will need to convert the analog signal of the VHS tape into a digital format. This can be done using a VHS-to-digital converter and then HitPaw Video Enhancer.
HitPaw Video Enhancer is an advanced tool that uses AI technology to enhance the quality of low-resolution videos and convert them to 4K. It can help you to convert VHS to HD quality. We recommend you use HitPaw Video Enhancer to upscale your VHS videos after converting them to a digital format.