How to Blur Face in Video with Ease in 2023
The term "face blurring" refers to a technique wherein an algorithm is used to detect human faces in an image, video, or live feed and then obscures them.
Facial blur is a privacy feature that may be applied to any photo or video to conceal the identities of the persons in it.
In most cases, it begins by finding the subject's face in the frame, after which it applies pixels or other blur face effects. However, this is accomplished without any loss in image quality.
Part 1. How to Blur Face in Video on Windows Quickly?
As far as I can tell, Premiere Pro is the most widely used program of its kind now. It has all the features you'd expect from a high-end video editing tool and more.
There's also the catch that it's subscription-only. However, if you just need it once, you may try it out for free for a week.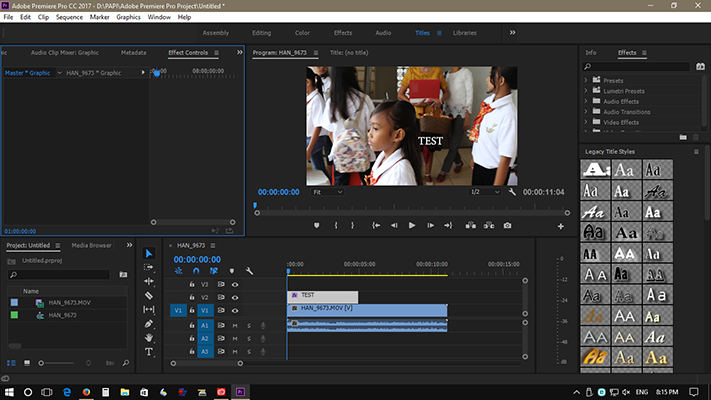 Here are the steps you need to do in Premiere Pro to blurry face a person's face:
1.

Start up Premiere Pro.

2.

Add your video.

3.

Look for Mosaic under "Effects"

4.

You can add it to the running video by dragging and dropping it.

5.

To access Mosaic, choose the oval in the upper left panel.

6.

Adjust the mask's size and position it over the individual's face.

7.

Click the forward play icon.
Part 2. How to Blur Face on Mac With Easy Steps
As a video editor, Final Cut Pro is among the best in the industry, but it's only available on Macs. The program is available for a one-time purchase price. It is one of the best apps to blur videos.
If you're not sure whether or not you'll really utilize the program, such as Premiere Pro, you may always use the trial version.
Using Final Cut Pro on a Mac, you may follow these steps to blur the face in a video:
1.

Launch Final Cut Pro and upload your video.

2.

Find Pixelate face in the Effects menu.

3.

Bring the effect right up to the subject's face.

4.

Modify the scale and intensity of the impact

5.

Click on the tracker at the top of the video.
Part 3. How to Blur Face Online for Free in a Video
Using a free, flexible online video editor is the best option for blurring a video. We advise trying out FlexClip, a straightforward web-based video editor that doesn't need any special skills or additional software.
FlexClip makes it simple to add a face blur effect to your video, and the mask tool makes it easy to blur a face or other areas of the video you desire.
Here are how to blur face with FlexClip online:
1.

Simply add your videos to the storyboard on FlexClip.

2.

To add a blur video overlay to an existing video, choose it from the "Video" submenu on the left, then search for "Mosaic" in the search field, and then click the "Picture in Picture" button.

3.

You can cover a person's face by going to the "Element" tab, picking a mask (such as an oval one), dragging it to the blur video overlay, and then tweaking the overlay's location, size, opacity, and duration.

4.

The editing process is complete. The video is available for instant download, or you may upload it to a hosting service like YouTube, Google Drive, or Dropbox to share with others. For public or private sharing, FlexClip may provide a shareable link and embed code.
Part 4. How to Make Face Blur on iPhone with Ease
You may edit your videos in both Simple and Timeline modes and pick from four different blur effects.
You may use the manual controls to blur just a certain portion of the image, and the level of the blur can be adjusted using the slider. If you wish to blur numerous faces at once, you may do it in the Timeline mode by adding as many blur zones as you want.
MovStash is a video editing program that was designed to make blurring parts of a movie fast and easy, but it does not have any other editing features.
Here are how to blur face on iPhone with MovStash:
1.

Get the free MovStash iPhone app now.

2.

Allow the app access to your media by launching it.

3.

The app's editing tools, such as global blur, basic blur, blur with timeline, and face tracking mode, will be shown to you. The face-tracking mode seems to do a good job. Click it to have the app automatically identify faces and blur their features. Note that this technique will blur everyone's features in the video.

4.

Select the relevant video to edit by tapping on the Video camera icon, which will bring up the Camera Roll.

5.

It's built into the app to cover people's identities. Select the four-arrow icon to modify the blur's intensity and the other two icons to select from a variety of different blurring techniques. When you're finished, click the Save button.
Part 5. How to Blur Face on Android with Blur Face App
The Blur Video app's many blur options, such as Fun Blur and FreeStyle Blur, are intuitive and provide a professional touch to your videos. It is also the best app to blur faces in videos.
With Instagram's no Crop option, users may share videos in the original aspect ratio of their camera, allowing them to modify the appearance of otherwise-lost pixels due to the app's automatic cropping. There are advertisements and in-app purchases available inside the Blur Video app.
Just pick the following steps:
1.

Install Blur Video on your Android device.

2.

Simply launch the app and choose the video you want to play. Pick the clip you want to edit.

3.

Select the plus sign next to the Blur button. When you open the app, you may choose between three different tracking modes: track faces, track objects, or track manually.

4.

On the video preview, a square will show. Position it over the face you wish to conceal and scale it using the corners.

5.

Select the Rectangle tool, then press the Record button and maintain the rectangle over the person's face you want to blur.

6.

To pause recording in the middle of a video, choose Stop Recording; otherwise, the recording will end when the video ends.

7.

Select the amount of blur you want to apply by clicking the Export button and using the related pop-up.

8.

If you get an error like "exporting canceled" when trying to export the video, just touch the Export button again. To save the clip to your library, choose the Save option.
Part 6. FAQs of Blurring Face
1. Why Blur Out Face in Video?
Taking pictures and movies at any time is now possible for everyone with a smartphone.
An important privacy and safety problem is raised by the fact that anybody may take pictures or videos of you without your permission. Because of the amount of personal information that can be extracted from a video's subject, some persons prefer that their faces not appear in public.
2. Can I Blur Moving Face in a Video?
Using a free web service like Flixier, you may hide individuals' identities in a video clip. Simply upload your movie, choose a square mask from the Shapes menu, and then blur or pixelate the mask to get the desired effect.
Part 7. Ultra-tips: How to Make Blurry Face Clear with AI Video Upscaler
When you are troubled about how to blur the face, I believe you will also have a moment of trouble about how to fix the blurred face.
HitPaw Video Enhancer is cutting-edge AI video enhancer software that can enhance and upscale low-resolution videos to as high as 8K, all while minimizing noise and maximizing sharpness. It also features a special artificial intelligence component built to enhance footage of anime and human faces. It is the best AI enhance video tool to make blurry face clear.
HitPaw Video Enhancer analyzes a video at low quality, then uses powerful AI algorithms and trained neural networks to upsample it to a much better resolution with minimal distortions. In addition to improving the video's clarity and sharpness, it may also help cut down on background noise with the easy steps and clean interface.
The following are the features of HitPaw Video Enhancer:
Easy upscaling to 8K or any other desired resolution.
Help videos glow by giving them the greatest noise reduction technology has to offer.
With a single click, AI may greatly improve the quality of your holiday video.
Preview at the finished video before you process it without any watermark.
Once you're happy with the improved video, you may save it in MP4 or MOV format at resolutions up to 8K.
Learn how to enhance the video to 4K with HitPaw AI Video Enhancer from this video:
Here is how to use HitPaw Video Enhancer to blur your face:
Step 1.To improve your videos, click the button on official website to download and install HitPaw Video Enhancer.

Step 2.The first step in using HitPaw Video Enhancer is to load your video file into the program's primary interface. To do so, choose the file you want to upload.

Step 3.Once you've imported your video, you may choose the AI model that works best for you and your needs.

Step 4.You may see a preview of the video with the effect applied by selecting "Preview."

Step 5.When you're ready to send out your completed file, use the export button.
Part 8. Conclusion
You shouldn't let the fact that a picture or video includes private information prevent you from sharing it on social media.

Using the tools we discussed here, you can easily hide a person's face or any other unwanted detail in a photo. In order to protect your privacy, which app do you use to hide your face in images and videos?

We recommend you use HitPaw Video Enhancer because of its AI-powered technology. It can easily blur face in video. Download it today.

'