How to Fix Pixelated Video in Grainy Effectively and Flawlessly
The fundamental rule governing the quality of photos and video is that the more pixels an object has, the more apparent it will be. The video becomes hazy or subpar when the pixel rate is lower. The usage of a faulty camera is another reason for pixelation. The quality of the videos may also be impacted by dust accumulation or damage to the camera lens.
You might occasionally notice that the video on Android phones is jagged or pixelated, and ask yourself why my video looks pixelated. It could be because of the camera lens, compression, or low resolution. Recording fast-moving objects might also result in the blurry or smeared video.
Regardless of the cause, you can always fix your pixelated videos and restore crisp-quality video footage using online video repair tools.
Part 1. Why Does My Video Look Pixelated?
If you want to reduce the size and amount of space a movie takes up on your hard drive, you can try compressing it. However, this usually results in pixelation. 
Many things can make a video look pixelated such as:
Creating your videos in dim lighting.
Merging incompatible camera settings.
Using a higher ISO for filming videos.
Reducing the size of a small video file.
Using a camera with a tiny sensor to shoot video.
Using a smaller lens setting when filming videos.
In most cases, you can fix pixelated videos online for free. Nonetheless, some extreme cases exist when the videos can no longer be fixed.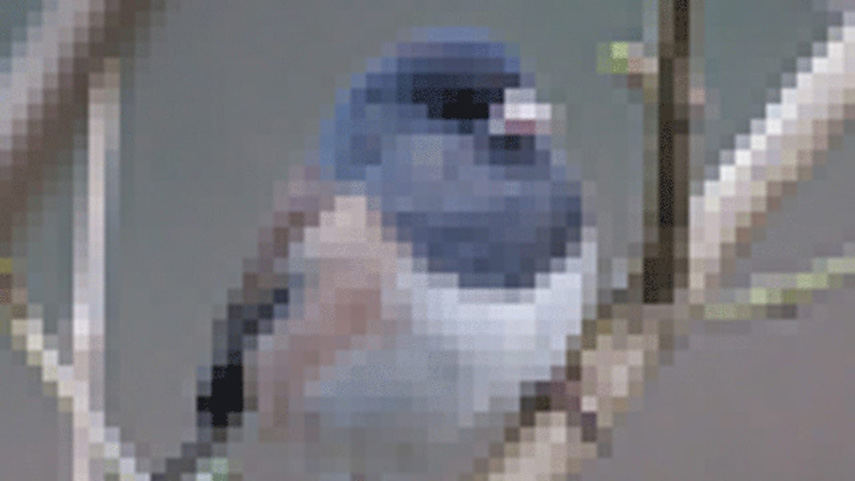 Part 2. Best Way to Fix Pixelated Video with Video Enhance AI Tool
Luckily, multiple video repair software programs are available online to resolve all your pixelation issues if you want to know how to fix pixelated videos for free. Although many mobile applications are available to fix your pixelated videos, we recommend using PC software. 
However, the problem with PC software is that it is often hard for beginners. But don't worry because HitPaw Video Enhancer is here to help. It is one of the best AI video enhancers available online for beginners and professionals to improve video quality.
The software features four separate AI models for professional-level video editing that can fix pixelated video premiere pro and improve their quality in every situation.
General Denoise Model: 

It Is an all-purpose model that can improve any outdated video. Additionally, it contains a denoise tool that can make any old video look brand-new by removing its noise.

Face Model:

The video quality may be easily improved, and it can also improve the faces in the film by making them appear faultless.

Animation Model: 

 It is made to improve and fix the video quality for animation videos. The software may upscale the films to be perfectly animated and crisply clear while restoring the videos' quality.

Colourize Model: 

This model is perfect for users who are wondering how to fix black pixelated videos. It enables the user to employ artificial intelligence to change their grayscale photographs to colored ones.
Features of HitPaw Video Enhancer
It uses an upscaling mechanism that minimizes background noise so that unbroken, clear, and crisp videos can be obtained.
Software with artificial intelligence specifically developed to recognize and edit anime videos and human faces.
Most easy steps and interface help you enhance video without any difficulty
Allows Batch processing of your footage. 
With HitPaw Video Enhancer, you can upscale all your pixelated videos to 8K resolution that feels pleasing to the eye.
Learn how to enhance the video to 4K with HitPaw AI Video Enhancer from this video:
Simple Step to Fix Pixelated Video
Step 1.Head to the website and download HitPaw Video Enhancer on your computer.

Step 2.To begin the importing process, choose a file or import the video by dragging and dropping it.

Step 3.The third step is to decide which artificial intelligence model you want to use.

Step 4.Preview the effect of enhanced video

Step 5.Export the Modified Pixelated Video
Part 3. Recover Pixelated Video from Adobe After Effects
Do you have experience recovering videos that have been pixelated on Android and other platforms? A highly recommended tool for this work is After Effects by Adobe. It's an excellent software for fixing video pixelation and works on all major platforms.
If your films have become pixelated, try one of these three solutions using Adobe After Effects: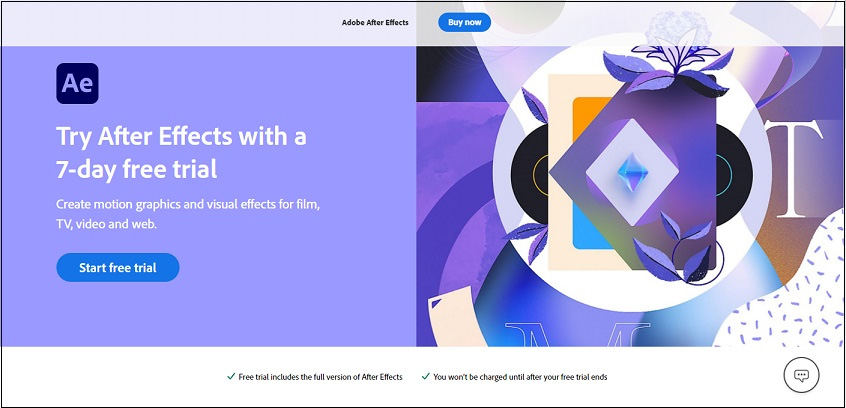 Solution 1:

One option to unpixelate video is to use Adobe After Effects' Detail-Preserving Upscale filter, maintain a layer ratio of 100%, and then boost that ratio within the effect itself.

Solution 2:

The second option is to locate edges and camera blur and then apply those fixes to fix the pixelated video. Keep reading to know how to make a video less pixelated.
Step 1.First, you'll want to do some pre-compositing by making a copy of the image and choosing to "maintain all attributes in the original composition."

Step 2. The second stage is activating pre-compression and using the find edges effect.

Step 3.Third, add the camera blur effect using the original image before returning to the main composition interface.

Step 4.In the fourth step, a pre-composition of the blur map is chosen and activated; the blur radius is set to 1.
Solution 3: 

The third solution is the easiest: add film grain in Adobe After Effects to fix pixelated videos.
Step 1.First, choose a video from your Cinegrain package that you want to use as an overlay, and then choose a film grain that most closely matches it.

Step 2. The second step is to select Freeze Frame or another option.

Step 3.The particles cover up the pixelated remnants of your videos
Part 4. Fix Grainy Video Files Using VLC Media Player
VLC Media Player is an exceptional video repairing tool and a free multimedia player. It can change the format of audio and video files, record the screen, and fix pixelated videos, along with many other things. 
If your videos are pixelated in VLC Media Player, you can follow these steps to unpixelate video online.
Step 1.Open up VLC Media Player on your PC.

Step 2.Head to the Tools menu and select Preferences.

Step 3.Choose "Always Fix" next to the Input/Codecs.

Step 4. Confirm the change by clicking the Save button after the pixelated videos have been fixed.
Part 5. Check With the Hardware Processing Capacity
If you have checked your camera lens and the resolution and are still wondering how to remove pixelation from videos, you may be taking the wrong approach. 
Sometimes, the cause of your pixelated videos is not the camera lens or low resolution but the hardware gear interpreting the video. Videos with high resolution use a lot of CPU power. 
If the number of played videos exceeds the hardware's processing power, they will appear pixelated. The videos themselves are not at fault in this case. 
The only step is to utilize a system that can manage such films to solve the problem.
Part 6. Check Video Player Incompatible
The incompatibility of the video player may be the cause of your occasionally seeing pixelated videos rather than an issue with the content itself.
Certain video players may be unable to render specific videos efficiently because they have been encoded with unique algorithms in some cases.
The only step is to try a different video player to verify that it plays the video without problems.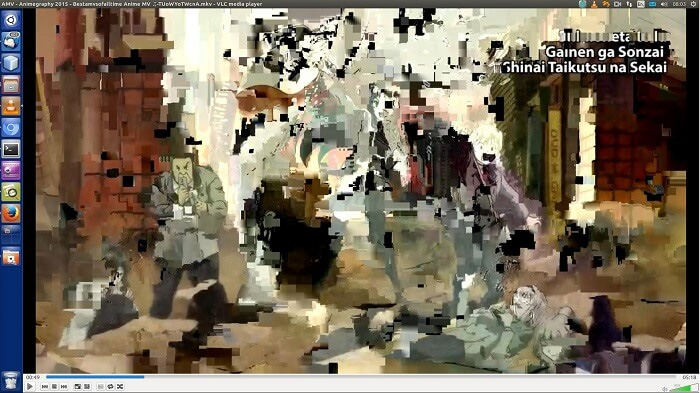 Part 7. Restore From Original Video File
If pixelization is a result of excessive compression, there is a solution. To create a new video file, you'll need access to the source. Here's how to unpixelate a video through the original video file.
The video is recommended to be resized to its initial size to remove pixelation from video.
Step 1.The first step is to get rid of the grainy footage.

Step 2.Next, you should save the uncompressed version of the original video file.
Taking above mentioned steps will help you unpixelate a video.
Part 8. Conclusion 
Always keep in mind to record videos in finer resolution to prevent pixelation. There are options to select the resolution on mobile devices and digital cameras. If not necessary, avoid using 4k resolutions. It will require a considerable amount of battery and storage. Choose standard HD resolutions like 720p and 1080p. That will serve the needs of the typical consumer flawlessly.
However, if the video has already been shot and is pixelated, you can use the AI Video Enhancers available online to repair the distorted footage. Nevertheless, make sure you are choosing reliable software, which is why we recommend using HitPaw Video Enhancer; with over 6000 satisfied customers, it can solve all your pixelation issues in no time!