How to Use TikTok Filters Online for Free without Downloading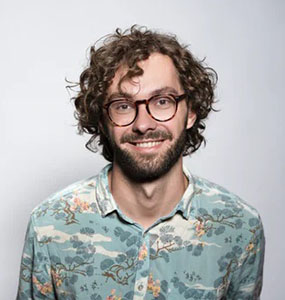 TikTok is one of the most well-known social media apps that enables you to create and share short videos. These days teenagers and even adults enjoy TikTok to ease their boredom and stress while they can't leave at home. With its popularity, most users are taking advantage of making their short videos much more exciting.
Using TikTok filters online free is similar to how you would use filters on other social media apps, such as Snapchat or Instagram. What sets TikTok apart from other similar social media apps is its integrated video filters and effects, which you can add to clips after they're recorded in real time while they're being recorded. Continue to read this article to find the solutions to add filters online to TikTok videos.
Part 1: Can I Use TikTok Online
To access TikTok on PC, simply visit TikTok.com. Once you're there, click the Watch Now button to get started. You now have access to TikTok on your desktop.
Before you start recording music videos with TikTok on desktops, you hаvе to install the Bluestacks emulator first. You can do it by visiting the  website and downloading the software to your computer. Then locate the exe file you downloaded and double-click on it. Once the installer launches, click on the Install Now button. After the installation is complete, click on the Complete button. Now the Bluestacks emulator is installed on your PC. Launch it and head over to the App Center tab. You will be asked to sign in to your Google account. And if you don't have one, you need to create a Google account for using TikTok or any other Android app from your computer.
You an type TikTok into the Search Bar that is located in the upper right corner of the emulator's window in order to find the TikTok app on Google play. Once the ap appears in the search results, click on it and proceed to click on the Install button. Click Accept in the pop-up window to give the app access to the computer's camera. And then after the TikTok app is installed, click on the Open button.
You can use the app to record new videos, add sounds, use TikTok filters online and effects or trim each video you recorded with TikTok.
Part 2: What Kinds of Filters Does TikTok Have
Filters are preset edits that can change the look of your entire video. Much like the filters you'll find on Instagram or third-party editing apps like VSCO, TikTok filters are used to edit videos to the user's preference. Here are some of the available TikTok filters online.
2.1 TikTok Anime Filter
The anime filter is actually a Snapchat filter that went viral when people started uploading their Snapchat videos on TikTok . This filter changes you into an anime character, but to access it, you'll first have to download Snapchat and create an account if you don't have one already.
2.2 TikTok Freeze Filter
The freeze frame effect in TikTok can often be seen among the clips in the recommendations, which speaks of its popularity.
Clips with this treatment have been keeping up with the app's trends since the summer. Their essence is simple - the author of the video shoots himself from one angle, utters a phrase or does a certain action, then uses the effect, and his image "freeze" on the screen.
Then the clip continues with the user showing his own reaction to the previous scene or making it a joke. At this moment, the author and his frozen image are presented on the screen.
2.3 TikTok Waterfall Filter
Time Warp Waterfall refers to a type of Time Warp visual effect on TikTok that allows the user to send a continuous ripple through a portion of their screen in a waterfall-like fashion. The effect gained major popularity on the app in January 2021.
2.4 TikTok Dоg Fасе Filter
Another fun face you can try on is the Dog Face Filter. This one gives you dog-like ears, a nose, and even a tongue. However, it is another filter you have to record in Snapchat before publishing to TikTok.
2.5 TikTok Face Morph Filter
Another popular effect is the Face Morph effect. This one allows you to transition and morph between several photos of someone else's face. Because this uses images instead of video, the effect can be found in the Templates section of TikTok.
2.6 TikTok Portrait F3 Filter
This filter lightens your video. It makes the dark areas in your video look lighter. If you want to make your video look warm and also increase the contrast, then check out Portrait F3. The filter also adds a bluish tint to your video.
2.7 TikTok Bling Filter
Another effect likely to show up on your For You page is the Bling effect. This effect mimics the flash from a diamond that's hit by the sun in multiple places all over the video.
2.7 TikTok Beauty Filter
The Beauty filter is popular on TikTok for obvious reasons. It evens out skin tone, adds more color, and, overall, improves your appearance. Many people use it in addition to other filters and effects.
Part 3: How to Add Filters to Videos on TikTok
Adding filters to videos is available on TikTok. Here, we will list the detailed steps to help you learn how to use filters on TikTok.
Step 01Open your TikTok app and tap the "Create" button, as if you were going to make a new video.
Step 02Tap "Filters" on the right side of the screen.
Step 03Select the filter you want to apply. Scroll to search, or select one of the categories to narrow down the kind of filter you want to use.
Part 4: How to Add More Filters to TikTok Videos Online for Free
Filters on TikTok are too few to meet your needs? Want to add more filters to TikTok videos for free? Don't worry. We are going to introduced some online tools to add more filters.
4.1 ClipChamp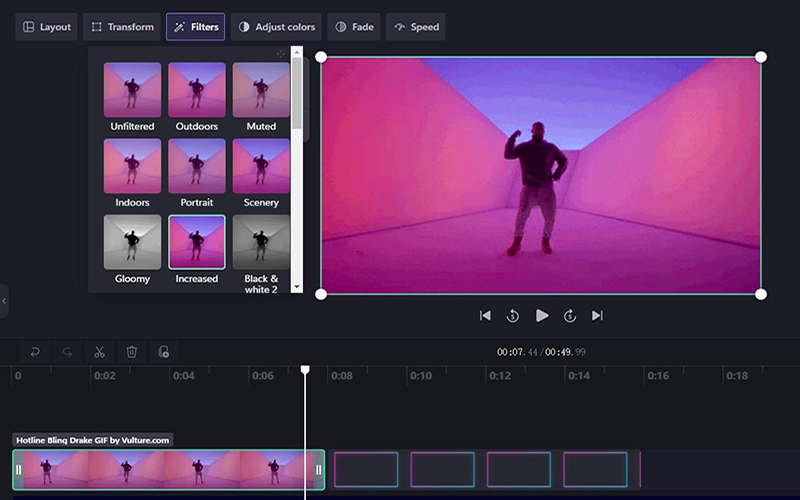 Never made a TikTok video or TikTok video ad before? Make professional-looking videos in just a few clicks with Clipchamp's free online video editor. Easily start editing your TikTok video with a ready-to-use template. They're fully customizable so you can add in your brand, music, text and even swap out stock footage and add your video clips.
Whether you're prompting an upcoming sale, generating brand awareness through casual uploads or keeping up with the latest hashtag trends, our video templates are the easiest way to create eye-catching content in no time. Try editing and uploading on the go with ClipChanp's iOS app.  
In Clipchamp create you can add filters to your videos or images to change the color and contrast, make them black and white, or add blur. You can also use filters to add special effects such a slow zoom (similar to a Ken Burns effect), glitch, smoke, filmic noise, VHS crackle, blur fill or Green Screen.
To apply a filter, simply click on the clip in the timeline so that an editing menu appears, then click the Filters tab and choose a filter. See below for a step-by-step guide with images.  
4.2  FlexClip
Do you want your TikTok video to stand out with cool filters, but the filter effects provided by TikTok can't meet your needs? Don't worry, you can try some other video editors with stunning filters and effects. FlexClip's online video editor is ready to help.
FlexClip's video filter editor helps you add video filter like Greyscale, B&W, Vintage, Retro, Lomo, Nordic, Chromatic, Walden, Nashville, Earlybird and more for free. Besides adding filters, FlexClip video editor allows you to add more effects to your TikTok video - add text animation, add transition effects, change video speed, add emoji stickers, set countdown timer, and more. Besides, it also offers tons of royalty-free photos, video clips, and music tracks.  
FlexClip also comes with stunning video templates that enable you with endless inspiration to customize your own Tik Tok video.  
Part 5: How to Add Filters to TikTok Video on Desktop
TikTok users would like to get more views and create more accretive videos; in order to achieve these goals, TikTok users usually search for TikTok editing apps. It is quite difficult to choose the best app from among many apps available in the market; that is the reason why this article has been published to provide information of the best TikTok editing apps can help you choose the best features. To edit TikTok videos easily and create many outstanding and attractive videos, try to use HitPaw Edimakor.
Features of HitPaw Edimakor:
Below are some noteworthy features of this remarkable tool:
Tons of breathtaking video transitions, stickers and filters
Performs all basic video editing tools such as Crop, Trim, Rotate, Split, Zoom, and Mirror videos
Multi-layer video editing has never been easier
The innovative and precise timeline makes you edit more than 2 videos or audios at the same time
Creates a picture in picture video
Adds text and background music of any sort
User-friendly interface
Exports in 4k resolution
Steps to Add Filters to TikTok videos with HitPaw Edimakor:
Add filters to videos is an pretty easy thing in HitPaw Edimakor, and now let's have a look at it.
Bonus Tip: Easily Add Filters on TikTok with HitPaw MiraCut
With so many online tools or desktop programs out there, it's fairly hard to choose the right one for yourself to add filters on TikTok. If that is your case, you can try HitPaw MiraCut. MiraCut is an Android application that allows you to edit videos on your mobile easily with one click.
As an easy-to-use application, MiraCut offers various trendy templates so that you can edit your own videos with ease in a short time. Get MiraCut and start editing now!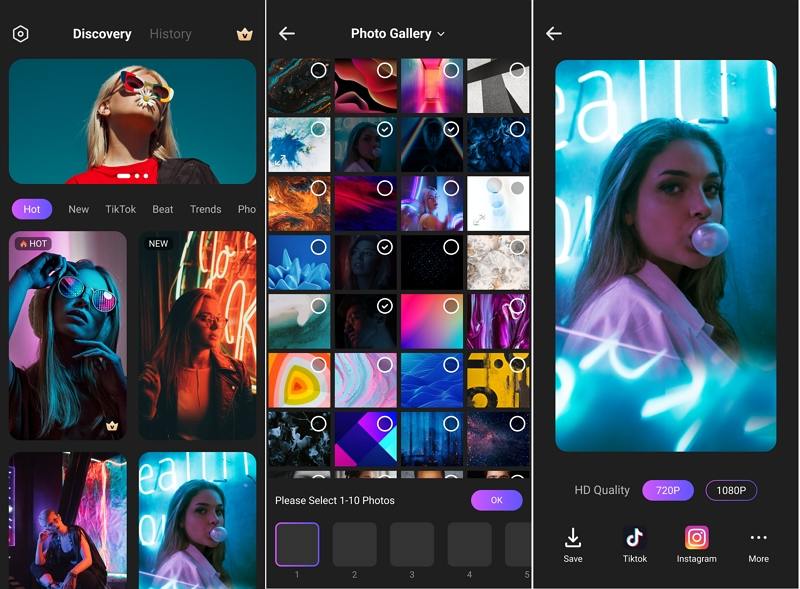 Conclusion:
TikTok filters are tools to edit the videos you are going to upload. They generate effects, color changes and give a different touch to your videos and publications.
If you want the best and most expansive video for desktop app, then install HitPaw Edimakor. With this tool installed on your computer, applying TikTok filters online is just a few clicks away. Plus, it is a full-featured video editor and offers tons of basic and advanced editing features at a user-friendly price.