Clipchamp Review: Is This Video Editor Really Worth It?
Videos are the best source to share new ideas and concepts with the world around you. Making a video interesting and informative by editing it with various tools is not just complex but is rather time-consuming. You need to have perfect software that has all those amazing features that can help you make your videos as lively as possible. ClipChamp is an online video editing software that can help you recreate your videos in whatever way you like. This article will give you a complete overview of all the features of Clip Champ so you can effectively edit your videos and make them look as extraordinary as possible.
1. What is Clipchamp Video Editor?
ClipChamp is a well-designed in-browser video editor that can help you recreate your videos to give them a more professional look. Being a browser app, it doesn't require you to go through the complex process of downloading any software at all. You simply have to open ClipChamp in your browser and start with your editing process. With fast and reliable editing options you can make any video look appealing. Either you need a video for your official website, your social media channel, create your blog, tutorials, or even want to edit your favorite moments to be shared on your social media account.
You will find the following key features in Clip Champ video editor:
It had all the basic editing options available for you. You can rotate, crop, cut, trim, include filters, and even adjust the color and brightness in any video.
The advanced editing features enable you to balance colors, change backgrounds, transitions, and speed of the video and, add customized text to it.
You don't have to download any software at all and you can carry out the editing process simply in your web browser.
The basic version is free to use. But if you need more features you can go for the paid versions which are available in an affordable range.
The software can help you change the background and add overlays of the video using the "Green Screen" editing option.
The AI Voice Generator feature allows you to turn your text into speech and create a professional sounding documentary.
It also has an audio visualizer that can help you transform your audio recordings into dynamic animations.
The subscribers can get access to the stock audio library through which you can add the music of your choice.
2. Is Clipchamp Online Video Editor Free?
ClipChamp is easily accessible through the web browser. Although it is free to use but if you need more features for your video it also offers multiple paid versions. ClipChamp pricing for paid versions is quite minimum.
The basic Clip Champ account offers a wide variety of advanced editing features including:
Editing your audio, video, and images.
Include titles, filters, and visual effects.
Import videos in 480 SD resolution.
With the basic Create plan, you also gain access to library stock videos, backgrounds, sound effects, and videos.
Next, the software has a Creator Plan. This is a paid plan and you need to pay $6/month to upgrade to this plan. Creator Plan gives access to some pro features such as:
Allowing you to export unlimited videos in 720 HD format.
You can use unlimited stock audio files without a watermark.
You can also purchase stock video files at a reasonable price.
The software also has a Business Plan and Business Platinum Plan which allow you to export countless videos in high-resolution format of 1080p, allow you to use custom branding features and also use unlimited stock video files. These plan are available at $13/month and $27/month respectively.
3. Is Clipchamp Safe?
ClipChamp is perfectly safe to use. The privacy policies and website security are specifically designed by ClipChamp pry Ltd to protect the individual rights of all users. The website keeps all personal information and personal data of its users safe. Moreover, since all your videos are within your computer no one has access to them.
4. Pros and Cons
The pros and cons of online video editor ClipChamp include
Online video editor ClipChamp is very easy to use.
Since it is an in-browser software you don't have to download anything at all.
It is equipped with all the editing features that can make any simple video look professional.
You can also use customizable video templates to improve your video using the ClipChamp video editor online.
The webcam features allow you to record and edit video directly through the web browser.
It supports a wide range of input formats including MOV, AVI, MP3, MP4, JPG, PNG, and many more.
The editing process sometimes becomes slow.
Has a watermark on all stock videos.
Exporting videos takes a lot of time.
5. What Customer Says About Clip Champ?
According to the reviews submitted by users of video editor Clip Champ the app has a 4.6 review rate. Users are pretty satisfied with the software and have given excellent reviews to ClipChamp.
" This website saved my life for a group project. I had zero video editing experience but the app was so easy for the beginners. "
----Fangming LIU
" It has everything I need to make my videos, is simple and complete, highly recommended. "
---- Zuleiry Nunez
" ClipChamp has been very useful to me. I really recommend it. It is very easy to use. "
----Diana Garcia
" I love how easy Clip Champ is easy to use and it's a great value. Have tried other video editing platforms and found them really hard to use and incredibly expensive. ClipChamp has equivalent features and I can create and edit videos for my clients easily and effectively. "
----Mell Millgate
6. Clipchamp Desktop Alternative - HitPaw Edimakor
ClipChamp is a great tool for editing and creating videos. But there is always an alternative to everything. Another video editing tool that can help you in your video editing process is well-designed HitPaw Edimakor video editor. HitPaw Edimakor is a video editing software that gives you all the video editing software right at your disposal. It offers you a vast range of editing options.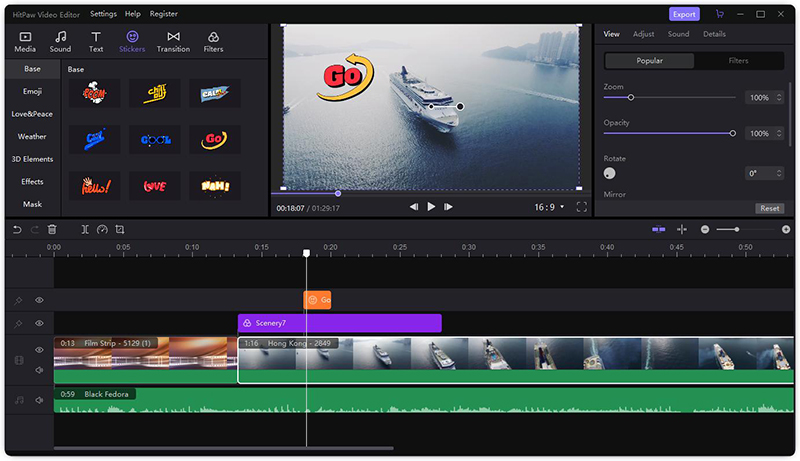 HitPaw Edimakor has some unique distinguishing features such as:
The software has a simple user interface.
It is 100% safe and contains no viruses or ads.
It allows you to add music to your videos.
You can add text, titles, subtitles or watermarks in HitPaw Edimakor.
It supports many formats of your media files.
With HitPaw Edimakor, you can edit videos, cut, rotate crop them, change the speed of the video, and much more.
Most importantly HitPaw Edimakor also enables you to add stickers, transition or filters to your videos.
Conclusion
HitPaw Edimakor and ClipChamp both have the potential of creating amazing videos. Both the software are quite right for video editing even for beginners. With these tools, you can make professional videos with a few simple clicks. An additional feature in HitPaw Edimakor allows you to save images and videos without any watermarks blocking your view.