The Ultimate Guide to 8K YouTube Video
Creators and viewers alike are constantly on the lookout for the next big thing. With the rise of 8K video on platforms like YouTube, the boundaries of visual clarity and detail are being pushed like never before. This guide will delve into the world of 8K video, its significance, and how you can experience it on YouTube.
Part 1. What is 8K Video?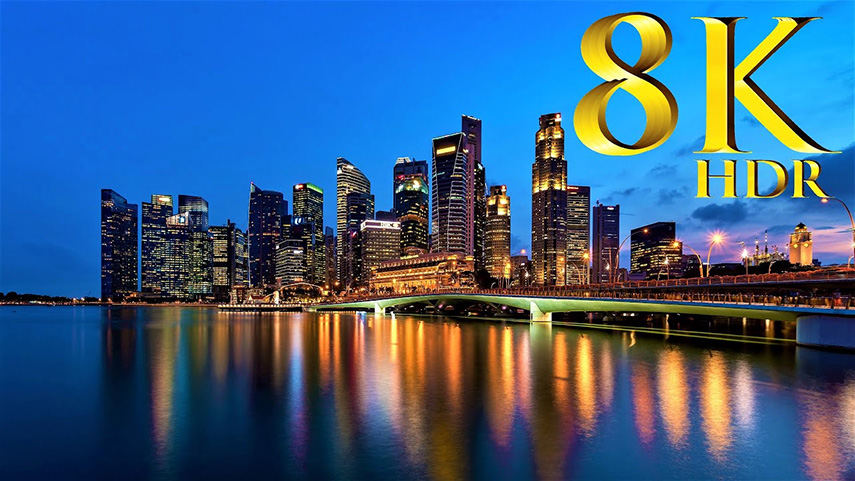 8K video represents one of the highest resolutions in the realm of digital video. With a resolution of approximately 7680 x 4320 pixels, it offers four times the number of pixels as 4K video and sixteen times that of Full HD. This immense pixel density translates to incredibly detailed and lifelike visuals, making the viewing experience truly immersive.
The benefits of 8K are not just limited to clarity. With more pixels to work with, video editors have greater flexibility in post-production. They can crop, zoom, or pan within an 8K frame without sacrificing video quality. However, it's worth noting that while 8K offers unparalleled detail, its true potential is best realized on larger screens where the difference in resolution becomes more apparent.
Part 2. How To Watch 8K Video YouTube?
Experiencing 8K content on YouTube is a treat for the eyes, but it requires the right equipment and a bit of know-how. Here are some methods to watch 8K videos on YouTube, along with their advantages and drawbacks:
1. Use an 8K TV
Several leading brands have ventured into producing 8K TVs. Brands like Samsung, LG, and Sony have flagship models that support 8K playback.
Pros
Tailored for 8K: These TVs are specifically designed to display 8K content, ensuring optimal picture quality.
Bigger Screens: 8K TVs are generally available in larger sizes, making the viewing experience more immersive.
Cons
Cost: 8K TVs come with a hefty price tag.
Limited Content: While platforms like YouTube are introducing more 8K content, the overall availability is still limited compared to lower resolutions.
2. Use an ultra-speed PC
For those who prefer watching YouTube on their computers, an ultra-speed PC with a powerful graphics card and monitor that supports 8K resolution is essential.
Pros
Flexibility: PCs offer more flexibility in terms of software and settings adjustments.
Multi-purpose: Apart from watching videos, you can use the PC for a range of tasks, including gaming, editing, and more.
Cons
Hardware Requirements: To smoothly play 8K YouTube video, a high-end graphics card and a monitor supporting 8K resolution are necessary.
Potential Compatibility Issues: Some users have reported issues with certain browsers or graphics cards when trying to play 8K content on YouTube.
Part 3. Is There a YouTube Video 8K Enhancer?
The high-definition content, many of us often find ourselves asking, "Can the quality of my YouTube videos be even better?" Especially when it comes to 8k video youtube, the quest for clarity is never-ending. For those seeking to elevate their video quality, there's good news. Yes, there is a way to enhance YouTube videos to 8K, and it comes in the form of HitPaw Video Enhancer.
Features
8K Upscaling: One of the primary features of HitPaw Video Enhancer is its ability to upscale videos to 8K resolution. This means even if your original content isn't in 8K, the software can elevate it to that level, making your YouTube video 8k ready.
Noise Reduction: One common issue with videos, especially those shot in low light, is the presence of noise or grain. HitPaw Video Enhancer comes equipped with a noise reduction tool that works to eliminate this, ensuring your videos are clear and free from unwanted grainy textures.
Brightness and Contrast Adjustment: Sometimes, all a video needs is a little tweak in its brightness or contrast to make it pop. With HitPaw, users can manually adjust these elements, ensuring the video looks exactly the way they want.
Preview Without Watermarks: Before finalizing the video, users can preview their enhanced content. And the best part? These previews come without any watermarks, allowing you to see the end result in all its glory.
Sharpening Tool: Blurry videos can be a letdown. The sharpening tool in HitPaw Video Enhancer allows users to add clarity to their videos, making every detail stand out.
Color Correction: Whether it's adjusting the saturation, tweaking the hue, or enhancing the vibrancy, the color correction tools in HitPaw ensure your videos look vibrant and true to life.
Customizable Export Options: Once you've enhanced your video, HitPaw offers a range of export options. Whether you want to save it in a specific format, adjust the bitrate, or choose a particular frame rate, the software gives you the flexibility to decide.
Batch Processing: Got multiple videos to enhance? No problem. HitPaw Video Enhancer supports batch processing, allowing you to upscale and enhance multiple videos in one go, saving time and effort.
Support for Multiple Formats: Whether you're working with MP4, AVI, MOV, or any other popular video format, HitPaw has got you covered. It supports a wide range of formats, ensuring compatibility isn't an issue.
Interactive Tutorials: For those who are new to video enhancement, HitPaw offers interactive tutorials right within the software. These guides walk users through the various features, ensuring they make the most of what the software has to offer.
Steps to Use HitPaw Video Enhancer
Step 1. Download and Install:Begin by heading to the official HitPaw website and downloading the Video Enhancer. Follow the installation prompts to set it up on your system.

Step 2. Launch the Program & Import:Once installed, open the software. You'll be greeted with a clean interface with clear options. Click on the 'Add Files' button to import the YouTube video you wish to enhance.

Step 3. Choose Enhancement Options:On the right panel, you'll find various enhancement options. Select the desired resolution (in this case, 8K). You can also choose other enhancement features based on your needs.

Step 4. Preview and Save:Before exporting, use the preview feature to check the video. If satisfied, click on the 'Export' button and choose your desired output location.
Part 4. FAQs Of 8K Video YouTube
Q1. Why does 8K video lag on YouTube?
A1. Streaming 8K videos is no small feat. It demands a lot from both the device and the internet connection. According to a source from Huawei, 8K video playback heavily relies on the CPU and GPU of the device. If either of these components isn't up to the task, you'll experience lag or stuttering. Additionally, the internet connection plays a crucial role. Streaming 8K requires a robust and stable internet speed. If the bandwidth isn't sufficient, the video will buffer or play at a lower resolution. It's always a good idea to ensure your device is updated and that you have a fast, reliable internet connection when trying to enjoy 8K content on YouTube.
Q2. Can YouTube output 8K?
A2. Absolutely! YouTube has been at the forefront of supporting high-resolution content. As per Discover 8K, streaming platforms, including YouTube, now offer 8K content. However, it's essential to note that while the platform supports 8K, the actual playback quality will depend on the viewer's device and internet connection. If both are optimal, viewers can enjoy crisp, clear 8K videos on YouTube.
Q3. Does YouTube support 8K 120fps?
A3. Frame rate is a crucial aspect of video quality, determining how smooth the video playback appears. Currently, YouTube supports frame rates from 24 to 60 fps for regular videos. As per VdoCipher, while higher frame rates like 120fps can offer smoother playback, especially for action sequences, YouTube doesn't natively support 8K at 120fps. It's more common to find videos in 24, 30, or 60 fps on the platform, even in 8K resolution.
Bottom Line
The evolution of video quality, especially with the introduction of 8K on platforms like YouTube, is genuinely remarkable. It offers content creators and viewers an unparalleled visual experience. However, to fully enjoy this experience, both the device and the internet connection need to be up to par. As technology continues to advance, it's only a matter of time before 8K becomes as commonplace as 4K is today. For those looking to enhance their video quality, tools like HitPaw Video Enhancer can be invaluable. With its array of features, it's a must-have for anyone serious about video quality. Give it a try and elevate your video content to the next level.