The Best 10 Free Screen Recorder No Watermark - Real-Free
There's no doubt that technology has come a long way. While our mobile phone and laptop screens have already made our lives easier, a screen recorder has several additional benefits, and it's become an important part of many businesses. Keep reading to learn about the best free screen recorders.
Part 1.The Best 7 Free Screen Recorder No Watermark
1. EaseUS RecExperts
This screen recorder works perfectly well for Windows 10 users and Mac screen users. If you use this recorder, you will just be a few clicks away from effective from recording your desired screen, and the best part about this recorder is that it leaves no watermarks, making it easier for you to share your video recording as soon as possible.
You can also set a particular recording time which is ideal for recording meetings and live discussions. You can also edit your screen recordings with the help of features such as adding text or lines and arrows.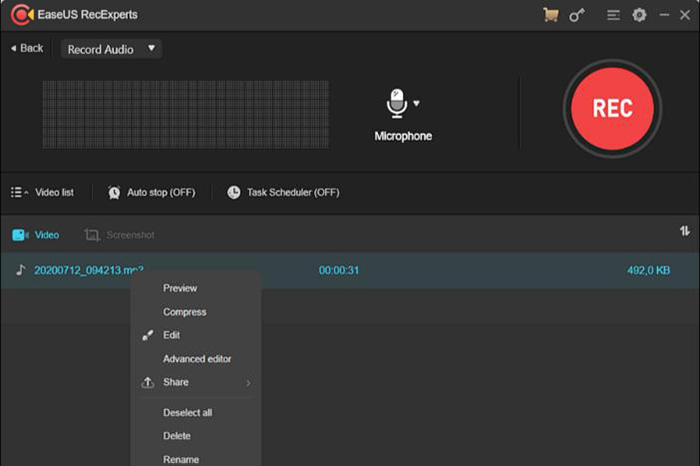 It allows you to save the recording in your desired format, and you could opt for GIF, MP4, and many other formats.
Offers flexibility in your recordings.
High-quality sound and video recording.
It has a restricted recording time if you use the free version.
2. OBS Studio
This screen recorder is perfect for recording both pre-recorded and live content. Furthermore, it is free of cost, and it does not contain any watermarks. It gives excellent sound and image results and allows you to edit the recording as per your personal preference.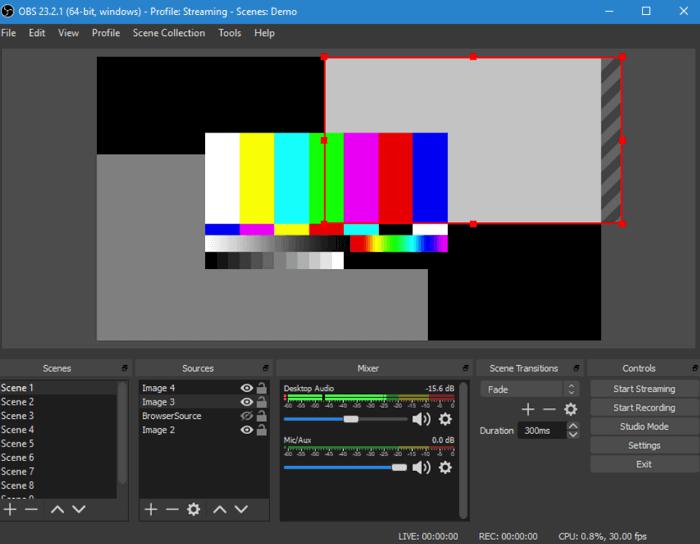 This recorder works for multiple devices like Mac, Windows, and Linux.
You can arrange the layout of the recording according you're your preference.
Good audio and video editing support.
It is not very user-friendly.
3. ActivePresenter
This screen recorder works well for Windows users and Mac users. It can be used for recording screens along with content from other sources like webcams and microphones. It allows smooth screen recording along with further editing of your recorded content. It also has no time limit.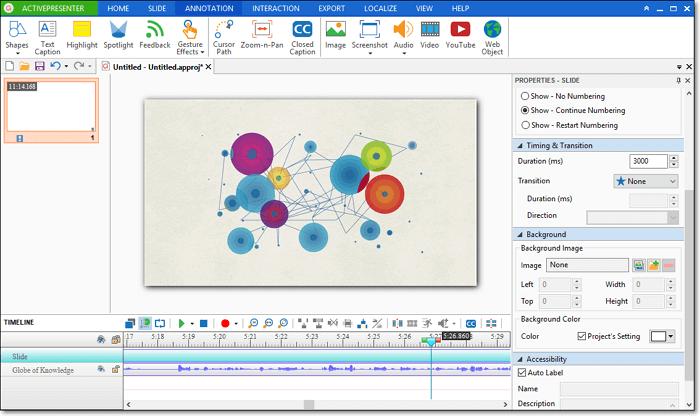 It works well for Mac, Windows, and Android.
Comes with excellent editing software.
Beginners may find it challenging to use this recorder.
4. ShareX
This screen recording software is among the most popular ones in the market because it allows a full-screen recording, and you are also given the liberty to restrict your screen recording to a particular portion. Furthermore, when the video has been recorded, it will be saved on its own on your computer.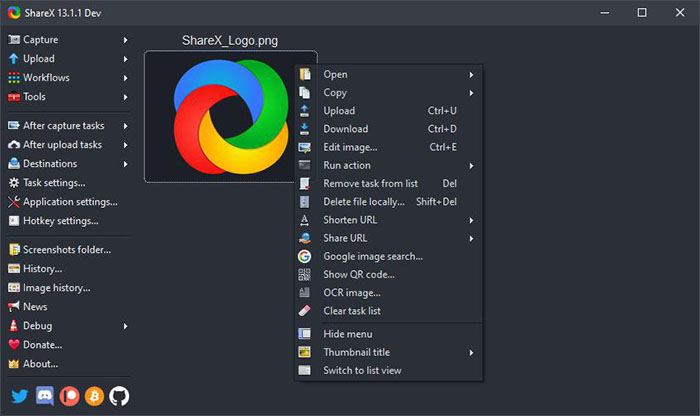 This recorder does not have any restrictions related to the size of the recording.
It has no time restrictions.
The user interface of ShareX is quite basic.
5. QuickTime Player
QuickTime Player is a screen recorder for Mac users. However, it is a multi-purpose product as it serves as both a media player and a screen recorder. It allows you to record your screens and save them without a watermark. You can also make use of its well-equipped editor to edit your recordings.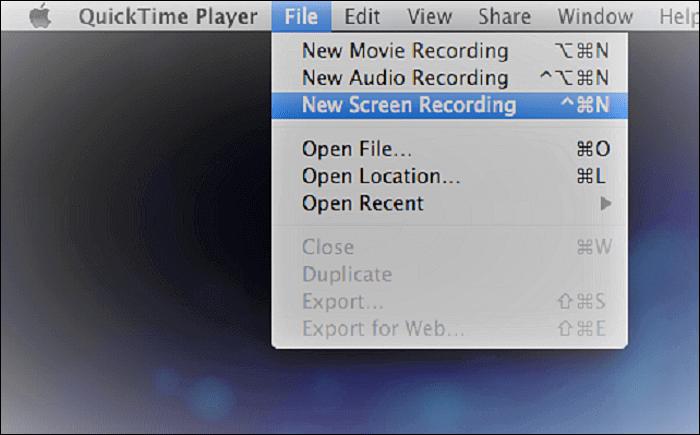 The recording will be quick.
It has excellent tools for editing.
It is only limited to Mac users.
It does not offer extensive editing tools.
6. Icecream Screen Recorder
This recorder is ideal for Windows 10 users as it allows you to record your screens without any watermarks. It is also compatible with the Mac software and allows you to record all sorts of screens. You can also record any screen and operate a webcam simultaneously with this recorder.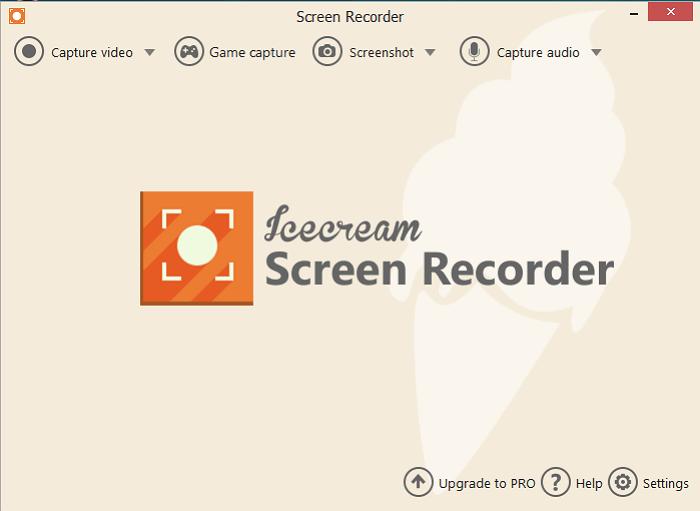 This recorder works well for Mac, Android, and Windows.
You can upload your recordings instantly after recording them.
The free version of this recorder does not exceed more than a five-minute recording.
7. Free Cam
This screen recorder is famous for its high-quality recordings as the free version offers a 760p recording. You can also edit the voice of the recording by adding your own voice recordings in the video as well.
You can add and remove audio in the videos as per your preference.
This screen recorder only works for Windows.
Part 2.The Best 3 Screen Recorders No Watermark Online
1. HitPaw Online Screen Recorder
HitPaw is the first online screen recorder on our list since it is extremely user-friendly, and it comes with several editing options for your recordings as well. It is free from watermarks and allows you to edit other watermarks as well. You can also add music to your free screen recordings with this recorder.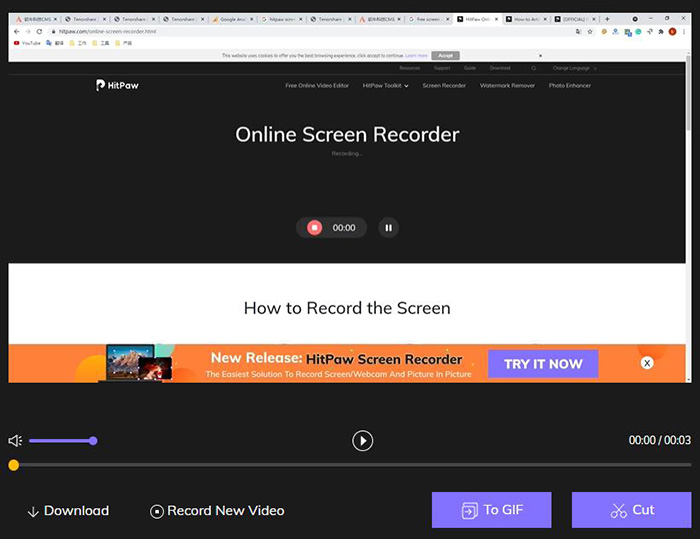 Exemplary editing tools.
No time limit for recordings.
Extremely user-friendly.
You can't record a video of more than 20mb for free, and you will have to use the paid version.
2. TinyTake
TinyTake works for Mac and Windows. It allows both screen and webcam recordings. A unique feature of this screen recorder is that it allows you to insert comments in your recordings.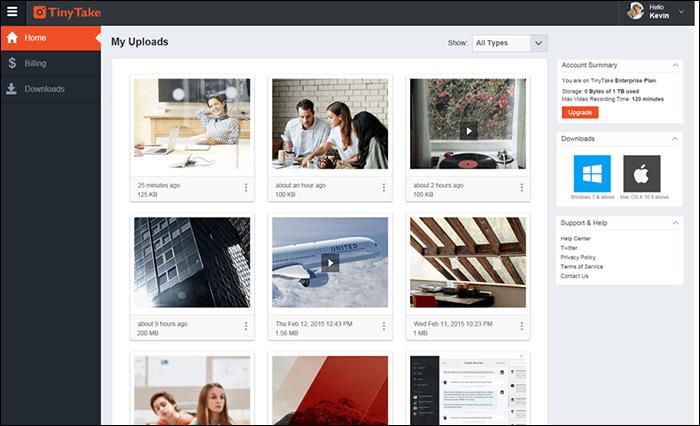 You can either record the entire screen or record a limited portion.
You can add pre-existing images in the recordings as well.
The recording does not exceed the time limit of 2 hours.
3. Screencast-O-Matic
Screencast-O-Matic is an excellent screen recorder that leaves no watermarks in your recordings. This recorder allows you to adjust the area of the screen as per your personal preference. You can record the screen while using the webcam as well, and it allows you to edit the recordings.
It is very user-friendly.
Multiple editing options.
Instant video sharing to social media platforms.
It only works for Windows.
3.Which is the Best Screen Recorder App Without Watermark?
Out of all the enlisted screen recorders, it's safe to say that HitPaw Online is the Best Screen Recorder app without a watermark. We have further rounded up all the features that make this screen recorder stand out from the crowd.
Video Conversions
This screen recorder comes with several in-built editing tools such as video conversions from video format to the GIF format. It is very easy and convenient to use this tool for transforming your videos into GIFs.
Editing Features
Some of the wonderful editing features of this screen recorder include video cutting to reduce or increase the duration of your videos, and you can also add music and audio of your choice. This recorder allows you to play with the speed of the videos as well.
No Limitations
You can use all the amazing features of this recorder without any limitations and free of cost. The only time you would have to switch 20mb.
Safe to Use
HitPaw Online is completely safe to use as it is free of advertisements that pose the threat of virus contraction. This is one of the most secure screen recorders available.
Conclusion
If you're looking for a screen recording device that is user-friendly and safe to use, then HitPaw Online and its desktop version is a perfect choice. This online screen recorder allows you to make the most of its incredible and limitless editing features free of cost, and it removes watermarks for instant video sharing.