What You Need to Know About Openshot Video Editor
Those who work with multimedia need a video editor that performs exactly how you need it to. If you need a program that fits your needs, you might want to check out Openshot Video Editor. You may be wondering, "Is Openshot a good video editor?" Read on to find out.
Summary
Summary
This article will tell you the history of Openshot video editor and the detailed description of its key features. Besides, you will also learn how to use it, if it is really good and mnay other faqs.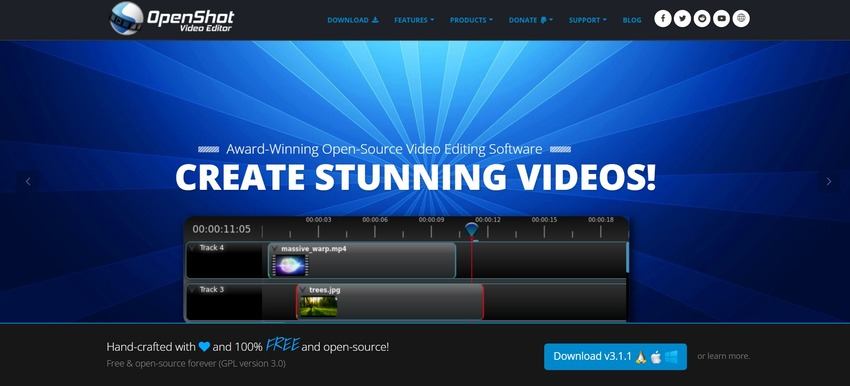 The History Of Openshot
Developed in 2008, Openshot was created as an open-source video editor. At first, it was only for Linux systems. However, as the market and technology grew, the software has become available for Linus, Mac, and Windows devices. Because it is open-source, you can legally redistribute it as long as you operate under GNU General Public License.
If you are curious about the potential of this program, here is a list of the features and functions that you will find valuable:
Compatibility – As mentioned, this editor is available across the three major platforms. You can easily get it by heading to the downloads page and selecting the right installer.
Unlimited Layers – You can add an unlimited number of layers for various purposes.
Trim & Slice – This software offers an easy way to trim your videos. The best thing about it is that you will find many ways to do so.
Animation – This allows you to animate objects with Openshot's animation framework.
Video Effects – Embellish or clean up your work using the software's video effects engine. You can add special effects and remove backgrounds using this function.
Audio Visualization – You can make waveforms for your audio files.
Title Editor – Quickly and easily place titles to your videos using Openshot templates or custom ones.
3D Animations – Rendering animation effects has never been easier with the help of this software.
Motion and Time – Create slow motion and other time effects using presets and custom speed and direction settings.
Accessibility – You can easily navigate the editor because of its user-friendly interface. You can also choose from over 70 languages, making it ideal for non-English speakers.
Openshot Video Editor Tutorial
With the various video editing features offered by Openshot, there is definitely no reason not to try this software. The best thing about it, aside from being free, is that it is easy to master its functions, especially its most basic one which is video cutting. Here is a step-by-step on how to cut videos using this editor.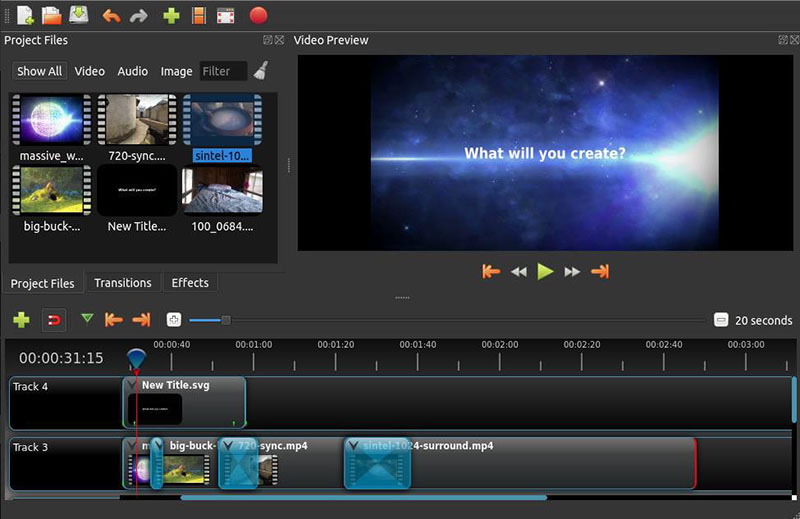 Launch the software and insert the clip you want to edit.
Once you have added the clip or clips, you start arranging them according to your preferences.
Adjust the start and end positions of each clip by dragging its edge to the position you prefer.
If you find some parts of the clips overlapping, you can easily remove the excess by right-clicking and choosing Slice for one clip or Slice All to remove all intersecting ones.
Those who want to make smaller cuts in just one clip can use the Split Clip function. To easily cut clips, you can simply use the Razor Tool, which lets you cut with just a click.
You can resize the edges by dragging the edge to the right position.
Openshot Video Editor Reviews
From Capterra:
" Garnering an overall rating of 4.25 stars, Capterra users appreciate the accessibility and compatibility of this editor as well as its numerous features and quality of outputs. "
From Techradar:
" Techradar gave Openshot 2 stars because of its slow operation when using effects and buggy code, but it got points for being free, its accessibility and regular updates. "
From G2:
" Out of 13 reviews on G2, this software got nine 5 stars because of its comprehensive features and variety of animation options, as well as its support for various types of formats. "
From Reddit:
" One Redditor deems Openshot great for basic video editing, but because of the limited capability of this software, it may not be suitable for advanced users. "
Best Alternative of OpenShot Video Editor
OpenShot Video Editor is a video editor for basic-level video editing. To create imaginative videos easily, we recommend you to use HitPaw Edimakor. HitPaw Edimakor boasts simplicity and full-functions, as it provides plenty of video and sound effects, and a large collection of basic and advanced video tools to create videos effortlessly.
Before having all its features, please free download it to your desktop.
Features of HitPaw Edimakor:
Provides an easy-to-operate interface.
Edits videos and audios with simple clicks, making video editing more easier.
Offers tons of video and sound effects.
Able to edit several videos and audios at the same time.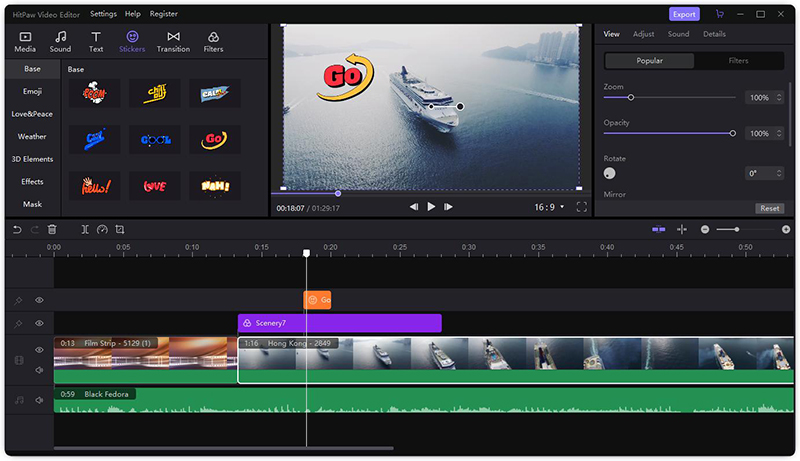 FAQs About Openshot Video Editor
If you are interested in using this software, you might be looking to answer some of your concerns regarding the editor. Take a look at this list of frequently asked questions to see what you need to know about this program.
(1)Is Openshot Video Editor free?
Yes. Openshot is open-sourced, which means that it is free to download and redistribute as long as you go with the GNY General Public License policies. This public license is published by the Free Software Foundation. Because it is open-source, you can also modify it. Again, just make sure to consider the GNU General Public License.
(2)Is Openshot Video Editor Safe?
Yes. Open-source programs are generally considered more secure compared to closed source ones. This is because open-source software is open for the public to test and modify, which means that developers can access its code and test it for bugs and malicious codes. Once they find elements that need fixing, they work to address such issues, thus enhancing its security.
This also means that the software is constantly being improved in terms of performance, security and features.
(3)Is Openshot Video Editor any good?
Considering that it is free and safe, you can bet that yes, Openshot is good. It offers a wide variety of features that can make any videos look professionally made. From easy cutting and slicing to fund and exciting functions such as animations, special effects and 3D rendering, Openshot covers all your basic and intermediate editing needs.
Free and open-source, this editor can be surprisingly powerful and easy to learn. It is also compatible with major operating systems, which makes it a great choice, especially for beginners and those wanting to master basic functions.
(4)Does Openshot Video Editor have a watermark?
If you are worried about un-optional watermarks because it is free, then you will be glad to know that no, Openshot does not force users to put a watermark on outputs just because they are on free trial. Keep in mind that this software is 100% free and without a catch, so you do not have to worry about un-optional watermarks ruining your work.
However, if you are wondering whether you have the option to place a watermark on your work, then the answer is yes. You can use layers to mark your output to place your name or logo on the final video.
(5)Will Openshot Video Editor lag?
Unfortunately, yes. Feedback from users said that the program can lag sometimes, especially when doing heavy rendering. However, keep in mind that such processes and programs can be resource-heavy, which means that you will need a relatively powerful machine to do so without a hitch.
Most modern computers, especially those running Windows 10 should have at least 8GB of RAM. If you professionally work with multimedia, you should also invest in powerful CPU and GPU to ensure that your computer can easily handle such processes.
Conclusion
Openshot is definitely worth a try considering that it is 100% free and complete with all basic editing features. To get this software, head to the Openshot Video Editor download page and get the right installer for your Linux, Mac, or Windows machine. If you want to try its best alternative - HitPaw Edimakor, please refer to the user guide of it, and you can discover more features and learn the detailed steps to edit videos with it.