Why Choose Avs Video Editor And How It Makes Video Editing Simpler?
You have a great idea posting a video to Facebook or TikTok, and right before posting you would like to fine-tune your video. Then many of you may choose to use AVS Video Editor. AVS Video Editor is a remarkable video editing tool for Windows. This review guide will tell you all you need to know before trying AVS Video Editor.
Part 1. Is AVS Video Editor Good?
AVS Video Editor, sometimes called AVS4YOU Video Editor, is developed and published by Online Media Technologies Ltd. Before giving AVS Video Editor a try, you should asking questions like: Is AVS Video Editor good enough? Why should I choose AVS Video Editor? If any of you has the same questions, you should find your answers in this part.
AVS Video Editor Features:
Import videos in various formats and resolutions such as HD, Full HD, 2K, and 4K videos.
Supports recording videos from your computer camera or on your desktop (aka screen-recording).
Trim videos, remove unnecessary parts of your video, split, merge and rotate your videos.
Creates professional slideshows easily.
Add audio files as background music, or add your voice to the audio track .
Offers more than 300 effects, transitions, audio, text, overlays, etc.
Export your video as in desired formats and share it on YouTube, Vimeo, and social media platforms.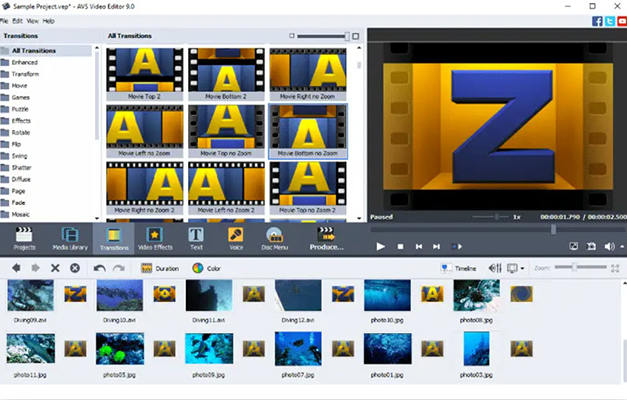 AVS Video Editor Price:
Is AVS Video Editor free? AVS Video Editor is not a freeware. It is a paid software.
As you may have known, AVS4YOU has developed software suites including AVS Video Editor, AVS Video Converter, AVS Audio Editor, AVS Audio Converter, and AVS Video Remaker. Therefore, you will need to buy the whole software suit. The price details are as follows:
Note: the price contains 5 programs published by Online Media Technologies Ltd.
1-year subscription: $69 ($39 for discount price)
Unlimited subscription: $199 ($59 for discount price)
However, having subscription plans doesn't mean you can't use AVS Video Editor for free. In fact, there is a free trial version for AVS Video Editor, so that users can enjoy the full functions of the software before buying. But the free trial version applies watermark on the videos that you made.
AVS Video Editor Customer Reviews
With the large user base around the world, there is no doubt lots of AVS Video Editor reviews online. Therefore, we will summarize these online reviews so that you have a clear view of the software and make your decision.
An overview of the user reviews:
| Platform | Rate | Example of User reviews |
| --- | --- | --- |
| Capterra | 4.6/5 | "I also love its many output capabilities/formats for the final mix-down. Ve used this software for many years and enjoy creating my video archives with it." from Capterra |
| AccurateReviews | 8.8/10 | "AVS Video Editor is a very easy to use software and comes with a complete library of effects, transitions, menus and subtitle art that will satisfy the needs of any user." From AccurateReviews |
| TopTenReviews | 3/5 | "AVS Video Editor has most of the editing and enhancement tools we look for in this category, as well as a healthy library of transitions, effects and titles. ... But it falls short when it comes to the quality of the exported video." From TopTenReviews |
| TrustPilot | 2.5/5 | "This software was a bit complicated to obtain the results I needed but after many back and forth emails with AVS (who were very patient with me) I now have an excellent finished product and it was worth taking the time to figure it out." from Trustpilot |
| Sitebabber | 4.3/5 | "I have use AVS4YOU for a number of years and always had a very rapid response from the support team with system registration help. Keep up the good work." from Sitejabber |
Part 2. How to Use AVS Video Editor
After understanding what AVS Video Editor is and what people think of it, we will show you details on how to use AVS Video Editor in your computer.
Step 1: Download AVS Video Editor in your Windows computer, install and launch the software.

Note: if you want to free download AVS Video Editor full version, you will need to buy the software.

Step 2: When you are in the software screen, you will see three parts:

Upper left pane: in this pane you can choose to import media source that you need. Click Import Media Files to import videos and audios; click Capture from Camera or Capture Screen to record your video.

Upper right pane: in this part you will be able to preview the select media. For example, you can double click the video on the upper left, and then you will see the preview video on the upper right,

Bottom pane: This part allows you to drag and drop the video and audio files to the timeline, and edit them with the available tools.

Step 3: Edit your video and audio.

You should drag and drop your video and audio files to the timeline, then you can trim, crop, merge,add effects, add text and subtitles, add transitions, adjust speed and duration, etc.

Step 4: Export and save your video.

Click Produce button and you will be presented with output settings prompts, so you can choose output category (File, Disc, Device, Web), and video file parameters (output format and configuration).
Voila! Then you should have already known how to edit videos with AVS Video Editor.
Part 3. Any Software Better Than AVS Video Editor?
AVS Video Editor is one of the best video editing tools, but is there any software that is better than AVS Video Editor? Fortunately, there is one software that is a great alternative for AVS Video Editor, and that is HitPaw Edimakor.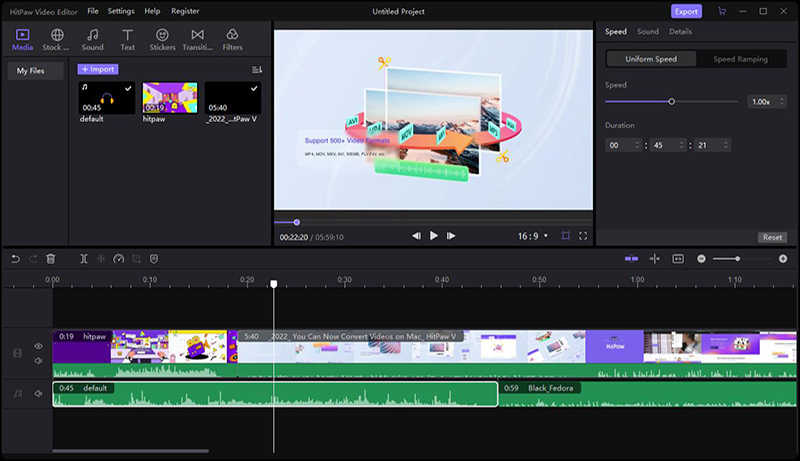 HitPaw Edimakor excels for its easy-to-use user interface and designed for beginners. Here are the advantages that you should never miss:
Robust and powerful features: HitPaw Edimakor provides all the feature set that one user can imagine, so you can achieve to whatever effects you like for your video.
Reasonable price and plans: HitPaw Edimakor offers different prices for different plans, so as to meet almost all the user requirements. And guess what! This is a great example of "you get what you pay".
Ease of use: HitPaw Edimakor is well designed for beginners, so all the buttons and icons are designed to be user-friendly, so that people can easily find any feature that they want without much effort.
Resolution and file formats support: HitPaw Edimakor allows you to export videos in the frequently-used resolutions and file formats, and you don't need to worry about missing any common file formats and resolutions.
Conclusion
We are writing this guide to show you a clear view of AVS Video Editor, including information about what AVS Video Editor is, what people think of AVS Video Editor, the price and plans of the software, and how to use AVS video editor generally. Furthermore, if you are looking for a better video editor or an alternative for AVS, then HitPaw Edimakor is a must-have for you - one of the extraordinary video editing programs than you should never miss!
People Also Ask on Avs Video Editor
Q1. Is AVS Video Editor free?
No. AVS Video Editor is not a freeware. It is, on the contrary, a paid software. AVS software offers two plan for different needs:1-year subscription for $30, and unlimited subscription for $59.
Q2. How much does AVS Video Editor cost?
AVS Video Editor offers two plans for subscriptions. If you choose the 1-year subscription, then it would be $69 (grab a discount and buy it with only $39); if you choose unlimited subscription, then it would be $199 (grab a discount and buy it with only $69).
Q3. Does AVS Video Editor have a watermark?
Well, it depends. If you buy the software (no matter what plans you buy), you won't have the watermark issues as you are using the full version. However, if you are using a free trial version, then AVS Video Editor would apply watermarks on your exported videos.