Top 7 Low-Quality Anime Screenshots Enhancer for Windows/Mac
Are you tired of blurry and low-quality anime screenshots ruining your anime viewing experience? Fear not, for we have compiled a list of the top low-quality anime screenshot enhancers for Windows and Mac.
With these powerful tools, you can enhance your favorite anime screenshots to their full potential, highlighting every detail and making them look sharper and more precise. Get ready to take your anime viewing to the next level!
1.

6 Popular Low-Quality Anime Improver Available for Windows and Mac

Everyone knows that processing an anime or a waifu is more accessible than a genuine picture. Some image enlargers may fail to enlarge a human photograph without sacrificing quality while producing acceptable results with anime graphics.

Given that only a tiny percentage of image enlargers specialize in anime images, this article will also present certain image enlargers that can handle both anime and ordinary images. However, the output quality of anime visuals remains the most important metric.
Waifu2X Image Resizer
When compared to other Waifu2x websites, this one has less noise reduction and scaling choices for anime waifu. It only allows for a 2x scale-up. The UI is simple to use and attractively designed. Enter a URL or choose an image to upload. Then uncheck the Noise Reduction and Scale off boxes before clicking Waifu2x. When your file is done, the output will be shown. You may download it in JPG or PNG format.
Limits: 3840 x 3840px
Pros
Easy to use
Free of charge
Only single-file processing is supported
There is only a 2x scale-up available
Bigjpg
Bigjpg, like Waifu2x, employs Deep Convolutional Neural Networks. As a result, it excels in enlarging anime pictures without sacrificing clarity, as well as reducing noise and serration. Here, 2x, 4x, 8x, and 16x are all feasible.
Limits: 3000 x 3000px
Pros
Easy to use
Support API
No preview
Required subscription
Waifu2x.org
This free anime enlarger enables you to enlarge animes by a factor of 2x and 4x at no cost. The straightforward interface of waifu2x.org, which is powered by deep learning, streamlines the process of anime enlargement. No registration or software download is required.
Limits: 1200x1200px
Pros
Free to use
Great output quality
Lack of bulk processing
Can't choose the output format
ImgLarger
ImgLarger is designed to enlarge uploaded photos without degrading their quality, using machine learning technologies and a modern GPU. It performs poorly when upscaling everyday photos and anime waifu, such as human portraits.
Limits: 1200 x 1200px
Pros
Intuitive interface
Able to choose 2x/ 4x/ 8x scale up
Right-click to save
Batch processing
PhotoEnlarger
PhotoEnlarger offers more features than the majority of its rivals. The four various enlargements are one of its most essential aspects. After selecting the desired enlargement factor, you will get four results that have been processed by four distinct enlargement algorithms.
Limits: 1920 x 1080px
Pros
Easy to use
Free of charge
No batch
ImageResizer
When resizing anime photos, an Image resizer may also provide excellent outcomes. After uploading an image or entering a URL, this program allows you to scale the image up by a percentage or by dimensions. It will display the result along with its characteristics, such as the new size in pixels, upon completion.
Limits:
Pros
Easy to use
Bulk resizing
No Bulk resizing.
2.

High-Quality Anime Upscaler - HitPaw to Help You Effortlessly Improve the Resolution and Remove the Noise

HitPaw Photo AI offers a high-quality anime upscaler that can improve the resolution of your anime photos and remove noise effortlessly.

It supports batch sharpening and allows you to customize the size of your photo. The software is available for Windows and Mac users, providing an easy and convenient way to upscale your anime photos.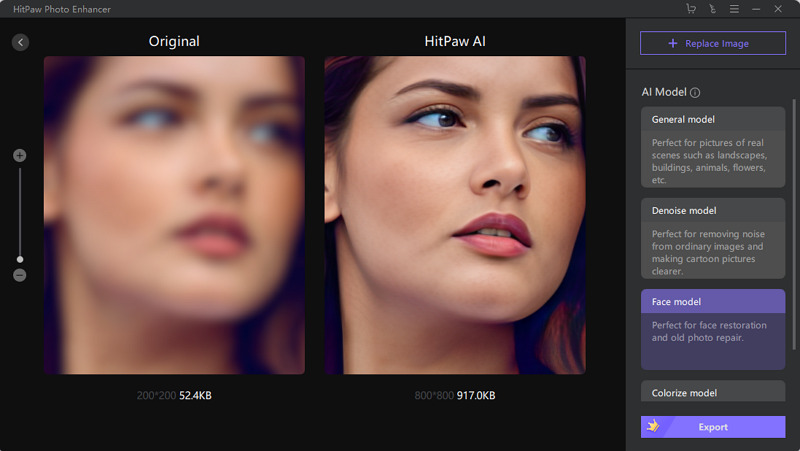 use hitpaw to enhance your photo
HitPaw provides one-click enhancement, which means no complicated stages or procedures are required, making your job more efficient, quick, and straightforward
It has four AI models to pick from, each producing a unique outcome, ensuring that you obtain the desired resultse
Step 1.Download and install the software by clicking the button below

Step 2.Upload your images or simply drag and drop them to make them high-quality

Step 3.Selcet the suitable model (You can use the denoise model for anime)

Step 4. The AI-powered algorithm will automatically do this and auto-beautify your picture in the blink of an eye

Step 5.Once the process is done, simply click on export and save your pictures on your device
Conclusion
In conclusion, low quality anime can be a major disappointment to viewers who expect to be immersed in the story and visuals. However, with the help of HitPaw Photo AI, anime lovers can now enhance the quality of their favorite shows and enjoy them with greater clarity and detail. Give it a try and see the difference for yourself! HitPaw Photo AI mobile app