Top 7 Image Flipper Online You Shouldn't Miss in 2023
When you flip a picture, you may shift its whole visual viewpoint and surroundings. It may be used to determine the proper suited side of a picture at times, but it can also be disastrous. To achieve this effect, image flipper tools are utilized in both downloaded applications and internet platforms.
1.

7 Image Flipper Online to Help You Flip the Pictures Vertically or Horizontally Right Away

Here are 7 image flippers available online that immediately help you rotate pictures in the vertical or horizontal image flipper orientation.
PineTool
PineTools is a free, web-based image flipping tool. You may mirror a picture online either horizontally or vertically by utilizing it, and you can also reflect it both horizontally and vertically. In addition to that, some of the other editing tools available on our website are also helpful, and they contribute to the professionalization of your picture.
Kapwing
Kapwing is a signup tool that can only be utilized to its full extent after first registering for an account with the website. Kapwing is built on some very solid foundations, and its picture editing system is both powerful and user-friendly. If you need to blur the backdrop of a zoom photograph, you should come here since it is often the ideal area to do it.
Flip a Picture
This platform is a one-touch, one-service sort of platform that is designed exclusively for people that need an image flipper that is fast and very simple to use. When it comes to the tools on our list, we believe that FlipAPicture is one of the most versatile and simple to use applications that can flip a picture.
IMG2GO
This is an image flipping tool that may be used online. It allows you to rotate the image 90 degrees in either the clockwise or counterclockwise direction, flip it vertically or horizontally, or flip it both ways. You have the option of uploading the desired picture from a variety of locations, including your local computer, a URL, Dropbox, or Google Drive.
Retoucher Online
Retoucher, like its rivals, features a fantastic array of flawless tools, including a powerful option to flip images. The tool prioritizes high-definition outputs as well as simplicity of use. Furthermore, it offers a simple drag and drop capability to make the whole procedure as fluid as possible. If you're worried about the privacy and integrity of the photograph you're posting, you should use an online retoucher to alleviate your worries.
Fotor
The flip tool in Fotor is incredibly simple to use, and it enables you to flip your picture in whatever direction you desire with no extra work required. You may rapidly turn your picture either horizontally or vertically by using the flip tool, which can be accessed by clicking on it. Have fun trying out various angles of view until you find one that gives you the outcome you're looking for.
Canva
Canva features provide an excellent image flipping capability. The tool prioritizes high-definition outputs as well as simplicity of use. Furthermore, it offers a simple drag and drop capability to make the whole procedure as fluid as possible. If you're worried about the privacy and integrity of the picture you're uploading, Canva can help you get rid of that worry.
2.

Bonus Tip: Your Photo Aid to Enhance/Denoise/Colorize Easily with No Quality Loss

The HitPaw Photo Enhancer is better excellent tool than image flipper online and also enhancing your photographs simply and quickly, taking into consideration all of the user's demands. HitPaw's Photo Enhancer increases photo quality, increases resolution, and optimizes texture details.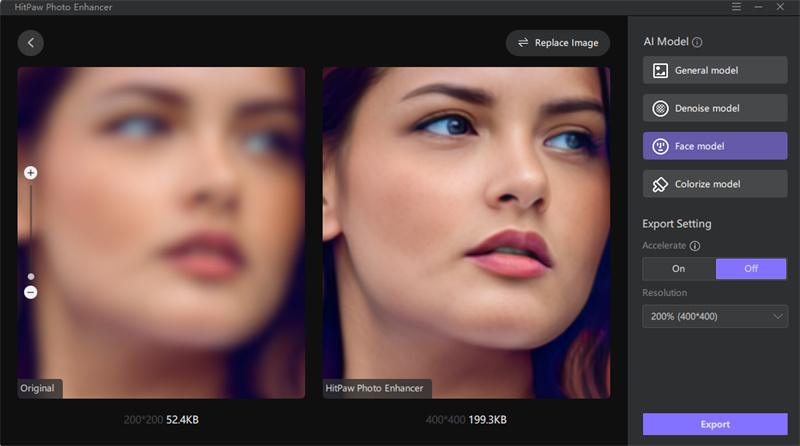 Because the data is stored on your device, your images are safe
The boosting methods take place locally on your device, making it faster and more smooth
The HitPaw Photo Enhancer on your desktop ensures that no progress is lost due to a network interruption
It allows for batch processing, which makes your task lot easier, smoother, and more efficient
Step 1.Download HitPaw Photo Enhancer from the button below

Step 2.After installing the software, go to the second step and upscale the picture. Simply move the first photo around using the mouse. The HitPaw Photo Enhancer is compatible with the file formats PNG, JPEG, JPG, and WEBP

Step 3.Once the picture has been uploaded, choose the Preview option from the menu to begin the processing of the image

Step 4.You will not be able to export the improved picture after previewing it if you are using the free version of the software. To download and make use of the HitPaw Photo Enhancer photos, just click the Buy Now button
Conclusion
You may quickly use online image flipper to flip an image from your pictures with the assistance of many online image flipper, which can also make the images look more attractive. The HitPaw Photo Enhancer is one of the best tools available for automatically enhancing your photographs as well as flipping an image using HitPaw Photo Enhancer .