Easy Step-By-Step Guide - How to Fix Blurry Pictures in a Click
If you are like most people, you probably take a lot of pictures with your phone. And if you're like most people, sometimes those pictures turn out a little blurry. But don't worry – we have a solution for that! In this blog post, we will discuss how to fix blurry pictures in just a few clicks. We'll also talk about some of the causes of blurry photos, and how to prevent them from happening in the first place.
So whether you're trying to salvage an old photo or just want to take better pictures on your next vacation, read on for all the information you need!
Part 1.

What May Cause Picture Blurry And How to Avoid?

Pictures are important for many reasons. They help us capture memories, they can be used to document events, and they can tell a story. However, blurry pictures are a disappointment because they don't provide a clear view of what is happening in the scene.

This can make it difficult to identify people or objects in the picture, and it can also make it difficult to see the details of the scene. Blurry pictures can also be frustrating because they can be difficult to edit and improve.

If you're trying to print a blurry picture, you may have to increase the resolution or use special editing software to try to make it look better.

Below are some of the most common reasons of blurry pictures:
1. Out of focus:

If your camera is not in focus, your pictures will be blurry. To avoid this, make sure to focus your camera before taking a picture.

2. Movement:

If you or your subject move while the picture is being taken, the picture will be blurry. To avoid this, use a tripod or make sure to keep both yourself and your subject still.

3. Dirty lens:

A dirty lens can cause pictures to be blurry. To avoid this, keep your camera's lens clean.

4. Incorrect aperture:

If the aperture (the opening in the lens) is not set correctly, pictures will be blurry. To avoid this, consult your camera's manual to learn how to set the aperture.

5. Incorrect shutter speed:

If the shutter speed (the amount of time the shutter is open) is not set correctly, pictures will be blurry. To avoid this, consult your camera's manual to learn how to set the shutter speed.

6. Low light:

If there is not enough light, pictures will be blurry. To avoid this, use a flash or take pictures in well-lit areas.

7. Unstable platform:

If the platform you are taking a picture from is not stable (for example, if you are holding your camera in your hand), pictures will be blurry. To avoid this, use a tripod or place your camera on a stable surface.

8. Wrong file type:

If you save your pictures in the wrong file type, they will be blurry when you try to view them on your computer. To avoid this, consult your camera's manual to learn which file type to use.
Still, if you have somehow got a blurry picture, don't worry as there exists one efficient way to fix blurry pictures that we are going to detail in the following part.
Part 2.

The Most Efficient Way to Fix Blurry Pictures in a Click

If you are looking for the best photo enhancer to fix your blurry pictures, then you should definitely check out HitPaw Photo Enhancer. This amazing software uses artificial intelligence (AI) to automatically enhance your photos and make them look their best.

It is extremely easy to use and it only takes a few seconds to get started. Simply select the photo you want to enhance and then let the software do its job. You will be amazed at the results. The best thing is that HitPaw Photo Enhancer also allows you to do batch processing saving a lot of your precious time.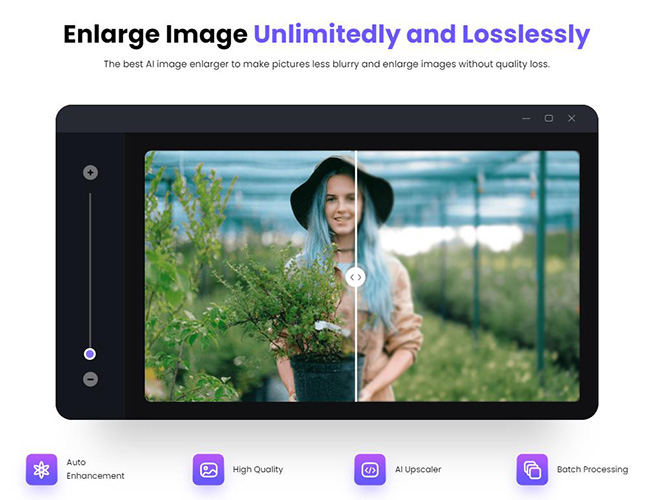 Below are the some of the salient features of HitPaw Photo Enhancer:
HitPaw Photo Enhancer software can batch process your photos very quickly.
This software tool supports over 30 formats.
It is very easy to use with a simple and straightforward user interface.
Use of latest AI algorithms makes the results flawless.
100% secure software.
One can also do batch processing with HitPaw Photo Enhancer saving your precious time.
How to fix blurry pictures using HitPaw Photo Enhancer?
Step 1.First of all download HitPaw Photo Enhancer from the official site and then install it.

Step 2.Upload the photos to fix blurriness.

Step 3.Now, Hit 'Preview' and HitPaw Photo Enhancer will work as a blurry photo fixer automatically and fix your photos.

Step 4.Finally, click on export. You will get a fixed picture.
Part 3.

How to Fix Blurry Pictures in Photoshop

Photoshop is a very powerful image editing software that can be used to fix a variety of different issues with images, including blurry pictures. Here are the steps involved in using Photoshop as a blurry photo fixer:
Step 1.Open the image in Photoshop

Step 2.Select the "Filter" menu and choose "Sharpen."

Step 3.Apply the "Unsharp Mask" filter to the image.

Step 4.Adjust the settings until the image looks clear.

Step 5.Save the image and close Photoshop.
Tip:
As a professional, Photoshop is undoubtedly the best photo editing software available. However, its steep learning curve can be off-putting to many users, especially those who are just looking to edit their photos for personal use.
If you're in this latter category, we would recommend using HitPaw Photo Enhancer instead. It's much more user-friendly while still providing all the essential editing features you're likely to need. Plus, its affordable price makes it a great value for your money.
Part 4.

How to Fix Blurry Pictures on Mobile Phone

Here we introduce two apps on mobile photo to you to help you fix blurry photos.
1. PIXLR for Android:

PIXLR is a powerful and easy-to-use photo editor that lets you quickly fix blurry photos on your Android device. With PIXLR, you can use multiple features to remove any blurriness from your photos. Since the process is manual, individual expertise counts and therefore you will need time to use PIXLR effectively over time.

Firstly, you need to fix the highlights and shadows to fix photo. After that, select the photo you want to edit, and then use the "Blur" tool to fix graininess. This will smoothen the pixels and the noise in the photos will be greatly reduced.

2. Wonderfix for iOS:

Wonderfix is an app that allows users to quickly and easily fix blurry photos on their iOS devices. The app uses advanced algorithms to analyze and correct blurriness, making it perfect for those who want to improve the quality of their photos without spending hours editing them. Wonderfix is available for free on the App Store. It has a 4.5 rating on App Store.
Final Words:
All in all, this guide covers everything you need to know about blurry pictures and how to fix a blurry picture. Among all the software introduced, HitPaw Photo Enhancer is definitely your top choice.
With a competent photo enhancer like HitPaw Photo Enhancer, it is not difficult to solve the problem of blurry photos. It only takes you one click to fix your picture and make it clearer than ever without compromising its quality. So, if you're still having trouble with blurry and low-resolution photographs, please do yourself a favor and get this fantastic programme right away!