[For Perfect Selfies] 10 Best Blemish Removers on Windows/Mac/Online
We all love to upload pictures on the Internet. However, some people can get insecure about the blemishes on their faces. They may try to use blemish removal cream to get rid of those blemishes.
However, if you ask us, these creams are not good for your face. You should try something long-term to treat blemishes. However, until then, you can use a blemish remover tool to fix your photos. Read on to explore more about blemish remover photo.
1.

Editor's Pick: Best Blemish Remover of All on Windows/Mac (No Quality Loss)

There are dozens of blemish remover tool available on the Internet. However, when we were researching face blemish remover, we came across one of the best tools to remove blemishes from your photos.

In that case, The HitPaw Photo AI is your best bet mainly because it is the best AI image enhancer available for both Windows and Mac. You will be able to get rid of any blemishes on the picture using a single clip. The best thing about this is that using the tool will not result in a loss of quality for your pictures.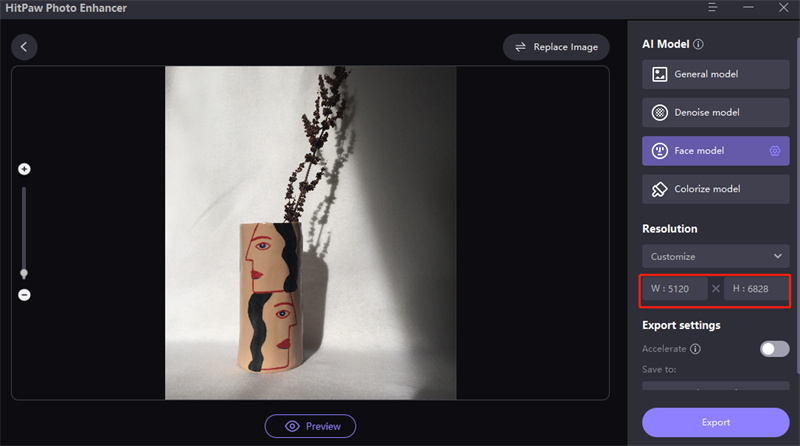 Other than that, HitPaw is also capable of batch-processing photos. Therefore, if you want to fix a bunch of your photos quickly, HitPaw will have your back as a blemish remover free.
Here are the pros and cons of using the HitPaw Photo AI tool as a better solution than a free blemish remover app.
Great user interface
You can batch-process your photos
Incredibly fast processing
You can use it in 16 different languages
Now, we know why HitPaw is the best blemish remover app. Let's take a look at how you can use it as a skin blemish remover.
Step 1.Download the HitPaw Photo AI by clicking the button below (it shouldn't take too long).

Step 2.Click on "choose images" to upload the photo that you want to enhance using the HitPaw tool.

Step 3.Press the "face model" button to remove blemishes from your photo.

Step 4.Once you are satisfied with the result, click on "export".
2.

Free & Paid 9 Blemish Remover APPs on Android and iOS
Facetune
Facetune is the popular best blemish remover app that can help improve your skin with a number of tools like blemish remover and acne eraser. One of the most interesting things about this application is that it claims to be the free Photoshop alternative for fixing your selfies. There are also options to remove unwanted hair from your face and utilize red eyes or dark circles.
FixThePhoto
Fix the photo is one of the most powerful blemish remover photo editor. The app features a convenient and fast way to correct any imperfections in your photos. The best thing about it is that it is user-friendly. Therefore anyone with a little knowledge of technology can remove blemishes from their face.
Other than that, fixing the photo application can also help get rid of pimples, double chin cellulite, and glass glare from the photos.
Photo Makeover
If you are concerned about how you look in Photos, then photo makeover will be your go-to application. The app can do so many things that you will be stunned at the final result. Photo makeover can help you right in the eyes and a photo and give a more structured symmetry to your face. Photo maker has an incredible tool called the magic shake which will instantly fix your photo within a couple of seconds.
Selfie Editor
The selfie editor is your best buddy if you like to take endless selfies during the day. The application will help you modify your face to make it look flawless in your selfies. The application features different editors that can make your face look healthier. Other than that, it can also neutralize blemishes or smooth out any wrinkles on your face.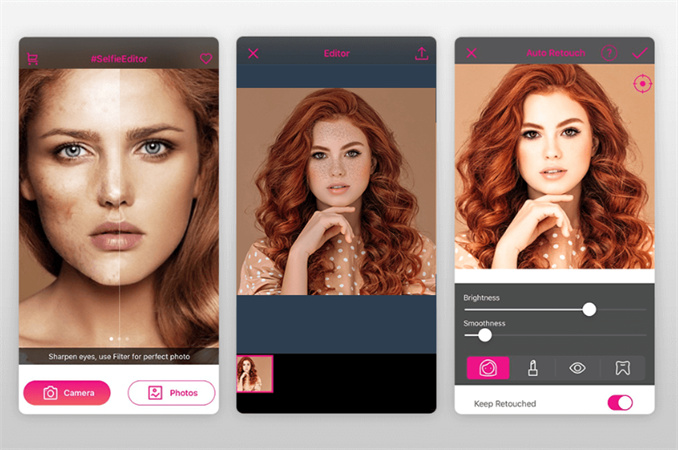 Perfect365
Not everyone has the time to apply makeup daily to work or school. But there's no need to worry, as you can use perfect 365 to apply makeup filters on your face. Not only that, the application will help you change the hairstyle in your pictures, redefine your eyebrows and eyelashes, and help whiten your teeth.
Airbrush
If you're short on time, the airbrush application will help remove imperfections from your pictures with a single swipe. Other than that, it also has a skin tone feature that will help add color to your pale skin tone.
Pixlr
If you want your photos to look stunning but don't have much time, Pixlr will save your day! It Features an auto-fix setting that will automatically determine the corrections that your face needs. Therefore, the application will adjust everything that needs to be fixed within a few seconds.
Visage Lab
Visage Lab will automatically retouch your skin when you take a shot. Some people claim that the app makes you look "fake" but we know for a fact that there isn't a better way to smoothen your face in such a short period.
ModiFace
ModiFace is so good that you won't be able to recognize your own photos after the retouch is done. The app has plenty of features that can remove blemishes, fix your teeth' color, and modify your eyes.
Conclusion
HitPaw Photo AI will be your knight in shining armor if you're searching for an app to remove blemishes. It is because it is the best free photo blemish remover available on the market. The tool helps you process photos in a batch and redefines your photos to remove blemishes with a single click - it doesn't get better than this for a photo blemish remover.