Top 6 YouTube Video Meme Makers For Creating Entertaining Memes
It has become an engaging way for most content creators to make different YouTube video memes and attract a significant audience. This creative journey has been made simpler and easier by introducing efficient working meme makers who can create humorous videos.
If you have a YouTube channel then you can easily get access to any YouTube video meme maker and can create stunning and attractive content for your YouTube channel. Let us talk about a few of the popular YouTube video makers that allow users to perform different video editing tasks seamlessly.
Part 1: What Does A Youtube Video Meme Maker Do?
Any content-creating tool that can create content for YouTube that is humorous and makes people laugh, is referred to as a YouTube video meme maker. The main purpose behind their design is to generate engaging video content that incorporates elements of famous internet memes, clever humor, and viral trends.
The reason why these tools are so capable is that their design involves special algorithms that result in creating a deep understanding of internet culture and can cleverly identify ongoing trends. The most amazing fact about these tools is that they usually draw inspiration from means that are trending and transport them into the format of video along with a unique twist to make it fresh and more entertaining.
In simple words, we can say that if you want to know how to make mean YouTube videos then you can access any of the perfect working YouTube video meme makers and can create interesting and funny videos.
Part 2: 6 Best Tools For Making Youtube Video Memes
The process of creating YouTube video memes has become much easier just because of the tools available in the market. These tools are designed in such a way that they create videos that are not only full of humour but also according to the ongoing trends. Let us have a look at 6 of the best YouTube video meme makers of all time:
(1) Canva
Canva Video Meme Maker is a popular platform that is used for making funny full video memes for different social media platforms such as YouTube. It comes with different unique functions and features such as customizing your fonts, changing color styles, adding funny emojis, and many more.
Pros
It comes with an easy interface.
The tools are easy to use.
It has accessibility for sharing it to a large number of social media platforms.
Cons
The editing features are limited compared to professional tools
(2) VEED.IO
An easy online meme video maker that does not offer any special requirements or restrictions which makes the video simple and common. You can also share the meme video in different ways such as by directly uploading from a PC screen recording Dropbox or pasting a YouTube link.
Pros
You can share the new video on Facebook, Twitter, LinkedIn and many more.
You can easily add emojis, audio, and captions.
It is one of the most popular and highly recommended meme video maker platforms.
Cons
The output video may show copyright issue
(3) InVideo
In the list of online YouTube meme video makers, Invideo is known as one of the most unique and helpful platforms to create meme from YouTube video. It comes with a large number of unique features that make the user make an eye-catching video.
Pros
A beginner user can also use the features of Invideo.
It has a large library consisting of different features, functions, and tools.
The rendering time is very quick
Cons
There may be a chance that the output video comes with low low-resolution
(4) Kapwing
If you want to make unique videos that also support a large number of templates then kapwing video meme maker is a perfect choice. It also has a timeline mode. Another great future is that you can take the URL from YouTube and edit the link into a meme video.
Pros
You can also generate GIPHY text.
You can easily share it on different social media platforms.
A large number of fonts and templates are also available.
Cons
The free version dont provide access to advanced features
(5) FlexClip
Flex clip is a great choice for making meme video makers in just a few minutes. You can also upload the required videos as a picture or can also take them from the library of FlexClip to make eye-catching meme videos. It is known as one of the most powerful meme video makers with a large number of unique features.
Pros
You can also add pictures to the video meme.
The interface is so easy that a beginner can also make up professional videos.
It has a large number of templates with top and bottom text.
Cons
Sometimes, it includes a watermark on the video
(6) Flixier
Flixier is an online video meme generator that is used for making eye-catching videos with an easy interface. You can get a large number of unique tools and features for making your video attractive. You can also change the font, color, and background.
Pros
It can automatically set up the meme format for your video.
You can easily use the tools for making a unique meme video.
The rendering time is very quick.
Cons
Only the paid version offers access to the latest features
Part 3: Bonus Tip: Most Preferred AI Video Editor For Making YouTube Video Memes
The above-mentioned tools are perfect for the creation of YouTube videos but we are here with a bonus tip for you. Now you can easily edit any kind of video in seconds with the help of HitPaw Edimakor. Let us have a look at this perfect working AI video editing tool along with its prominent features:
HitPaw Edimakor
There are thousands of video editing tools available in the market with amazing specifications but if we search for an AI video editor for YouTube then none other than HitPaw Edimakor got the topmost position.
This amazing YouTube video maker never fails to provide the latest and advanced facilities to its users so that they can bring enhancement to their video editing procedure and have the best video editing experience.
Features Of HitPaw Edimakor
It supports all the latest editing features that a professional video editor must contain
You can easily create meme videos and share them on YouTube directly from the tool
The customer support service is always here to help beginners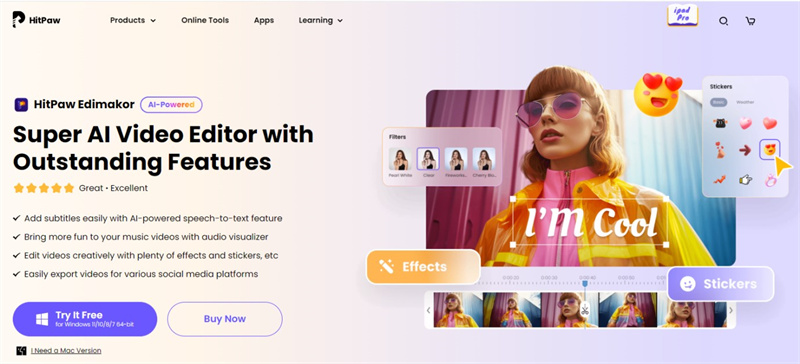 Part 4: FAQs About Youtube Video Meme Maker
Q1. What Is The Best Meme Video Maker Online?
A1. Different people have different suggestions regarding the best video meme generator. This is because the thing that makes a tool the best depends upon the needs and preferences of the user. You can consider Canva, InVideo, Kapwing, or FlexClip to make the perfect meme video for YouTube.
Q2. Can I Make Money From Memes?
A2. There are lots of people who are making money from memes. You can easily and significantly income by leveraging means through several avenues like social media, sponsorships, partnerships, content license merchandise, etc.
Q3. What Video Editor Do Memes Use?
A3. There are several video editing tools available in the market for the creation of means. These video editing tools include FlexClip, Canva, CapCut, Flixier, Kapwing, and most importantly HitPaw Edimakor. You can choose the one according to your budget, skill level, and complexity of the meme that you want to generate.
Bottom Line
The above-mentioned YouTube video meme maker will prove to be a perfect choice for you if you have a YouTube channel and want to grow your subscribers. These tools will allow you to make content that will be liked by every type of viewer. Moreover, you can gain access to the services of HitPaw Edimakor(Video Editor) to perform advanced video editing options.