Top 4 Voice Generators For Hatsune Miku Text To Speech In 2023
The virtual vocal synthesis world has taken a large step towards success in recent months and as a result the Hatsune Miku, a popular virtual pop ideal, has taken a distinct position among all the other voices. Due to advancements in technology, different text-to-speech tools come with the feature of Hatsune Miku text-to-speech technology.
This voice can be then used by different content creators, marketers, and musicians in their projects. You just have to enter the text in the Hatsune Miku text to speech online tool that you want to convert into speech form and after a few confirmations, the software will start converting your input into your desired form.
Part 1: Who Is Hatsune Miku And Why Is She Popular?
Hatsune Miku is this dead among the most popular virtual pop idol and a famous character of a singing synthesizer app that is named Vocaloid. A Japanese company named Crypton Future Media developed and then distributed her. As she is not Ariel person but is a virtual generated character by the software Vocaloid and this fact makes her unique and popular.
Several factors contribute to her famous personality. These factors include the design of Hatsune Miku, a young girl having long hair and a very stylish outfit. Moreover, Hatsune Miku has integrated with different artists, musicians, and companies which results in making her more famous.
Because of getting so much popularity and recommendations, there are now Hatsune Miku voice text to speech tools available in the market. These tools allow users to get her voice easily and add it to different videos.
Part 2: 4 Best Voice Generators For Hatsune Miku Text To Speech
If you want to use a platform that provides a feature of generating voices then some of the most unique and helpful platforms are given below. The platform provided below can also be used for generating a voice for Hatsune Miku:
(1) UnicTool VoxMaker
Unictool Voxmaker is an advanced platform that is used to convert text into different characters or actors' voices. It gives high-quality results and is compatible with a large number of multiple languages. It is especially used as a Hatsune Miku text to speech online free and shin chan voice also. It also focuses on detailed editing of voice however the processing is very user-friendly.
Benefits
The voices are of high quality and give realistic and natural results.
It supports a large number of unique languages.
The personal voice modification feature is also provided.
Drawback
Although it has a free version but for more advanced features and voice packs users have to purchase a paid subscription which is not budget-friendly.
(2) FakeYou
An online platform that can be used for text-to-speech service into more than 2400 voices. You can also use the sound of your favorite actors or characters and the results are of very high quality and realistic. This is also a very compatible platform for different types of users and creates AI sounds that look natural.
Benefits
It has a unique feature of real-time voice-changing.
The pricing plans of fake you are very budget-friendly.
It is a secured platform.
Drawback
On some devices or platforms, the Fake You platform is not available.
(3) FineShare
A unique and advanced platform that has user-friendly voice-changing software with natural-sounding features is Fineshare. The information you input or The voices you added are in secure hands. There are different unique and advanced features such as sound effects, etc.
Benefits
It protects and secures your input voice or information.
It has a cloud synchronization option.
Find share supports a large number of devices and platforms.
Drawback
There are limited voice effects as compared to other platforms.
(4) WooTechy SoundBot
WooTechy SoundBot is a unique platform that is used as a voice changes generator with more than 125 voice filters and sound effects. This is specially used for Hatsune Miku text to speech and many others also. It has a voice studio feature through which you can create your Hatsune Miku voice.
Benefits
A user with even not a special skill can use it because of its user-friendly interface.
Users can also change their voice in a limited time.
A large library consisting of voice effects is also provided.
Drawback
In the free version, features are limited and simple.
Part 3: Bonus Tip: Wonderful Video Editor With AI Text-to-Speech Feature
Besides the best unique text-to-speech generator, this platform will also help you to know about an eye-catching video editor with an AI text-to-speech feature. let us have a little talk about the HitPaw Edimakor, another wonderful choice for accessing AI text to speech features.
HitPaw Edimakor
As we know there are different tools available in the market that can convert a video to text form or an audio to text form. Similarly, the HitPaw Edimakor is a wonderful choice that can convert written text into speech form effortlessly. This ai text to speech proves to be a perfect choice for users who are facing any visual impairments.
If you are a content creator, a marketer, or a video editor, you will find this tool very beneficial.
Features Of HitPaw Edimakor
Conversion of text into speech content is a common task performed by HitPaw using the TTS feature
The interface is designed to be used by professionals as well as beginners with no knowledge of video editing
This tool is free to use and no extra charges are demanded for accessing advanced features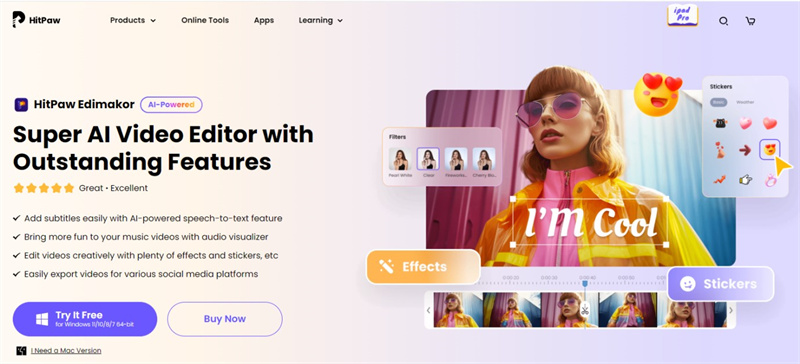 Part 4: FAQs About Hatsune Miku Text To Speech
Q1. Is There A Hatsune Miku Voice Changer?
A1. Yes, there are several tools available in the market with the feature of Miku Hatsune voice text to speech. You just have to enter the text into the tool and the results in the form of speech will be handed over to you. You can go ahead with the HitPaw Edimakor as this text-to-speech tool is the most recommended and efficient.
Q2. What Voice Does Miku Use?
A2. The voice used by Miku is of a popular Japanese voice actress named Saki Fujita. Nowadays, this actress has been affiliated with a talent agency named Arts Vision. She is considered the best for the Hatsune Miku voice which is a popular character of Vocaloid.
Q3. How To Get Miku Voice For Free?
A3. For accessing the Miku Voice, you just have to access a reliable text-to-speech tool. You can go ahead with FineShare or Fake You text-to-speech tool. Then, enter the text that you want to transform and choose the Hatsune Miku option. You will receive the speech form of text in a couple of minutes with high-quality results.
Sum Up
Hatsune Miku, being a popular virtual pop, has been in great demand because of its character design and image. Different tools are allowing users to get the voice of Hatsune Miku saying the lines and even words of their own choice. If you also want to create a video that has the voice of Hatsune Miku then you can go ahead with any of the above-mentioned tools to get Hatsune Miku text to speech.