5 Useful Tools to Translate Inggris - Indonesia Voice
Not everyone has the time and money to learn new languages, which is why people prefer using translators. Undoubtedly, there are many translators available in the market to translate English into different languages, but do you know only a few can translate English to Indonesia? If you are searching for the best Translator to Translate Inggris-Indonesia Voice, we got you covered. In this article, we have mentioned the top 5 tools to translate English into Indonesia.
Part 1: 5 Best Ways to Translate English to Indonesia Voice Online
There are almost 7000+ languages present worldwide, and it is impossible to learn all of them. Since technology has improved our lives, it is now easier to understand other languages using translators. If you are looking for the best translators to translate Indonesia Inggris voice, keep reading this article.
1. Veed.io
Veed.io is a professional AI generator for professional users, businessmen, content creators, and video makers. The tool offers unique features, including an AI video translating option. With this feature, users can translate the video into different other languages, such as Indonesian. You can make your video accessible to Indonesian audiences by automatically translating it. To translate the video, you just have to follow three simple steps, and within a few minutes, your video will be ready. You can also use the translating feature for creating videos for training and e-learning purposes.
Features of Veed.io
Automatically translate your videos into different languages
Easy to use app and best for beginners
Make educational, training, and promotional videos for a global audience
Automatically add subtitles to videos
Translate your videos using three simple steps
Price:
Free: $0
Basic: $12 per month
Pro: $24 per month
Business: $59 per month
2. Mate
To translate English to Indonesia, the Mate tool would be the perfect choice. Want to know why? The reason is simple because this tool is designed specially to translate Indonesian language to English. With this app, you can translate different text available on web pages, PDF files as well as emails. Also, it has a text box on the website where you can add your words, and it immediately translates them into another language. For example, you can type "Bahasa Inggris ke Indonesia voice," and it will automatically Translate the Text for you.
Features of Mate
Translate Texts yourself by simply typing the words in the text box
An extension is also available for Safari, Chrome, Firefox, Opera, and Edge
The app can be integrated with different devices, including iPhones, iPads, Macs, and Apple Watches
Translate your emails, pdf files, and pages in different languages
Supports almost 103 languages
Get perfect pronunciation without any mistakes
Price:
A free version is available for all the devices
3. ImTrabslators
ImTrasbslators is another application used to translate Inggris-Indonesia voice. To use this tool, you just have to type the Text in the box, and it will pronounce the words for you. For example, type "Bahasa Inggris ke Indonesia," and after that, choose the language, adjust the voice format, and that's it. You can also choose the speed of your voice easily. Once you have the result, you can now download it into different formats.
Features of ImTrabslators
Simple and easy-to-use interface
Translate Indonesia Inggris voice with one-click
Supports multiple languages, including Indonesian, German, Japanese, etc
Text to speech feature is also available
Users can try the Dictionary function to learn about new words
Highlights pronounced words
Users can also get the audio link which they can attach to their email, chat room, and website
Price:
A free version is available
4. gglot
If you want to translate your English audio to Indonesian, then you should definitely try gglot. By following three simple steps, it can translate English into Indonesian. To begin the process, you first have to upload your audio files into MP3, OGG, MOV, or MP4 formats. After that, choose the language, and the tool will start translating it. Once done, you can proofread and export the file.
Features of gglot:
Creates lectures, interviews, movies, and more in different languages
Creates captions, subtitles, podcasts, and transcripts of your meetings
Translate your videos into different languages
Transcribe Your MP3 to Text
Have a wide variety of import & export options
Price:
Free: $0 per month
Storage Package: $14.99 per month
Pro: $49.99 per month
5. A line.com
A line.com is another application used for translating English into different languages, such as Indonesia. This app also provides different features such as grammar, pronunciation, vocabulary, and more. You can also ask this tool to find out the synonyms. Moreover, you can use its other tools as well, such as Idiom, Speech, listening features, etc. The tool is created especially for Indonesian audiences.
Features of A line.com:
Users can translate English into multiple languages
The audio feature is also available
A good option for creating tutorials, lectures, and more
Users can try the vocabulary and pronunciation feature to learn new words
Gets idioms in different languages, especially Indonesian
On their website, users can get different blogs related to grammar, language, and more
Price:
Users can try the tool for free
Bonus Tips: HitPaw Edimakor - Best Text to Speech Tools for PC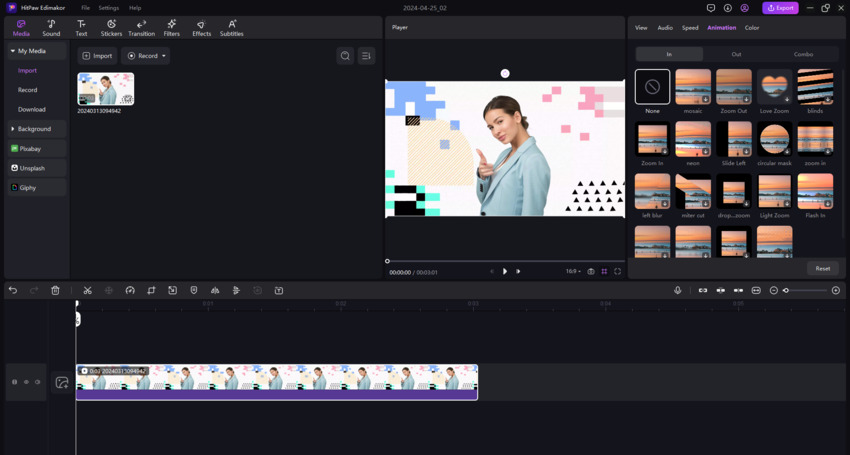 When it comes to finding the best Text to Speech tools for your PC, there are multiple options that you can try. However, not all tools offer advanced features like HitPaw Edimakor. This tool is not only good for editing videos, but it can also provide a Text to Speech feature. It is a powerful video, audio, and image converter.
Features of HitPaw:
1.

Offers creative and effective multimedia tools for the best results

2.

Has an intuitive and straightforward interface

3.

120X Faster Video Converter and HD Video Downloader

4.

Download videos in different formats

5.

Edit your videos and audio files with one-click

6.

Add different filters, stickers, texts, transitions, and more
Part 2: FAQs of Translate Inggris-Indonesia Voice
Q1. What is the best Inggris to Indonesia Voice Translators?
A1. When it comes to choosing the best Inggris to Indonesia Voice Translators, you must know the tool should be able to provide accurate results. So it is important to choose the right tool. From the above list, you can try all the tools, but if you want some specific options, then you should download HitPaw video editor, Veed.io, and A line.com. You can also use Google to translate Inggris Indonesia voice.
Q2. How do the Inggtis to Indonesia Voice Translators work?
A2. First, choose the right Inggris to Indonesia Voice Translator and type the text which you want to convert. Some tools will also ask you to upload the audio, which you can translate into Indonesian language. Once you have the translated transcript, review it and download it in your required format.
Part 3: Final Thought
Translate Inggris-Indonesia voice online tools are best for translating English to Indonesian language as these tools provide accurate results. You can try different translators for translating Indonesian voice, but we recommend trying the tools we have mentioned above, as these software apps are known for their advanced features. Plus, you can download them on any device.