Top 5 YouTube Intro Video Makers To Engage Your Audience
YouTube intro video makers have become the most used tools by individuals who want to enhance the appearance of their YouTube channels and hence want to create a stunning intro video. A wide range of templates and features are available through these tools that result in elevating the quality of the intro video.
These tools allow users even those with no technical expertise to create a professional YouTube video intro that will surely attract the viewer's attention. The intro video creation process becomes more interesting by adding animation graphics, customizable templates, and a library of music.
Part 1: 5 Intuitive Intro Video Makers For YouTube Channel
No need to waste time on several editors just to create a single intro video. The discussed YouTube intro video maker is here to help you out and provide you with the best results. You will be amazed to know the specifications of each YouTube intro video maker as all of them have full features and best in their work.
1. Animaker
YouTube content makers can easily create fascinating, unique video introductions using Animaker YouTube intro maker. It is a user-friendly cloud-based platform for crafting captivating video intros. It offers an array of templates and animations to create engaging openings for YouTube content.
Features:
Animaker enables users to effortlessly craft engaging and professional-looking YouTube intros.
The tool offers a wide range of animation effects, enhancing the visual appeal of intros and making them more engaging.
Users can personalize templates with text, images, and music, ensuring intros align with their channel's branding and content.
Disadvantage:
Although Animaker accelerates intro creation, individuals looking for extremely simple ways to create quick intros might be a little put off by its intricacy.
2. FlexClip
FlexClip YouTube intro video generator gives producers a simple toolkit to use to create engaging video intros. It helps create captivating YouTube video intros using a variety of tools and templates, leaving an impact on viewers. It's a perfect tool for beginners who want to know how to make a YouTube intro video.
Features:
With a broad range of editable intro templates, FlexClip enables rapid and customized compositions.
Its user-friendly interface streamlines the intro-making process for both beginner and professional creators.
FlexClip allows seamless integration of images, music, and videos to enhance the intros' visual appeal.
Disadvantage:
FlexClip provides strong intro production tools However, customers looking for more complex and elaborate animations could find their alternatives to be quite restricted.
3. RenderForest
Users may easily create compelling video intros with the help of the RenderForest YouTube intro video creator, a creative tool. It provides a variety of themes and customization options specifically designed for content creators to create eye-catching YouTube video intros.
Features:
For distinctive intro designs, RenderForest offers a large selection of templates that adapt to different themes and styles.
Users may add dynamic animations and effects to their intros to give them flair and impact.
RenderForest makes intro creation simple and accessible to all skill levels with its user-friendly interface.
Disadvantage:
RenderForest's comprehensive possibilities could be confusing, possibly needing more time and effort to browse through its offers.
4. InVideo
A dynamic platform is provided by InVideo's YouTube video intro maker, allowing for the quick construction of intriguing video intros. It caters to content producers by offering a variety of tools and customization choices to create engaging YouTube video beginnings.
Features:
To improve creativity and save time, InVideo uses AI to recommend design components.
It enables seamless team cooperation for the creation of shareable intros, driving group projects.
With the text-to-speech option that InVideo provides, artists may quickly add voiceovers and improve intros with an auditory punch.
Disadvantage:
The extensive feature set of InVideo may be too much for inexperienced users, demanding some adjustment time.
5. Canva
A creative paradise, Canva enables users to create fascinating and unique video introductions. It provides a variety of functionality and customization choices tailored toward content creators, enabling them to create captivating YouTube video intros.
Features:
Canva's seamless integration of graphic design and video editing enables the development of visually attractive and coherent intros.
Users may choose from a wide variety of components to improve their intros thanks to a large collection of graphics.
Canva provides real-time collaboration on initial projects, encouraging artists to work together and share their creativity.
Disadvantage:
Consumers looking for a more streamlined and simple intro-making process may find Canvas details to be a hurdle.
Part 2: What Are The Applications Of YouTube Intro Video Maker?
Several applications have been served by YouTube video intros makers for different content creators and businesses. A few of them are as follows:
These tools can be utilized by different brand organizations for the creation of interest for their webinars presentations and product demos.
They are highly recommended for social media marketing as well as the creation of intro videos of online courses and tutorials.
Most importantly vloggers are getting full benefit of these tools and are creating professional intros that help them to introduce themselves in front of their followers.
In addition to these applications, YouTube intro video makers are also used by podcasters, non-profit organizations, product demonstration companies, and for personal branding.
There are a lot of benefits of using a YouTube intro video maker. A few are mentioned below:
Creating introduction videos from intro video makers not only saves one's time but also effort.
The videos created by these tools result in captivating the viewer's attention from the very beginning of the video.
Users can create professional intro videos by taking help from the available animation tools, templates, and music.
Part 3: Bonus Tip: Effective AI Video Editor For Creating Intro Videos
Now, let us talk about a perfect working video editor that has completely changed the way we edit a video. The available features of this video editor are enough to transform raw footage into attractive and appealing video content that will capture the attention of a large audience.
HitPaw Edimakor
There was a time when different video editors were taken into consideration just to edit a single video but the HitPaw Edimakor, the best video intro maker YouTube proved to be an effective tool in this regard. It provides them with a great facility to do complete editing of a video at a single interface and change the complete look of the video content.
Features Of HitPaw Edimakor
You will get a great facility for creating YouTube intro videos for your channel or any brand purposes
The available customer service is fully aware of customers' needs and preferences
You will get a large variety of features, templates, and access to a library of inbuilt music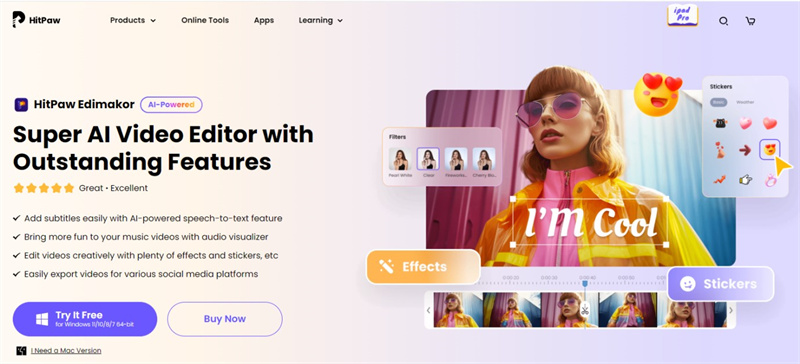 Part 4: FAQs About YouTube Intro Video
Q1. How Do You Make An Intro Video For YouTube?
A1. If you want to know how to make a YouTube video intro then you can easily create one just by following some simple steps. First of all, you have to plan your intro and then make sure you have all of your assistance like logos, images, graphics, etc.

Then get access to a reliable YouTube video Intro maker that will help you in creating a perfect YouTube intro video. Once it is created, expert the video and then upload it on your YouTube channel.
Q2. How To Make A Good Intro?
A2. There are some characteristics of a good intro that attract the viewer's attention in seconds. It's important to make sure that your intro is short and consistent. Try to add engaging visuals and avoid clutter in your intro. Keep your intro friendly and make sure that the viewer gets excited while watching your intro video.
Ending Thoughts
YouTube has a dynamic world of content creation hence if you want to retain viewers' attention then it's important to create an engaging intro video for your channel. You can get help from HitPaw Edimakor(Video Editor) and can create stunning and captivating intro videos for your YouTube channel.