Top 8 Social Media Video Creators For Creating Appealing Content
A tool that is designed to facilitate the creation and editing of a video that is generated for different social media platforms is referred to as social media video creator. Every best social media video creator offers a variety of functionalities and features to the users so that they can craft attractive and engaging video content.
The applications of social media video creators are vast. They are highly recommended for content marketing influencer marketing and especially for creating videos for educational purposes. Moreover, you can also create different entertaining videos, event promotion videos, branding videos as well as videos for awareness campaigns.
Part 1: 8 Perfect Social Media Video Creators For Creating Appealing Content
Social media nowadays is a leading way of earning money among youngsters. Brands nowadays do not use conventional methods for advertisements but create short videos of the products and unpackaging videos to earn large amounts of money. If you also want to upload your videos on social media, here are a few platforms that will help you in the editing of your videos.
(1) Canva
This is a video creation and editing platform available online that helps you to create interesting and engaging videos for your audience and become a social media sensation. In short, this free social media video creator never fails in facilitating its users the creation of perfect social media videos.
Features:
This platform is very easy to use.
Canva enables you to use a large variety of filters and templates.
It is free to use online graphic tools designed specifically to assist social media, content creators.
Disadvantages:
The disadvantage of this platform is that the export setting options are very limited.
(2) Wave.Video
Wave. video is a platform for young social media content creators to edit their content online and create inspiring videos for their followers. You can also go ahead with different customization options for better visuals.
Features:
It helps to edit, host, Livestream, multi-stream, and host professional videos for free.
It helps to create content for the websites.
It is a safe, swift, and easy-to-use platform.
Disadvantages:
This platform has one main disadvantage that in this platform some features are missing.
(3) Animaker:
Animaker is a platform that enables its users to create videos for their social media handles with ease. This free video creator for social media has a distinct position in the list of social media video makers because of having advanced specifications.
Features:
It is easy to use.
It enables a user to use a variety of features.
It helps in creating engaging videos.
Disadvantages:
The disadvantage of this platform is that it processes the videos slowly.
(4) VEED.IO
VEED.IO is a platform that is very common among teenagers for video creation and editing for their social media accounts. Veed.io is free and you can use it online at any time. Because of having an intuitive interface, beginners can also take full benefit of this tool.
Features:
It helps to add subtitles to the videos.
It helps to scale your brand, channel, or vlogs by using the best video editor tool.
It helps to create, edit, and share videos for free.
Disadvantages:
Veed.io has few limitations regarding the length of the video, watermark, and export resolution
(5) Promo
Promo is a professional video creation online platform for businesses and agencies. It helps in creating mesmerizing and thought-provoking videos. Youngsters nowadays are obsessed with video creation and cannot find a suitable platform for the editing of the video, promo is the platform that helps them to bring their ideas to life within minutes.
Features:
It helps to create video ads, social media videos, and product videos.
It helps to promote your brand on a larger scale.
It is very fast and creates videos within seconds.
Disadvantages:
It is not a suitable tool for beginners due to its complexity and unlimited features.
(6) Visme
Visme is a leading online platform that helps to create non-amateur videos, presentations, infographics, and many more. In today's age, if you want to pitch an idea, you need an engaging presentation, if your presentation sucks, no matter how good your idea is it will never be accepted. so, Visme helps you in this regard.
Features:
It is a free online platform that offers a variety of features.
It is a visualization tool that is based on web data.
It transforms your raw data into engaging presentations.
Disadvantages:
The main disadvantage of this platform is that it has very limited editing capabilities.
(7) Animoto
This is a video creation platform designed specifically for Gen Z that are obsessed with video creation, vlogging, and social media. This service is cloud-based and transforms the random images and videos of the user into beautiful slideshows, presentations, etc.
Features:
It helps to add music to the videos so you can easily make Instagram reels.
Most of the features of this platform are free, so you can access a variety of filters and templates without spending a single buck.
Its visual effects are the best.
Disadvantages:
If you want to edit a particular portion of a video, on this platform you cannot do it without disturbing the rest of the video.
(8) Biteable:
Biteable is a video creation platform that is available online and free of cost. It enables you to create, edit, transfer, customize, and export your videos without hassle. This online social media video creator also allows users to go ahead with different controlling options for the best results.
Features:
If you want to make concise and attractive videos, this platform is the best.
It is easy to handle.
It helps you to create videos that go viral on social media.
Disadvantages:
On this platform, the pictures are difficult to crop and resize.
Part 2: Bonus Tip: Effective AI Video Editor For Creating Social Media Videos
Social media videos can also be edited perfectly using HitPaw Edimakor, the most recommended and preferred video editing tool. The available features help in creating stunning and attractive videos to be uploaded on different social media platforms. Let us have a glance over its details and prominent features:
HitPaw Edimakor
HitPaw Edimakor was introduced as a game-changing tool in the world of digital content creation. This social media video maker software helps content creators and businesses to create professional and attractive videos without putting much effort. The designing algorithm of this platform plays an effective role in converting the complex video creation process simply so that beginners can also access it.
You can get help from the services of HitPaw Edimakor for different purposes like promoting your brand, sharing a creative vision, or attracting an audience on social media.
It supports an intuitive drag-and-drop editing feature
Another prominent key feature of the HitPaw Edimakor is its AI-driven enhancement tools.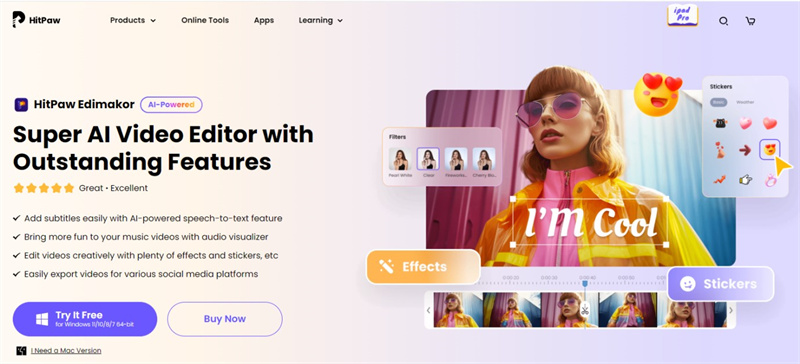 Part 3: FAQs About Social Media Video Creator
Q1. What Is The Online Video Creator For Social Media?
A1. An online video creator for social media refers to software that is specially designed for the creation as well as editing of videos for social media platforms.

There are several perfect working social media video creators like Animoto, Animaker, Canva, Promo, etc. Each of these social media video maker free is fully featured and reliable.
Q2. Which Social Media Is Best For Videos?
A2. The best social media platform for videos depends upon different factors like the content goals and target audience. But if we consider the social media which is best for videos according to the feet back then YouTube got the first position and then Instagram is the most recommended one.

Tik Tok Facebook and Twitter are also preferred social media that are best for videos.
Final Verdict
If you want to make a powerful presence on social media then it's important to go ahead with the ongoing trends and create stunning videos for attracting an audience. You can take help from the above-mentioned best social media video makers for the creation of attractive and fascinating videos to be uploaded on different social media platforms.