5 Useful Tools to Create Realistic Peter Griffin AI Voice in 2023
If you are a fan of Family Guy, then you must know about Peter Griffin. Peter Griffin is the protagonist of the show; his voice is so funny and famous that almost every content creator wants to mimic his voice.
But copying the iconic character's voice is not so simple. Therefore, today's article is all about Peter Griffin voice generator. In this article, we will share some of the best voice generators with Peter Griffin AI voice. But before finding the best voice generator available on the market, first find out who is Peter Griffin & Family Guy.
Basic Info about Peter Griffin & Family Guy
Peter Griffin is the main character in The Family Guy. This show is all about silliness. In this show, the main character, Peter, does these idiotic things to prove his masculinity.
He is insecure due to his overweight and large belly and thinks that his wife will fall for other men who are more manly and attractive.
Voice actor behind Peter is Seth MacFarlane, an amazing voice creator who also voices some other characters in the Family Guy, like Brain, Stewie, etc.
Family Guy is one of the best comedy Anime Shows available today; this show has won over 5 Emmy Awards, and 4 of them are for voice actors.
So, if you are a fan of Family Guy, then you will be glad to know that there are hundreds of Peter Griffin Voice changers available online, and below, we have mentioned the top 5.
5 Highly Recommended Peter Griffin Voice Changers
Whether you want to entertain your family or prank your friends, Peter Griffin AI voice generator will help you do that. Below, we have mentioned the top 5 voice changers with AI Peter Griffin voice.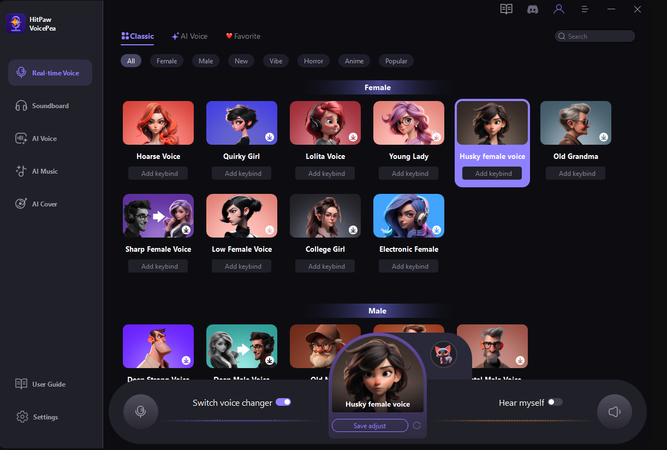 How to do Peter Griffin voice? To do Peter Griffin voice, you will need a voice changer with Peter Griffin's voice effects, and HitPaw is the best voice changer available on the market with this iconic character's voice.
With the help of this tool, you can easily create Peter Griffin's voice for streaming and gaming platforms. This program can support over 300 PC programs and games. Moreover, with Hitpaw, you will also get some amazing features like TTS, Noise Reduction, Soundboard, Media Player, and more.
If you are not satisfied with the built-in voice effects and filters, then with its customization feature, you can also create your voice effects.
Pros
Offers a large voice library with over 300+ voice effects and filters
Real-time voice changing
Has popular celebrity voices such as Pop Smoke, Taylor Swift, and Drake
Offers features like TTS, Soundboard, Noise Removal, and more
Compatible with platforms like Twitch and Discord
Customization feature to create new voice effects
Cons
Not available on Smartphones
Price: $15.95 Per Month
How to use hitpaw voice changer to change voice
Step 1:Go to "Settings", and click the drop-down button to select the input and output you are using.

Step 2:Choose the effects you prefer and click to apply it.

Step 3:Turn on the "Voice Changer", "Hear myself" and try to speak to your microphone to listen how your voice sound like. If the surrounding environment is noisy, you can manually activate noise reduction. Please don't set the noise reduction level too high, as it may filter out some sounds.

Step 4:After selecting the desired sound effects and previewing them, you can adjust the volume according to your preferences.

Step 5:Change Voice on Discord:Open "Discord", Click your "User settings" and go to "Voice & Video, Then select "HitPaw Vitrual Audio Input" from the drop-down list of input device.
2. Fakeyou (Online)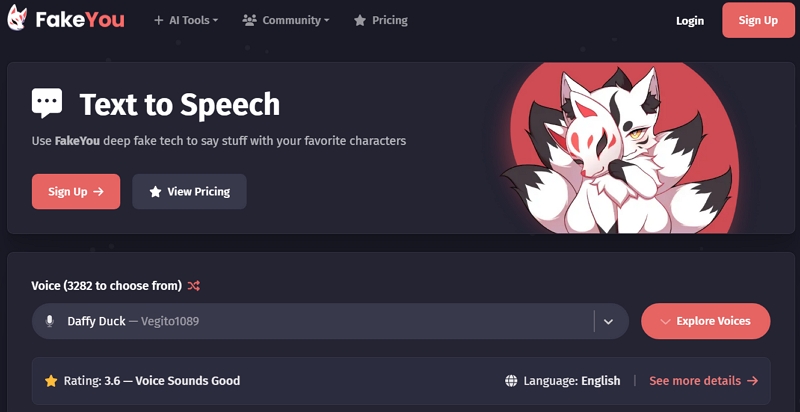 FakeYou is a web-based AI voice Generator, Peter Griffin, that uses AI technology to produce real-time voices. The best feature of this program is that it offers Peter's voice in different languages, such as English, Italian, and Spanish.
Furthermore, this tool includes a wide range of voices to choose from, including singers, rappers, cartoon characters, and celebrities.
With the help of FakeYou, you can also download the audio files in WAV format or get a URL link to share your audio clip online.
Pros
Text to Speech Peter Griffin voice generator with multiple Peter voices
Use AI technology to create high-quality voiceovers
Supports voice cloning to create your voice effects
Offers a wide range of voice effects, including celebrities' voices
Allows you to download audio files in WAV format
Web-Based program
Cons
Some voice effects sound robotic
Price: $7.00 Per Month
3. Voicify (Online)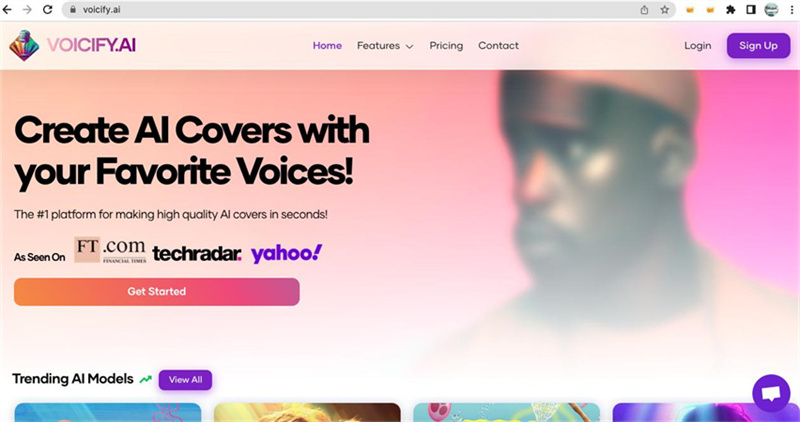 If you are looking for the best Family Guy AI voice Generator, then Voicify is the most suitable option for you because this tool has realistic Family Guy AI voices. It offers a wide range of Peter Griffin voices to choose from. All the voice effects available on this platform are realistic.
With the help of this tool, you can create your custom AI models by just recording your voice or uploading a sample of any voice.
Pros
It has over 4000+ AI Models
AI models are updated regularly
Over 1 Million active users
Ability to improve the quality of voice recording
Seamless integration with platforms like Twitch, Discord, and Zoom
It offers a wide range of realistic voice effects
Cons
Requires a stable internet connection
Price: $8.99 Per Month
4. 101 Soundboards (Online)
101 Soundboards is one of the simplest Peter Griffin voice-to-speech generators on our list. This tool provides the best voice effects for free, and the best part of this tool is that it is online.
With the help of its Peter Griffin TTS feature, you can easily create speeches in the voice of Peter. Furthermore, this tool is simple and easy to use, meaning a beginner with no tech knowledge can use this program without any professional assistance.
Pros
It has hundreds of soundboards
Possesses a Simple and easy-to-use interface
Online platform, meaning downloading or installation required
No need to sign-up on this platform
Free to use
Cons
The app is not great for mobile devices
Some built-in soundboards are too long
Price: Free of Cost
5. LOVO AI (Online)
LOVO AI is the last Family Guy Text-to-Speech program available on our list. With the help of its AI technology, you can convert Text to Speech in any character's voice. The main goal of this program is to generate lifelike voices that sound realistic, like real voice actors.
This tool allows you to choose between different languages and realistic voice effects. It offers a huge library of voices, such as Peter Griffin, Minions, Monsters, Aliens, and more. This program has an exquisite interface that allows users to create audio content easily.
Pros
With the help of LOVO.AI, you can create voiceovers in 180+ voices
It supports over 34 different languages
Ability to fine-tune voice to sound more like human
Includes features like speed control, voice cloning, pause customization, and emphasis capability.
Allows you to add music in the background
Cons
Needed a Good internet connection
Price: $36 Per Month
FAQs of Peter Griffin AI Voice
Q1. Is Family Guy still being produced?
A1. Yes, Family Guy is still being produced. On January 26, 2023, Fox announced that the series will get its 22 and 23 seasons. That means the show will be on air till 2023. The 22 season of The Family Guy will premiere on October 1, 2023.
Q2. What is the voice-over app for Peter Griffin?
A2. HitPaw is the best voice-over App for Peter Griffin. This tool has the best Peter voice effect, and it's simple and easy to use. To sound like Peter Griffin, launch the program and select the output input device. Now, choose the Peter voice effect and click on the Apply button. Your natural voice will modify into Peter's voice in no time.
Final Thought
In this guide, we have mentioned a few of the best Peter Griffin voice changers that can be used to generate Peter's AI voice on platforms like Discord, Twitch, and more.
Among these tools, HitPaw is no doubt the best voice changer for PC because of all its features. This tool has a huge library of voice effects, which includes voices of Anime Characters, Cartoons, Celebrities, Singers, Politicians, and more. HitPaw is the best voice changer for gamers and content creators because it integrates with almost every program that uses a microphone, including Discord, Twitch, Zoom, Call of Duty, League of Legends, and more.