5 Best Jarvis Voice Generators to Sound Like Jarvis Iron Man Voice
Do you love Jarvis, the charming Iron Man in Marvel movies, like I do?
Here, you can alter any voice like Jarvis with the Jarvis voice generator. These tools help you create different voiceovers and have fun with your friends and family. Keep reading this guide to find out the top 5 Jarvis sound generators available online.
Who is Jarvis and Who Voices Jarvis in Iron Man?
Jarvis is a famous character in MCU and is known for playing Tony Stark's loyal companion. J.A.R.V.I.S is also known as "Just a Rather Very Intelligent System." Tony Stark created him to manage his home, lab and Iron Man suits.
Throughout Iron Man's journey, Jarvis plays an important role in working for Tony on various missions. His loyalty and witty remarks have made this AI assistant a unique character in MCU.
But who voices Jarvis in Iron Man? Paul Bettany voices Jarvis in the Marvel Cinematic Universe films. He is a British actor born in London on May 27, 1971. Bettany has appeared in many famous movies and TV series such as A Beautiful Mind, Master and Commander, and more. In addition, he also plays the role of Vision, aka Jarvis, in the Marvel films.
Top 5 Jarvis Voice Generators to Create Jarvis AI Voice
As we all know, hundreds of voice generators are available, but not all can generate Jarvis's voice. Here are the best 5 Jarvis Iron Man Voice Generators to help you create realistic Jarvis sounds.
1. Narakeet
Narakeet is a Text-to-Speech Jarvis voice changer that allows you to convert your textual input into an audio file. This is an ideal tool for creating podcasts, scripts, and educational lessons.
With this tool, you will get 600+ voices in 90 languages. Voice effects include famous voices like Jarvis, Bradman, Tom Hardy, and more. It provides options like adjusting pauses, duration time, volume control, etc. Narakeet has a stylish interface that makes it easy to use.
Pros
Offers realistic sound effects so you can create Jarvis voice
With this program, you will get 600+ voices in 90 languages
Easy-to-manage interface, best for beginners
Has features like TTS, a Sound controller, Time Duration, and more
Option to test the sound effects before conversion
Suppports Windows system
Cons
No option to add customized sounds
2. Murf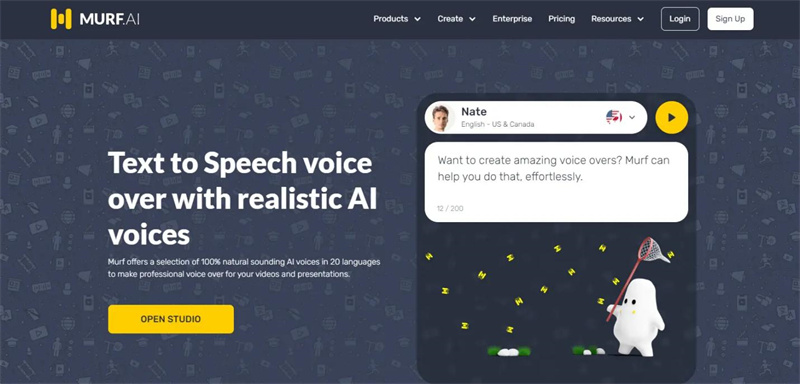 Murf is an excellent choice for the Jarvis voice simulator. This program helps its user to create voices that sound realistically human. If you are a content creator who wants to clone Jarvis AI voice, this program is the best option because this program offers high-quality voices.
Each AI voice available on this platform is made by a professional voice actor. It also allows you to upload your audio clips and convert them into a professional-looking voiceover. With a few clicks, you can also add your desired background music.
Pros
Murf offers diverse voices, which includes both male and females.
Best Text to speech Jarvis voice generator
It enables you to adjust pitch, speed, and tone
Allows you to add background music
It includes extra voice filters such as Monster, helium, and more
Provides data protection and security
Suppports both Windows and MacOS system
Cons
This program has fewer advanced voice filters
3. Synthesia
Synthesia is an AI video generation platform that also allows voice cloning. This powerful tool has plenty of voice filters, including Ironman Jarvis voice. This program allows you to create a high-quality project for your YouTube channel.
All the voiceover generated from Synthesis is realistic, which makes this program a popular choice among many content creators.
It also offers a text-to-speech feature that supports several languages and high-quality voices.
Pros
Easy-to-use interface perfect for j.a.r.v.i.s. iron man voice
Supports over 100+ voices in 60+ languages
Reasonable pricing
One of the best customer services
Includes a selection of background music that can add freely
Suppports both Windows and MacOS system
Cons
The secondary voice generator program
4. Speechify
Speechify is a Jarvis voice generator text-to-speech tool available on Android, iOS, Windows, and macOS and as a browser extension. This tool takes AI to the next level by providing features like navigation, email reader, website reading, etc.
Speechify offers over 100 voice filters, including J.A.R.V.I.S Ironman voice, male, female, animal, robots, aliens, and more.
Unlike its competitors, this program supports many document files like PDF, Docx, ePub, and HTML. This program has OCR, meaning this tool can scan text from newspapers, textbooks, and other formats and then convert it into a speech in your favorite voice.
Pros
It offers natural-sounding voices that are easy to hear
This program can read content at a faster rate
Best for users who want to create voiceovers in a short amount of time
The software is user-friendly
It has a mobile app and Chrome extension
Suppports both Windows and MacOS system
Cons
Speechify has limited voice options
It offers limited customization options
5. Fakeyou - Jarvis voice generator online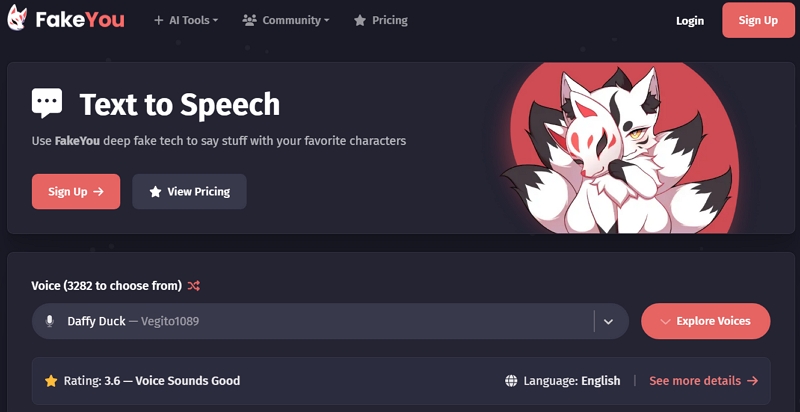 FakeYou is the last Jarvis voice generator online on our list. It is a web-based program that allows you to alter your voice into Jarvis AI voice without downloading.
In this program, you will find many advanced features such as Jarvis Text to Speech, Voice Controller, Pitch Adjustor, and more.
Due to its user-friendly interface, this program is very popular among content creators, Marketers, and more. It offers over 4000+ voices, including various celebrities, Commentators, Talk shows anchors and more.
Pros
With this program, you will get high-quality voices
It has a wide collection of celebrity voices
Web-based program, meaning no downloading is required
Easy-to-use interface with AI Assistance
Affordable pricing as compared to others
Suppports both Windows and MacOS system
Cons
Speechify has limited voice options
It offers limited customization options
Bonus Tips:Wanna Generate Voices besides Jarvis? Try HitPaw Voice Changer
If you are looking for the best voice changer for PC, don't look further because HitPaw is the program you were looking for. This tool can alter your voice into any character in real-time and celebrities, such as Jarvis.
HitPaw offers a vast library of voice effects, including voices like Male, Female, Animal, Robot, Alien, Monsters, etc. It supports over 300 programs available on PC, such as Discord, Twitch, Zoom, Skype, TeamSpeak, and more.
It doesn't matter whether you are playing games or live streaming; this program guarantees to provide high-quality voice changers without lowering your sound quality.
Features
Offers High-quality voice effects and filters
Ability to change voice in real-time
Supports over 300 PC programs, including Skype, Zoom, etc
Offers Customization options
Huge library of voice effects, including celebrity voices ( Jarvis)
Available on Windows and macOS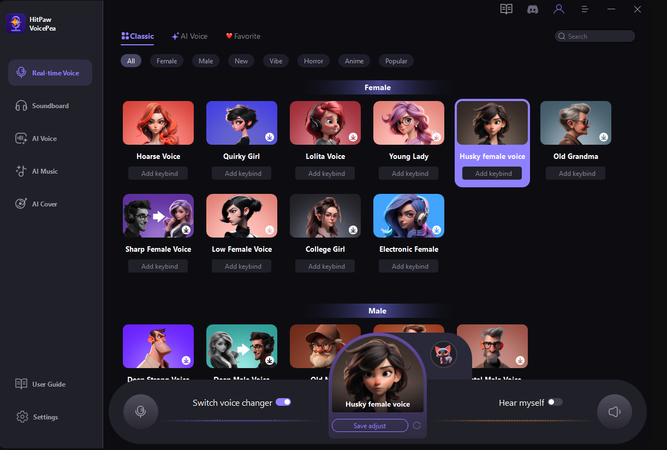 FAQs of Jarvis voice generator
Q1. What is Jarvis voice assistant?
A1. A Jarvis voice assistant is a program that allows you to clone the voice of Jarvis, a well-known character from the MCU.
Q2. How do you get the Jarvis voice?
A2. To get Jarvis voice in iron man, first you must select a Jarvis voice generator, then select the input and output device, choose the Jarvis filter, and your voice will be ready in no time.
Final Thought
After reading the article, you must know how to generate a voice like Jarvis with top Jarvis voice generators. And you can also do more exploration on HitPaw Voice Changer to try more different voice for your entertainment. Never lose the best chance to make your life more interesting!