7 Best Frieza Voice Changers You Should Try in 2023
Dragon Ball Z has introduced several characters throughout the years, including Frieza, who is an iconic character and has a cunning voice. Due to Frieza's unique voice, fans are curious to know how they can add his voice to their videos or use it to prank their friends. If you are also one of them, then you have landed at the right place. In this article, we will guide you on how to create his voice using different Frieza voice changer applications.
Part 1: Who Is Frieza, and who is the Frieza voice actor?
Frieza is a fictional character from the popular anime called "Dragon Ball," which was introduced by Akira Toriyama. Frieza is one of the main characters in the series and is known as one of the most iconic and powerful villains in the DragonBall universe. He is the emperor of the universe and is known for his cruelty and ruthlessness. Moreover, he has the ability to transform into more powerful forms. He also plays a significant role in several stories, including the Namek Saga and the Frieza Saga.
Christopher Ayres has given his voice to Frieza in the English language. In the Japanese version, Frieza is voiced by Ryusei Nakao. Undoubtedly, Frieza is a famous character and is loved by many people worldwide.
Part 2: 7 Useful Frieza voice changer
If you are also amazed by Frieza's voice and want to generate the same tone, then continue reading this article. Below, we have mentioned some of the top Frieza voice generators that you can try to change your voice into Frieza. Let's check out these tools and see how they can help to generate Frieza AI voice.
1. HitPaw Voice Changer (Win & Mac)
The first Frieza voice generator we have for you is the HitPaw Voice Changer application. It is a reliable tool that works for both Mac and Windows. You can use this application to generate Frieza's voice within minutes. The app is used by millions of users worldwide and has a positive rating.
Pros
The interface of this software is straightforward and easy to use
Users can enjoy real-time voice-changing feature
It is the best Frieza voice changer application for beginners
You can change your voice into Frieza and prank your friends
It provides multiple voice effects and sound filters, including Frieza
Price: $15.95 Per Month
How to use hitpaw voice changer to change voice
Step 1:Go to "Settings", and click the drop-down button to select the input and output you are using.

Step 2:Choose the effects you prefer and click to apply it.

Step 3:Turn on the "Voice Changer", "Hear myself" and try to speak to your microphone to listen how your voice sound like. If the surrounding environment is noisy, you can manually activate noise reduction. Please don't set the noise reduction level too high, as it may filter out some sounds.

Step 4:After selecting the desired sound effects and previewing them, you can adjust the volume according to your preferences.

Step 5:Change Voice on Discord:Open "Discord", Click your "User settings" and go to "Voice & Video, Then select "HitPaw Vitrual Audio Input" from the drop-down list of input device.
2. VoiceMod (Win & Mac)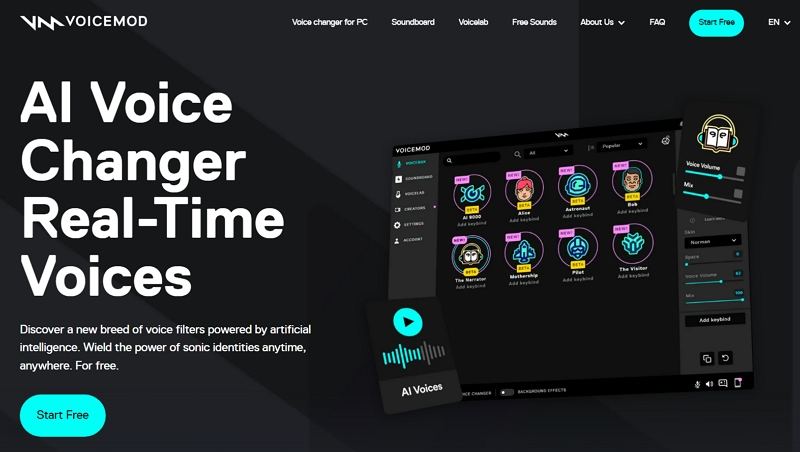 Voicemod is the best voice changer application that allows users to change their voice into Frieza during video calls, video sessions, and more. It provides a wide range of creative and amazing voice filters and effects as well. Moreover, it is easy to use and doesn't require any expertise. It can also provide you with the voices of different other Dragon Ball Z characters, such as Goku.
Pros
It offers 100+ voice filters, including Frieza Voice
The interface is user-friendly and straightforward, as well
It works with most of the devices
You can get a voice in different other languages
Cons
Sometimes, it doesn't provide accurate results
The free version doesn't have advanced features
Price: $12 per month
3. Voxal Voice Changer (Win & Mac)
NCH Voxal voice changer is an advanced application that generates Frieza voice within minutes. It offers a wide range of Vocal effects libraries and makes sure that users can generate Dragon Ball Z different characters' voices without any hassle. You can also remove background voices and adjust the settings accordingly. It is compatible with different apps, including Discord, Skype, Steam and more.
Pros
It offers custom voice effects, such as Frieza's voice
It is easy to set up and doesn't require any technical expertise
Voxal voice changer changes your voice in real-time
Users can add custom voice effects of Frieza with ease
Cons
The free version has limited features
Doesn't support multiple formats
Price: $2.77 per month
4. Voice.ai (Win, Mac, iOS, Android)
Voice.ai is a real-time voice-changing application where you can access unlimited voice filters. If you want to enjoy Dragon Ball Z Frieza's voice, then this free Frieza voice changer would be your perfect choice. You can also use it to create custom sounds and do lots of other things as well.
Pros
Create Frieza voice with one-click
One of the best Frieza voice changers
It is compatible with different platforms, including Windows, Mac, iOS and Android
Compatible with popular games and tools
You can use it to create soundboards
Cons
Doesn't work without an internet connection
Supports limited languages
Price: Free
5. Adobe Audition (Win & Mac)
Adobe Audition is another Frieza voice modifier that you can use in 2023. It provides a comprehensive toolset with lots of voice filters. With this app, you can quickly edit your videos and add different sound effects. This app is simple and easy to use. Moreover, it can easily change your voice to Frieza's voice. It is free, and users don't have to follow complicated methods to use it.
Pros
It has an intuitive interface and generates Frieza actor's voice without any hassle
You can add different sound effects without any ease
Support various audio formats
You can record and adjust multi-track sessions
It is available in different languages, such as Português, Deutsch, etc
Cons
Difficult for beginners and new users
Very expensive as compared to other tools
Price: $29.99 per month
6. MorphVOX Junior (Win & Mac)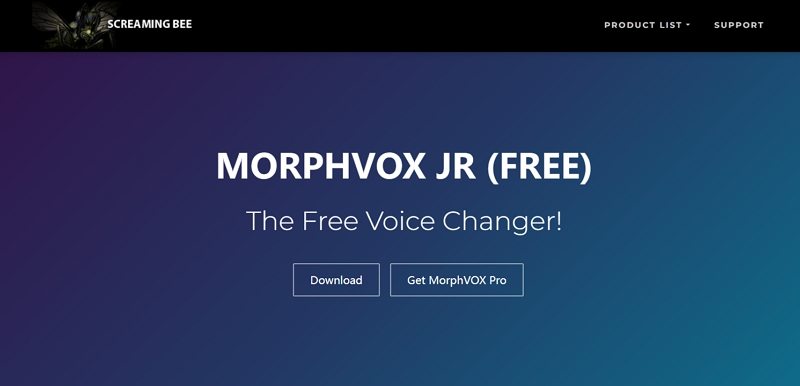 MorphVox Junior is another Frieza voice changer for beginners and new users. It is an easy-to-use app and comes with wonderful features. You can also use this app to prank your friends, as it provides a real-time voice-changing option as well. You can also purchase the premium version to get lots of voice filter options.
Pros
It is the one of the best Frieza voice changer
You can change your voice settings according to your requirements
It provides free voice filters and a noise-cancellation option
The junior version is free of cost
Cons
Pretty complicated for first-time users.
Price: Free
7. All in one Voice Changer (Win)
All in one Voice Changer is an app available for Windows users. It is a user-friendly application and comes with lots of wonderful functions. This application can easily generate Frieza's voice. Moreover, it is available for Windows users so they can easily enjoy all its features. You can also use it with Skype and prank your friends by converting your voice.
Pros
You can quickly import and export WAV audio files
It can be connected with Skype
The free version has lots of wonderful features
It is one of the ideal Frieza voice modifier
Cons
It doesn't generate the results properly
It can be misleading sometimes
Price: Free
Part 4: FAQs of Frieza Voice Changer
Q1. Why Did They Change the Voice Actor for Frieza?
A1. Yes, the voice changed in the latest episodes Christopher Ayres was diagnosed with end-stage COPD (chronic obstructive pulmonary disease) and required a double lung transplant. So, he was asked to leave the spot in 2018.
Q2. Who will Replace Frieza Voice Actor?
A2. Christopher Ayres was replaced by Daman Mills.
Part 5: Final Thought
All-in-all, we have discussed some of the top Frieza voice changers that you can use on your Windows and Mac devices to create Freiza voice. All these apps have free trials, so you can easily use them. Furthermore, you can also download the HitPaw voice changer application, which generates different voices within seconds. It also has a real-time voice changer feature, which allows you to change your voice during games and live videos.