5 AI Song Generator to Create New Music Like Artists
Creating content in today's world does not mean just creating only videos. These videos needs a good background music or a separate music overall for enhanced user engagement. And creating songs is not an easy task. Well, if you think so, then you might not heard of AI song generator tools. These tools makes it easy for users to create songs with the help of AI within few clicks. And this article talks about some of the best tools that users can use to create songs with the help of AI.
Part 1.

Can AI Sing What You Type?

AI song lyric generator and music generator tools are programs that use ai to create royalty-free and unique music tracks. The algorithm powering these tools develop skill from within and learn how to make music via machine learning. When users feed them with data, these tools use what they have learned to make songs.

Most AI song lyrics generator tools work by leveraging deep machine learning to study huge chunks of data—such as melodies, music tracks, or chords. They then process them and feed the data to the AI. Next, the AI is trained on this data and uses it to generate music. Hence, if the AI was only trained on certain music, all of the music it creates will sound same.

Now, that you know how AI generated songs are created with these tools, it is now time to have a look at some of the best tools out there.
Part 2.

Most Popular AI Song Generator to Make Music

This section lists the best AI song generators that users can use to suffice their needs. Keep reading.
1. Voicemod AI Text to Song Generator
When it comes to AI generated song and the tools to use it, Voicemod is one of the best options that users get. The tool does not require any technical knowledge and makes it easy for users to use with it user-friendly design. The tool is an online platform and comes with tons of features. Since it is browser-only tool, users can use it anywhere, including their mobile devices and PC.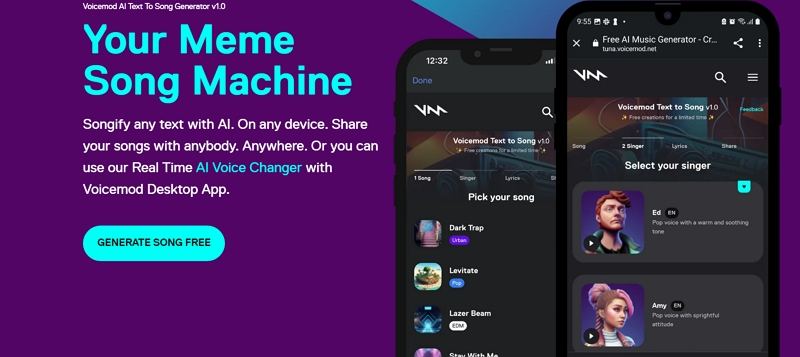 Follow the below steps to know how to use this fake AI song generator.
1.Visit the official website. Next, select your song. The tool currently has 10 classic melodies to select from, and more are expected to be added.

2.Once you have selected their song, they will get to select from seven singers.

3.Finally, you need to write the text. The tool will transform this in to a song based on user preferences.
2. MusicStar.AI
MusicStar.AI is another tool that can be used for AI generated song lyrics. The platform is useful for anyone, irrespective of musical talent, who wishes to make professional-akin music. The tool offers the features users need, whether they are a music professional or not. With this tool, users can easily edit and write lyrics for their songs. The vocal recording and acapella feature enables users to add their voice or any other sound to the music track easily. The music feature allows users to mix, create, and master their tracks. The album cover feature lets users to customize and design their album cover, while the audio editor allows users refine and tweak the sound.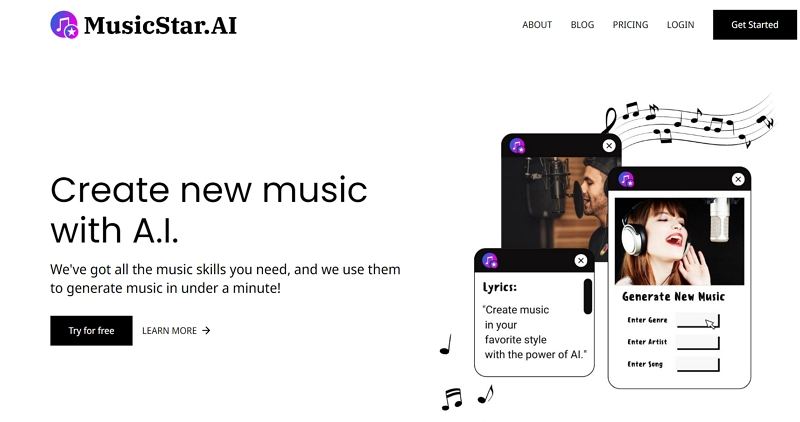 Follow the below steps to know how to use this drake AI song generator.
1.Visit the official site of the tool and select the style of music. The tool offers different genres such as hip hop, pop, rock, rap, and country.

2.Next, select a title for the song. You need to add your own lyrics and use it to start creating the song.

3.Else, you can add lyrics from their favorite song and the tool will carry on writing lyrics for users.
3. Google MusicLM
MusicLM is a song generator AI text-to-music generator designed by Google as part of its AI Test Kitchen initiative. The tool is perfect for creating high-fidelity music from simple text. It creates generates music with a higher sampling rate, and too without wasting any time. This tool by Google is trained on a huge dataset and is suitable for users to create AI generated songs.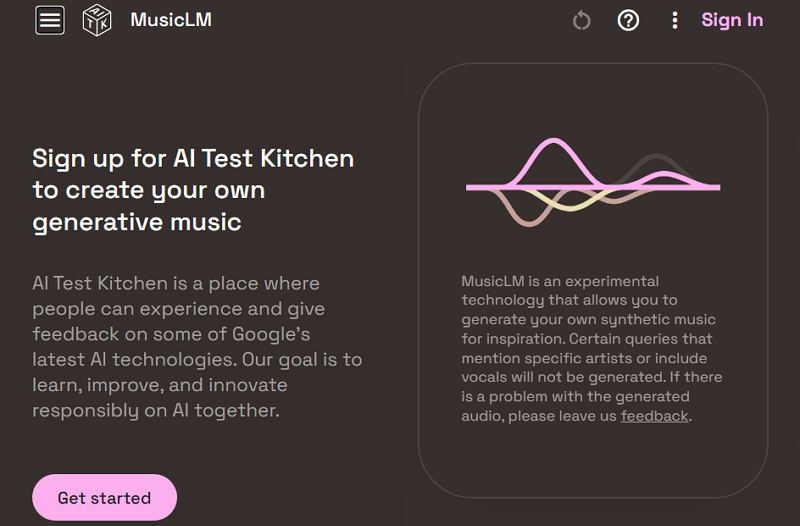 Follow the below steps to know how to use this song AI generator.
1.Visit the official website and click on "Get Started." Click on "Register your interest" and join the waitlist.

2.Sign in with your Google account and add text descriptions to create the music of your music. The tool will create the song based on the text you entered.

3.To download the song, click the three dots next to the generated song and click the Download option.
4. Soundful AI Music Generator
Soundful AI song generator free uses AI algorithm to create royalty free music with a single click for streams, videos, and podcasts, among others. The entire process is developed to be intuitive. Users just need to select a genre, personalize their inputs, and generate the tracks. Most prominently, the music is unique, and hence the tool's algorithms are trained alongside some of the most exciting producers and sound engineers in the industry. And due to this, this tool will never replicate a song that is already present, or even one from its own platform. Users can start with more than 50 templates from different genres.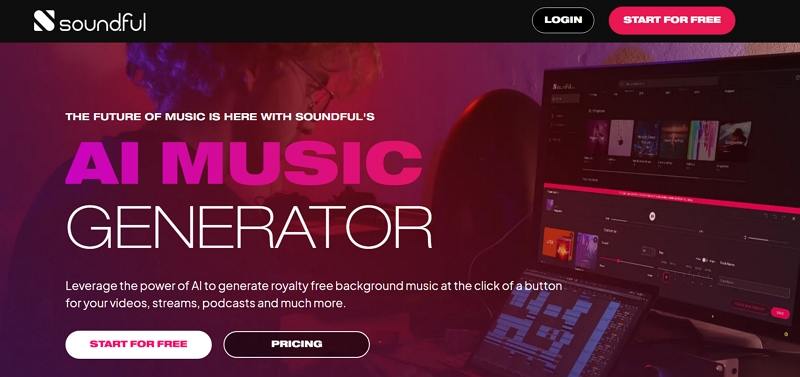 Follow the below steps to know how use this AI song generator.
1.Visit the official website and click the pink Start Creating button.

2.Next, tap on Track or Loop, depending on which one you want to create.

3.After selecting, select from a variety of genres and also select a Template.

4.Next, click Create a Preview of the track or loop. When done, click Save.
5. Beatoven.ai Simplest Free AI Music Generator
Beatoven.ai AI song lyric generator utilizes next-level AI algorithms to compose mood-based and unique music to cater to different user needs. The tool provides different features to upload a podcast with track and different Genres to suit them. Users can create engaging music with different cuts to integrate different moods to the music.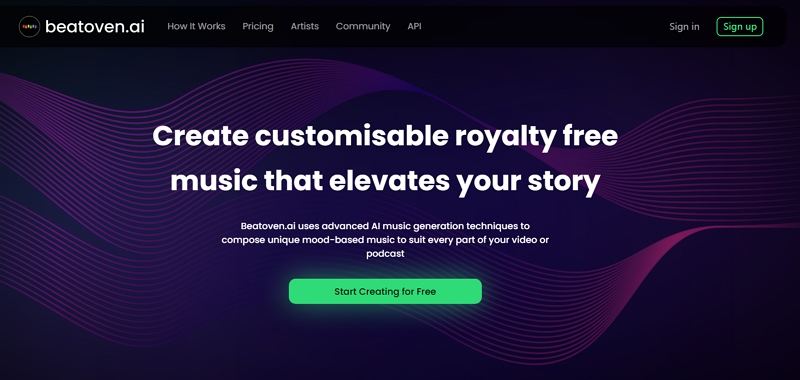 Follow the below steps to know how use this AI song lyrics generator.
1.Begin by visiting the official website and start with a track.

2.Select from different available Genres as per your needs.

3.Next, select moods as per your convenience.

4.Lastly, click Compose to create a unique track.
Bonus Tip:

Best Voice Changer to Change Music Voice for Fun

Want to change music voice to an anime character voice you like. Be a robot, anime actor, girl, or baby voice, HitPaw Voice Changer can change voices to your favorite one for entertainment, creativity, or practical applications. You can also customize and fine-tune voice parameters such as pitch, formant, resonance, and modulation intensity to create unique and personalized voice effects.
Change voice in real-time with extensive voice effectsant sound effects
Remove unwanted background noise to get high quality outputant sound effects
Integration with popular platforms such as VoIP, online gamesant sound effects
Assign hotkeys to specific voice effects thus to apply effects quicklyant sound effects
Easy to use even for users with limited technical expertise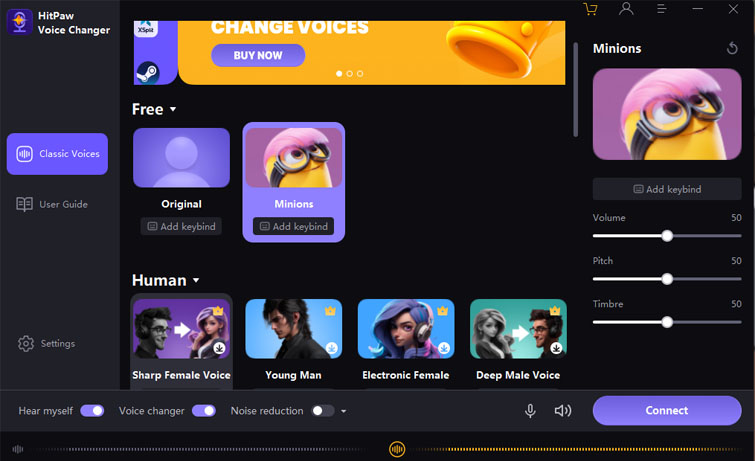 Frequently Asked Question about AI Generated Songs
Q1. Is there an AI that can make music?
A1. Yes! The tools mentioned above were some of the most used platforms that uses AI to generate music.
Q2. What is the best AI singing generator?
A2. Apart from the platforms mentioned above, users can also consider the below options to create music using AI.
Murf.ai
Vocaloid
Revocalize
Synthesizer V
Uberduck
Emvoice
The Google Colab Underground
Q3. Is there AI in Spotify?
A3. Yes! Recently, Spotify launched a personalized AI DJ that to offer users with insightful facts about the artists, music, or genres they are listening to. However, this AI does not creates any music.
Q4. Is there any AI that can sing?
A4. No! There is no such AI tool that can sing. However, there are different AI tools that can help you create AI generated songs or change your voice in real time while you are singing.
Conclusion
All in all, we just had a look at different AI song generator tools and a step-by-step guide on how to use them. You can use any one of them to create AI-generated songs and suffice your needs. If you need to professional voice changer to manipulate and transform voices for entertainment, creativity, or practical applications, HitPaw Voice Changer will be your best choice.