The Best Free Online MP4 Video Editor in 2023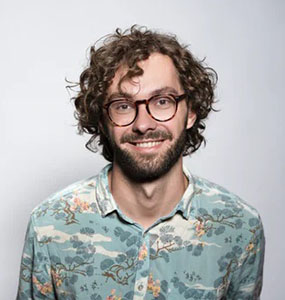 Are you looking for an efficient online mp4 video editor free to polish your video clips? Look no further as this article will walk you through the most professional online editing tool that is bound to impress you. No matter if you're not a video expert or specialist, you can still create a high-quality end product with this tool. Additionally, you'll get to know a comprehensive desktop video editor for professional-grade video editing. Read on and find out.
Part 1: What is the Best MP4 Video Editor Online
When it comes to the best online editing product, HitPaw Online Video Editor stands apart. It offers a plethora of tools for quick and easy video editing. Even first time users don't face any technical issues while using this simple yet powerful editor.  
Unlike its competitors, HitPaw boasts efficiency, blazing-fast speed, and protection of users' data. Its sleek and innovative interface makes editing a fun and exciting process.
1.1 Why Recommend HitPaw Online Video Editor
HitPaw online editor has established itself as the go-to choice for enriching video clips. Below are the highlighted features of this remarkable mp4 video editor free online:
Crop, rotate, merge, cut, and resize a video
Change video's speed with on click
Add text of any sort
Add or remove watermark
Convert a video into any format including GIF
Repeat and loop your video
Animate your photos
Compress videos and audios
Add background music
Built-in screen recorder
1.2 How to Edit MP4 Video with HitPaw Online Video Editor
Simplicity and ease of use are the defining features of HitPaw online editor. Just like any free online mp4 video editor, HitPaw directly takes you to the main page where you can start editing right away.
Here's how to do that:
Step 02On its Home page, you'll see tons editing tools that you can use. Here, we will learn how to use its crop feature. Click on "Crop & Rotate" to get started.
Step 03Now, click on "Choose File" and import the video clips from your computer. Wait u ntil the video is uploaded. After that, hit the Crop feature on the left tab.
Step 04Set the aspect ratio on the left tab as needed. Or adjust the rectangular corners manually to resize the video. Hit Crop to apply the changes.
Step 05HitPaw Online Video Editor will crop your video in just a few seconds. Click on Save to download the output video.
Not everyone is a big fan of editing mp4 videos online for multiple reasons. For instance, it takes a lot of time to upload and download a larger video on online platforms.
Also, a video editor mp4 online is best suited for basic editing. You have to rely on a competent desktop video editor to add advanced editing features to your videos,
Part 2: How to Edit an MP4 Video on Desktop
This section will outline three most sought-after desktop video editing software that anyone can use with great ease. Give it a read to help decide which tool is best for you.
2.1 HitPaw Edimakor
HitPaw Edimakor empowers you to turn any video clip into a major production using its huge library of transitions, effects, stickers, and filters. Aside from offering all the features of its online counterpart, this desktop version includes advanced editing tools such as multi-layer editing and precision timeline.
Features of HitPaw Edimakor
Expect the below stellar features from the premium version of HitPaw Edimakor:
Multi-layer video editing
Group tracks in the timeline
High precision in applying editing features at specific points in the clips
Tons of aesthetic stickers, filters, and transitions
All basic editing tools
Adjust video's opacity and speed
Many audio editing tools
Photo editing
Add background music
Text Guide of HitPaw Edimakor
Check out how to edit a video using HitPaw Edimakor:
Step 02Click on "+" to load the video clips into the program. Drag and drop them to the timeline.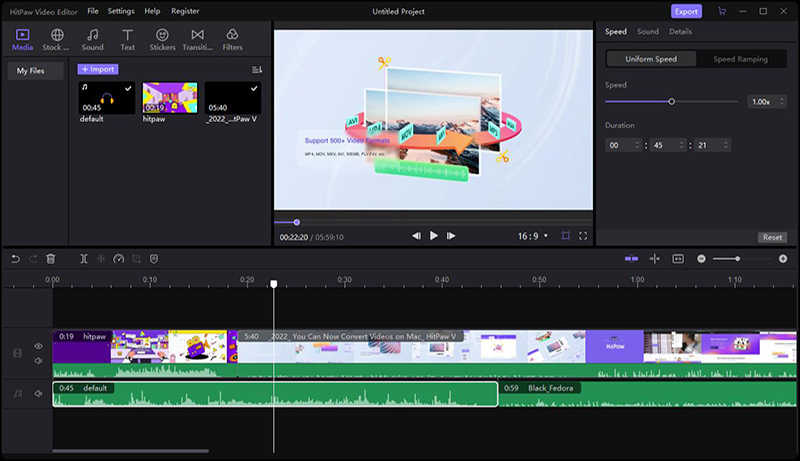 Step 03Once the clips are in the timeline. you can perform any editing action. Here, we will learn how to split a video clip.
Step 04All you need to do is place the playhead at the starting point of the video and hit "Split" on the quick toolbar. Then, place the playhead at the other point of the video and hit 'Split" again. The program will isolate this part. Click on it and hit Delete to remove the unnecessary part.
Step 05When you're done editing, click on Export to save the output file.
2.2 Movie Maker
Movie Maker is an easy to use editing software developed by Microsoft. It is easy to install and offers a fairly simple procedure to apply its features. Its interface may look outdated but still it can help you perform basic editing tasks without any technical hassle.
Here's how to use it:
Step 01Install Movie Maker from a credible third-party website and launch it.
Step 02Go to Home > Add videos and photos > Add to import video clips.
Step 03Now, apply the editing tools to customize your video.
Cons of Movie Maker:
Limited features
Confusing interface
No update for many years as Windows has discontinued this software
It often freezes and crashes
Single track editing
No audio effects on the storyboard
2.3 Pixiko
Pixiko is a versatile video editor for beginner-level video editing. Aside from basic editing tools such as crop, trim, split, and zoom, Pixiko comes preloaded with tons of graphic, motion, transition and video speed effects.
Text Guide of Pixiko:
Follow the below steps to use this software:
Step 01Install Pixiko on your computer or use its online version. Hit on Upload to import the video clips.
Step 02Click on the video to activate its timeline as shown in the figure. Just click on the tool you want to use and proceed.
Cons of Pixiko:
Free version shows watermark
Too basic and limited features
Slow processing time
No precise editing as the slide is clunky
Conclusion:
To wrap up, this article shows that there're a myriad of ways to edit videos online. The best thing about online editor is you can use them anywhere anytime without installing any third-party program on your device.
You can try some free mp4 online video editor tools but we recommend HitPaw Online Video Editor to all our users. For more additional editing features, HitPaw Edimakor is available for desktop users.  
Recommend Product
HitPaw Video Converter
Ultra-Fast to convert and download video.
HitPaw Video Converter
Ultra-Fast to convert and download video.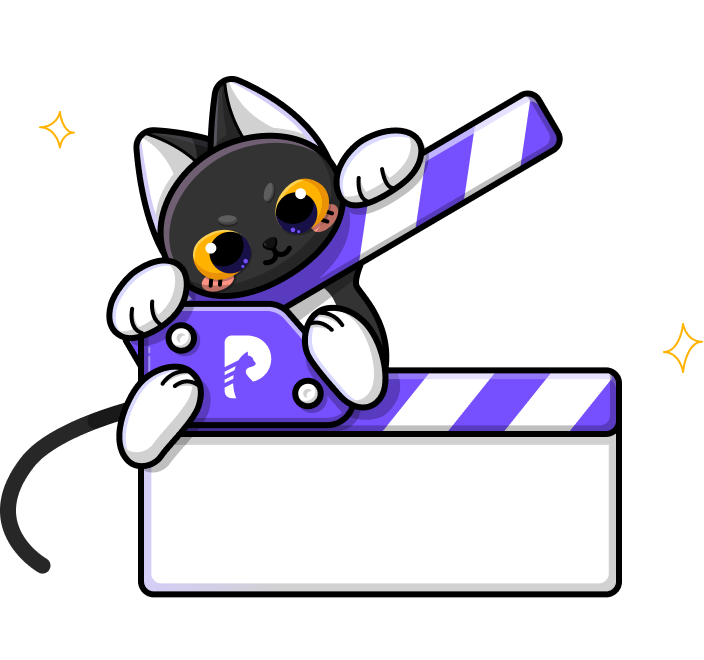 Click Here To Install