Top 8 GIF to Video Converters You Must Know in 2023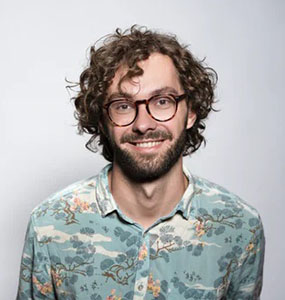 With attention spans becoming shorter every day, brands are trying to catch customers' attention in as little time as possible. Therefore, having content that contains a burst of excitement grabs the attention of people far more accessible than having long explainers in the form of videos or text.
As a result, GIFs have become increasingly popular. They contain a visual appeal like no other format and grab attention instantly. Unfortunately, some social media platforms like Instagram do not support GIFs. Hence, you need to convert them into videos to share them.
Fortunately, you can convert GIF into videos using conversion tools. To help you do that, we'll discuss some of the best GIF to MP4 converters in detail in this article.
Part 1. Can a GIF be a Video? 
Yes, a GIF can be converted into a video if you have the right tools in your hand. Luckily, you have several tools available today that can be used to convert GIFs into video. Doing that will also reduce the file size and help you upload your content faster on the internet. It also saves bandwidth and allows customers to load your website faster.
Part 2. 5 Useful and Free Converters on Windows and Mac 
Turning GIF into MP4 isn't that tough once you have the suitable converter in your arsenal. So, it's time to discuss the 5 most valuable and free GIF to video converters and understand how to use them effectively. We'll also discover their pros and cons along the process.
1. Best GIF to Video Converter--HitPaw Edimakor 
HitPaw Edimakor deserves the top spot on this list because it provides features and qualities that exceeds the clients' expectations. You have a reliable tool in HitPaw Video editor when converting GIFs to videos.
It has royalty-free access to GIF stock libraries such as GIPHY, Unsplash, and Pixabay. Thanks to this access, you can use thousands of GIFs without a problem.
HitPaw Edimakor also provides AI stabilization, a lot of exciting stickers, aesthetic filters, and creative transitions to edit your video, unlike on any other platform.And the accurate speed change option lets you change the speed of your video as you will.Similarly, you can also edit the audio by increasing or decreasing the volume. Fade-in and fade-out options are available if a pleasant sound effect is required.
Given below are some of the most compelling features of HitPaw Edimakor when it's time to turn GIFs into the video:
Provides you with aesthetic transitions, attractive stickers, and pleasant music for great videos 
It supports various formats, so you can upload your videos in whatever format they are 
Exports 4k videos, a feature that many video converters do not have
Provides a huge reserve of GIFs from GIPHY, Unsplash & Pixabay
Offers AI Stabilization for videos to remove shakiness 
Allows you to increase or decrease the speed of your videos
Provides creative options for your audio, such as fade-in and fade out
Step by Step to Convert GIF to Video Using the HitPaw Edimakor 
Now that we have learned in detail about everything that HitPaw offers, it is time to put that into practice. Let's see how to turn GIF into MP4 in high quality using the HitPaw Edimakor. 
Step 02 Add or drag the GIF file which need to be converted to video.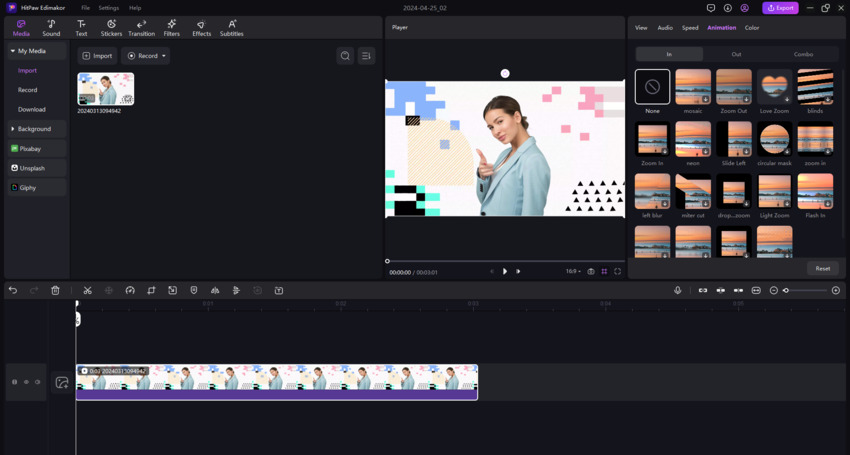 Step 03 Edit the GIF if you want. If you don't want to edit, just hit Export, and your GIF will be converted to MP4 video. 
2. Free GIF to MP4 Converters-- VLC
The first GIF to MP4 converter on our list is the VideoLan Converter (VLC). It is a highly versatile and flexible editor and media player that can flip DVDs to convert GIFs into videos. Although it is widely used as a media player, it can convert your GIFs to MP4 equally well.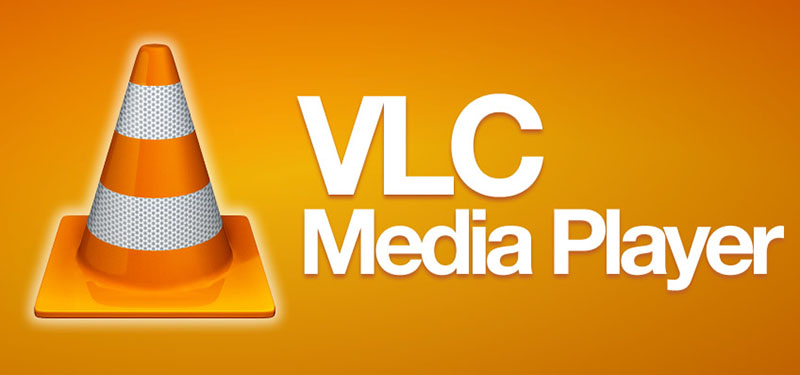 Here's a step-by-step guide to moving from GIF to MP4 in VLC:
1

Visit the VLC website and install its latest version on your device.

2

Click Media and launch Open Media Panel by pressing Convert/Save.

3

Hit File Selection and drag the GIF from your storage into the VLC.

4

Hit Convert/Save and select H.264 + MP3 (MP4) for Profile.

5

Click Browse and select the desired destination folder. 

5

Press Start, and VLC will start converting your GIF to MP4 video. 
Let's also discuss some pros and cons of VLC:
Cons
Difficult for beginners
Tools aren't as easily visible as they should be
3. Converter GIF to Video with HandBrake 
When it comes to converting GIF to MP4, HandBrake is another excellent choice. It has a large library that supports dozens of audio and video formats. HandBrake also provides you multiple options to tweak your final MP4 videos, such as adjusting orientation, cropping frames, and decreasing resolution.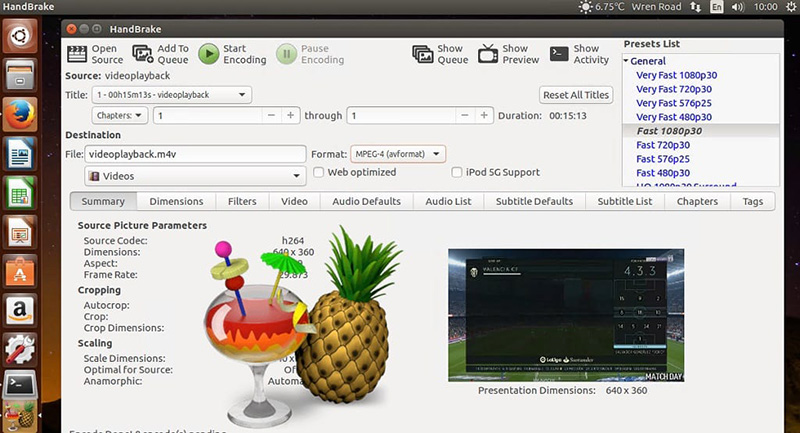 Let's discuss how you can convert GIFs to video:
1

Install HandBrake on your Windows or Mac and launch it.

2

Import the GIF into the startups panel of the program.

3

Open the Summary section and select MP4 format.

4

Hit Browser and choose the output destination folder.

5

Hit Start Encode to initiate conversion to turn GIF into video.
Here are some pros and cons of HandBrake:
Pros
Provides several options for tweaking your final videov
Cons
Out-of-date appearance
Too complex for most beginners due to its jargon
4. Online GIF to MP4 Converter--Zamzar
Zamzar is a popular GIF to MP4 online converter launched in 2006. Since then, it has gained immense popularity and has been used by millions. It allows you to convert GIF files to MP4 under 50 MBs for free.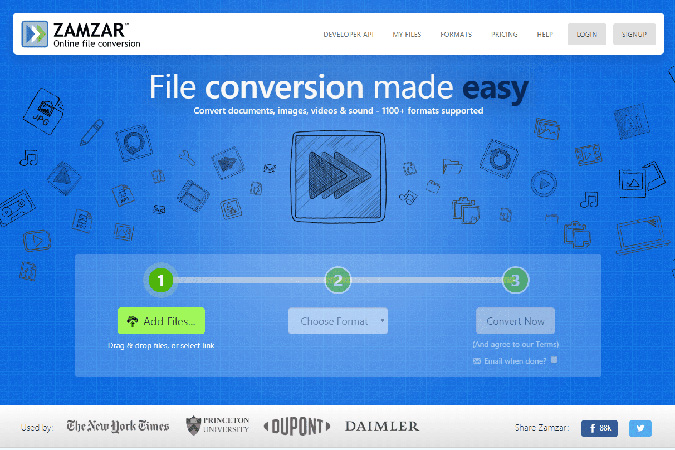 Here's how to do it using Zamzar:
1

Visit the official Zamzar website. 

2

Click Choose Files and import the desired GIFs into Zamzar.

3

Click Convert To, choose MP4 as the output format, and hit Convert Now.

4

Click Download to save your MP4 video in the desired folder.
Some pros and cons of Zamzar are:
Cons
The free version is limited to 50 MBs, and the paid version costs $25 per month.
It doesn't have OCR like other converters
5. GIF to Video Converter Online--FreeConvert 
FreeConvert is another popular GIF to MP4 converter online that is flexible and versatile. It can handle your GIF files easily.
Here's how to turn GIF to MP4 HD using FreeConvert:
1

Launch the FreeConvert website and click "Choose GIF Files".

2

Hit "Convert to MP4" after selecting the GIF to start conversion. 

3

When it's "Done," click "Download MP4" to save your video.
When it's "Done," click "Download MP4" to save your video.
Cons
Max file size limited to 1 GB
Becomes glitchy sometimes
Part 3. 3 Most Recommended Apps to Convert GIF to Video on Android and iPhone 
If you want to how to convert GIF to video on iPhone or Android, a few apps can help you. Let's discuss them here and discover how well they function.
1. GIF to Video
Android has several apps that you can use to convert your GIFs to MP4s. Among them is GIF to Video, which provides effortless conversion with all the essential features. Here's how to use it to make a GIF into a video.
1

Download the GIF to Video on your smartphone. 

2

Select the GIF you want to convert. You can also search for GIFs from other sources. 

3

Tap the Convert button to convert your GIF to video.
Cons
Has some bugs
Results are not always high quality
2. GIF to MP4 
GIF to MP4 is an iOS app that converts easily from GIF to MP4. It is a free app and provides all the necessary features you need. After converting your GIF to a video, you can successfully share it on Instagram.
Here's how to do it:
1

Download the app on your iPhone.

2

First, tap on Select GIF and select Convert on the following screen. 

3

After conversion, tap Share and hit Save Video to store it on your iPhone.
Cons
It can get a bit complex for beginners. 
3. Video2me 
Video2me is another Android app with a rating of 4.5. It converts your GIF to MP4 from your local gallery and those from the web. You can also share these videos on social media.
Here's how to use it to convert GIFs to the video:
1

Download and install the Video2me on your smartphone.

2

Import the GIF into the app from your phone's storage.

3

Hit Convert to turn the GIF into MP4.
Advantages
Social media sharing is not perfect 
Part 4. FAQs about GIF to MP4 Video 
Can you post GIFs to your Instagram feed?
No, Instagram doesn't support GIFs. However, you can convert those GIFs to MP4 videos, which Instagram plays well.
How do I convert GIF to MP4 in Photoshop?
Here's how you can convert GIF to MP4 in Photoshop:
1.

Download the program to your device and select the video option.

2.

Hit GIF to Video and set your video preferences.

3.

Click Convert to turn your GIF to MP4.
After reading this comprehensive guide, you can now stop worrying and covert your favorite GIFs into MP4 effortlessly. We have discussed several programs to make GIF into video, but HitPaw Edimakor stands out.
Any other converter on the market unmatched the feature it provides. It is easy for beginners and packs a huge chunk of features that will help you edit your GIFs the way you like.