[Tutorial] How To Convert Video Resolution To 4K Without Quality Loss?
Have you ever tried to change a video's resolution from 720p to 1080p or 1080p to 4K only to discover that the quality was considerably worse? When you need to raise the resolution for work-related reasons, this might be frustrating. We'll enlighten you in this post on how to boost video resolution (from 720p to 1080p or 4K) without sacrificing any quality, you get to know the best video resolution converter, how to convert low resolution video to high resolution online free.
Many individuals turn to video resolution converter software or a resolution video converter when they want to increase the resolution of their videos. It's crucial to keep in mind, though, that once a video has been captured in low resolution, its quality cannot be simply improved by switching to high resolution.
The quality of the video will typically be diminished even if the resolution is enhanced. This is because lost data cannot be retrieved if it occurs during recording. A low-quality video will most likely end up with even lower quality if its resolution is increased because of this. Though to convert low resolution to high resolution video is not always easy as it seems but we can take you through this short journey
What is Video Resolution and How Will It Influence the Video Size?
The amount of pixels (single colored dots) that make up an image on a video screen is referred to as video resolution. Usually, it is shown as the video's width and height in pixels, such as 1920x1080 (often known as 1080p) or 3840x2160 (commonly known as 4K).
The video size, or the amount of digital storage space needed to store the video file, directly correlates to the video resolution. Compared to videos with lower resolutions, higher definition videos typically have bigger file sizes.
By taking into account the total amount of pixels in a video frame, it is possible to comprehend the link between video resolution and video size.
Color, brightness, and other visual characteristics are all represented by a single pixel. A higher file size results from the necessity for more pixels as the resolution rises to depict the image.
How to Convert Video Resolution to 4K with Ease?
To convert low resolution to high resolution video has always been a popular option for improving the quality of your videos. Thankfully, this work is made far simpler with the aid of a video resolution converter also known as AI video enhancer--HitPaw Video Enhancer. As a useful tool called resolution video converter for upscaling video resolution to 4K. It is a solid option due to its cutting-edge AI technology, user-friendly UI, and watermark-free preview feature. Continue reading to learn the exact procedures for quickly converting your videos.
1. Why Choose HitPaw Video Enhancer?
As an AI-improving tool that provides a variety of advantages, HitPaw Video Enhancer stands out.
Advanced artificial intelligence technology is used by HitPaw Video Enhancer to convert low resolution to high resolution video, resulting in images that are sharper and more detailed.
Clean and Simple User Interface: HitPaw Video Enhancer is a user-friendly interface that is simple to use, especially for individuals with little technical knowledge, which simplifies the converting process.
HitPaw Video Enhancer, unlike some other tools, enables you to preview the improved video without any watermarks, assuring a flawless viewing experience.
2. Steps to Convert Video Resolution to 4K using HitPaw Video Enhancer:
Utilizing HitPaw Video Enhancer, carry out these quick procedures to upscale your video to 4K resolution:
Step 1 : Run HitPaw Video Enhancer after downloading it.

Download HitPaw Video Enhancer by going to the company's website. Install it on your desktop by following the on-screen directions.

Step 2: Import Your Video

The video you want to convert should be imported using HitPaw Video Enhancer's "Add Files" button. The video can be dropped into the program window by dragging it there as well.

Step 3: Choose AI Model

Choose from the 4 AI models available and set the intended output resolution to 4K (3840x2160) in the settings or options menu. With this option, the best possible enhancement for your video is guaranteed.

Step 4: Preview the Effect

HitPaw Video Enhancer will show a preview of the converted video after the enhancement procedure is finished. To assess the quality enhancement, watch the video without any watermarks.

Step 5: Save the Enhanced Video

Save the enhanced video to your selected location on your computer if you're happy with the results.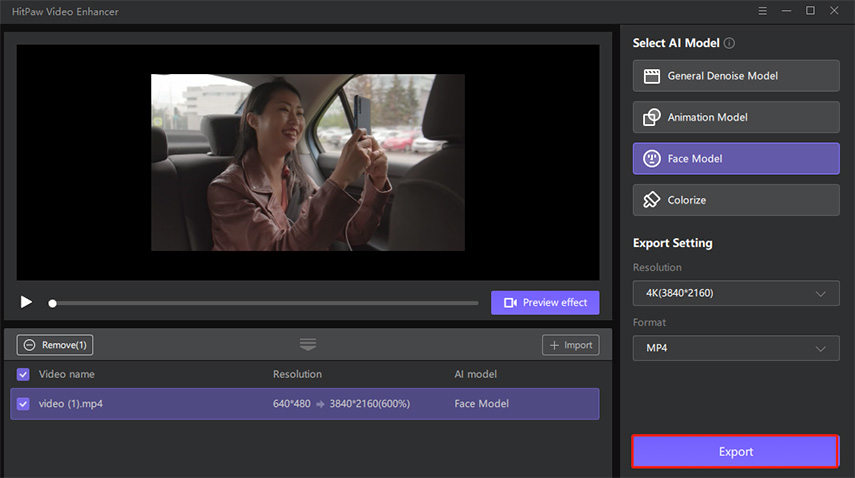 Learn More Of HitPaw Video Enhancer:
Methods of How to Convert Video Resolution Online
Online tools offer a practical method for changing video resolutions. Different needs arise depending on personal preferences, whether you need to compress or enlarge a video. In this post, we'll look at four internet techniques to convert low resolution to high resolution video. These tools offer a variety of capabilities to assist you in successfully achieving your intended objectives. Let's explore each approach in more detail below:
One of the best tools for compressing video resolutions is HitPaw Online Video Compressor. It enables you to scale back the size of your videos without drastically lowering their quality. For people who need to reduce the size of their videos for online sharing or storage, this method can be used for a 4k resolution video converter online.
You can effectively compress the video while retaining a passable level of visual quality by lowering the resolution, bit rate, or frame rate.
For shrinking, resizing videos by cropping or cutting them, the 123APPS-Online Video Cutter provides a flexible solution. When you wish to delete undesired portions of a film or concentrate on particular areas, this technique is helpful. You can effectively convert low resolution to high resolution video aspect ratio by changing its dimensions. For those who want to edit their videos or extract particular content while keeping the desired resolution, this program is appropriate. It's also a 4k resolution video converter online.
This online platform called Files-conversion offers a wide variety of video converting possibilities. By modifying several factors including aspect ratio, frame rate, and bit rate, it enables you to convert between different video resolutions. This technique meets a variety of requirements, including those who need to transcode films to multiple resolutions for compatibility with particular hardware or software systems. Files-conversion provides flexibility and control over the video resolution conversion process. Just like the two listed above it's also a better resolution video converter.
High definition video conversions are the area of expertise for HDconvert.com. This utility can be used by users who want to improve the quality of their videos by upscaling them from 720p to 1080p or even 4K, it's a 4k resolution video converter online. To upscale the video resolution with the least amount of artifacts and maximum clarity, HDconvert.com uses sophisticated algorithms. For people who want to watch videos more immersively or who need to convert low resolution to high resolution videos for work, this technique is useful.
FAQs of Convert Video to 4K
Is 4k better than Full HD?
Yes, 4K is generally considered better than Full HD in terms of resolution and video quality.
How do I know if my video is 720p or 1080p?
To know the resolution of a video, you can follow these steps:
Click the video file on your computer and choose "Get Info."
The "General" tab should have details about the video file. Look for these tabs.
Find the area that lists the video properties, which may include information like "Resolution," "Dimensions," or "Video Size."
The horizontal and vertical pixel counts for the video's width and height will be used to describe the resolution. For example, a video with a resolution of 1280 x 720 is 720p, while one with a resolution of 1920 x 1080 is 1080p.
Summary
Due to its larger pixel, 4K resolution is normally regarded as superior to Full HD (1080p) in terms of resolution and detailing.
The HitPaw Video Enhancer is a piece of software that was created to convert low resolution to high resolution, and we believe it's the best for your work. But you should know that the quality of the original video and the particular enhancements you want can change how effective a certain video enhancement program is.
Having gone through the article below, we believe you've been enlightened on how to convert video resolution to 4K without quality loss.