Editors' Pick for Best Free 3D Video Editor Software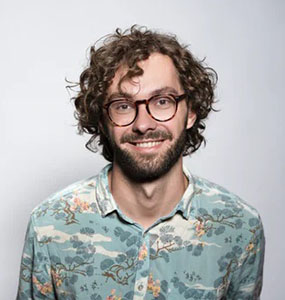 No matter if you're making videos for YouTube, advertisement, commercials, video games, or fun, just a touch of visual effects can make a string impression on your viewers. Luckily, adding spectacular visual effects is no longer a tech-savvy and complicated task, thanks to a plethora of 3D effect video editor software available for you.
To help you out, we are going to introduce you several tested and tried 3D editing software for creating stunning videos. Pick the most suitable one and start showcasing your editing skills now.
Part 1: What is 3D and What is 3D Video Editor?
Just as the name indicates, 3D editing offers an illusion of a third dimension to make the visuals appear more realistic and captivating. Any video editor that comes preloaded with 3D transitions, filters, and effects is considered as a 3D video editor. Luckily, the internet is awash with such software.  
Part 2: Which 3D Video Editor Software You Can Use?
The internet is awash with competent video editor 3D software that anyone can use with great ease to add special 3D effects. We did our research and compiled a list of most sough-after tools along with their pros and cons.
Give it a read and decide which software suits your specific preferences and requirements.
1. 3Ds Max
3Ds Max is a handy tool for adding special effects to videos. It is ranked among sophisticated rendering software that is often used by gamers and professional content creators.   
Because of its complicated interface, 3Ds Max is not a good choice for basic level editing.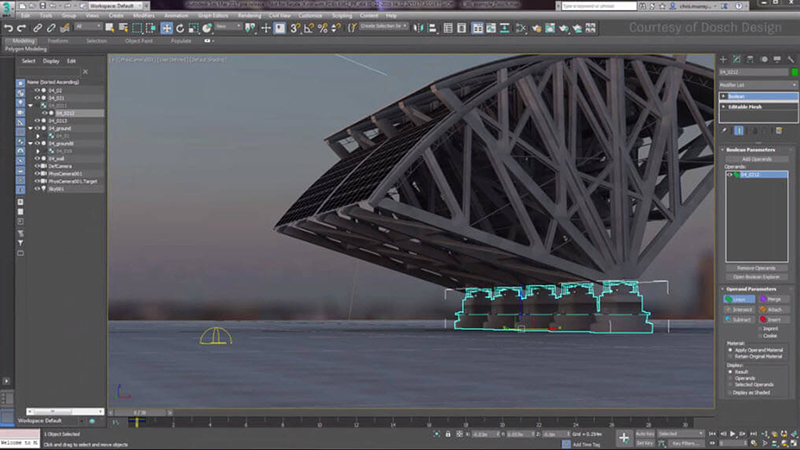 Pros of 3Ds Max:
Advanced 3D effects
Mash and surface modeling
Offers free trial version
Cons of 3Ds Max:
Very complex
Good for professional-grade editing
Expensive
2. After Effects
The name called After Effects needs no introduction in the world of 3D effects. Widely considered as the industry-standard for professional-level rendering and adding effects to already edited videos. It also supports VR videos, animation, and motion graphics.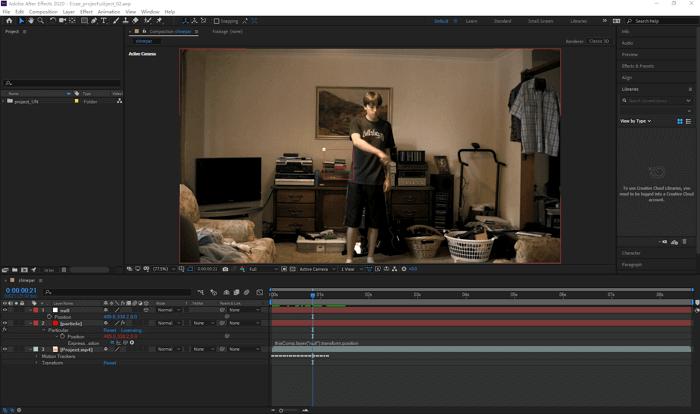 Pros of After Effects:
A huge library of advanced 3D effects
Easily integrates with other Adobe products
Supports Virtual Reality videos
Cons of After Effects:
Difficult for beginners
Monthly subscription
3. Blender
Blender is an open-source 3D video editor for producing 3D models, animation, rendering, motion track, and compositing.  Just like the other tools in the list, Blender is often used by pro users for high-quality work.
What's best is that Blender is compatible with all OS including Windows. Mac, and Linux.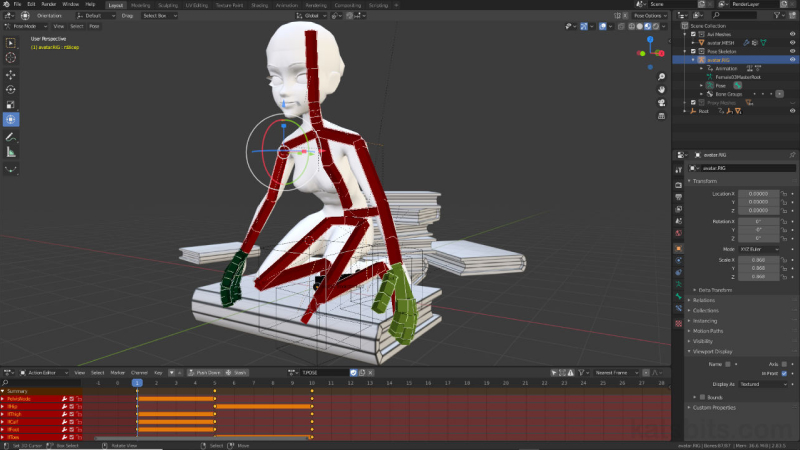 Pros of Blender:
100% free to use
Supports 2D and 3D effects
Advanced rendering and compositing
Universal compatibility
Cons of Blender:
Often crashes
Too many ads
Slow processing especially while rendering larger videos
4. Cinema 4D
Cinema 4D is one of the most popular 3D editors. Aside from offering stunning 3D effects, it allows users to create aesthetic transitions, composition, and rendering.   
This software is compatible with both Windows and Linux users and its reliability is what makes it a go-to option for quick-paced video 3D editing.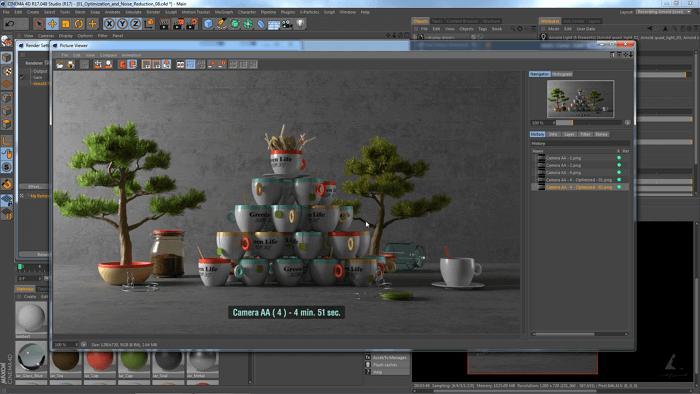 Pros of Cinema 4D:
Easily integrates with Adobe products including CC, CAD, After Effects
Supports both Windows and Mac
Advanced character animation feature
3D printing
Cons of Cinema 4D:
Too expensive
Quite difficult for new users; you have to spend hours to understand its basic procedure
5. HitFilm Pro
If you want to add 3D effects to videos in a nice and fun way, then HitFilm Pro is a good choice. This software is specifically designed for beginners and semi-pro users and comes with quite a few built-in effects.
Along with 3D effects, it also offers compositing and animation features to make your videos look supoer-cool.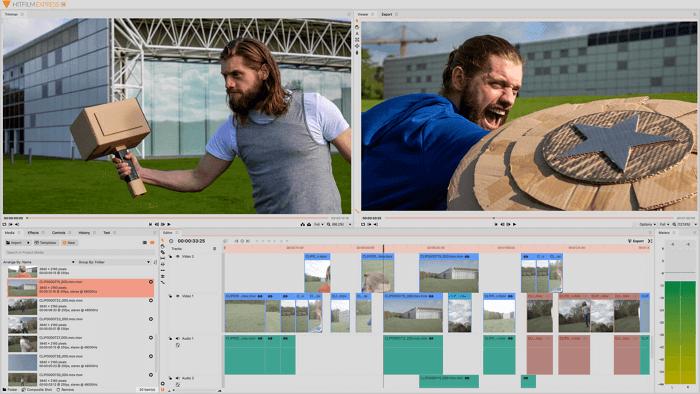 Pros of HitFilm Pro:
Compatible with both Windows and Mac
Almost 200 stunning effects
Offers a free version with limited features
Cons of Cinema 4D:
Part 3: How to Make 3D Video with 3D Video Editor Software?
If you're new to video editing but still want to create breathtaking videos, then HitPaw Edimakor is your perfect choice. It lets you add special effects, transitions, overlays, stickers, and filters with minimum efforts.
Aside from that, you get all the basic and advanced editing features that you expect from a premium video editor. What's more, HitPaw Edimakor has a sleek, attractive, and easy to use interface that brings great convenience and simplicity in using its features.  
Features of HitPaw Edimakor:
1

Amazing 3D transitions

2

Tons of stickers, filters, and effects

3

All basic editing tools including cut, crop, rotate, split, mirror, merge, and so on

4

Add and edit background music

5

Add text of any sort

6

Unlimited tracks for editing videos and audio

7

Customizable export settings

8

24/7 professional support service
Text Guide of HitPaw Edimakor:
Here's how to add 3D effects to your video clips using HitPaw Edimakor:
Step 02Launch it and hit on "+" to load videos into the program. Drag and drop these clips into the timeline. Once the video clips are in timeline, add transitions within a clip of between clips for special effects.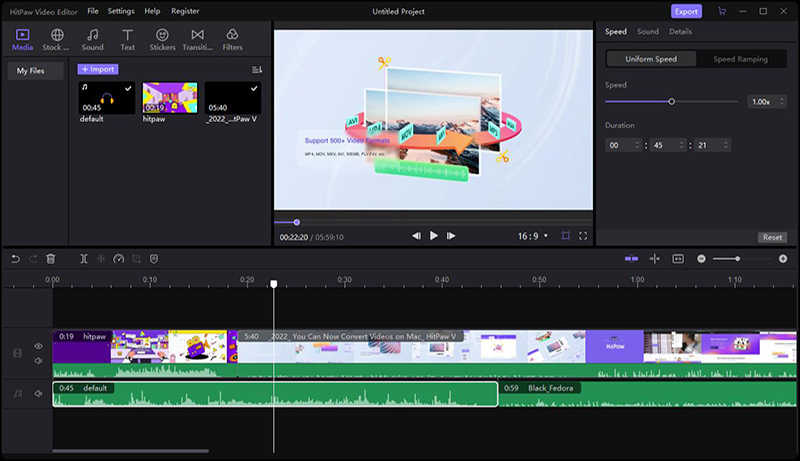 Step 03Simply, hit Transition on the top tab, choose a transition, and drag and drop it to any point on the video. Users can apply multiple transitions. You can also add text to your video.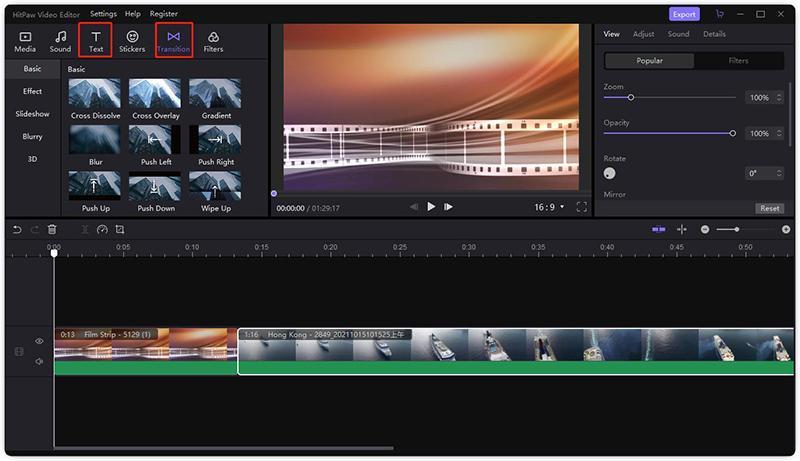 Step 05When you're done editing, hit Export and adjust the output settings to save the video.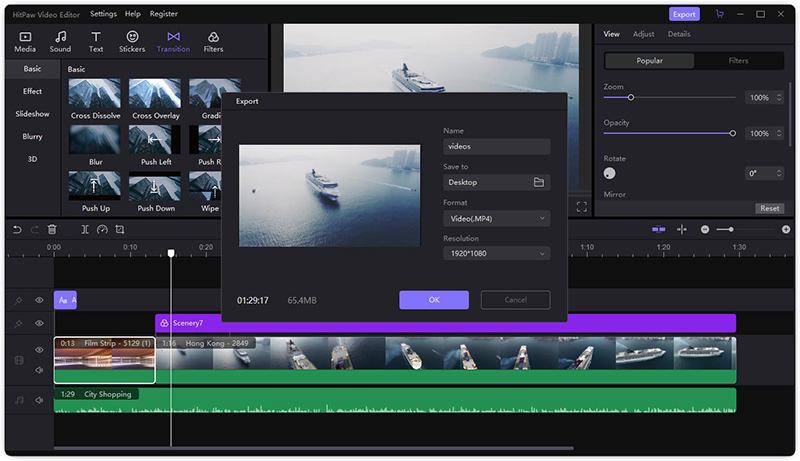 FAQs about Video Editor 3D
In this section, we have answered the common queries of users regarding 3D max video editor free download.  
1. Is HitPaw Edimakor a 3D Text Video Editor?
Yes, HitPaw Edimakor allows users to add texts in motion or 3D, making it a comprehensive tool for 3D effects. It comes preloaded with a huge library of text effects that can be applied with one simple click. Even not-so-tech-savvy users don't find any issue in putting the 3D text because of its sleek and user-friendly interface.
2. Is HitPaw Edimakor a Free 3D Video Editor?
HitPaw Edimakor offers a free version but it isn't a free software. Users have to buy the premium version to access its editing features. But compared to its competitors, HitPaw Edimakor comes at a customer-friendly price. It comes in three packages: Monthly, yearly, and Lifetime. 
Conclusion
This article shows that adding 3D effects to a video is not a time-consuming task as long as you're using the aforementioned 3D effect video editor software. The best thing about these tools is that most of them are open-source and free for everyone.
However, we strongly recommend HitPaw Edimakor for adding stunning 3D effects effortlessly. Using this amazing software, you can add tons of stickers, filters, transitions as well as music and text with just one click.