Everything You Should About Blakify Text To Speech In 2023
There is no doubt that text-to-speed software has been taking a significant position in the market and helping individuals to make their work more efficient and speedy. As such software has immersive applications and hence is more demanding as compared to other available editing tools.
Users are provided with the benefit of quick access to the information especially the individuals with visual impairments.
This is where Blakify text to speech appears as a helping tool along with the inbuilt text-to-speech technology. Distal has successfully provided speed synthesis solutions efficiently and we can say that this tool has completely revolutionized the process users adopted with text-based content.
Part 1: What Is Blakify Text To Speech (UTRRR Text To Speech)?
Blakify or UTRRR is considered the most recommended and popular tool that has an in-built feature to convert the text that is taken from the user into spoken words. In this way it will become easy for the users who can't read the data due to different reasons, to understand it perfectly by hearing.
Moreover, this tool is also recommended by individuals who want to show their content to a great audience and wanted to add it to a video. No matter what the purpose is you can access this effective tool at any time and can do your work without paying extra charges.
Here are some of the notable key features adopted by the Blakify text to speech tool:
This tool lets users with visual impairments get access to any kind of data without any issue
Users are allowed to create different audio versions of any written data like podcasts, voiceovers, audiobooks, etc.
This tool is well known for providing human-like and natural voices that result in enhancing the listening experience.
Part 2: What Are The Pros And Cons Of Blakify Text To Speech?
We all know that there are numerous benefits of Blakify text-to-speech tools but there are always two sides to the mirror. Similarly, in addition to numerous benefits, there are also a few limitations of this tool found after looking at the Blakify review list. These are as below:
Pros
This tool allows users to create different kinds of content for their business. The content may include podcasts, audiobooks, voiceovers, etc.
This tool provides a great facility to enhance the speaking as well as learning skills of a person
It helps users in increasing the productivity of their business by allowing them to understand the data from voice along with doing other tasks.
The user-friendly interface makes it possible even for beginners to take advantage of its services.
Cons
The resultant voice content provided by this tool will be free of emotions and expressions that are conveyed by a human speaker
You may face certain errors while the pronunciation of words especially the names of people
Being a tool, sometimes it becomes difficult for Blakify to understand the complex sentence quickly
Part 3: What The Applications Of Blakify Text To Speech?
The applications of Blakify text-to-speech tools are immense and any person can benefit from this advantageous tool. Here are some of the applications of Blakify lifetime text-to-speech tool that are helpful for users:
This tool has been utilized for the creation of audio alerts, audio feedback, and other kinds of notifications in several systems.
Different educational and e-learning platforms are taking help from text to speech tool of Blakify to make their learning algorithms more advance and attractive
The text-to-speech tool of Blakify is very helpful in figuring out the pronunciation of difficult words hence assisting the speakers and learners of foreign languages.
You will be aware of the voiceovers and dubbing algorithms used by the entertainment industry. This can be done by using the latest features of Blakify text-to-speech makers.
These tools are also very helpful for getting the translated audio of a written text in an unknown language.
This tool allows users to multitask as they can understand the data just by listening to its audio form and can do other stuff at the same time.
Part 4: Best Alternative Tool For Blakify Text To Speech
If you want to try something else then it is suggested to go ahead with the HitPaw Edimakor. This tool brings features and specifications for the users that they can use to enhance their projects more efficiently.
HitPaw Edimakor
HitPaw Edimakor is a spontaneous and dynamic ai video generator that allows users to look at their lives like they never did before. Consistently fusing leading-edge technology with easy-to-use tools, HitPaw outspread a world of probabilities, presenting a passage and fascinating video editing. Users are allowed to convert their written content to natural audio voice.
Features Of HitPaw Edimakor
The AI text to speech feature proves to be a blessing for users with visual impairment
No matter if you are a qualified editor or a whole new beginner, you will be able to create amazing videos with the help of this platform.
You won't have any charges to pay to get your hands on the services available.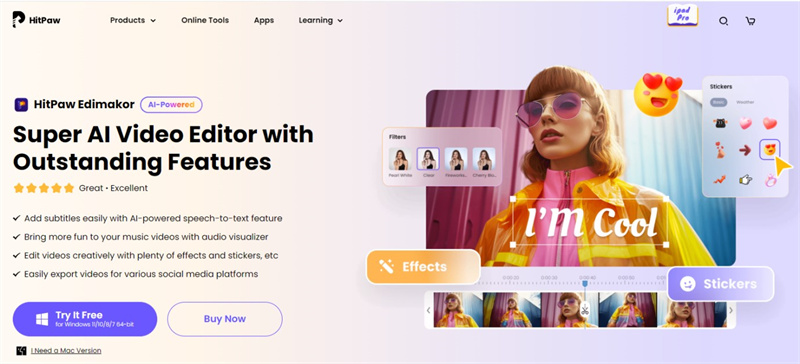 Part 5: FAQs About Blakify Text To Speech
Q1. What Is The Pricing Of Blakify Text-To-Speech?
A1. Blakify text-to-speech tool offers users different Blakify pricing plans. You can access the free plan and can use the tool for 3 days. The basic plan cost $9.99 per month light plan cost $19.99 per month and at the last the pro plan is $29.99.
Q2. Is There A Free AI Tool For Text-To-Speech?
A2. There are a lot of AI tools that are available in the market for text to speech and their services are free for everyone to use. If you are in search of such a tool then it is suggested to go ahead with the HitPaw video editor tool, you will surely be satisfied with its working.
Q3. Can You Use Blakify Text-To-Speech For Different Languages?
A3. Blakify can provide users with a voice variety of more than 700 and it has been supporting more than 70 different languages. You can go ahead with any language and can enhance your pronunciation and learning skills effectively.
Bottom Lines
As the demand for text-to-speech converting tools has been increasing day by day, there are several tools introduced in the market having this amazing feature. Blakify is one of the efficient working tools that allow users to input the data in text form and get the results in the audio making it easy for users with visual impairments to understand the data perfectly.