How to Change Background for Live Streaming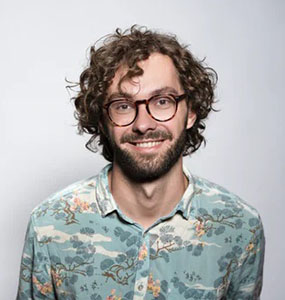 For any social media influencer and content creator, an appealing background for live streaming is vital for attracting the maximum audience. But not everyone has the resources or time to create a design studio for background live streaming. In this situation, you need something that can help you create a virtual background without much hassle. However, most people don't know what it is and how to change your background while streaming live. 
A virtual background is a feature that can be used to change the virtual background for streaming. It helps a lot for people who don't have a studio or an official setup. They can use an app or extension to create images or videos behind them. Having a great and catchy live stream background can make your stream interactive and get you more views. 
In this article, you'll learn how to change the background for live streaming, the best apps, and much more.
Part 1: The Recommended Streaming Backdrop for Your Live
We're all used to creating a real studio live streamer background physically. That's how we have trained ourselves conventionally to create beautiful livestream backdrops. So, you can choose the following setups if you have space and the means.
Bookshelf
The bookshelf background is popular for people with intellectual and political backgrounds. It represents wisdom and a serene environment. 
Creating a bookshelf is easy. You need a corner at your place with shelves. If you aren't a bookworm, you can get second-hand books or buy them from the dealers that sell them in bulk. 
The Big-Screen TV Backdrop
It is an excellent idea with a one-time investment. Buy a large-screen TV and put it as your livestream backdrop. You can change the images and videos for every new video. It requires a substantial initial investment and may be hard for most content creators. 
Curtains
If nothing else works, the curtain's got you covered. Make your setup in front of curtains, and you are good to go. You can choose the type and color of curtains according to your theme.
But you don't always have the suitable and promising conditions to create outstanding real-time video streaming backgrounds, and at this time, you can choose virtual backgrounds. You may be wondering how to change the background and set up a completely new one with the help of a virtual background. Let's find out.
Part 2: How to Change Background in Live Stream on Windows and Mac?
There is quite a bit of such software on the market, including stream yard background software. Still, it is difficult for hosts to monitor their voices during recording, and the operation is complicated. After we have tested a lot of software, the most recommended is the HitPaw Screen Recorder.
HitPaw Screen Recorder is one of my absolute favorite video streaming software. It also works as a screen recorder that records anything on the screen, like videos, websites, etc. The best thing about this software is that it is easy for beginners. You can add a live stream template and include multiple sources for the live stream simultaneously. One of the prominent features of Hitpaw Screen Recorder is recording while going live. It also lets you download your current background and import it for later use.
This program has built-in images you can use as your live stream background. You can choose a professional image as a virtual backdrop for more official live streaming. At the same time, a lot of funky and cool images are available for trending streams.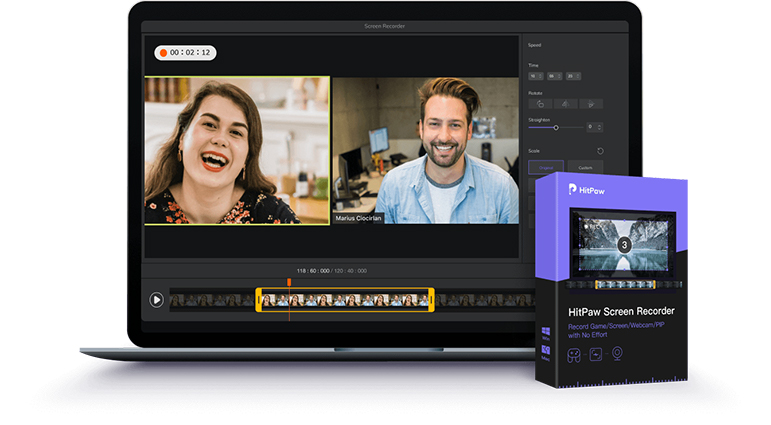 The Outstanding Features of Hitpaw Screen Recorder
This software has many features, but the live streaming functions are easy to use. It includes many templates, images, and the option to use your background.
HitPaw Screen Recorder makes your virtual background for streaming stand out with stickers, virtual backgrounds, templates, and stream overlays.
It has the feature to capture or record a full screen or any part without any limit.
The operation studio lets you add unlimited things like a webcam, pictures, screens, windows, pre-recorded videos, and much more.
It is compatible with Twitch, Facebook, YouTube, and 300 more social platforms.
Here Are How to Live Stream and Change Live Stream Background
Step 02 Click 'Live' to choose 'Livestreaming'.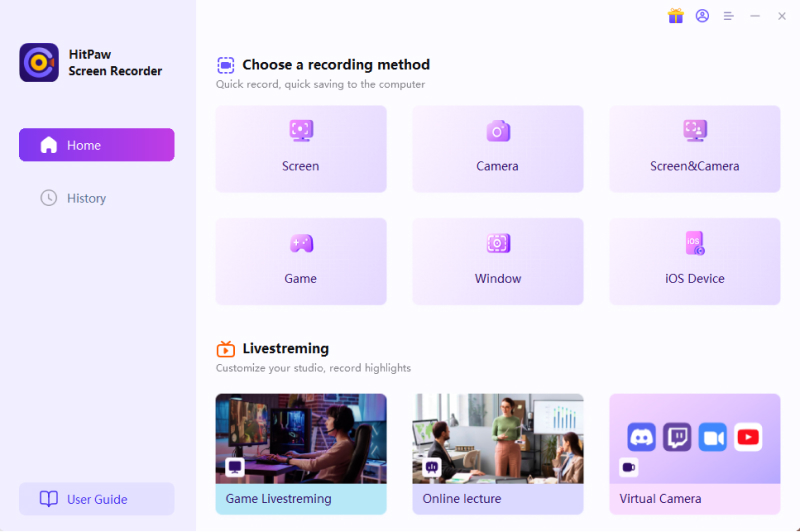 Step 03 Click 'Add Source', then select 'Webcam' to choose your camera.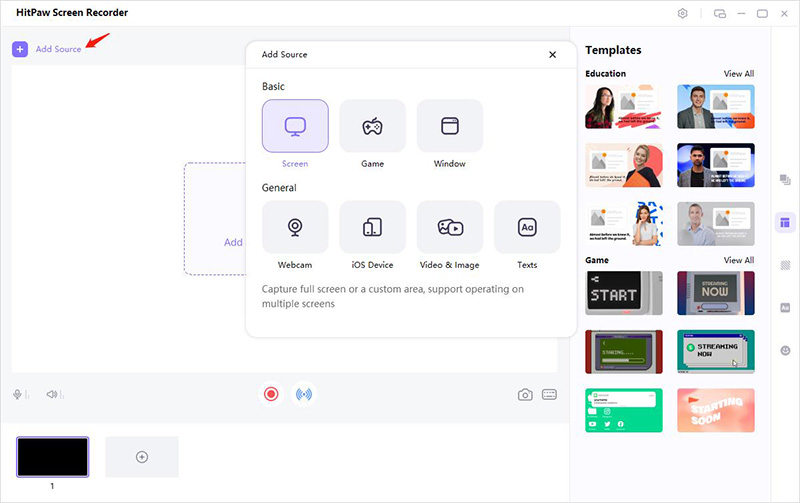 Step 04 Switch on Remove Background (if you have a green screen, please check the box and select your green screen) .
You can click background icon on the right pane to select the background you like.
Step 05 Then you can go to the stream platform and choose the HitPaw Virtual Camera to start your live streaming.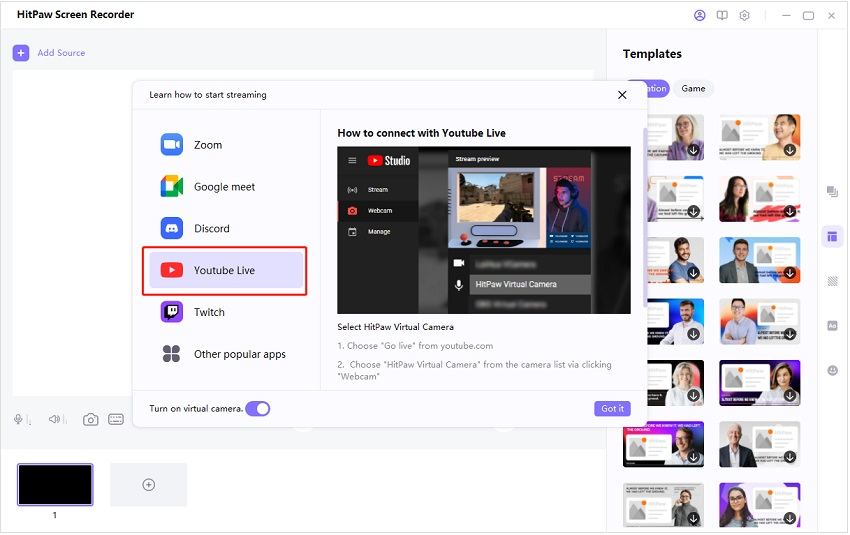 Ultra-Tips: The Useful Background Websites for Your Live Stream
In need of user-defined background images, the following are some websites that recommend background images for you. You can download the pictures you need from the website and import them into the program for use.  
Part 3: How to Use Virtual Background with Mobile Apps
The best and easiest way to create a virtual background for live streaming is by using software apps that have features to change the backgrounds. You can use these apps with any web conferencing platform. 
All you need to do is to download the app on your mobile and activate it. You can change the background by using images or videos. 
Casttingo (for Android and iOS)
Casttingo is one of the five-star rated applications. It is a professional software for live streaming green screen apps. The features allow you to change and create backgrounds for live streaming easily.
Features

It has an excellent background for live streaming & changing tools that are applied with just a tap.
During live streaming, different filters and effects can be used.
Casttingo is compatible with most mainstream apps like Facebook, YouTube, and Instagram.
Easily switchable front and back cameras.
It works well with Android and IOS.
A free version is available.
Price: $23/year
Chromavid (for Android and iOS)
This software application is loved by those who need to change the backdrop live stream details while streaming. It is a studio on its own. It has features like blurring parts of the background and adding many layers. You can use it to create great green screen videos with photos, just like they do in TV shows. 
The disadvantage is that if you need to live stream with that, you need to record the video before you start live streaming and then put it on the live stream platform.
Features

Free to replace the background with a photo or video of your choice in the camera.
Support taking photos or recording videos.
Support Sharing your creations with your friends on social media platforms
Virtual and blurred background options.
Price:
1 Year at $2.99 (USD)
Green Screen by Do Ink (for iOS)
Green Screen by Do Ink is a outstanding background changing app. You can easily create videos, images and GIFs by combining photos, videos, text, and change the background for them. It allows you to combine multiple image sources by only selecting each part you want, while offering a rich toolset.But, the same as the app we have introduced before, if you need to live stream, you need to complete the video recording before the live broadcast.
Features

Powerful tool library
Allows combining multiple image sources
Automatic person masking removes the background from images and videos
There is no green screen required (iOS 15 or greater)
Price:
$4.99
Conclusion
Now you know how to change the background video for streaming. It can be done by creating your own images, trying the custom backdrops, or using the built-in tools. 
HitPaw Screen Recorder can be the all-in-one solution to all your live streaming problems. Besides that, you can try the free versions of the mentioned apps and choose the one that suits your requirements the most.