How to Repair Old Photos | Colorize & Remove Scratches, Ink
In 2023, there are various ways to repair old photos and restore them to their former glory. From traditional photo restoration techniques to modern software tools, here are the top 8 ways for repairing old photos.
To repair old photos online free, start by scanning the original image at a high resolution. Then, use editing software to remove scratches and ink stains, adjust contrast and brightness, and colorize the image.
1.

[Fastest Solution] AI Colorize and Fix Your Old Photos Immediately

HitPaw Photo AI is the fastest solution to colorize and fix old photos repair using AI technology. It recommends this tool to get instant and efficient results in enhancing your photos.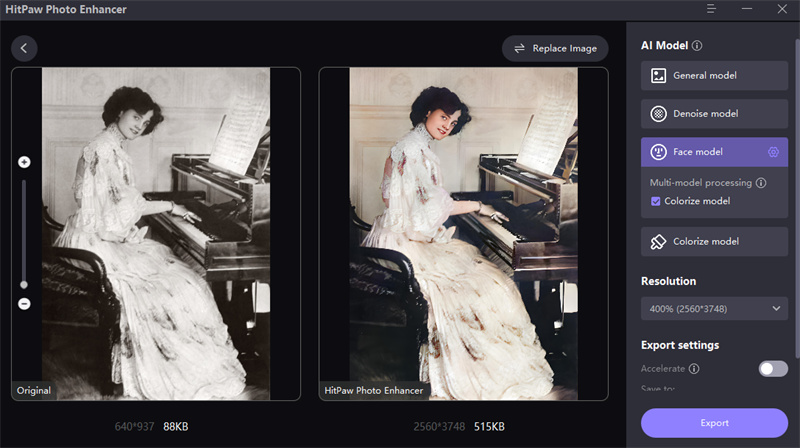 HitPaw Picture Enhancer AI is an easy-to-use program that allows for one-click photo improvement. It provides batch sharpening and allows users to change the size of their photos. It is compatible with both Windows and Mac operating systems, allowing it to be used by a broad spectrum of people.
The most powerful AI image enhancer for Windows and Mac.
You may instantly boost image quality and resolution with a single click.
Images may be made less blurry and noise-free.
Pictures may be expanded and upscaled without sacrificing quality.
Let's see how to use it.
Step 1.Click the button below to download and install the program.

Step 2.To improve the quality of your photographs, upload them or just drag and drop them.

Step 3.Choose the face model and also check the colorize model.

Step 4.The AI-powered system will accomplish this automatically and enhance your image in the blink of an eye.

Step 5.After the procedure is finished, just click on export to save your images to your device.
2.

Top 3 Old Damaged Photo Repair App Available on Your Mobile Phone

If you have old and damaged photos that you want to restore, look no further than the HitPaw Photo AI app. With easy-to-use tools and powerful restoration capabilities, this app is a must-have for anyone looking to bring their old photos back to life on their mobile phone.

HitPaw Photo AI is an excellent tool that allows you to repair your face, beautify your portrait with just one click, colorize your black and white photos, and animate your photo to 3D or Japanese anime style. It offers a user-friendly interface and advanced features that are perfect for beginners and professionals alike. Try Hitpaw Photo Enhancer app today and enhance your photos like never before!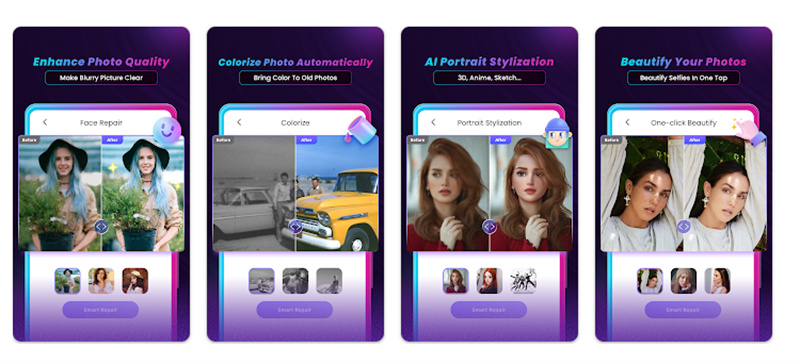 With only one tap, the quality and resolution of the picture will instantly be improved.
Pictures may have their blurriness reduced and noise removed with relative ease.
Increase the size of photographs without sacrificing any of their quality.
PikFix
PikFix is another effective picture repair tool to explore. PixFix delivers AI-algorithms that automatically remove undesirable items or dents from photographs, converts and improves hazy images into crisp and defined ones with standard or better quality, such as 4K resolution, to enable users rest and leave them with no duty to do.
Colorize
If none of the presented solutions have pleased you, you may try Colorize. Colorize makes it simple to restore black & white photos. Colorize, as the name says, automatically converts obsolete or tainted photographs into flawless and spectacular JPG and PNG files.
3.

Best & Free 4 Ways to Repair old photos Online Free

Looking to repair old photos online for free? Check out these top 4 ways to old repair free options: Lunapic, Hotpot.Al,Image colorizer,Fix th photo. Additionally, we recommend using Hitpaw Photo Enhancer for its user-friendly interface and powerful editing tools.
LunaPic
LunaPic is a free online picture editor with many photo tools and effects. In the "Adjust" tab, there is a "Photo Restore" option. You may use this function to restore an old picture of any size that you have uploaded. On the screen, it displays a slider. Move the slider and see how the changes look in real time. In this manner, you can identify a sweet spot and improve your production.
Hotpot.AI
HotPot.Al is a free service that allows you to repair old images online. This website has a collection of tools for a variety of purposes. You may recover your images with the AI Picture Restorer program. You must get credits for commercial usage.
Image Colorizer
ImageColorizer is a computer program that utilizes machine learning to add color to black and white photographs. The software applies complex algorithms to determine the most accurate colorization of the images. It is a quick and efficient way to add a sense of realism to repair old photos or to create new art. ImageColorizer is a useful tool for photographers, designers, and artists.
Fix the photo
If you have a photo that needs fixing, there are a variety of tools and software available to help. Whether it's adjusting the exposure, removing blemishes, or cropping the image, a few simple edits can make a world of difference. Take the time to play around with different settings and see what works best for your specific photo.
Conclusion
In conclusion, with technological advancements and the increasing need to preserve old memories, HitPaw Photo AI has proven to be the best tool to repair old photos in 2023. With its continued growth and innovation, we can expect even more exciting features from Hitpaw Photo Enhancer in the future.