The Power of Type to Speech Technology
In recent years, type to speech technology has revolutionized the way we interact with computers and digital devices.
This innovative technology allows individuals to convert written text into spoken words, enabling greater accessibility for those with visual impairments or difficulties in reading. With advancements in artificial intelligence and natural language processing, type to speech tools have become increasingly sophisticated and user-friendly.
In this article, we will explore the top recommended type to speech tools available in 2023, offering a comprehensive guide for individuals seeking reliable and efficient solutions in this ever-evolving field.
Part 1. What is Type To Speech?
Type to speech, also known as text-to-speech or TTS, is a technology that converts written text into spoken words. It allows users to input textual content through typing, and the software then processes and audibly outputs the corresponding spoken words.
This technology has gained significant traction due to its ability to enhance accessibility for individuals with visual impairments, learning disabilities, or those who simply prefer auditory information consumption.
Part 2. Top 10 Type To Speech Tools
In this section, we will introduce the top 10 type to speech tools in 2023, highlighting their features.
1. Best Type To Speech Tool - HitPaw Edimakor
HitPaw Edimakor is an exceptional text-to-speech AI tool specially crafted for the convenience of both Windows and Mac users. This leading software not only excels in transforming texts into high-quality speech but also offers a vast array of features to elevate your video editing experience.
With its user-friendly interface, even individuals with limited technical expertise can navigate HitPaw Edimakor effortlessly, enabling them to create captivating content without any complications.
To revolutionize your video editing process using HitPaw Edimakor, follow these simple steps:
Step 1: Start by downloading and launching HitPaw Edimakor on your PC or Mac.

Step 2: Import your desired video files with ease through a single click on the "Import" button or by using the convenient drag-and-drop functionality within the software's intuitive interface.

Step 3: Once imported, easily organize your videos by dragging them onto the timeline in any desired order that suits your final edited video.

Step 4: Take advantage of a plethora of editing tools at your disposal, including trimming, splitting, merging, cropping & resizing options – granting you complete control over every aspect of your videos.

Step 5: Preview all edits in real time to ensure they precisely meet your expectations. Upon satisfaction with the results, save or export the finalized edited video directly onto your device.
2. Speechify
Speechify is an impressive type to speech tool that excels in converting text from any format into lifelike audio. Whether it's PDFs, emails, documents, or articles, this web-based platform can effortlessly transform them into easily comprehensible spoken content.
The following are the key features of Speechify:
Speechify supports a wide range of formats, including PDFs, emails, docs, and articles – making it highly versatile for different types of textual content.
Users have the freedom to customize the reading speed according to their preferences for a more comfortable listening experience.
With over 30 natural-sounding voices available, users can choose from a variety of options to personalize the auditory output.
The software intelligently identifies more than 15 different languages during text processing, ensuring accurate conversion and pronunciation across diverse linguistic assets.
3. Lovo.ai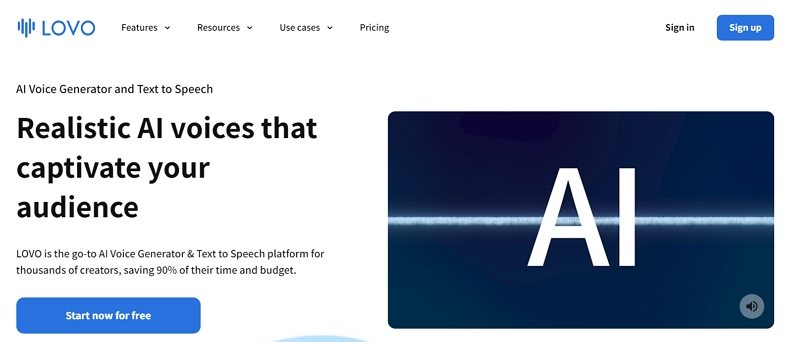 Lovo.ai, an acclaimed AI-based voice generator and text-to-speech platform, brings forth a powerful and user-friendly solution for transforming text into remarkably human-like speech. Renowned for its authenticity, Lovo.ai has garnered recognition as one of the industry's most robust platforms.
Here are some of the top features of Lovo.ai:
Wide range of voices resembling real human speech
Servicing industries like entertainment, banking, education, gaming, and more
Constant refinement of voice synthesis models for superior quality
Introduction of Genny - Next-gen AI voice generator with text-to-speech and video editing capabilities
Over 500 AI voices available in 20+ emotions and 150+ languages
4. HeyGen
HeyGen is an innovative online text-to-speech tool driven by AI technology. With a remarkable collection of over 300+ voices spanning across 40+ languages and diverse accents, HeyGen allows users to effortlessly convert written text into high-quality speech.
Here are some of the top features of HeyGen:
Choose from a wide range of 300+ voices available in various languages and accents, offering users diverse options for their voice selection.
Thanks to advanced AI technology, HeyGen produces natural and lifelike speech that enhances the overall listening experience for users and eliminates robotic tones.
By utilizing HeyGen's efficient platform, users can save time and costs compared to traditional methods of creating studio-quality voiceover videos or converting content into spoken words.
5. WellSaid Labs
WellSaid Labs is an advanced text-to-speech platform that utilizes deep learning techniques to create high-quality voiceovers.
Powered by AI, this software enables users to comprehend written content more effectively. Moreover, it offers customization options for voice avatars, enhancing digital experiences with a touch of personalization.
Here are some of the top features of WellSaid Labs:
Deep learning-based text-to-speech platform
Voice customization for personalized digital experiences
Suitable for eLearning, marketing, HR, and training professionals
Integrations with existing production tools and platforms
Cloud-based solution for efficient audio clip generation
6. Listnr
Listnr is an advanced AI text-to-speech generator that offers various conversion formats, including genre selection, accent selection, and customizable pauses. It provides a unique feature of generating a personalized audio player embed, which can be seamlessly embedded into blogs as an audio version.
Here are some of the top features of Listnr:
Various conversion formats, including genre and accent selection
Customizable audio player embed for blog integration
A highly personalized listening experience
Monetization opportunities through advertising on streaming platforms like Spotify and Apple Music
7. Colossyan Creator
Colossyan is a leading text-to-video solution that excels in offering cost-effective content localization while delivering exceptional product quality.
By focusing on engineering and AI research, they have established themselves as one of the best in their class. Their recent $5M Series A funding round further demonstrates their commitment to continuous improvement.
Here are some of the top features of Colossyan:
Effortlessly turn text from PowerPoint presentations, PDF files, or text scripts into engaging videos.
Create videos featuring multiple actors and customize facial expressions, tone of voice, and aging for a lifelike experience without breaking the bank.
With comprehensive features and tools, Colossyan allows users to create high-quality videos within minutes rather than months.
The platform boasts top-notch avatars that offer highly realistic visuals while maintaining excellent lip-synchronization.
8. Woord
Woord is a web-based platform that enables quick conversion of blog posts or web pages into spoken language. With the convenience of being a Chrome Extension, it offers two options for generating voice: pasting a URL or copying and pasting text into the Woord editor.
Here are some of the top features of Woord:
Instantly transform blogs and web content into speech with ease.
Access Woord conveniently as a Chrome Extension, simplifying the process of converting content on websites.
Choose between pasting URLs directly from web pages or manually inputting text in the Woord editor for swift conversion to speech.
Explore a vast gallery of different voices available within the platform to suit your preferences.
9. Murf.ai
Murf is an impressive and widely used AI voice generator. Professionals ranging from product developers to podcasters, educators, and business leaders benefit from Murf's ability to convert text into natural-sounding speech.
Here are some of the top features of Murf:
Murf offers a wide selection of voices and dialects for users to choose from. The easy-to-use interface allows for seamless customization.
You can not only convert text into speech but also create videos with voiceover using the built-in video editor provided by Murf.
With over 100 AI voices spanning across 15 languages, you have access to a comprehensive library catering to various linguistic needs.
Murf allows you to record voiceovers without using your own voice through its voice changer feature.
10. PlayHT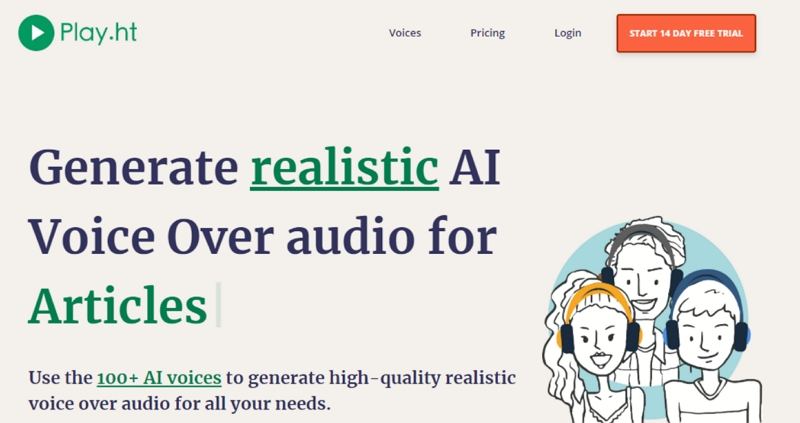 PlayHT is an advanced text-to-speech generator that leverages the power of AI to create natural-sounding audio using voices from IBM, Microsoft, Google, and Amazon. This tool excels at converting written text into lifelike voices, enhancing accessibility and engagement.
Here are some of the top features of PlayHT:
Easily transform blog posts or written content into audio format for a convenient listening experience.
Instantly convert typed or imported text into natural human-like speech in real-time.
Choose from a vast collection of over 570 accents and voices to find the perfect match for your specific requirements.
Generate voice-overs for videos, e-learning modules, podcasting, audiobooks, and more with ease and quality results.
Part 3. FAQs of Type To Speech
Q1. Who benefits from text-to-speech?
A1. Text-to-speech technology benefits a wide range of individuals. It is particularly useful for people with visual impairments or reading difficulties, as it allows them to access written information through auditory means.
Q2. Do you need Internet for voice typing?
A2. Yes, typically, you will need an internet connection for voice typing. Most voice typing tools and software rely on cloud-based services or online platforms to process the spoken words and convert them into text.
Q3. Is voice typing faster?
A3. Voice typing can be faster for some individuals compared to traditional typing methods. It allows you to speak your thoughts or ideas, which can often be quicker than manually typing them out letter by letter.
The Bottom Line
Type to speech technology offers an invaluable solution for enhancing accessibility and productivity. With its ability to convert written text into spoken words, individuals with visual impairments or reading difficulties can easily access information.
Among the top-recommended options in 2023 is HitPaw Edimakor. Not only does it provide excellent text-to-speech capabilities, but it also offers a range of video editing features that enhance the overall user experience.