How to Turn on Voice Isolation with iOS 17 in 2023
Thanks to Apple, each year, we see different features that not only make our communication better but interesting as well. This year, Apple has released iPhone 15 and also released iOS 17, which has many amazing features for users. But what are these features, and how to use them? We are sure you might be aware of iOS 15 Voice Isolation and Wide Spectrum modes. These two modes were only available for FaceTime calls and different third-party apps. But the great news is that now you can enjoy Voice Isolation for cellular calls as well.
Want to know how? Continue reading, as here you will learn about Voice Isolation and how you can enable it on your iPhone.
Part 1: iPhone 15 and iOS 17 New Released
During the Apple Event, Tim Cook announced the release of iPhone 15 and iOS 17. During the iPhone 15 launch, Apple revealed that they are going to release the new iOS 17 on September 18, which will bring new features and options for iPhone users.
The iOS 17 will have the following new features:
1. Compatible with Many Devices:

iOS 17 supports old and new iPhone devices, which means all the old devices can enjoy the latest features.

2. iMessage Enhancements:

Apple has made some minor changes in iMessage and improved its structure by adding a new expandable menu for a decent look. In this way, communication can be done with ease.

3. Share Location:

Now, users can easily share their location with anyone using the Check In feature. This option is available in iMessage.

4. NameDrop:

Just like AirDrop, Apple has added a new way of sharing information among iPhone users. Yes, we are talking about NameDrop, which allows you to swap information such as contacts between two iPhones.

5. Camera and Journal App Updates:

After you have updated to iOS 17, you will see some improvements in the Camera app, which will improve your photography capabilities.

6. Offline Maps:

No internet connection? Don't worry because Apple has introduced offline maps in the new iOS 17, which will work correctly even if you don't have a stable internet connection.
Apart from iPhone 15 and iOS 17 release, Apple has improved the Voice Isolation feature in iOS 16.4. This feature was available for iOS 15 as well, but not for regular calls. Now, iPhone users can enjoy it for cellular calls after updating to iOS 16.4. The main purpose of this feature is to block background noises during the call. Continue reading the article, as below we have mentioned more about it and how you can enable it on your iPhone.
Part 2: What is Voice Isolation on iPhone and iPad
As the name indicates, Voice Isolation on iPhone and iPad helps to improve your voice quality by canceling other sounds picked by your microphone. In other words, it helps to reduce noise during the calls, which means you can communicate better without using any other third-party applications. It prioritizes your voice so that people can hear your voice clearly on the phone.
Whether someone is vacuuming, washing dishes, or watching TV, this feature will work as a vocal isolation. It is an old feature but was only available for FaceTime and video calling applications, but now Apple has made it available for cellular calls as well. So, if you are on a regular call, your device's microphone will pick up your voice only and will cancel out all the other noise, just like AI Voice Isolation tools. In fact, iPad users can also enjoy this feature and make communication better.
Part 3: How to Enable Voice Isolation on iPhone
In order to enable Voice Isolation, make sure you are running iOS 16.4 or later. Also, make sure you are on an active cellular call to use this feature; otherwise, you won't be able to test it. Once you have updated your iPhone and iPad devices to the latest version, you can follow the steps mentioned above to enable it.
1.First, open your Phone app and start a regular call with someone.

2.Next, swipe down and choose the Mic mode Standard option.

3.You will see different options on the screen, including Standard, Voice Isolation, and Wide Spectrum. Since we want to enable Voice Isolation, choose it.

4.That's it! Now, you can enjoy the call without any noise as the device mic will block other voices.

5.You can turn off this option anytime by going to the Control Center.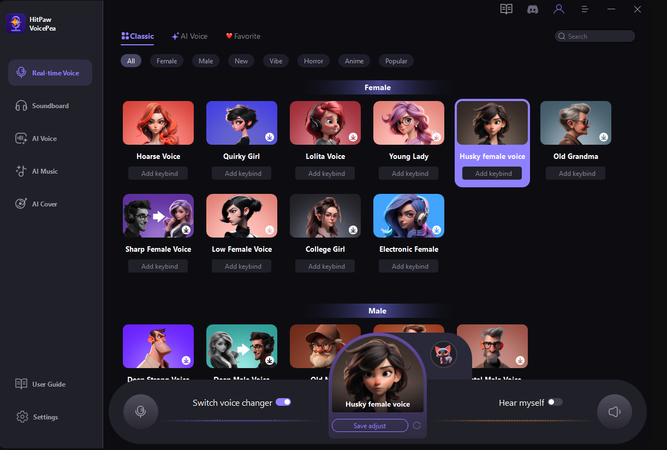 If you need an AI voice isolator and voice changing application, then try HitPaw voice changer application for PC. With this app, you can easily cancel the background noise and can also change it within minutes. The app works with all the popular applications, such as Discord, WhatsApp, Zoom, and more. Moreover, it offers free voice isolation, which means you don't have to spend extra money.
Key Features of HitPaw Voice Changer Application:
Some of the top features of this free voice isolator and voice changer are discussed below.
You can upload your audio and voice files to change the voice
It uses advanced AI technology to change the voice
It is the best audio voice isolator for PC and Mac users
With one click, you can cancel background noise
It has a user-friendly interface, making it perfect for beginners
You can change your voice for apps like Discord, WhatsApp, Zoom, and more
Perfect for content creators, Vtubers, and live streamers
It provides different voice filters and sound effects
Part 4: FAQs of Voice Isolation
Q1. What is the Difference Between Standard and Voice Isolation on iPhone?
A1. There are three options that you can find while doing the calls: Standard, Isolation, and Spectrum. If your mic is set to standard, it means the recipient can hear all the background noises. On the other hand, if your Mic is set to Voice Isolation, the recipient will only hear your crystal clear voice, which means this option will only pick your sound and remove all the other background noises.
Q2. How do I get Available Voice Isolation?
A2. In order to turn on this option, you have to update your iPhone and iPad to 16.4 or later. Also, make sure your mic option is set to Voice Isolation. You can also turn on this option on the below devices.

●iPhone XR, iPhone XS models, and later
●iPad (8th generation) and later
●All iPad Pro 11-inch models
●iPad Pro 12.9-inch (3rd generation) and later
●iPad Air (3rd generation) and later
●iPad mini (5th generation) and later

Q3. Does iOS Voice Isolation Work?
A3. Yes, this feature definitely works for those who have updated their iOS devices. In fact, iPhone users are really satisfied with this feature as they don't have to use third-party AI Voice Isolation tools to cancel the voice. So, if you want to hear crystal clear voices, you should use this feature.
Part 5: Final Thought
iPhone's Voice Isolation feature is an amazing option for those who are annoyed by the background noises. With this feature on, you can effortlessly convey your messages to others without any disturbance. Also, if you are looking for a third-party app to cancel background noises, you can try the HitPaw voice changer app. It is the best AI Voice Isolation and voice changer app for everyone.