A Complete Guide about How to Compress a Video for Email
Compressing large video files for email provides a solution by interpreting large volumes of data, resulting in new files that are just a fraction of the file size! Only by compressing a video file for email you will be able to share, upload, stream, and store them regularly. Good compression makes a video file smaller as much as possible while sacrificing as little image quality as possible by removing redundant or non-functional material from your video clip.
Part 1. The File Size Limits for Different Email
All email server providers limit the maximum size of compress video for email that an email account can receive, primarily for security reasons. Otherwise, if there were no maximum email size limit, the email server would get swamped with massive emails, leading it to stop working properly.
Some free email service providers also impose commercial email size limits: the free account has a fixed practical email size restriction, but you can exceed it by upgrading to a premium account.
1. Gmail:

The Gmail file size limit might be aggravating. Gmail rejects sending emails with attachments more significant than 25MB. The attachment size limit of 50MB is applied exclusively to incoming emails.

2. Outlook:

Unfortunately, all versions of Outlook and Office 365 have a default maximum attachment size limit of 20 to 25 megabytes (MB) due to mail server limitations

3. AOL:

AOL Mail allows you to send and receive messages and attachments up to 25 MB in size.

4. Yahoo:

Yahoo Mail can transfer emails up to 25 MB in size. This restriction applies to both the message and its attachments.

5. Hotmail:

The maximum size of compress video for email free you can send as an email message with a file using your Hotmail account is 10 MB.
Part 2. How to Batch Compress a Video for Email on Windows and Mac
As videos are huge, they are difficult to send and share by email because most email systems only allow for attachments of a specific size. In this case, compress a video for email is the best option. There are various video compressor applications available that allow you to compress video for email-free so that they may get swiftly and simply shared with your loved ones via email.
The best video compressor on computer we recommended is HitPaw Video Converter. This ultimate video converter only converts videos, but also smartly compresses videos without losing quality.
What Makes HitPaw Video Converter the Best Video Compressor Software
Supports 1000+ video formats
Provides different compress ratios to make videos smaller to email
Real-time preview compression effects
Supports batch processing
Supports both Windows and Mac
Neat interface and easy to use
How to Compress a Video for Email in HitPaw Video Converter
Step 1.Free download and install HitPaw Video Converer to a PC or Mac computer.

Step 2.Launch the program and go to the Toolbox. Select "Video/Image Compressor".

Step 3.Import all videos that needs to be compressed for email.

Step 4.Select a compress level. We have a recommended ratio to keep the optimal quality. In the meantime, this program supports customizing the compression ratio.

Step 5.Click Compress button to save the compressed video(s).
Part 3. Other Ways to Make a Video Smaller to Email on Windows and Mac
1.Use Zip File to Compress Video for Email
How do you compress a video for emailing? You may make video smaller for Email on your Windows machine by zipping them. When you compress your data, you essentially stuff them into a small and portable container. As zipping files does not affect the quality of a video, it is the easiest way of compressing video.
On Windows:
Right-click the video file you want to attach and send through email and select Attach to Email.
Choose to Send to > Compressed (zipped) folder from the drop-down menu. Windows will compress your video file.
Open your email account, create an email address, attach the compressed video file, and send it to your contacts.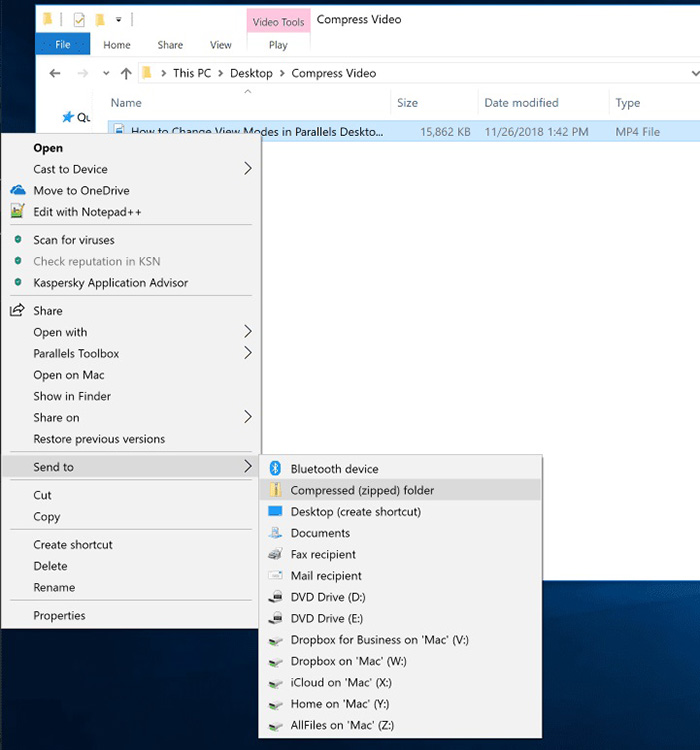 On Mac, here are the steps:
Right-click the video file and choose: Select "Compress name" for Mac users.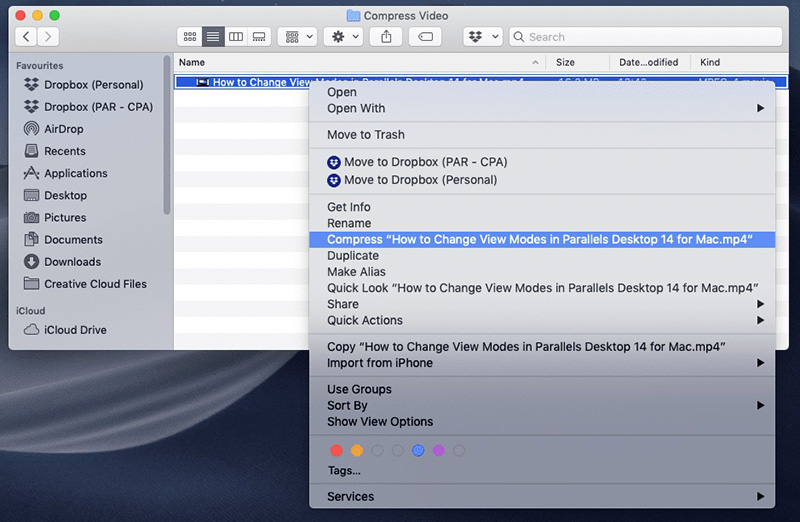 2.Use iMovie to Compress Video File for Email on Mac
Most Mac devices now have iMovie, Apple's free video editing software. You can use iMovie to compress a video for email and only send a portion of it, reducing the file size. In addition, iMovie has a tool that prepares your file for email and compresses it for sending:
Open iMovie and select the arrow in the upper left corner of the menu bar.
Select the file you want to import onto your computer and then select "My Movie."
Choose the video segment you wish to use and press the "+" button (Add the section to the movie).
To export, go to "File > Share > Email" and select "Small" to reduce the file size.
The smaller file will now open in a new email, ready to be sent.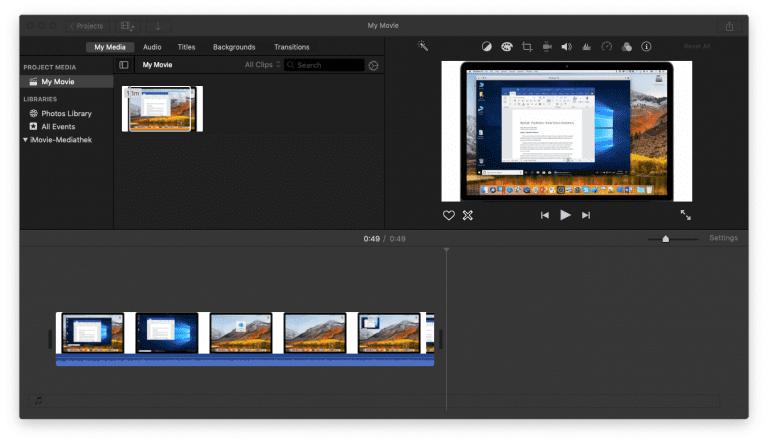 3.Use Quicktime to Compress Video for Email Free
QuickTime Player get regarded as one of the best media players and one of the best Mac software in general. It's also an excellent built-in solution for Mac video compression. Follow these steps to compress a video using QuickTime Player.
On your Mac, launch the QuickTimePlayer software.
Locate the video that you wish to compress and open.
Select file> Export As from the app's ribbon menu. You will get several options here, such as exporting your file in 4K, 1080p, 720p, 480p, or exporting audio-only.
After you've chosen the desired quality, provide a name for your video under Export As, choose a destination, and click Save.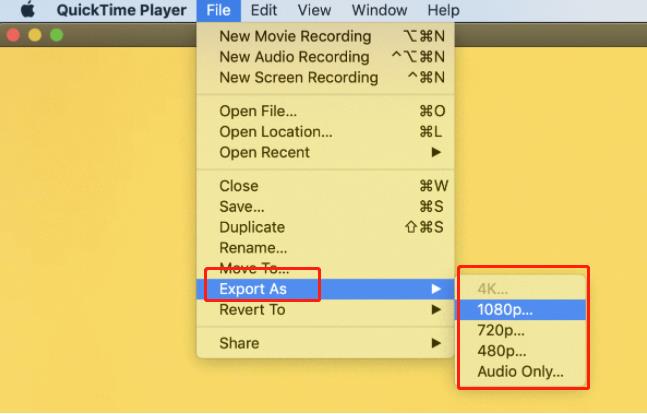 You may then use the right-click and Get Info options to compare the sizes of your imported and exported films to discover how much your original video shrank.
Part 4. How to Compress a Video for Emailing With Cloud Service
How to compress a video for email? People are increasingly relying on cloud services to store and share their photographs, videos, text files, and other data. Using Google Drive, Dropbox, and other cloud-based storage services is arguably the easiest way to send your videos without compromising their quality. Above all, cloud services enable you to access your data anytime, from any location, without regard for system constraints. You can only email the link to your friends.
1.Compress Video Files for Email with Dropbox
Launch the Dropbox software on your PC and select Upload files to find and add the video you wish to share.
Locate to the folder where you want to save the uploaded video.
Give everyone who wants to see the videos access to the shared folder. After that, you can email the link to your pals.
2.Compress Video File for Email with Google Drive
Launch the Google Drive application on your computer.
Click New in the upper-left corner and then pick file Upload. Browse to the movie or video file that you wish to share and add it.
Select and right-click the uploaded file from the Recent tab.
Click Share to bring up a new window where you can enter the person's email address with whom you wish to share the video.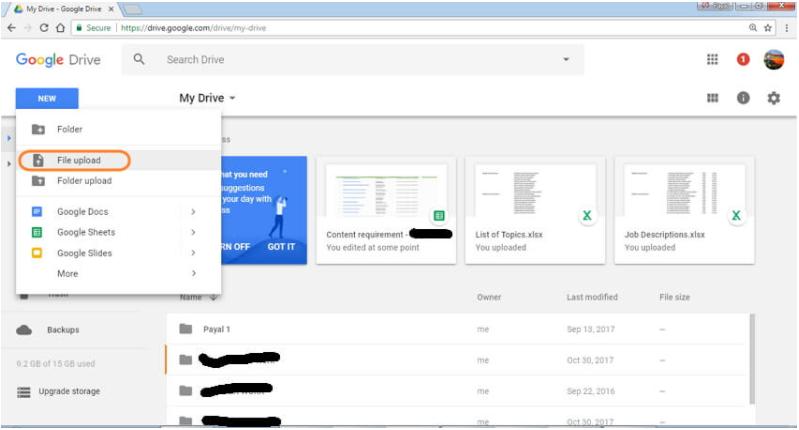 Both Google Drive and Dropbox allow you to create a file-sharing link to copy-paste and send via email to share the videos.
Part 5. How to Email Videos That Are Too Large on Android
It can be challenging to transfer videos from one location to another. You may make video files easier to handle by compressing them; as previously indicated, this reduces file size and makes them small enough to send through email. So, to minimize video sizes on Android, you'll need a Video Converter. The free Lite version can assist you in manually compressing the video. To put it to use:
Install and run the Video Converter Android.
Select the video converter.
Choose the video you want to shrink.
Click the purple arrow in the lower right corner of the screen.
Choose MPEG.
Your video will get converted after you click the appropriate button.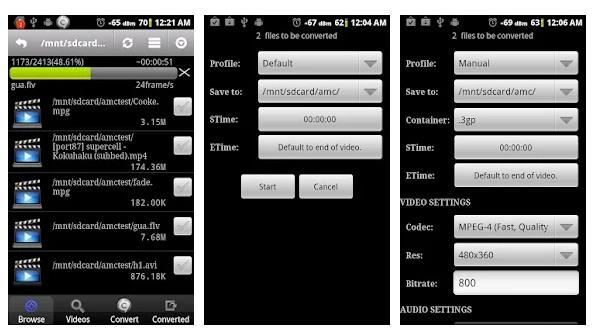 Part 6. Compress Video Files for Email on iPhone
Following are the steps about how to compress video files for email on iPhone:
Install the Video Compress app.
Launch the app. Tap the "Settings" gear to select the type of file you want to export.
Return to the main menu and select your video by clicking the orange icon.
Tap on your video to choose it, and then click the checkmark in the upper right corner.
To select the intended file size of the compressed video, use the slider at the bottom of the screen. Shifting the slider to the left will result in a smaller file size.
In the top right corner, tap the "Save" option. The software will start compressing the file before saving it to your camera roll.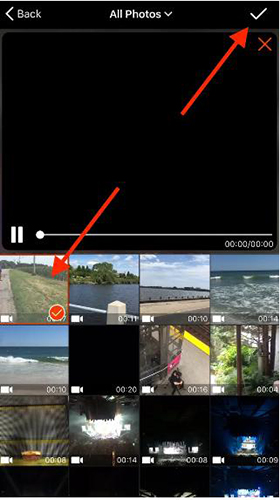 The Bottom Line
Video compression is an essential part of video editing, streaming, and data management. Lossy compression reduces video quality, whereas lossless compression protects video quality at the cost of file size. Priorities and goals should get established before selecting a compressor. Do you need top quality at any cost? Do you need to keep the file size as small as possible? Do you require something in the middle? Here, we recommend HitPaw Video Converter most. It can batch compress videos for email without losing quality.