Amazon Polly Text to Speech: All You Need to Learn About
Amazon Polly text-to-speech (TTS) is a service provided by AWS that allows you to convert your Text into audio by using advanced features. It supports multiple languages and offers different voices from where you can choose your favorite voice. Moreover, this service can be integrated with other apps and different platforms. But the main question is, what is Amazon text-to-speech, and how does it work? In this article, we will tell you everything about AWS text-to-speech and some of the best alternatives of Amazon TTS.
Part 1: What is Amazon Polly Text to Speech?
Amazon Polly TTS is a service offered by AWS and used in different applications, such as e-learning platforms, automated voice assistants, and other apps where it is necessary to convert the voice. In fact, Amazon Polly's voices are used by different businesses and companies for better human interaction. This service can easily convert the text into natural-sounding speech. Yes, that is correct. With Amazon Polly, you can add voices to your videos, phone systems, and more.
In order to use Amazon Polly, all you have to do is type the text which you want to convert. On their website, you can find different Amazon Polly voices, including male and female voices with various accents.
Many people don't know how Polly's neural Text-to-speech works and find it difficult to use, but the process is very straightforward. For Example, If you want to create sound from your content, then the article is published on an RSS channel, and from there, AWS lambda checks the article and sends it to Amazon Polly. This tool converts the article into speech and sends it back to AWS lambda, which is then sent to Amazon S3 bucket. Once the audio is ready, it is stored in Amazon S3, and this is how Amazon AI voice is generated.
Part 2: The Applications of Amazon Polly Text to Speech
Amazon Polly's text-to-speech (TTS) can be used for different applications across various industries. But the top applications of it are discussed below.
1.Voice Assistants and Chatbots: Amazon text-to-speech voices can be used to give voice to voice assistants to different Amazon products, such as Amazon Alexa, chatbots, and virtual assistants. It creates a strong conversation between humans and machines.

2.E-Learning Platforms: Polly can easily convert text-based lessons into audio, which can be beneficial for students and teachers as well. So it won't be wrong to mention that Amazon Polly text to text-to-speech feature is perfect for e-learning platforms. Users can also add audio for e-books, websites, and more.

3.Media and Entertainment: Amazon AI Voice can easily create different voiceovers for videos, podcasts, audiobooks, etc.

4.IVR System and Customer Service: Different companies use Amazon Polly to offer automated customer support via phone systems. In fact, Interactive Voice Response (IVR) systems also use Polly's neutral Text to speech to send pre-recorded messages. Isn't it amazing?

5.Medical and Healthcare: Amazon Polly Voice can easily convert medical texts and patient information into audio. In this way, patients can listen to the details easily instead of reading them.
These were the top applications of Polly TTS and where it can be used. Apart from that, Amazon Web Services Text to Speech can also be used for different things like podcast automation, telecommunications, automated call recording, and more. It can also be integrated into IoT devices.
Part 3: Other Recommended Text to Speech Tools
Amazon Polly voice service is wonderful, but there are other tools available that offer more features. Below, we have mentioned the top 3 AWS text to voice alternatives that you can download in 2023. All these applications use fast technology to convert your text into voice. Without wasting any time, let's discuss these text to voice applications and their pros and cons.
1. HitPaw Edimakor - Best Amazon Polly Text to Speech Alternative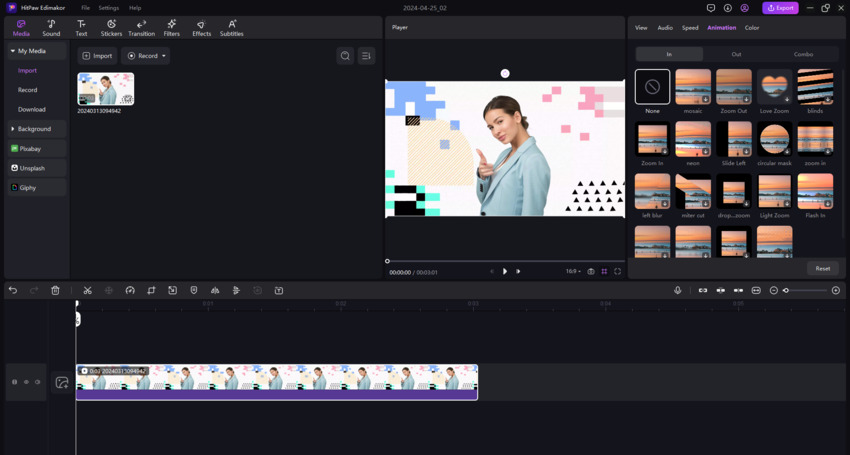 HitPaw Voice changer application is the best alternative to Amazon Polly Text to speech application. It has more voice effects and sound filters as compared to Polly. Also, it is easy to use and doesn't make things complicated for beginners. You can download the application with ease and adjust the settings according to your requirements.
Pros
It is fast and more reliable as compared to AWS text to voice
HitPaw voice changer application's basic plan is less than Polly's Neural text-to-speech plans
It offers more voice filters and voice settings. You can add voices of animations, characters, celebrities, and more
This app can be integrated with other popular apps such as WhatsApp, Zoom, different games, and more. On the other hand, Amazon Polly voice is limited to some platforms
The noise cancellation option can be found in HitPaw Voice changer application, but in Amazon Text to Voice, you can't get it
A live voice changer option is also present, which you can't find in Amazon Polly
Cons
It lacks some advanced features in the free version
Price: The basic plan starts from $15.95
2. FakeYou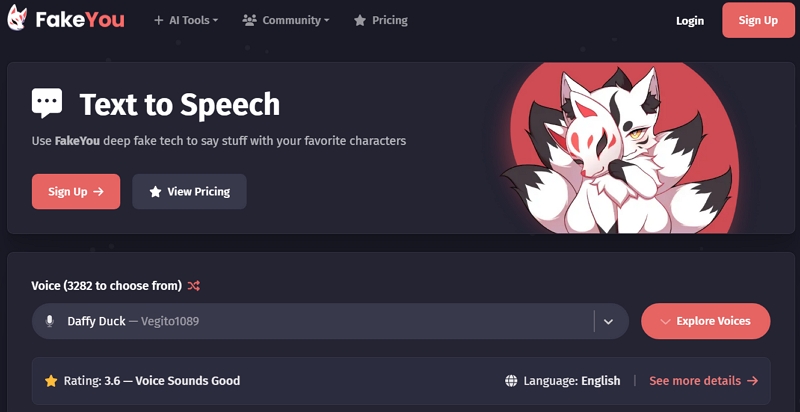 FakeYou is another alternative to Amazon Polly TTS service. It uses AI technology to convert text into voice. It can also generate AI music, which you can't do in the Amazon Polly application. It has different other tools as well, such as Text to speech, voice-to-voice, and voice lip sync. The app is perfect for content creators, vloggers, students, and more. It won't be wrong to say that it is faster and offers more voices as compared to Amazon Polly voices.
Pros
The interface is easy to use and perfect for beginners
You can also use the voice to voice feature to get the audio files
As compared to Amazon Polly TTS, it is more reliable for newbies and professional users
Users can also adjust the settings to generate results according to their requirements
You can also create private models, which is complicated to find in Amazon Polly
Cons
Sometimes, the application doesn't work properly
The text to speech conversion takes longer if the internet is not fast
Price: The basic plan starts from $7 per month, and the pro version is $15 per month
3. Murf.AI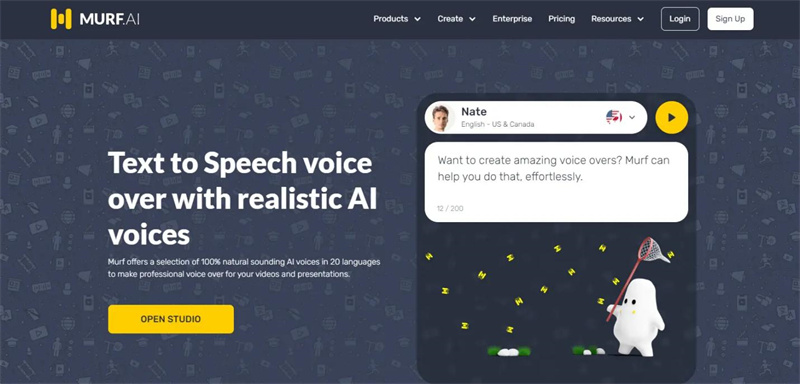 Speaking of Amazon Polly alternative, Murfi.AI is another tool that you should definitely try. It offers advanced voice-changing options as it uses AI technology to convert text into audio. It has almost 130 AI voices with different accents and languages. Users can also use this app to create engaging voiceovers and adjust the pitch, tone, and volume with one click. It offers other functions that you can't find in Amazon Voice AI program.
Pros
It has almost 8000+ licensed soundtracks, which is more than Polly
It consists of 120+ voices so that users can add the voices according to their requirements
It is one of the best text to speech programs that you can use in 2023
The program is best for product developers, podcasters, authors, marketers, and more
Cons
The voice pronunciation is inaccurate and complicated to fix
It has Limited Features and Settings
Price: The basic plan starts from $19 per month
Part 4: FAQs of Amazon Polly Text to Speech
Q1. Is Amazon Polly Text to Speech Free?
A1. Yes, you can use this service for free after signing up, as it offers some credits for 12 months. Apart from that, you only pay for the features that you use. This tool charges on the basis of the text that you convert. On their website, you can check the plans and prices of characters.
Q2. Is Amazon Polly better than Google Cloud Text to Speech?
A2. We can't say that Amazon Polly is better than Google Cloud Text to speech. However, according to G2, Polly got around 27 reviews with a rating of 4.4, while Google Cloud has a 4.3 rating. So, it won't be wrong to say that Google Cloud is used by many users.
Part 5: Final Thought
Amazon Polly Text to Speech is a reliable service offered by AWS. It can convert any text into voice, but it is not a reliable option if you want to create multiple audio files. Instead, you can download HitPaw Edimakor application that can change your voice into a new character and also create multiple voiceovers within minutes.