Top 10 Best Screen Recorders without Watermark
People like to use screen recorder without watermark for various reasons, some like to record movies, some record informational videos, some record gameplay, and some record video chats with friends and family. And while plenty of the screen recorders are free in the market but they often come with certain watermarks which end up ruining our videos.
But not anymore, we have compiled a list of top 10 free screen recorders without watermark which you can use to record anything you want.
Part 1. Most Recommended: HitPaw Online Free Screen Recorder Without Watermark
HitPaw Online Free Screen Recorder is a free screen recorder without watermark and designed for every user. Whether you are a 10 years old kid or an 80 years old grandmother, you can handle this screen recorder with ease. With HitPaw online this free screen recorder without watermark, you can easily record your screen in just 4 steps.
And the best part is, with this software, your recorded video will have no watermark. Besides, this simple and amazing software also offers plenty of video editing tools which makes it one of the best screen recorders without a watermark.
Pros:
HitPaw Online Screen Recorder is free
It also has a free online video editor through which you make your recorded videos even better
It supports both Windows and iOS operating systems.
It does not have any limit to recording time.
The user interface is very simple and friendly to use.
Cons:
The recorded video that exceeds 100MD cannot be edited with a free online video editor. For that, you will need to purchase HitPaw ToolKit.
It relies on the Internet.
How to record screen with HitPaw online free screen recorder without watermark:
First, you'll need to visit the HitPaw Screen Recorder Online website and then grant permission to the microphone to access the website. If you want to listen to the audio, you'll need to select System audio. Next up, you'll need to hit the Start Recording button icon.

In the pop-up prompt, allow this website to access your Microphone and also the browser to record the screen.

Select the window that needs to be recorded.

Finish recording the screen, you can choose to download video or edit video.
Part 2. Special Pick: HitPaw Screen Recorder
HitPaw Screen Recorder is a best choice you need to record screen without watermark. But it should be noted that you should upgrade to unlock the watermark limit. The HitPaw Screen Recorder is a multi-purpose application that can help you in a variety of ways. The software's main function is to record your screen, and it includes various screen recording capabilities that will make the procedure easier and more enjoyable for you.
It is a marathon third tool party tool that allows you to record your screen, meaning you can capture your screen and watch it later. Moreover, you can stream and broadcast your favorite videos on various platforms courtesy of HitPaw Screen Recorder.
In addition, it also allows you to record the video and audio simultaneously, meaning you can record everything happening on your screen in original quality.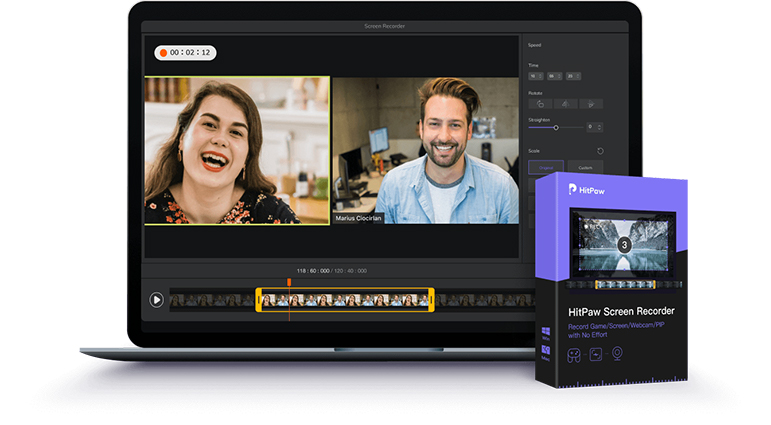 What Makes HitPaw Screen Recorder Stand out:
The user interface of HitPaw Screen Recorder is simple, and it offers three recording modes: screen recording, webcam recording, and simultaneous camera and screen recording
The option to modify the pip size and position while filming yourself and watching the screen is its most impressive feature
Recording webcam and games without any lag
Advanced picture-in-picture mode
Scheduled recording
Real-time drawing to show important details
Steps to Use HitPaw Screen Recorder
Step 01 Download HitPaw Screen Recorder on your computer.
Step 02 After installation, run HitPaw Screen Recorder on your PC. Hit "Screen" to get started.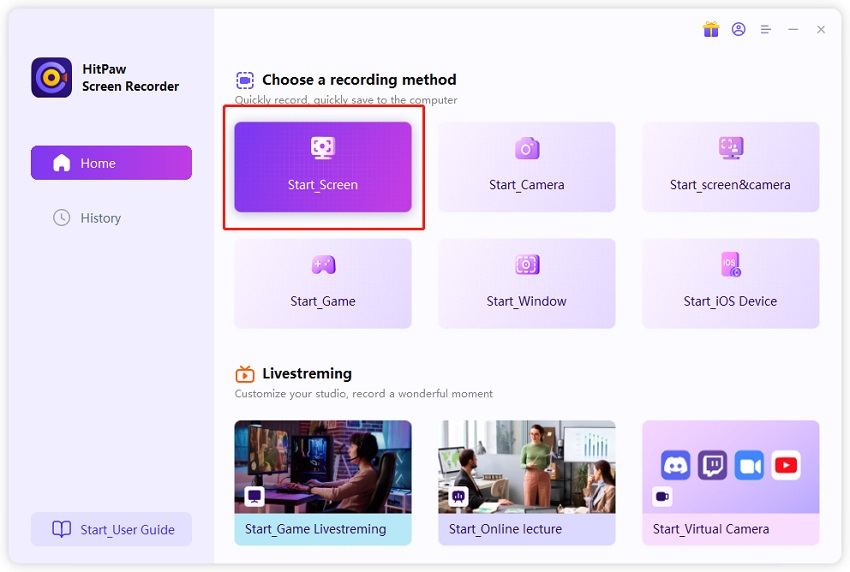 Step 03 Now, Select the screen area to be recorded. A single click will select the whole screen automatically.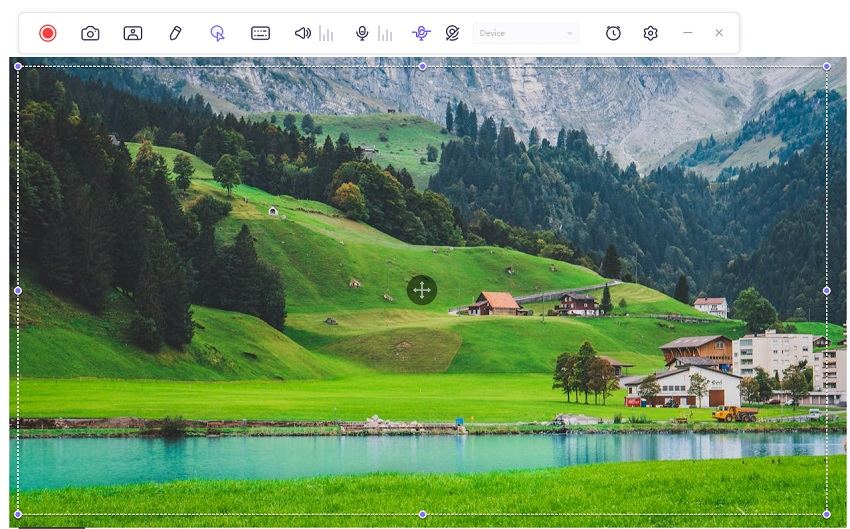 Step 04 Now, hit the Record icon to begin recording. Pause anytime you want as well as draw in real-time.

Step 05 Finally, you'll enter the editing interface. Trim the record if needed and hit Export to save or edit it.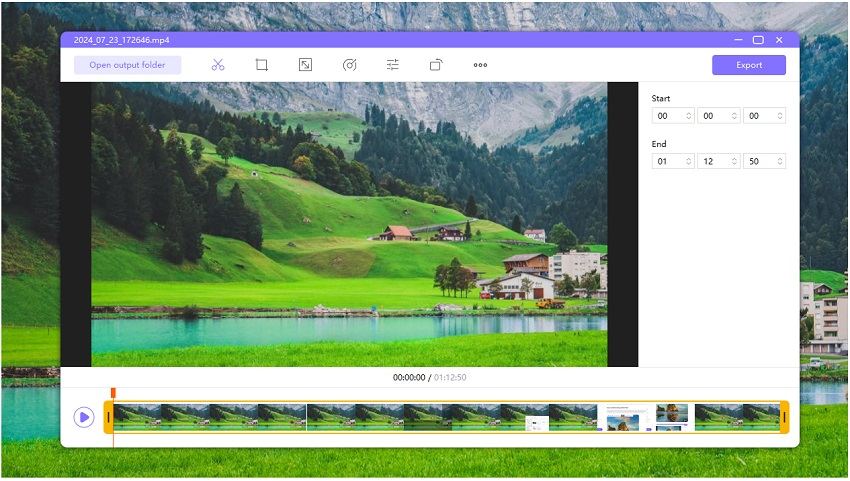 Part 3. Other 4 Screen Recorders with Audio No Watermark on PC
3.1 Apowersoft Online Screen Recorder
If you're looking for a professional yet easy to use screen recorder then Apowersoft is a wise choice. With this screen recorder, you can record audio and video simultaneously from your computer screen. You can access without Java as well, just download a simple launcher on your computer and you're good to go.
And by using this screen recorder to can even record a blurry video clearly and then publish it in high-quality. This screen recorder with no watermark several optional modes to choose from, record any part of or full-screen without any hassle. So record as many videos as you like and start sharing them with your family and friends.
Pros:
It's completely free to use
Can be utilized on both Mac and Windows
It has no restrictions on recording time
It provides 7 output formats to choose from.
Extremely simple and easy interface but also comes with a useful tutorial.
Cons:
You have to download a program launcher first.
It has no proper file management tools
Doesn't allow you to capture on a secondary monitor.
3.2 ScreenApp.IO Screen Recorder
ScreenApp.IO is another free-cost screen recorder with which you can record your computer screen and enjoy the recorded video later without any watermark. This software enables you to record and edit your footage online by just visiting its site address, no need to download any launcher, extension, or software. With just a single click record your entire screen, a certain application, or any opened browser. And the best part is, after editing you can share the video instantly with your friends and family.
Pros:
It can be used without any registration charges.
It requires you to only visit the webpage, instead of downloading any launcher or extension.
It's is an ad-free website
User-oriented interface
No recording time limit
Cons:
It is only available on Chrome, Firefox, and Opera. iOS users can't use it.
It has limited editing features.
3.3 Screencapture Free Screen Recorder No Watermark No Time Limit
If you're an Apple user then you can easily record the screen with its built-in tool of Screen Capture. It not only allows you to take screenshots but also record video and audio of your Mac screen. It's is very easy to use, just pressing the combination of Command+Shift+5 will launch the screen capture interface, where you can either select the entire screen or just a specific portion. And when you're done recording, you can also trim the video and add text if you want.
Pros:
The simplest way to record screen for Max users
Enables you to record audio along with the video
You can easily trim the beginning and ending parts of the video.
No time limit on the recording.
Cons:
Only available for Max user with iOS 10 or above.
Offers very limited editing options.
3.4 Panopto Screen Recorder
With panopto, you can record anything, video, screen, browser tab, or application from right within your computer. This software has no recording time limitations and trial periods. Instead, you can just open the webpage and begin capturing any footage you like. It offers a reasonable amount of editing features that you can use. And once you're done, you can instantly share the recording using YouTube, Panopto, or Google Classroom. So if you're looking for a free screen recording software with no watermark to record your lectures then Panopto is a good option for you.
Pros:
No subscription requires
Captures multiple streams simultaneously
The end product can be shared in multiple formats
Cons:
Some features are big challenging to use
Complex interface and design for basic computer users
The software differs from PC to Mac.
Part 4. Other 4 Screen Recorders without Watermark for Mobile
There are also a few free screen recorder without watermark for mobile that can be very useful for you.
4.1 Xrecorder
With Xrecorder this best mobile screen recorder without watermark, you can create content with more versatility and freedom than ever before. Recording can be started with just a few adjustments to the recording parameters. Depending on your preference, you can record full-screen or customize the size of your screen.
It comes with a video editor, which helps to make the recording more decent. The software is displayed as a floating window on the screen from where you can start, stop and resume recording.
4.2 ADV Screen Recorder
This is another user-friendly best screen recorder for android with internal audio without watermark on the internet that you can use to make your screen videos for your media sharing platform. You can even capture screenshots with this software and integrate them into your recordings.
You can add annotations to improve understanding of the content and draw on the recording. There is also an option to adjust the resolution, bit rate and FPS.
4.3 AZ Screen Recorder
AZ screen recorder is a free screen recorder no watermark android. You can use this screenshot tool to make high quality recordings of your mobile phone screen. In addition, it has no watermark, giving your screen recordings of games or tutorial content a clearer and higher quality appearance.
4.4 Airshou Screen Recorder
Airshou Screen Recorder is another screen recorder no watermark android that allows the users to record their screens in high quality.
It offers many customisation options and allows for a very user-friendly experience. It has no watermark and is therefore the preferred choice for many video content creators. You can start and stop recording at any time and can also customise the parameters accordingly. There are also no annoying ads in this application.
Final Thought
All this software is highly efficient. Each one of them is free and relatively easy to use. But while considering the features, HitPaw Online Screen Recorder is my personal favorite. Hopefully, the pros and cons of these screen recorders with no watermark help you in choosing the one that you love and make your recording process fun and convenient.
And without disregarding any method, we rate HitPaw Screen Recorder highly compared to other methods. It offers unbelievable quality and makes your job easier than you think.