How to Make Twitch Emotes with Simple Ways in 2023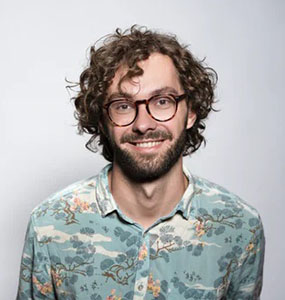 Streaming your live video on Twitch using a Twitch emoticon is necessary to make you unique and relevant compared to other Twitch streamers. You can create Twitch emotes based on memes, images, and trends relevant to the specific stream.
Do you know how to make a Twitch emote? Luckily, this post will introduce the breathtaking options if you don't know much about a Twitch emote maker.
Part 1. What are Twitch Emotes?
Before searching for the Twitch emote maker or knowing how to make Twitch emotes, let us talk about the term emotes. Emotes are nothing but Twitch-specific symbols that streamers and viewers use to show emotions in Twitch chat. There are two types of emotes: Global emotes and custom emotes. Anyone can use global emotes, and you can find these emotes on different websites.
On the other hand, custom emotes are those you design using a tool. Luckily we'll tell you how to make animated emotes for Twitch later in this post.
Part 2. How to Use the Best 6 Twitch Emote Makers
It is a brilliant time to introduce the top 6 Twitch emote maker tools.
1. OWN3D Emote Maker
Besides creating mind-blowing emotes for Twitch, OWN3D Emote Maker is also brilliant at serving Discord, YouTube, and other channels. This Twitch emote maker is in connection with professional illustrators who work together to provide brilliant design services.
Here's how to make Twitch emotes using OWN3D Emote Maker
1

Select the character before customizing the Twitch emote

2

Choose the emoticons from different options.

3

Make the payment and Twitch emote.
2. Placeit
Placeit is another brilliant emote maker for Twitch that comes with fantastic designs and templates to make your work great. So, if you intend to make your Twitch live stream special, opting for Placeit to generate mind-blowing emotes won't be a bad idea.
Here's how to make emotes for Twitch with Placeit.
1

After selecting the emote template, you'll customize your chosen template.

2

Acquire the subscription and download the emote design.

3

Resize emote and add it to your Twitch account.
3. Emotescreator
You won't find any complaints about it as it is a mind-blowing Twitch emotes maker that comes with different sections for Twitch emotes maker and Twitch badges. Interestingly, it offers mind-blowing templates and designs to generate unbelievable Twitch emotes.
Here's how to make a Twitch emote with Emotescreator.
1

Navigate to emotescreator.com and press Twitch Emote Maker.

2

Create the emoticon using different tools on the preface.

3

Download the emote design you've created
4. Kapwing
Kapwing is a popular Twitch emote maker that offers mesmerizing templates to make greater designs. Apart from generating flawless Twitch emotes, you can Kapwing for various other brilliant causes.
Here's the step-by-step guide to know how to make Twitch emotes using Kapwing.
1

Navigate to the blank canvas and start creating a emote.

2

Add the picture or design and remove your background.

3

Download the Twitch emote and upload it to your Twitch account.
5. Photoshop
Photoshop won't be a bad Twitch emote maker that brings remarkable designs and templates for your Twitch emotes. The best thing about Photoshop is that it helps you generate unbelievable emotes without having to do much.
How to make emote for Twitch wih Photoshop.
1

Launch a photo on Photoshop and draw a shape by picking the pen tool.

2

After using the Layers options, customize the Twitch emote. Next, download the Twitch emote and then add it to Twitch account.
6. StreamShift
You can also opt for StreamShift to generate a mind-blowing Twitch emote with minimal effort.StreamShift also offers gigantic templates and designs without having to break your sweat.
Here's how to make emotes for Twitch wih StreamShift.
1

Choose from the text emote options.

2

After customizing the template, tap ''Add to Bundle'' to download the Twitch emote.
Part 3. How Do I Make Animated Emotes for Twitch
Making the animated emotes for Twitch is pretty easy as you'll need to follow the guide below to know how to make animated emotes for Twitch.
Step 01 Visit the ''Emotes page'' on the creator dashboard.
Step 02 Choose the '' Easy Animate'' icon and then hit ''Upload'' to upload the emote you'd like to animate.
Step 03 Select the animations you'd like to use after hitting the ''Choose Animation'' icon.
Step 04 After filling in the '' Enter Emote Name'', you'll need to tap on the ''Upload'' icon to complete the proceedings Remember, you'll need to be an affiliate streamer or a qualified partner to add animated emotes on your Twitch.
Part 4. How Can I Add an Emote to My Twitch Channel
Twitch tends to add animated emotes to your Twitch channel after 48 hours. However, if you want to avoid the waiting period, you can meet the following requirements.
Partners:
You can upload the Twitch emote anytime if it's been 60 days since you've received the Partner status.
If you didn't violate the Community Guidelines or Twitch TOS for a minimum of 60 days, adding Twitch emotes is possible.
Affiliates:
Stream for 60 days as an Affiliate member for two years.
No removed or denied emotes 60 days prior.
ack of warnings or suspension received in the last 60 days..
Bonus: Finished Your Twitch Emote? Try the Best Live Streaming Software on Twitch
After creating the brilliant Twitch emotes using a Twitch emote maker, if you're looking to live stream on Twitch, HitPaw Screen Recorder might be the perfect option. Using HitPaw Screen Recorder, you can easily live stream your Twitch video at 4K video quality.
On top of that, HitPaw Screen Recorder also provides the luxury of recording the entire live stream. It means apart from live streaming the video, and you can make a recording of a live stream to upload it later on your social media platforms.
Here are the key features of HitPaw Screen Recorder:
Record your live stream at the highest resolution.
Live stream on your various platforms.
GPU acceleration feature makes the live streaming process smooth.
Add templates, themes, or text to your live streaming.
Allows you to add a source to your Twitch live stream.
HitPaw Screen Recorder offers an effortless user interface, meaning even a newcomer can use this extraordinary tool.
How to live stream Twitch on HitPaw Screen Recorder?
Step 01 Click on the button below to download HitPaw Screen Recorder safely. Next, you'll need to launch the software.
Step 02 Install the HitPaw Screen Recorder on your PC and launch it to begin the proceedings. After launching the software, you'll need to tap Live Streaming.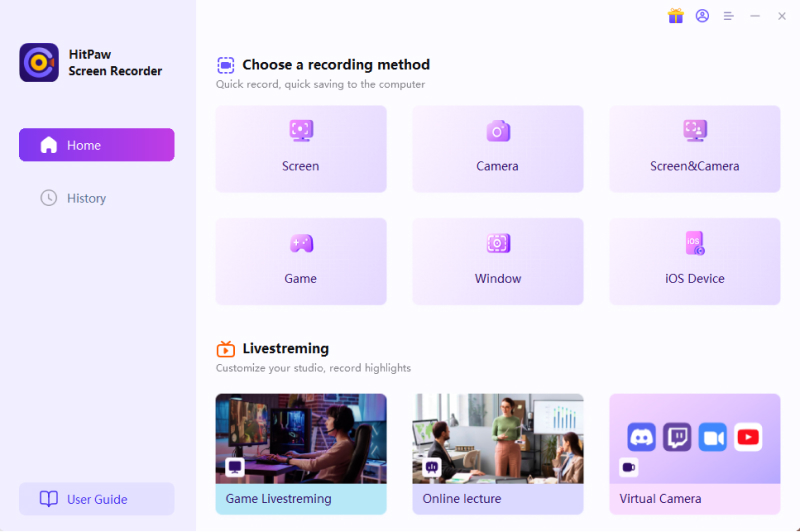 Step 03 Now, you can select the templates you'd like to use in the background of your live stream. Next, you'll need to select Webcam as your source.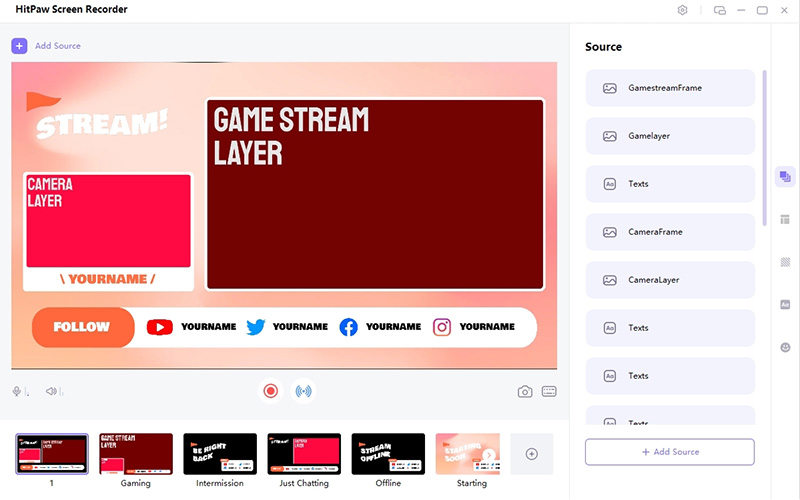 Step 04 Once the source is selected, you'll need to choose the platform where you wish to live stream the video. Select Twitch and then start your live streaming. You can tap on the Record button if you intend to record the live stream.
Once you're done live streaming your Twitch video, you'll need to stop the recording and then download the recorded video to your desired folder on your PC.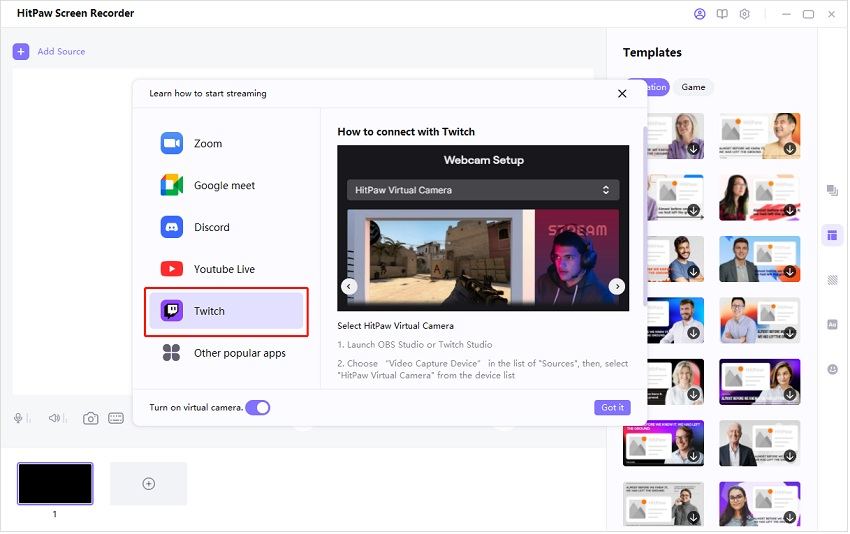 Final Words
Those who often ask ''how to make animated Twitch emotes'' can take important notes from this post. After reading this post, you'll surely be able to find a reliable Twitch emote maker. However, if you intend to live stream Twitch video, there won't be a better tool than HitPaw Screen Recorder.