What is The Best Game Recording Software for Gamers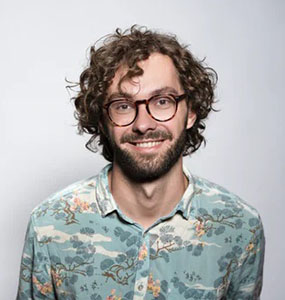 Joshua Hill
As we all know, ESports or computer games are currently the most popular type of sport among young people. The most favorite is the voice cooperation of multiple players to complete the team assignment and win the match. When you need to share the game course of events with others and understand all-around operations, you should use game recording software to record your wonderful videos.
What is Game Recording Software?
Game recording software is an application that helps you to capture gameplay in high-definition quality. Games allow you to temporarily stay away from busy work and enter a purely virtual world, alleviating the pressure on us from the real world. For the newbie who has just stepped into the threshold of the game, they need tutorials, so professional players need game recording software to record the process. These tools enable you to post your clips on social media sites like Facebook, WhatsApp, Twitter, etc.
6 Best Game Recording Software for PC
1.HitPaw Screen Recorder for Windows.
HitPaw Screen Recorder is the best game recording software for windows. It is a game capture tool that allows you to record a full or selected screen with the computer screen. This tool helps you to record Video tutorials, Meetings, Games, Live streams, Webinars, and more.
Features:
Three modes to choose
Quick screenshot
Simple and easy to use
Very user-friendly page, clearly and perspicuity
Supported platforms: Windows 10/8/7 64 bit, and Mac version coming soon.
You should learn the detailed steps to use HitPaw Screen Recorder to record your game recording, and you can follow the steps to record the game.
Download HitPaw Screen Recorder and install it on your computer.

You should find the four modes for the home interface, select Record Screen mode to record the game.

Click on the red button of recording icon in the upper left corner, then it will start to record your game. And you can press the pause button to pause.If you want to finish the recording game, just click on the stop button of the right.

End the recording click on the stop button, the editing box will automatically pop up, then you can trim it quickly.Click the Trim and the file save the Open output folder.
2. Mirillis Action
Mirillis Action is a best software for game recording to record and stream your gameplay, player videos, music, capture screenshots, add webcams and microphone commentary. It has extremely high HD video quality streaming and can record Windows desktop in real-time.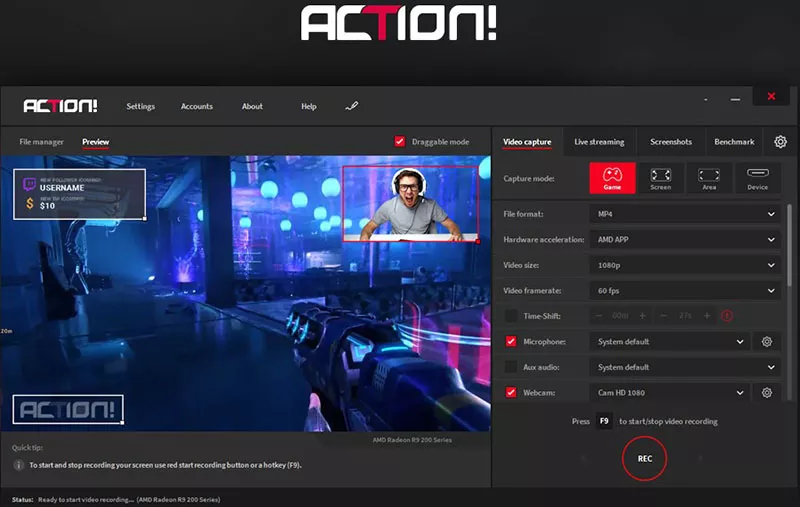 Features:
It has user-friendly and stylish interface
Offers the green screen mode
Record webcam and capture devices
Supports live stream gameplay and like Twitch, YouTube, Livestream, Facebook, and more
Offers the slow-motion effect of recording.
You can use Logitech G13/G19/G15 multimedia keyboards
Supported platform: Windows.
3. Bandicam Game Recorder
Bandicam is one of the best game recording software for free. It provides to record various 2D/3D games such as Minecraft, World of Warcraft, and League of Legends, which use the DirectX/OpenGL/Vulkan graphics technologies.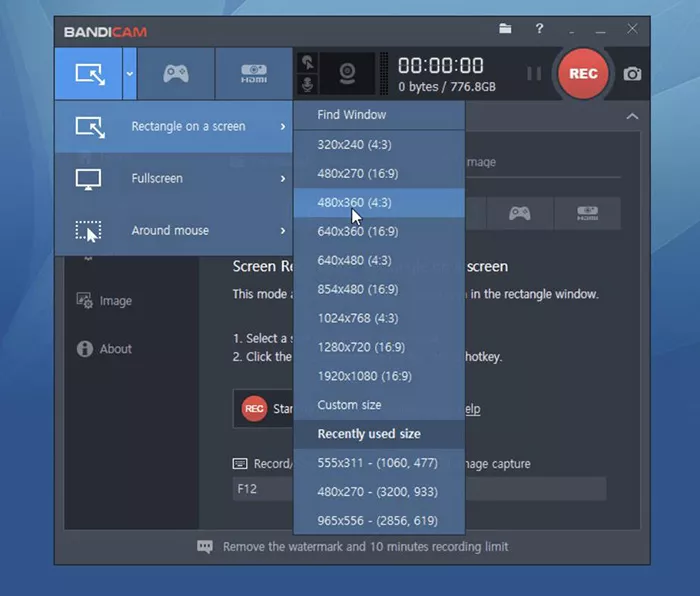 Of course, you can record browser-based online games on PC and share game videos.
Features:
Support 4K Ultra HD videos and HD videos with max.
It used be to record gameplay, and post on YouTube at the same time
Offer lower CPU/GPU/HDD.
Players can see the FPS numbers and control the FRAME RATE while recording.
Bandicam used to be to record external video devices as IPTV, smartphones, XBOX, Playstation, webcam, and more.
4. Open Broadcaster Software
If you don't want to purchase any recording game software to record, so Open Broadcaster Software or OBS maybe is your best choice. Because it is a device that is free and open-source for video recording, you don't need to alter any special settings which select the source you want to record games and start recording.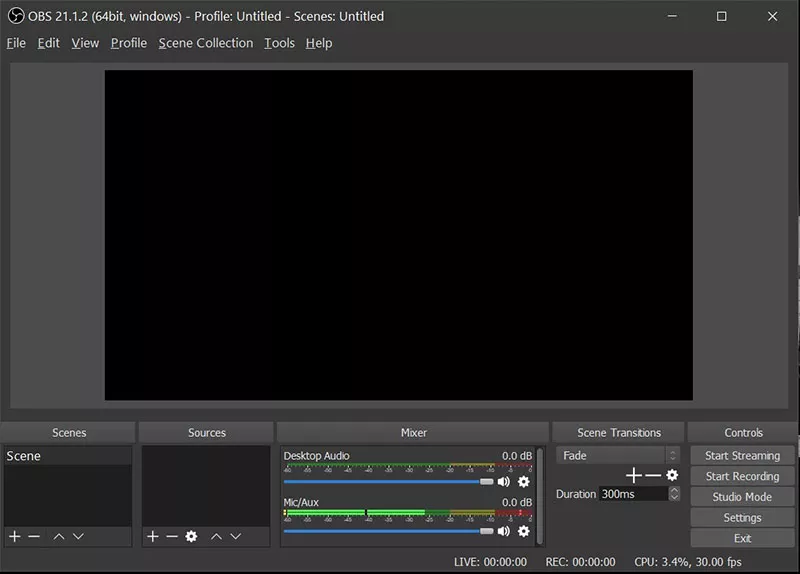 Features:
It has easy-to-use configuration options
Free and open source
Supported MP4 and FLV
Streamlined Settings panel and user-friendly audio mixture
Apply for cross-platform support
Supported platforms: Windows, Mac or Linux
5. Gamecaster
Gamecaster is one of the simplest but powerful recording tools. In addition to streaming, the software can also be easily used to record your games with high quality. You only need to press a button to start recording, and Gamecaster will configure the settings for you according to your PC.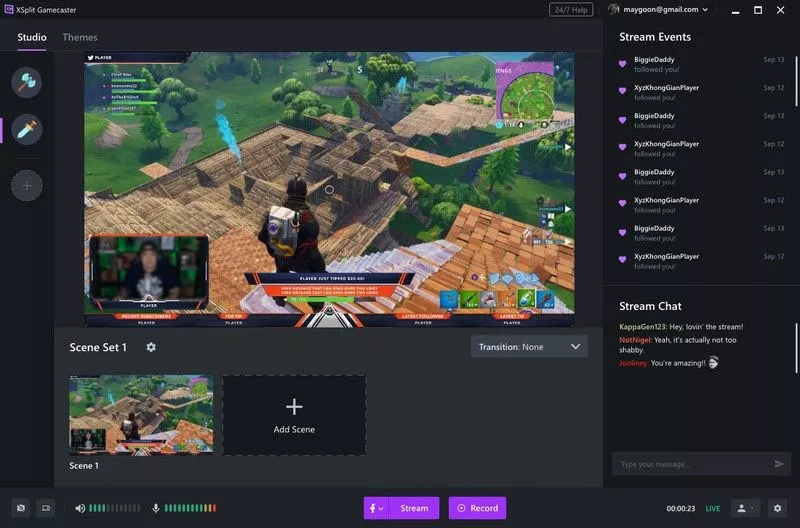 Features:
Free software with you need
Use Xbox Game Bar integration
Apply the latest NVIDIA and AMD technology
It has a huge library of game special overlays
Support all popular platforms
Supported: Windows
6. Dxtory
Dxtory is another simple recording game software. It provides a lot of features while being very lightweight for the system. Audio settings are also very powerful, capable of recording two sounds at the same time, such as game sounds and microphone sounds, which can be edited separately in the future.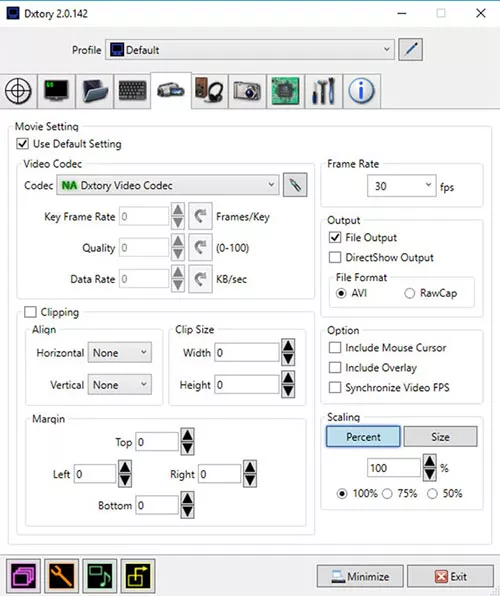 Features:
Basic UI
Lossless Capture
Use to record original pixel data
Supported platforms: Windows
Conclusion
The game recording software provides complete control over recording your game while playing. They are all recorded in high quality, but the functionality and ease of use may vary. Some may lack some features, but they are very simple to use and very suitable for beginners. When you play a game and need to record, choose HitPaw Screen Recorder for you. And the video share that frees or paid to the social platform to earn a small gold for yourself.