What is the Longest Twitch Stream in 2023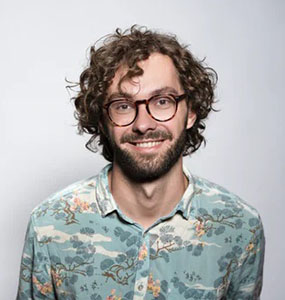 Twitch is one of the most popular streaming services having millions of daily viewers. It primarily focuses on live video game streaming, broadcasting of sports events and competitions, and "in real life" streams.
With the ever-increasing popularity of Twitch, a lot many people wonder what exactly is the longest stream on Twitch. In this guide, we will cover everything you need to know about Twitch streaming including the user-trusted method for broadcasting your own event on Twitch. Let's find out!
Part 1. How Long Can You Stream On Twitch?
As of now, longest Twitch stream of a single live stream on a Twitch can be no longer than 48 hours. A VOD will end automatically after the 48-hour time window even if you don't cancel it. Even though you can restart the broadcast immediately after by that would be considered a new session.
For the same very reason, when you hear the someone claiming, "I streamed on twitch for 5 days straight," that doesn't count as a single session but at least 3 sessions of the same VOD. Thus, when a streamer needs to engage the audience for more than 48 hours, he or she simply ends the stream just before the 48-hour cut off time, and restarts it right after.
That way, the stream is offline for just a few minutes and the followers stay engaged. Also, it's quite common for sole streamers of lengthy broadcast to host other channels or play other videos while they sleep.
Part 2. What is the Longest Stream On Twitch?
Given that Twitch is now over a decade old with millions of users, world record for the longest live stream on Twitch are set and broken every other day. While a lot many streamers or companies claim to broadcast the longest stream, what is the longest Twitch stream? The clear record-holder is Twitch streamer GPHustla.
Currently, he has a single uninterrupted broadcast for over 465 days, the world record for the longest live stream on Twitch. It is highly unlikely for anyone to break this record anytime sooner. GPHustla is very popular on Twitch for plenty of his gam e titles that have been streamed on the platform. Many a time, he holds a streaming session just to talk to his audience or people in the live chat.
One of the reasons of his long streams is he doesn't record the whole broadcast from a single room, or even house. He is known to take his camera with him outside to grocery stores or wherever he goes to perform the daily activities.
If you're wondering what is the longest Twitch stream no sleep, then we have got you covered. A Twitch streamer, CryptoWrench, recently streamed for over 103 hours straight without sleeping. The guy suffers from insomnia and PTSD and the session was aimed at raising awareness for people battling these health problems.
Part 3. A Best Way to Stream on Twitch
Given the huge popularity of Twitch, it's always a great idea to broadcast your live event on Twitch. Luckily, the internet is full of twitch streaming programs but none is as efficient and feature-rich as HitPaw Screen Recorder to help you make longest stream on Twitch.
With its latest update, this software makes it extremely easy to start a live session on Twitch from your PC. Aside from that, it also supports more than 300 popular streaming platforms and live chatting apps. The program gives you access to tons of stickers, templates, and virtual backgrounds to engage your audience like never before.
One of the powerful traits of HitPaw Screen Recorder is its ability to stream on multiple platforms simultaneously. What's more, you can also record the live session and save it on your device for future use. Not to mention, it is also quite cheaper than most of its competitors.
The key features of HitPaw Screen Recorder:
Live stream your event on Twitch effortlessly
Compatibility with over 300 streaming platforms including Facebook, YouTube Live, and more
Allows you to stream your event on multiple platforms at the same time
Users can add templates, stickers, and backgrounds to a broadcast with a single click
Lets you record the live streaming
Check out the below steps to start live streaming on Twitch:
Step 02 Click on Live - Live Streaming.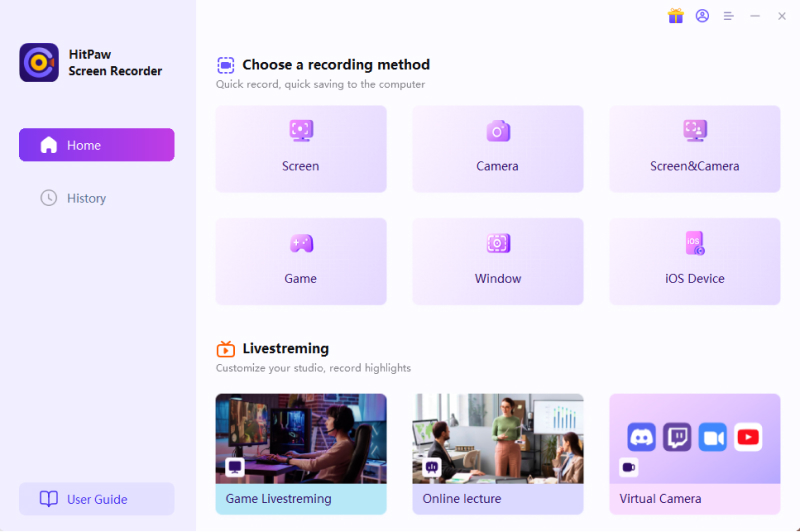 Step 03 Add a template from the available options that goes with your theme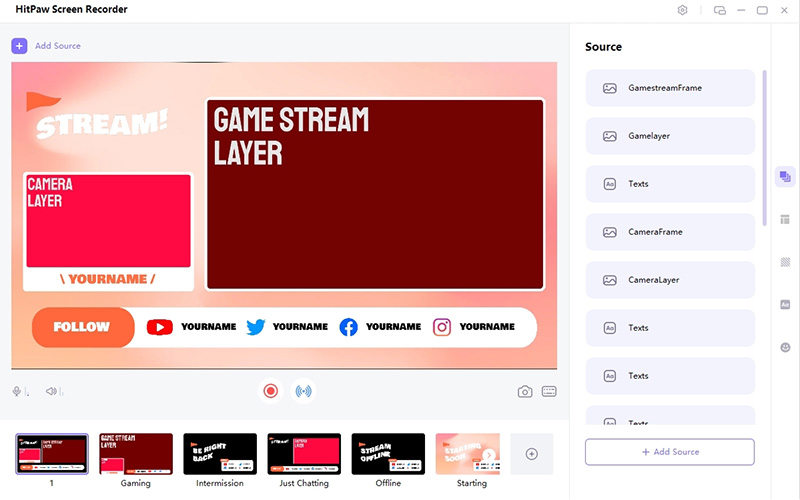 Step 04 Now, launch Twitch Studio and add source "Video Capture Device". Then, click on "Virtual Camera" under the camera list to begin your broadcast.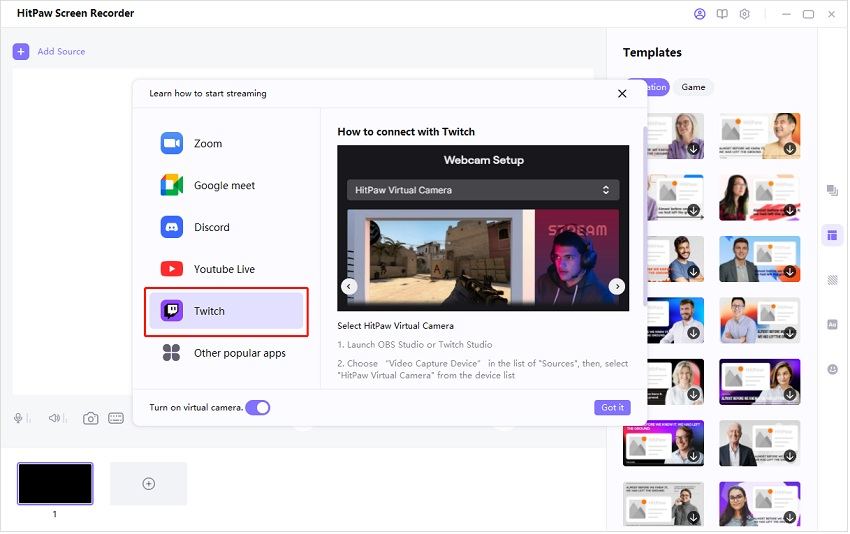 Step 05 If you want to record the event, go to the main screen and click on "Start."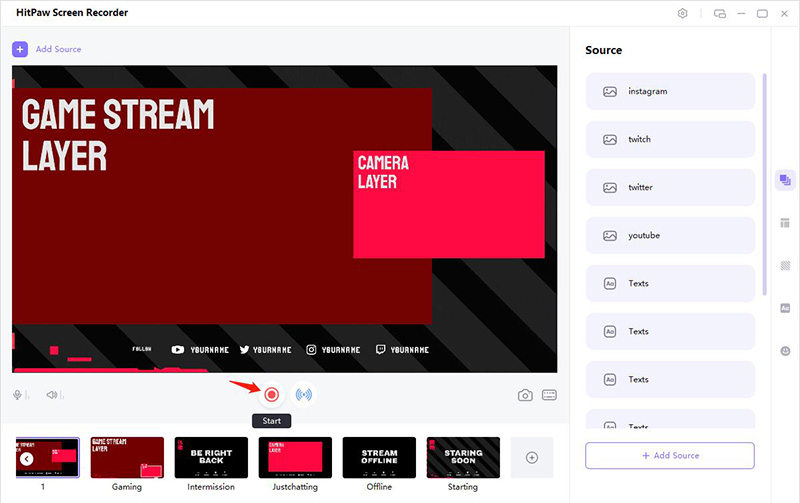 Part 4: FAQs about Longest Twitch Stream
Here are the answers to commonly asked questions of users regarding the longest live stream on Twitch.
1. How to See How Long a Streamer Has Been Live for on Twitch?
Contrary to what many people think, it's quite simple to see how long a broadcast has been streaming. Here's how to do that:
Find the stream timer located at the bottom-right of the broadcast. This option is just below the sub-button (also to the right of the option showing the number of current viewers).
2. What is the world's longest webcast?
The official record holder for the world's longest webcast goes to the Twitch personality, Louis. His 'LosPollosTV' Sammartino's 161+ hour broadcast is now the longest uninterrupted stream on any platform as of 2023.
Conclusion
And here's everything you need to know about the longest Twitch stream. There's no rule on how long a Twitch broadcast session can go, but a session needs to be restarted after 48 hours.
If you want to engage your audience on Twitch with your own live session, then use HitPaw Screen Recorder. This program offers a click-through process to go live on Twitch as well as customize your broadcast with templates and stickers.