Reverse GIF Search - The Complete Solutions for Beginners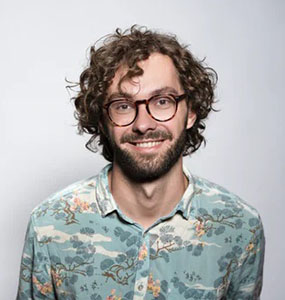 Joshua Hill
Is there any way that I can use to reverse search GIFs and Videos? This question is asked every time when we want to get information about a specific GIF. And the answer is yes; you can reverse GIF search by following some simple methods. Also, the famous search engine will help you to reverse the GIF process fast.
Let's discuss in this article how we can do it.
When Will You Need Reverse GIF Search?
Here are some main reasons when you will need the Reverse GIF search:
If you have just founded a GIF and you want to know more about it, here is when you need GIF Reverse Search.
In case If you want to edit a specific GIF, you can do it easily by using the Reverse GIF search process.
If you want to know the GIF source, you can get it easily by using Reverse GIF Search.
How to Reverse Search GIF
Here are 7 different ways that you can use to reverse image search GIF. Let's discuss these methods one by one so you can understand things better.
Part 1: Use Reverse GIF Search Engine
The first part is the simplest one and will help you to reverse GIF search fast. This method includes using different search engines such as Google, Bing, and much more. Let's discuss how we can use these search engines and what are the important procedures.
a. Reverse GIF Search Google
Are you wondering how to reverse search a GIF? Then you can use Google Image, which is owned by Google. Using this reverse GIF search engine is simple, and anyone can use it. However, keep in mind that this procedure is not available for mobile users. So, if you want to use it, you must have to follow the steps on the PC.
There are many ways that you can add images, such as uploading it directly, pasting the image URL, and using the drag and drop procedure. Here is what you can do to reverse GIF search using Google Images:
First, go to Google Images, then click on the "Camera Icon." Once you are done, upload the image and click the "Search by Image" option.
You will see all the relevant images, search for your GIF, and get all the information.
b. GIF Search Reverse via Bing
Bing comes with a Bing Image Match tool, which is basically a built-in program that helps find the source code of an image. The interface of this program is simple and helps you to manage the things easily. Here is what you can do to find the information on a specific GIF.
First, choose a photo.
Then upload it or paste the URL.
Click the search option, and it will find the image information for you.
However, keep in mind that this option is not available in some countries.
c. TinEye Reverse GIF Image Search
It's one of the most popular reverse GIF search engines that you can use today. This search engine provides you all the information so that you can easily find data relevant to your GIF. It is simple to use and doesn't require much expertise. However, the input that it supports includes GIF, PNG, and JPEG. Keep in mind that the search limit per week is around 150.
Upload the image from your mobile and PC. You can also paste the GIF URL.
Now click the "Upload Icon" so that you can import the GIF.
Once you are done, you will be redirected to the search results page.
d. How to Reverse GIF Search with Yandex
Yandex is a search engine that is created by the Russian Corporation. You can also use it to search for different things such as data, images and can also perform the Reverse GIF Search process. All you have to do is upload the GIF, and you are ready to use it.
Here are the steps that you can follow.
Choose the device from where you want to upload the GIF.
You can also paste the link of the GIF.
Now to start the process, click the "Camera icon." It will allow you to paste the GIF easily.
Once you are done, you will see the results.
Part 2: Use Online GIF Reverse Search Tool
The second part is using some of the best online tools. So, in case if you are looking for the best GIF Reverse Search Tools, here are some that you can try. All of them are simple-to-use and comes with a good interface.
Let's discuss them one by one:
1. Ezgif
It's an easy to use application and doesn't require any technical details. All you have to do is upload your image, and you are good to go. Besides that, it comes with lots of simple features that you can explore. However, keep in mind that it's an online tool, so make sure not to upload corrupted files.
Apart from that, you can also use this online program to convert video into GIF, which is also a good feature. There are other features available on the website, such as Add Text, Split things, and much more. Let's have a look at the steps that you can follow to reverse the GIF.
Go to Ezif.com.
Now upload the image from your computer.
You can also paste the image URL.
Once you are done, click the "Upload" option, and it will provide you all the information related to GIF.
Note: Keep in mind that the GIF shouldn't be more than 35MB as per website requirement.
2. FreeGifMaker
The second program on our list is a freegifmaker. It's a simple tool and can help to make you an attractive gif as well. The process of using it is also very simple; just upload the gif, and you are good to go.
You can also select the GIF from your PC. In addition, you can also create new GIFs, can add different effects, and much more.
All you have to do is click this URL.
Now upload the GIF, you can choose from your computer as well.
Once you are done, enjoy your GIF. Isn't it simple?
3. GIFGIFS
The third one on our list is gifgifs. It is also an online tool and can be easily used by beginners. They do also provide other features as well, such as GIF resizer, GIF optimizer, and much more. You can also use the PNG optimizer to optimize the images.
Go to gifgifs online website.
Then upload the image or paste the URL.
After that, click the "Reverse" option, and within a few seconds, you will get all your details.
Which Way Is The Best One?
We have mentioned 7 ways that you can use to reverse GIF search. All these ways are good for you, but in case you want to use the simple method then, you can use online tools methods. Here are some reasons for it.
Some people are not aware of all the search engines, so it's a good choice to use online tools.
All the methods of using online tools are the same, you just have to upload the image, and you are good to go.
Online tools don't require much effort.
Conclusion
So, if you are worried about how to do Reverse GIF search, we have mentioned some of the best ways that you can use. All these methods are for professionals as well as Novice users. You can either use search engines or can use online tools; the choice is all yours.