6 Best Text To Speech Generators for Creating YouTube Content
In this article, we will delve into the fascinating world of "Text To Speech" technology, exploring its capabilities, benefits, and its impact on content creation. Text To Speech, commonly referred to as TTS, has become an essential tool for modern content creators, enabling them to convert written text into spoken words with ease and efficiency.
Part 1. What is Text To Speech Technology?
Text To Speech technology is a revolutionary concept that allows machines to convert written text into audible speech. It simulates the human voice, creating a natural and lifelike audio experience. This technology has witnessed significant advancements over the years, resulting in more natural and expressive voices, making it an invaluable asset for content creators across various platforms.
Part 2. Top Text To Speech Youtubers Are Using
In this section, we will explore some of the top Text To Speech tools that are favored by Youtubers, enabling them to engage their audience in an innovative and captivating manner.
1. Best Text To Speech For Youtubers—HitPaw Edimakor
HitPaw Edimakor is a standout Text To Speech tool designed for desktop use. Though currently unreleased, it promises to be an essential feature in the upcoming 2.1.0 version. The tool boasts an array of remarkable features, making it an indispensable asset for video content creators, including TikTokers, Youtubers, and other vloggers.
One of the primary functionalities of HitPaw Edimakor is its Text To Speech function, where all you need to do is enter the text content, and the generator will eloquently read it aloud in your video. This feature alone can add an extra layer of dynamism to your content, enhancing its appeal to the audience.
Moreover, the software's capabilities extend beyond Text To Speech, encompassing a host of other essential features. From video editing to cropping, adding stickers and texts, the HitPaw Edimakor presents a versatile suite that meets the diverse needs of content creators.
To help you grasp the full potential of this impressive tool, let's walk through the five simple steps to edit videos using the HitPaw Edimakor:
Step 1. Import Your Video: Begin by importing your video into the editor's intuitive interface.

Step 2. Add Text and Stickers: Enhance your content by incorporating captivating texts and stickers onto your video.

Step 3. Utilize Editing Features: Trim, cut, and merge clips seamlessly to create a polished and compelling narrative. Add smooth and seamless transitions between scenes, elevating the overall viewing experience.

Step 4. Apply TTS Function and relevant audio and sound adjustments: Use the sophisticated TTS function to provide an alluring audio overlay. Manage the audio settings and volume as well.

Step 5. Preview and Export: Finally, take advantage of the real-time preview to ensure everything is perfect before exporting your masterpiece.
Pros
Intuitive User Interface: The HitPaw Edimakor offers a user-friendly interface, making it accessible for both beginners and experienced creators.
Wide Range of Editing Features: With various editing options, this tool empowers creators to craft engaging and professional-looking videos.
Diverse Text To Speech Options: The software provides multiple voice choices, ensuring you find the perfect fit for your content.
Compatibility and Flexibility: HitPaw Edimakor supports various video formats, ensuring seamless integration with your preferred platforms.
Timely Updates and Support: The team behind HitPaw actively listens to user feedback and continuously updates the software for optimal performance.
Reasonable Pricing: Despite its impressive features, the tool is reasonably priced, making it accessible to a broader range of content creators.
Cons
As of now, the Text To Speech functionality remains unreleased, creating a slight inconvenience for potential users. However, its upcoming release in version 2.1.0 is highly anticipated.
With the HitPaw Edimakor's diverse features and the forthcoming Text To Speech functionality, it stands as a reliable and promising tool for content creators, significantly enhancing their video content with ease.
2. Balabolka
Balabolka is a powerful Text To Speech software that offers natural-sounding voices to convert written text into speech. It supports various formats, making it compatible with different types of content.
Features:
Multiple Voice Options
Text Highlighting
File Format Support
Batch Processing
Clipboard Monitoring
System Requirements: Windows 2000/XP/Vista/7/8/10
Realtime Pricing: Free
Pros
Wide Range of Voice Options
Ease of Use
Lightweight and Fast
Customizable Settings: Users have the flexibility to customize voice settings, making the reading experience more personalized
3. Amazon Polly
Amazon Polly is a cloud-based Text To Speech service offered by Amazon Web Services (AWS). It utilizes advanced deep learning technologies to generate lifelike speech from text.
Features:
Natural Sounding Voices
Speech Synthesis Markup Language (SSML) Support
Multilingual Support
Neural TTS Technology
Integration with AWS Services
System Requirements: Cloud-based service accessible via API or SDKs
Realtime Pricing: Pay-as-you-go pricing, free tier available with limited usage
Pros
High-Quality Voices
Scalability and Reliability
Easy Integration
Developer-Friendly
Cons
While Amazon Polly offers a free tier, higher usage may incur costs
4. Natural Reader
Natural Reader is a user-friendly Text To Speech software designed to cater to various reading and comprehension needs. It aims to make text-based content more accessible to all users.
Features:
Multiple Platform Support
OCR Technology
Text Highlighting
Pronunciation Editing
IIntegration with Microsoft Word
System Requirements: Available for Windows, macOS, iOS, Android, and web browsers
Realtime Pricing: Free version available, premium plans offer additional features
Pros
Multi-platform Accessibility
OCR Functionality
Customizable Pronunciation
TTS functionality directly within the familiar word processing environment
Cons
Limited Voice Choices: While Natural Reader offers a range of voices, the selection may be more limited compared to some other TTS tools
5. TypeCast
TypeCast is an intuitive Text To Speech platform that emphasizes simplicity and ease of use. It allows content creators to effortlessly transform written content into captivating speech.
Features:
Simple Interface
Customizable Voices
Real-time Preview
Embeddable Player
Export Options
System Requirements: Web-based platform, accessible from standard web browsers
Realtime Pricing: Free version available, premium plans offer additional features
Pros
User-Friendly Interface
Real-time Preview
Embeddable Player
Export Options
Cons
Limited Voice Customization
6. Lovo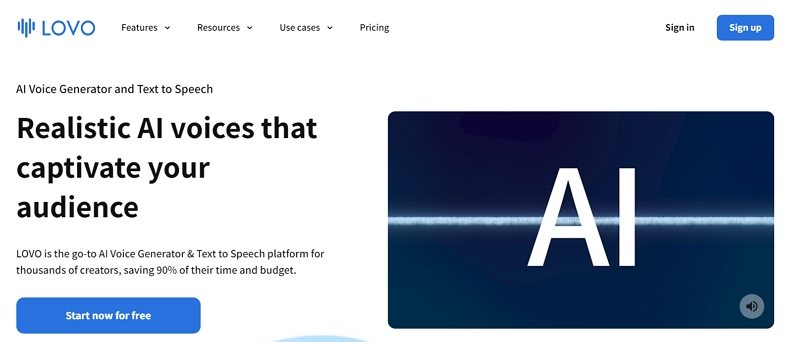 Lovo is an innovative Text To Speech platform that utilizes cutting-edge AI to generate lifelike speech from text. It offers a range of voices and accents for a more personalized experience.
Features:
Diverse Voice Options
AI Voice Customization
Multilingual Support
Voiceovers for Videos
Real-time Editing
System Requirements: Web-based platform, accessible from standard web browsers
Realtime Pricing: Free trial available, premium plans offer additional features and customization options
Pros
Diverse Voice Selection
AI Voice Customization
Multilingual Capability
Professional Voiceovers for Videos
Cons
Learning Curve for Advanced Customization
Part 3. FAQs of Text To Speech Youtubers
Q1. Does YouTube have text to speech?
A1. Yes, YouTube offers a built-in automatic text-to-speech (TTS) function that creators can use to generate speech from their video's subtitles or closed captions. This feature allows content creators to provide an audio experience for viewers who may prefer or require text-based content.
Q2. What do Tiktokers use for text-to-speech?
A2. Tiktokers often use Text To Speech tools and services, such as HitPaw Edimakor, Balabolka, Amazon Polly, Natural Reader, TypeCast, and Lovo, among others. These tools allow Tiktokers to enhance their video content by incorporating engaging and dynamic audio elements generated from text.
Q3. How do you grab attention on YouTube Shorts?
A3. To grab attention on YouTube Shorts, creators should focus on creating visually captivating content with concise and compelling storytelling. Utilizing engaging text overlays and leveraging Text To Speech technology can also enhance viewer engagement by offering a multi-sensory experience.
Final Words
Text To Speech technology has revolutionized the content creation landscape, offering content creators a powerful and dynamic tool to connect with their audience in a new and engaging way. Among the top Text To Speech tools available, HitPaw Edimakor stands out as a promising choice, offering an array of features that empower creators to produce high-quality video content. From its forthcoming Text To Speech functionality to its comprehensive video editing capabilities, HitPaw Edimakor caters to the diverse needs of content creators across platforms. Whether you are a Youtuber, TikToker, or vlogger, this tool can elevate your content, providing an enriched and immersive experience for your audience.