5 Best Google AI Video Generators in 2023
Around 80% of the traffic on the internet comes from videos which mean nowadays; users pay more attention to video content. Undoubtedly, video content is important for both content creators and businesses. Apart from that, people prefer it more than other different online content such as images and text. That is where Google AI Video generators come in. Yes, that is right. With these tools, you can do many things, such as create engaging videos, add captions, effects, and more. This article will explore some of the top 5 Google AI video generators in 2023.
Part 1: Things You Have to Know About Google AI Video Generator
Google has recently announced its new AI video generator tool named "Phenaki." Just like other AI video generators, this application also creates short videos for you. For example, if you type a phrase or a sentence, it will make a short clip accordingly. The most interesting thing about this software is that it provides hand-drawn animations rather than fake videos. Moreover, this free Google AI video generator has advanced features and creates results within 2 minutes.
Part 2: 5 Useful Google AI Video Generators You Shouldn't Miss
Generating videos from the text can be challenging due to multiple factors, such as cost, video length, and quality. That is why it is important to choose advanced video generators so that you can get good results. If you are searching for the best Google AI video creators, don't look further. Below we have mentioned some of the top Google AI video generators that provide high-quality videos.
1. Synthesia
The first Google AI Text to Video generator in our list is Synthesia. It is an AI video generator that creates videos in different languages, voice tones, and accents. With this app, users can also make different AI avatars for their brands and websites. Moreover, it has an interesting feature called Text-to-Speech, where users can add text, and it will be converted into different voiceovers. Most popular brands like Nike and Google use this tool to generate attractive videos.
Features of Synthesia:
Supports 140+ different languages
Best for creators and companies who use the lip-syncing feature
Get 254 unique styles for your videos
Has a user-friendly and straightforward interface
2. Designs.AI
Designs AI is another Text to video AI Google generator which has powerful video, logos, and text-creating features. Users can try pre-designed templates and images to create different videos for their websites. In order to generate the video, users have to add around 20 sentences and select the voice tone. Once done, the tool will create the video within minutes.
Features of Designs AI:
Create multiple AI voiceovers
Has a powerful Text to Video feature
Create blog posts and different outlines using AI
Choose from different voice and theme options
The free version offers 7 free voices for the video
3. Lumen5
Are you searching for the best Google AI Video generator? Lumen 5 is the best option for gamers, content creators, and businesses. This tool uses advanced machine learning features to generate blog posts, whitepapers, and more. With this application, you can add different scenes, transitions, and even audio to your videos. Moreover, you don't have to choose any images, as this tool will automatically add relevant images to your videos.
Features of Designs AI:
Automatically adjust voice with your text
Adjust the average reading speed of your videos
Get 30 different pre-made designs
Has powerful editing tools, including assets, customized music, text editing, and more
Users can create brand kits in the pro version
4. FlexClip
FlexClip is an advanced Google AI Video Creator with almost hundreds of video templates and an advanced text-to-speech engine. With this app, you can get automatic subtitles and add custom filters, effects, and more. It is ideal for both beginners and professional users. You can also use its AI background remover feature to delete unwanted things from the images.
Features of FlexClip:
Supports 14+ languages
Generate subtitles automatically
Has an advanced AI background remover
1000+ pre-designed templates for social media and websites
5. Pictory
The last free Google AI video generator in our list is Pictory. If you don't have any prior experience in script writing and want to convert Google Text into video, this tool would be perfect for you. To use this tool, all you have to do is submit a post, and it will create videos for you. Once the video is created, you can post it on social media accounts or different websites.
Features of Pictory:
Edit your videos using Texts for webinars, Zoom recordings, podcasts
Convert Google Text into Videos
Create reels for your social media accounts
Add captions for your videos
Part 3: A compared table to help you choose
| Google AI Video Generators | Price | Features | Best for |
| --- | --- | --- | --- |
| Synthesia | Personal Plan: $22.50 per month Enterprise: price based on the | Supports 120+ languages, voices, 85+ quality avatars | content creators and digital marketers |
| Designs AI | Basic Plan: $19 per month Pro: $49 per month Enterprise: Custom | Access to 20+ languages, multiple templates, Download in SVG, PNG, JPG, and PDF | Individuals, students, marketers, entrepreneurs, and small teams |
| Lumen 5 | Basic: $29 per month Starter: $79 per month Professional: $199 per month Enterprise: Custom | 30+ popular templates, text-to-speech feature, support multiple formats, chat support available in all plans | Storytellers, individual content creators, small and medium teams |
| FlexClip | Free: $0 Plus: $9.99 per month Business: $19.99 per month | Fast Google AI video generator, AI video script generator, 1,000+ text animations, and preset styles | Create videos for internal communication, real estate, and product promos |
| Pictory | Free Trial: Yes Standard: $19 per month Premium: $39 per month Teams: $99 per month | Submit Google Text and create AI videos, create video highlight reels, short-form video | Marketers and content creators |
Extra Tips: HitPaw Edimakor- Best AI Video Editor for PC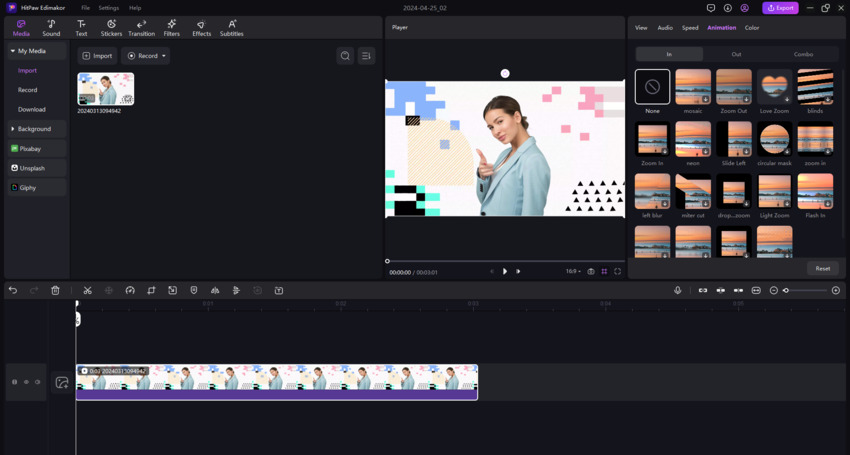 If you want to convert Google text to video AI, then you can try using the HitPaw Edimakor. This tool is best for everyone, including content writers, brands, websites, businesses, students, and more. Moreover, it provides premium stock photos which you can use for your videos. Other than that, you can add different filters, effects and use templates and transitions to make your videos engaging.
Features of HitPaw Edimakor
Create stunning videos using fancy text
Add interesting stickers and seamless transitions
Freely Trim, crop, edit, and download your videos in different formats
Add trendy filters to make your videos more engaging
Change your videos speed with one-click
Part 4: FAQs of Google AI video generator
Q1. What is the best AI video generator?
A1. Hitpaw Video Editor, Synthesia, Lumen 5, and Pictory are one of the best AI video generators. All these tools are best for creating videos, scripts, etc.
Q2. Is there a free AI Video Generator?
A2. Yes, you can use FlexClip and Pictory tools if you are looking for free AI video generators. Moreover, the HitPaw video editor also offers a free trial which you can use for creating your videos.
Final Thought
Google AI video creators can be an invaluable asset for content creators, vloggers, and influencers. However, students and teachers can also use these tools to create educational and training content. However, most people don't know which tools they should try first, so we recommend using those apps which offer free trials so you can learn them without paying an extra amount.