Top 10 British Accent Generators
For many language learners, mastering a British accent can be one of the most enjoyable and rewarding parts of learning English.
The unique lilt and musicality of British accents makes English sound sophisticated and lyrical. Beyond just the aesthetic appeal, having an authentic British accent can also improve comprehension when communicating with native British speakers.
In this post, we will cover the top 10 best tools and services for mastering a British accent. From step-by-step audio lessons to speech analysis technology, these accent generators will have you channeling your inner Brit in no time.
Part 1. What is British Accent?
British accent refers to the varied accents and dialects used by people across the United Kingdom. Unlike America, Britain does not have a single unified accent. Rather, there is a diverse range of regional accents and dialects across England, Wales, Scotland, and Northern Ireland.
Some of the most well-known British accents include Received Pronunciation (RP), commonly referred to as "BBC English." RP is considered the standard British accent and is geographically neutral.
Other recognizable accents are the Scottish accent, Welsh accent, Cockney accent spoken in London's East End, and the Northern British accent of regions like Yorkshire and Newcastle.
Part 2. Top 10 British Accent Generator
Now that we've covered the basics of British accents, let's look at 10 of the best tools and resources for mastering a British accent:
1. Best British Accent Generator On Windows/Mac
The best British accent generator for desktop is HitPaw Edimakor. This versatile video editing software for Windows and Mac will soon release a new speech synthesis feature allowing users to generate British-accented audio for their videos.
Beyond text-to-speech, HitPaw also provides powerful video editing tools to customize footage exactly how you like. You can trim, crop, add filters, insert transitions, include stickers and titles, and more.
Editing videos is a breeze with HitPaw's intuitive 5 step workflow:
Step 1: Import video footage to the application.

Step 2: Drag and arrange clips on the timeline.

Step 3: Enhance with filters, audio, titles, effects, etc.

Step 4: Preview your final video.

Step 5: Export the completed video in high quality.
2. SpeechGen.io
SpeechGen.io is a top text-to-speech service providing extremely natural-sounding British English voices with regional accents. They offer 10 distinct voices, including Received Pronunciation, Cockney, Scottish, and Welsh, for unparalleled flexibility.
Features:
10 British English voices (Received Pronunciation and regional accents)
Convert text to high quality MP3 files
Customize pitch, speed, and volume
Seamlessly embed audio into videos
Free trial plus paid subscriptions
3. PlayHT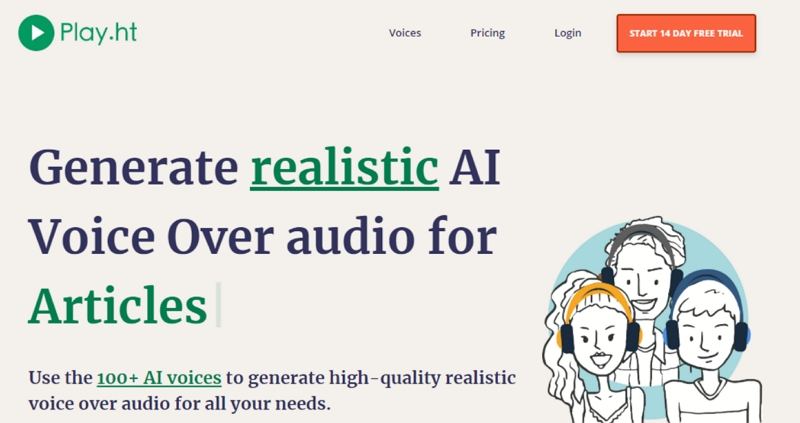 PlayHT is an easy-to-use online text-to-speech tool with two customizable British English voices to generate free audio files with authentic pronunciation and intonation.
Features:
Realistic voices modeled on native speakers
Adjustable playback speed and pitch
Save generated audio as WAV or MP3
100% free with no limits
Intuitive browser-based interface
25+ global text-to-speech voices
4. Murf.ai
Murf.ai utilizes advanced artificial intelligence to create incredibly realistic text-to-speech in a wide range of British and international accents for versatile applications.
Features:
AI generated voices sound ultra-realistic
Convert text to speech online or through API
Southern British, Scottish, and Australian accent options
Customize volume, pitch, speed, and more
Free plan plus paid options
5. Speechify
Speechify produces high-quality British-accented text-to-speech tailored specifically for eLearning materials like online courses and classes to achieve excellent pronunciation.
Features:
Generate British English speech for learning materials
Mobile app syncs audio across devices
Tailor pace and tone to your needs
Integrates with common LMS platforms
Shared team access available
Free version with premium upgrades
6. ttsMP3.com
TTSMP3 provides a straightforward text-to-speech converter fully accessible online with a range of global voices, including British accents, completely free with no limits.
Features:
100+ global text-to-speech voices including British accents
Convert text to high quality MP3
No limits on generated audio length
Change voice speed and pitch
Simple and intuitive browser-based interface
Completely free with no registration required
7. Narakeet
Narakeet offers text-to-speech synthesis with natural sounding British English voices that allow customizing pitch, speaking rate, volume, and more for optimal pronunciation and fluency.
Features:
High quality British English male and female voices
Save synthesized speech as MP3 or WAV files
Adjust rate, volume, pitch easily
Create audio embeds to share online
Free version limits audio length
Paid plans from $4.99/month
8. ResponsiveVoice Text to Speech
ResponsiveVoice provides a free text-to-speech web API with two realistic British English voices designed for seamless integration into web-based projects of all kinds.
Features:
2 realistic British English voices
Easy integration into websites
Customize speed, volume, pitch
Supports SSML markup for pronunciation
Completely free web API
168 global text-to-speech options
9. Notevibes
Notevibes is a text-to-speech tool generating high-fidelity British-accented speech from text input while offering features to convert documents to audio and collaborate with team members.
Features:
Male and female British English voices
Convert documents to audio files
Customize speed, volume, pitch
Collaborate with team members
Free 3 day trial, then paid plans
10. Synthesia
Synthesia's text-to-speech API includes British English voices and supports customization of pitch, speaking rate, and volume, as well as SSML tags for optimal pronunciation.
Features:
Realistic British English male and female voices
Easy integration into web/mobile apps
SSML tags for better pronunciation
Custom voice speed and pitch
Free trial plus paid API plans
Part 4. FAQs of British Accent Generator
Q1. How do you make a British accent convincing?
A1. To make your British accent convincing, listen closely to native speaker recordings and mimic their pronunciation intricacies so you can refine your own. Paying attention to the unique British patterns of rhythm, stress and intonation will help guide proper stylistic articulation.

Precise mouth shape and tongue placement are crucial in authentically articulating British vowel and consonant sounds. With consistent practice and feedback, your British accent can sound organic.
Q2. What is the best way to learn British accent?
A2. The best approach to learning a British accent is to use a diverse array of resources, from audio samples to tutorials, that will allow you to immerse yourself in the sounds and patterns.

Starting with Received Pronunciation establishes a foundation; then, you can target more challenging sounds needing focused practice. Feedback from native speakers can prove invaluable, as can consuming British media to attune your ear. The dedicated daily repetition and vocal training will help engrain proper British accentuation.
Q3. What is difference between British and American accent?
A3. The crispness of British accents differs from the smoother flow of American accents. Additionally, British English's non-rhotic style contrasts American English's rhotic nature.

Regional British accents also display more variation than the relatively homogeneous American accents. Vocabulary and some pronunciations further differentiate the two accents that, while both English, have distinctive elements.
Final Words
Mastering a British accent can be an enjoyable and rewarding way to advance your English skills. As we've covered, there are now more high-quality resources than ever to help you perfect those pip-pip cheerios.
The British accent generators and tutorials included in this post offer diverse options for mimicking an authentic British sound. Whether you're looking for a polished Received Pronunciation, a Cockney lilt, or a melodious Scottish brogue, these tools provide the structured practice and feedback you need.
For effortless British voiceovers, be sure to try out HitPaw Edimakor's forthcoming text-to-speech feature. This free desktop program will make producing videos with professional British narration simpler than ever. The natural voices paired with HitPaw's user-friendly editing tools are a winning combination.