What Does Unlisted Mean on YouTube and How to Download Unlist YouTube Video
YouTube is a great platform for people to share their videos and show off their skills. But did you know there are two different modes through which you can upload videos on YouTube?
You can upload videos in private or unlisted mode. But many people don't know the difference between these two modes, and that's the reason why we are here.
In this article, we will tell you what unlisted means on YouTube and how it differs from private mode. We will also explain how to make a YouTube video unlisted and how to download unlisted YouTube Videos for offline playback.
So, whether you're a newbie or an experienced YouTuber, read on. This article is here to help you out.
Part 1. What Does Unlisted Mean on YouTube?
An unlisted YouTube video is a public video that can only be accessed by people who have the URL or link to the video. In other words, unlisted YouTube videos are not discoverable by searching on the platform or appearing in any related video sections.
Unlike private YouTube videos, unlisted videos can be shared or embedded on other websites and do not require anyone to sign in.
One of the key reasons unlisted YouTube videos are popular is that it allows creators to share their content with select people while keeping the video itself unsearchable on YouTube.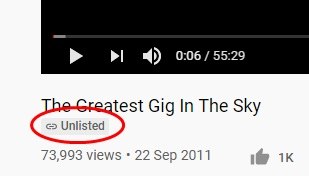 Part 2. Public VS Private VS Unlisted on YouTube
Now that you know what unlisted means on YouTube, let's have a look at the comparison between public, unlisted and private YouTube videos.
Public Videos:
These are the videos that anyone can view or find on YouTube by searching for them or looking in related video sections. And once published, these videos are visible everywhere.
Unlisted Videos:
These videos can be viewed by anyone who has the URL or link to the video. It does not appear in search results and related video sections.
Private Videos:
Private videos are only accessible to the people you share them with. They do not appear in search results or related video sections, and no one can access them without an invite.

Part 3. How to Make a YouTube Video Unlisted?
Making a YouTube video unlisted is as easy as pie. All you need to do is follow these simple steps:
Step 1: Go to youtube.com and log in to your account.
Step 2: Click on the upload button located at the top right corner of the page.
Step 3: Select "Unlisted" as the privacy setting when prompted and upload your video.
Step 4: Once uploaded, you'll have a link you can use to share unlisted videos with people you want.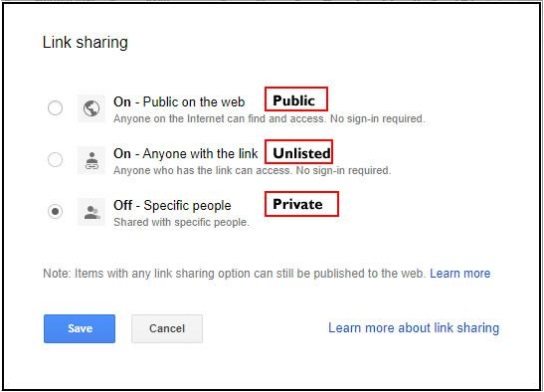 Part 4. FAQs about Unlisted YouTube Videos
1. What is the point of unlisted YouTube videos?
The main purpose of unlisted YouTube videos is to share content with a select group of people without making it public. And unlisted YouTube videos can be shared without anyone needing to sign in.
2. Can anyone see an unlisted YouTube video?
No, unlisted YouTube videos can only be seen by people who have the URL or link to them. They are not discoverable on YouTube by searching for them or looking in related video sections.
3. Do unlisted videos notify subscribers?
No, unlisted YouTube videos do not notify subscribers about the upload. They are only visible to people who have the URL or a link to the unlisted video.
Part 5. How to Download Unlisted YouTube Videos for Offline Playback?
So, here is the question "How do I save an unlisted video?". You can download unlisted YouTube video with reliable YT downloader software.
HitPaw Video Converter is a user-friendly, secure and fast unlisted video downloader for YouTube videos. With this reliable video downloader, you just need to enter the unlisted YouTube video link and start downloading unlisted videos to MP4 format with the resolution up to 8k.
List of the Outstanding Features in HitPaw Video Downloader and Converter:
Downloads YT public, private and unlisted videos as long as you know the video link.
Obtain and download all videos from a YouTube playlist by entering the playlist URL only.
More than that, HitPaw Video Downloader also supports downloading and saving videos from more than 10000 popular sites, including Bilibili, SoundCloud, Facebook, Amazon, Instagram and so forth.
Download and convert Spotify and Apple Music to MP3.
Convert your video, audio, DVD and images to and from any format.
Enrich your videos: crop, trim, adjust effects, watermark, etc.
Add subtitles to your video.
Simple user interface and easy to use for all levels of users.
So, if unlisted YouTube videos are what you need, HitPaw Video Converter is your go-to solution! Try it now to see what a difference it can make for your unlisted video needs.
How to Download Unlisted YouTube Videos with HitPaw Video Converter?
Step 1.Download the program from the official site and install it on your computer and launch the program.

Step 2.Go to the Download tab, and paste the URL of the unlisted YouTube video in the download field.

Step 3.Select a format and resolution for downloading unlisted Youtube videos.

Step 4.Click "Download" to start downloading the unlisted video.

Step 5.Once the download is complete, you can directly play the videos in the program or transfer them to any device for offline playback. Or you can edit the video using the built-in editor.
That's it! You can now easily download unlisted YouTube videos and enjoy them anytime, anywhere.
The Bottom Line
No matter whether it's for personal use or professional purpose, unlisted YouTube video is undeniably an ideal way to share content privately. With the help of HitPaw Video Converter, you can easily download unlisted YouTube videos and take them with you wherever you go. So just download HitPaw Video Converter and start downloading your unlisted videos now!
It's the best thing since sliced bread! Try it now and see how much easier unlisted video downloading can be.