Quick Guide on How to Mute A Video on iPhone/Android/Windows/Mac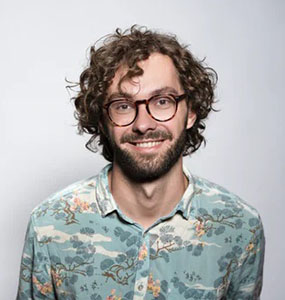 Joshua Hill
High-quality video recording with smartphones and consumer-level cameras is simple. Still, the same cannot be accurate for sound. Camera microphones often capture low-quality audio and pick up surrounding sounds, making the video unwatchable. In that case, you have to mute video. If you're searching for a fast method of how to mute a video, you've come to the right place. This article will teach you how to mute audio in video using various applications.
Part 1: How to Mute a Video on Windows 11/10/8/7
Actually, remove audio from video can be easily done in Windows.You can choose to mute video for completely free online, or choose mute video more effectively and stably on desktop. Here, we are going to introduce 3 video editing tools both online and offline to you.
1. How to Mute Video Online with HitPaw Online Video Editor
Playing back video to verify your work while editing may be time-consuming. Especially if you have to listen to the same tape repeatedly, perhaps you should prioritize the graphics and work on the audio afterward. Or maybe you don't want any audio in the video and would like it to play silently. Continue reading to learn how to mute a video in HitPaw Online Mute Video.
Video should get uploaded. Upload your movie by dragging and dropping it.

Mute the video. Wait a minute for the sound to get removed from your video.

Download or modify. To save the video, click Download or Go Edit.
2. How to Mute Audio from Video in HitPaw Edimakor for Desktop Users
HitPaw also has a desktop video editing tool - HitPaw Edimakor - which can also easily mute video or remove audio from video in several ways. It is possible to edit video in more than one way in HitPaw Edimakor, and all edits on videos can be done very quickly. Here are the detailed guide to show you how to mute video and how to remove audio from video in HitPaw Edimakor.
Safely download the software by clicking the button below.

Upload your video and drag it to the timeline.

There is a sound icon on the left side of the timeline, click on it and muting video is done.

To remove sound from audio, you can right click on the clip in the timeline and choose Detach Audio, and the audio is seperated from video successfully. If you don't need the audio anymore, right click on the audio to choose Delete, and you'll get your video without audio.
3. How to Mute a Video in Movie Maker
Run Windows Movie Maker and choose the Add Videos and Photos button from the Home tab on the application interface. Browse to the file you want to silence and select it.

After you've uploaded the video, you may preview it to see whether you want to mute the whole file or only the portions you want to hear. And drag the playhead to the area to delete audio from and click the Split button.

Select the video clip to get processed and then click the Video Volume icon on the left side of the Edit tab.

To eliminate the audio, drag the volume slider to the left, keeping the level at zero. You may mute a movie in Windows Movie Maker and then preview it by clicking the Play button to see whether the audio gets eliminated.
Pros:
Auto-preview effects.
Voiceovers are among the audio elements.
Capabilities for sharing.
Cons:
There is no method to alter the saturation or contrast.
There have been no changes to the visual effects.
Installation difficulties.
Part 2: How to Mute a Video on Mac
You may want to mute the audio from a video, adjust the level, and overdub with music clips at points. You may silence videos on a Windows PC by using Windows Movie Maker. How can we mute video on a Mac? The video editors for Windows may not available for Mac as some apps only have Windows version. iMovie is one of the most popular video editors in Mac. Here, well show you how to remove audio from video in iMovie.
How to Mute Video on iMovies
iMovie is the Mac counterpart of Windows Movie Maker. It comes included with Mac OS. It's a lot of fun to edit films with iMovie. Here are the easy steps to mute video iMovie below.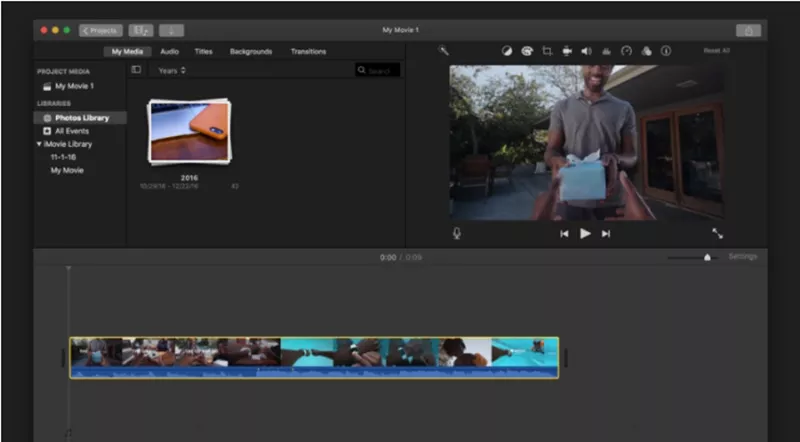 Click File > Import Media..., go to your video album or media library in Finder, and then pick and add the movie to iMovie editor. Drag the video clip from the iMovie Library to the timeline in the bottom part of iMovie.
To completely silence the video sound in iMovie for Mac, click the Mute button. The Adjust Loudness bar is located next to the audio mute and unmutes buttons; slide it left or right to reduce or raise the volume of the current video clip.
Part 3: How to Mute Video on iPhone 13/12/11/XS/X
Thousands of people use their cell phones to watch YouTube videos, so the demand for editing YouTube videos with iPhone continues to grow. Apple's Photo App can make some simple edits on YouTube videos easily, and iMovie is a popular app to edit videos in iPhone. Therefore, we'll introduce how to mute video iPhone with Apple's Photo App and iMovie.
How to Mute A YouTube Vidoe on iPhone - Apple's Photo App
Apple's Photos app is more valuable than it seems. When you first start using your iPhone, it may seem that this app can only save pictures, videos, and screenshots. If you experiment with the program, you'll find that you can also apply filters to your images, utilize highlighters, and even add text. However, these basic editing capabilities are not all that Photos offers, so how to mute a video on iPhone?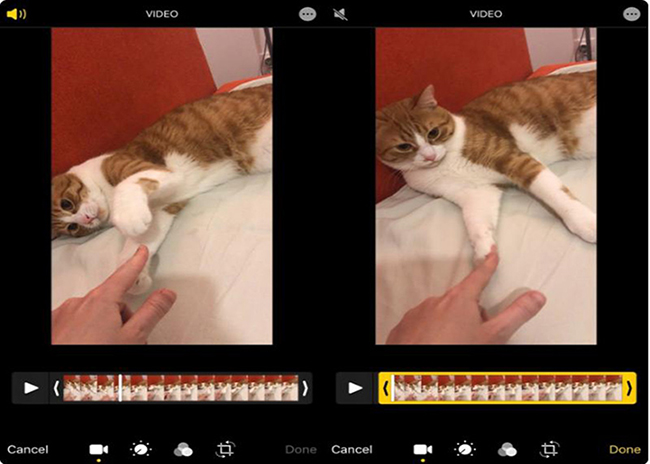 Follow these methods to remove sound from your video clip using the Photos App:
In the Photos app, open the video you wish to remove the sound.
In the upper-right corner of your screen, choose Edit.
To mute your video, click the sound button in the top left corner of your screen (when you do this, the icon will change color from yellow to grey).
When the sound icon shows that the video is muted, tap Done.
iMovies
Suppose you want to mute the video you're editing on your iPhone. In that case, you may do it using Apple's iMovie software, which is a free video editor that lets you do things like rotate scenes and combine pieces into a longer movie. If you haven't previously installed iMovie, do so first, and then learn how to mute a video on iPhone?
Launch the iMovie app and, if the welcome screen appears, press "Continue."
Tap the plus symbol on the projects page to begin a new movie.
Tap "Movie" in the new project's pop-up.

Select a video that you wish to include in your new project. Hit "Media" at the top of the screen to view a list of all your folders, then tap "Movie" to locate your video faster.

Select a video that you wish to include in your new project. Hit "Media" at the top of the screen to view a list of all your folders, then tap "Movie" to locate your video faster.

When you've found the video you're looking for, touch it. Tap the checkbox in the pop-up. This incorporates the video into your project. Then, at the corner of the screen, touch "Create Movie."

At the bottom of the screen, tap the Share option and choose how you want to save the finished movie.
Part 4: How to Remove Audio from Video Android
Do you the best app to mute video on Android? Is it the same as the iPhone's? Of cause not. Here we'll intorduce the best one - Video Sound Editor.
Video Sound Editor
Video Sound Editor is one of the best video audio editors for Android whose features include video muting, silent video, trimming video, adding audio to video, audio video mixing, etc. More importantly, this app is completely free! Now let's have a brief look at its steps.
Launch the app and you will see Mute Video on its interface.

Click on it to upload your video. You can mute the video in the next step by clicking the check mark in the upper right. You can also trim the audio by tapping on the cog-wheel.

Before exporting, you can choose to mute with trim video or without.
The Bottom Line
Poor sound quality videos will not impress anybody, but don't worry since muting or changing audio files is a simple procedure that takes virtually no work. While Windows Movie Maker mute video rapidly, HitPaw Edimakor is a far better choice if you want access to easy audio editing capabilities.