Where to Get Green Screen Backgrounds for Videos (Free and Paid)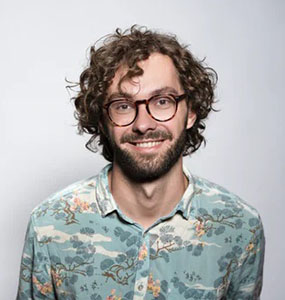 Joshua Hill
Who doesn't know about green screen backgrounds? These days, almost all the movies use green backgrounds, instead of visiting real places. It is much cheaper. So, if you want to make good videos, you need to have access to green screen backgrounds as well. But how to get green screen backgrounds? You may think they are hard to get, but the fact is they are not. The green screen is also known as chroma key.
It is an opportunity to create high-end videos, and you can easily download them from websites. There are a handful of websites which provide such type of video files which can be edited later to meet your criteria while making green screen easily accessible to us.
Part 1. Top 6 Best Websites for Paid and Free Green Screen Backgrounds
It is not easy to get free green screen backgrounds. The websites we have listed below are genuine, and they are known for green screen background videos, but not all of the provided their services for free.
So, check out the websites. If you want videos for free, then check out the websites that provide only free videos, but if you are willing to pay, then check out both paid and free options.
1. Pixabay - Free Green Screen Backgrounds (Free)
Pixabay is one of the best places to get stock photos for free. If you want to get cool green screen backgrounds, Pixabay has a wide selection of it.
You will be able to make a wide range of green screen footage with ease without any type of license or royalty. So, if you are looking for high-resolution green screen background videos for your video, then we recommend looking into Pixabay.
It is easy to download videos from Pixabay.

Step #1: Getting a video from Pixabay doesn't require signing in.
Step #2: Locate the video you want.
Step #3: Click on the download button and save it on your computer.
All the video files on Pixabay is available for free. Use them to create attractive videos.
2. Videezy (Free and Paid)
In the seconds, we have Videezy to get backgrounds for green screen. Videezy is capable of sharing green screen backgrounds and attractive video footage. This is one of the best places to make free green screen backgrounds download.
Videezy is an excellent platform, and it has a wide range of clips and backgrounds in its stock. Themes are also available, and they offer an ultra-high resolution.
Videezy is easy to use. You can easily get green screen backgrounds from there.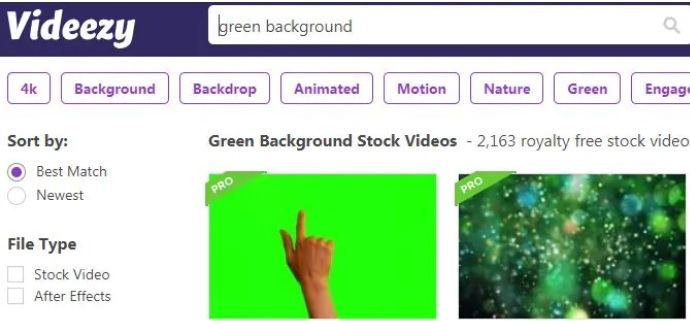 Step #1: Go to the website and create an account. Then, browse.
Step #2: If you have located what you want, click on it.
Step #3: If the file is available for free, then you will be able to download it.
Sadly, if the file is not available for free, you have to make the payment, and then you will be able to get the green screen background.
3. Videvo (Free and Paid)
If you are looking for the best green screen backgrounds, don't forget to check out Videvo.
Videvo provides an amazing collection of high-quality videos. The website offers both free and paid services. This means that there is a free stock of motion graphics that you can use for your work.
Videvo is a bit complicated to use.

Step #1: Be careful while using Videvo. Sign in and then look through the collection.
Step #2: There are both free and paid videos. If the video is free, then you will be able to download and save them on your computer.
Step #3: But the paid videos will be available after making the payment.
We recommend going through the Videvo license page.
4. Storyblocks- Best Green Screen Backgrounds (Paid)
If you are not sure about where to buy green screen backgrounds, go to Storyblocks. Sure, you will have to spend a few bucks, as Storyblock provides only paid service. But you will get access to a wide range of green screen videos.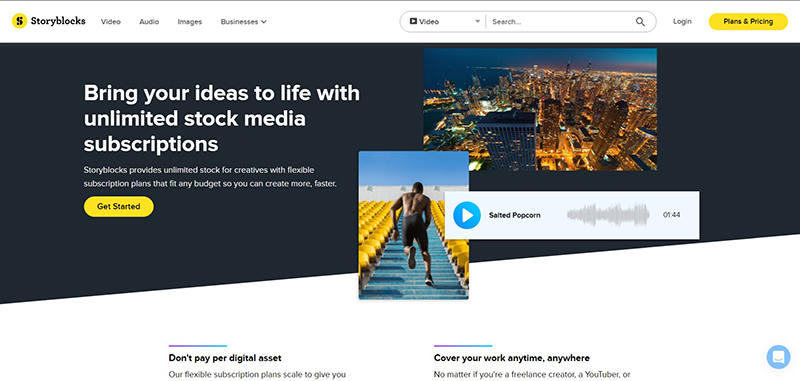 Step #1: Open the website and sign in.
Step #2: Choose a plan and start downloading videos.
Just remember that you need to choose a plan before you start downloading the videos.
5. Pond5(Paid)
Pond5 is also available for green screen backgrounds, but it only provides paid service. With Pond5, you will get an international community of brand and media creators. So, if you want to increase your reach, think about getting the Pond5 subscription.
There are more than 50000 contributors, and the content comes from 150 countries. There are close to a million videos available, maybe more. Although it is paid, Pond5 still has a collection of 700k royalty-free video production tracks.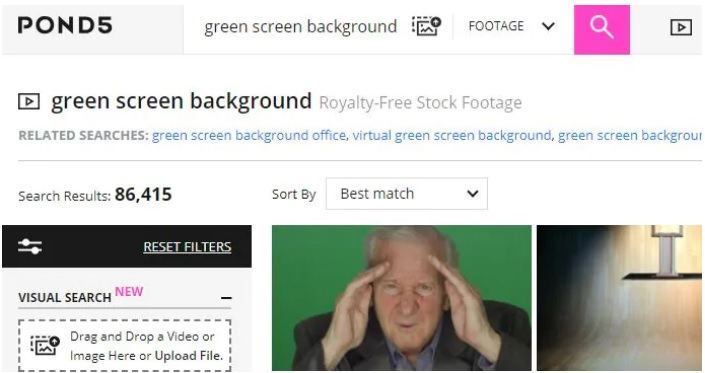 Step #1: You can sign in.
Step #2: Review their plans. Select a plan and go with it.
Step #3: After the payment, choose the video and save them on your computer.
Pond5 also has a collection of free tools. Be sure to check them out.
6. Shutterstock (Paid)
Our final pick is Shutterstock. It is a paid option, of course, with a wide range of green screen videos.
You will be able to easily locate specific videos on Shutterstock using several of its advanced search options. The videos are available in 3 different resolutions; SD, HD, and 4K.
Here's how to make green screen backgrounds with Shutterstock…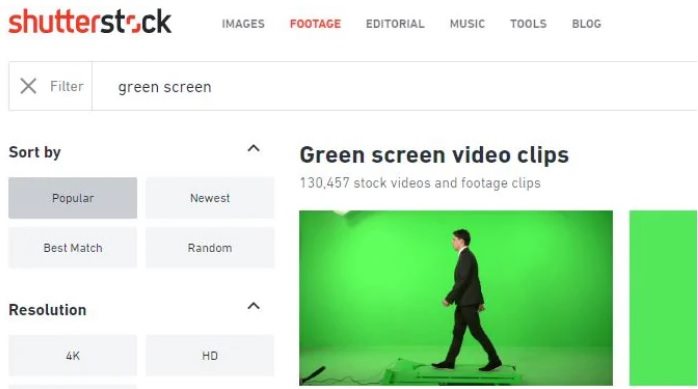 Step #1: This is a paid service. So, sign in and subscribe.
Step #2: Only after completing the payment, you will be able to download the required videos from this website.
Step #3: Locate the desired file and save it on your computer.
There are also on-demand packs available on Shutterstock. You can check them out.
Part 2. How to Make Green Screen Backgrounds on Your Own
Making green screen background for your video is not as difficult as you may think. Just find a good green background, set it up. Pick and a good camera and begin.
Step #1: Find a good muslin cloth of green shade. Don't pick a shade that is close to your color; then, you will blend in the video. Such clothes are available on Amazon.

Step #2: Now, get a camera that shoots Full HD videos. The frame rate also has to be decent. 24FPS or above.
Step #3: Next step is the lighting. It is optional, but if you set the lighting, your video will look better.
Now, everything is set. Start shooting videos.
Part 3. Additional Tips: An Easy-to-Use Video Editor for Beginners
We have already detailed how do green screen backgrounds work and where to get good videos with the green screen background. But all these won't work if you are unable to get a video editing software with proper tools.
So, we recommend using HitPaw Edimakor. It is a good editing software with all the necessary customization options. Check out its outstanding features below.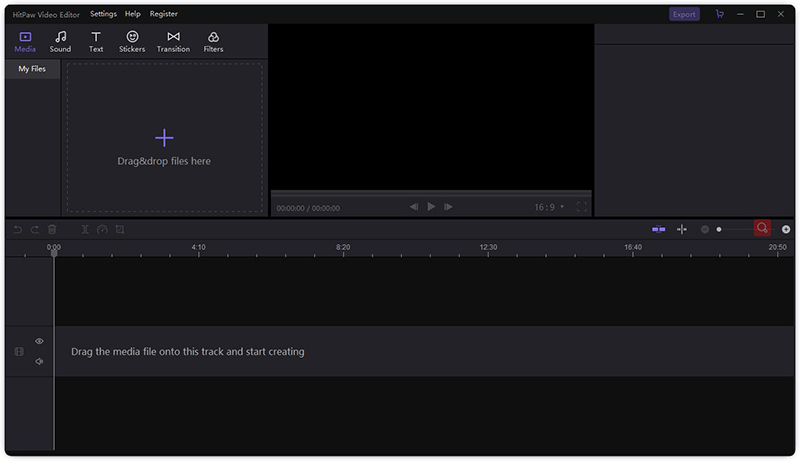 HitPaw Edimakor is a versatile tool which can edit videos, audio and images.
Allows users to change the speed and opacity of the videos.
Lots of customization options, such as adding stickers, transitions, filters, text and ackground music.
An extremely easy to use and user-friendly application, perfect for beginners.
Conclusion
So, if you are looking for good green screen backgrounds, don't worry. They are easy to get. We have listed the websites when you can get ready to use green screen videos. There are both free and paid options available, check them out. But if you want to make a green screen on your own, then we have also detailed the procedure. Last but not least, you will need a good video editor to make all these work, we recommend using HitPaw Edimakor. It is packed with cutting edge features and easy to use.
People Also Ask
Q1. How Do Green Screen Backgrounds Work?
It is very simple. Set a green cloth on the background and shoot the video. Then, while editing, choose the background of your choice and edit it on the green background.
Q2. Where can I download free green screen video backgrounds?
Pixabay is the best option to get green screen video backgrounds for free.
Q3. How can I change my background without green screen?
Usually, it isn't possible. But if you can get a good editing tool like ApowerEdit, you may be able to change the background.